The recent Annual Volunteers Meeting held at Tenterden Town Hall was an opportunity to restate our vision and set out our objectives as below: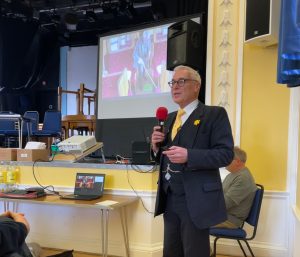 Our Vision
"To preserve our railway as living history…making memories that matter…"
Our 2023 objectives:
1. Survive and be safe.
2. Nobody gets hurt.
3. As a minimum we cover our costs and seek to earn enough to improve year-by-year the railway's resilience and sustainability.
4. Everyone who comes to the railway – be it staff, volunteer, or visitor feels good when they go home, and wants to come again, and if they have learnt something even better.
5. All staff and volunteers feel on top of their role, confident they can deliver what is reasonably expected of them to manage and operate a heritage railway.
6. We care about everyone's wellbeing; we have written values to respect and support each other as any good family would.
7. We are first and foremost a charity to do public good and to educate. We will look after, and enhance where practical and possible, our historic assets and the legacy of those that came before us.
8. We will endeavour to be good neighbours within our community and beyond, this includes everything from reducing our energy use and emissions, to Plastic Free Tenterden or Santa trains for disadvantaged children.
These objectives are designed to align and support the delivery of the overall K&ESR 'Strategy to 2024' which has been previously published.
How are we going to collectively achieve this?
1. A Board that shows real leadership and accountability. Led and delivered by the Board
2. Have a Management Team that is committed and competent to deliver and given the tools to achieve this. Led by the GM and delivered by the Management Team
3. Value above all else all our staff and volunteers who are willing give their time to make the railway work, never forgetting volunteering is about friendships and fun.  Attract new volunteers that means we can do more and tackles the 'elephant in the room' concern of succession. Led by the GM and delivered by every Active Member
4. We all keep talking and listening to each other, to make real the KESR's published values we have signed up to. To believe we are a single team where there is no room for silos and personal agendas. We need to constructively challenge each other and not be afraid to tackle any unspoken problems. We continue to actively communicate with all members and take them with us through a period of change and uncertainty. Led by Board and GM delivered by the Management Team and every Active Member
5. We make each visitor feel welcomed and special, we jealously guard our reputation of being a friendly railway. We take real pride in what we have and look after it as best we can, we never walk past a piece of litter. Led by the Management Team and delivered by every Active Member.
6. We look out for each other, to support and make everyone feel safe. Led by the Management Team and delivered by every Active Member
7. We know the railway environment can be dangerous, so we will do everything possible to identify and reduce risks, have and follow rules, have personal awareness and always be on the lookout and report any danger. Led by the Management Team and delivered by every Active Member.
8. Watch every penny spent, and grab every possible penny, so we manage cash to ensure we can meet our bills and way our way. Led and delivered by all spending and revenue generating teams
9. We sell the pants off every product we have. We use social media as our main communication platform, building on our 1.5 million views in 3 months during Winter 2022. Led and delivered by the Commercial and Sales Team
10. Fundraising is essential to raise funds through appeals, grants, donations, gifts and legacies to be able to look after our heritage and enhance our railway. Led by the Board and delivered by the Fundraising Working Party
What are we going to deliver in 2023?
1. Everyone's total focus has to be on getting revenue; we have cut costs as far as they can practically go, there is no more flesh on the bone. We must still remember to turn off lights and save that extra photocopy, but we will only survive if we achieve a minimum of 70,000 visitors or £2.5m in cash.
2. Those visitor numbers and amount of cash will only come from attracting and delighting visitors. We must therefore:
a. Continue to provide exceptional Pullman experiences (Pullman Team)
b. Deliver another amazing Santa season (Santa Team)
c. Develop group travel offers that are attractive and bring in visitors, working with our partners (Commercial and Catering team)
d. Have a series of themed events, such as 40's, steampunk, classic cars, that draws in extra people (Events team)
e. A mini-Gala in May that will showcase the railway get all the toys out of the box and run to Junction Road (Gala team)
f. A refresh of the core 'A set ride' with more interpretation - 'show and tell' (Commercial team)
g. Use our 'Victorian Set' as a flagship as a 'travel back in time' experience (Commercial team)
h. Build up and be more imaginative with the RATs and Fish & Chips, be it Gin or Curry (Commercial and Catering team)
i. A better overall catering offer by having Diana in the A set, and the refurbished RU in the Pullman (Commercial and Catering team)
j. Dip a toe in the water with theatrical productions (Events team)
k. Refresh our RXDs and behind the scenes tours (Ops)
l. Gain other sources of revenue – filming, training, photo charters, corporate use, private hire, on-line retail (Commercial and Catering team)
3. To underpin these offers we need to:
a. Always present our locos, carriages and station sites in the cleanest and freshest way possible, and appreciate all the work of the Loco Cleaners, Station Staff, Day Gangs, Foresters and Gardeners (Ops, CME, Infrastructure, F&C)
b. Ensure our train running and station work is to a professional standard, there is no place for sloppiness or tardiness (Ops)
c. Have a reliable and safe PWay, signalling system that does not delay or stop us running our timetable. £80k is being spent on the Northiam Level Crossing, most will only see some new tarmac, but a big red risk has been removed
(PWay. S&T, Infrastructure)
d. Our buildings and associated structures are where resources allow in a good state of repair. (Infrastructure)
e. Actively encourage secondary spend in our buffet and shops, which have delicious food, and 'can't put back' items for sale. (Catering and Retail teams)
4. To be able to get to a position of visitors seeing shining locomotives and sitting clean carriages, there must be a loco and carriage plan. (CME department)
a. Swiftsure, Sapper, and No25 (from May) will be the core steam fleet. The class 33 (Crompton) 33202 is planned to return for the spring and summer.
b. The TREATS Class 14 D9504 will return, and named 'Jon Grimwood', in his memory, the DMMU will be given some TLC and plans are underway to overhaul the Class 03 D2023
c. The Yank tank, No. 65 returned to steam in late summer and we will have
Hasting and Marcia as great supporting acts
d. There will be a headline grabbing visit of 257 Squadron, the first Light Pacific for a Light Railway
e. The excellent volunteer work will continue on the GWR Railcar, it has become a template of how projects will be run in the future; work will start on the Ford; we hope to get repairs on Poplar underway, though this will off the railway, longer term, there is now a better atmosphere at Rolvenden under the leadership of Liam, overhauls will continue, and we hope to reach agreement with RSE for No 23 to start once Charwelton and 4253 have been completed
f. Carriages will have their winter maintenance. Petros will be returned to service and work will start on the BCK.
5. To fulfil our Charitable educational objectives, we will deliver experiences such as 'young engineers', 'evacuation days', 'show and tell', on journeys, Remembrance Day for schools, and most importantly employ apprentices, all making a difference to young lives. The excellent Colonel Stephens Museum is central to our efforts to interpret and inform visitors of the historic importance of the 'Light Railway'. (Events team and Museum)
6. Behind the scenes there are some important things we have to deliver to that are long overdue and will improve how we work:
a. A rewritten SMS that says what we do to keep everyone safe (Safety Committee)
b. An updated organisational chart and job descriptions, that reflect both reality and the way we want to manage the railway (GM)
c. A working information and data management system that is better than now, and does not cause frustration and prevent effective collaborative working (GM)
d. Run training sessions that are relevant and meaningful not just talk about them (Each Department to organise their own function training, GM to organise management training)
e. Most critically a better, intuitive, informative, more accessible public website (Commercial Team)
7. There are some wider initiatives which have the potential to deliver a step change in value and benefits:
a. A discuss on membership, how to grow it and make it more supportive of the railway (Board)
b. Joint working with other heritage railways (GM)
c. On the announcement of the Robertsbridge Inquiry we will respond positively to any opportunities the outcome presents (GM)
This is our strategy and plan, but as the quote from boxer Mike Tyson illustrates, "a well-aimed blow can thwart the cleverest plan" we, however, will give it our all and do our very best to duck any unexpected blows during the year and come out winners.
Robin Coombes
General Manager
March 2023