The Cavell Van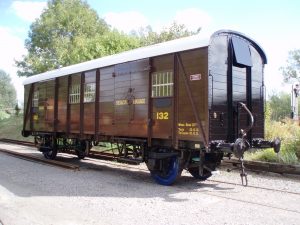 The Cavell Van is the railwayman's name for the prototype Passenger luggage Van built by the South Eastern and Chatham Railway at Ashford Works in 1919 as a one off 'pattern wagon' but was soon to be dubbed a 'Special Van. It was used for the repatriation of the bodies of two civilians executed during the First World War – Edith Cavell and Charles Fryatt. It was later used to return the remains of The Unknown Warrior in 1920. In this role it was the centrepiece of national mourning and particularly as it stood in vigil with the Unknown Warrior overnight on 10th/11th November 1920 before the warriors great ceremonial interment.
The van was initially numbered 132 by the South Eastern and Chatham Railway, later running as Southern Railway No.1972 on transfer to departmental service in 1946 as a stores van at Brighton Works, numbered S(later DS)734 till 1967. The van ended its service as a static store at Guildford cable depot numbered 082757. It had many sister vans that were used by British railways until the late 1980s
The Cavell Van was withdrawn from service in 1991and moved to the Kent and East Sussex Railway for use as a store. Its provenance as the prototype van was immediately recognised alth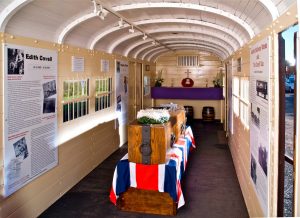 ough it took some years of research to establish its full, nationally important, history. Unfortunately ownership and funding issues severely delayed its proper restoration which could not be achieved till 10th November 2010, the 90th anniversary of the carriage of the body of the Unknown Warrior. To commemorate this a replica coffin was installed, built by volunteers and finished with ironwork made by Meurig Williams the grandson of the original craftsman. This was made at Brunswick Ironworks, Caernarfon. Great difficult was initially found in making the bands from modern materials but a search of scrap wrought Iron in the abandoned quarries in the nearby Nantlle Valley yielded the necessary material, skills were rediscovered and the work was done to perfection.
The Van is in the care of The Colonel Stephens Railway Museum and is usually on display at Bodiam Station in season, though it occasionally visits elsewhere
Return to Museum Menu