Facilities for the Mobility Impaired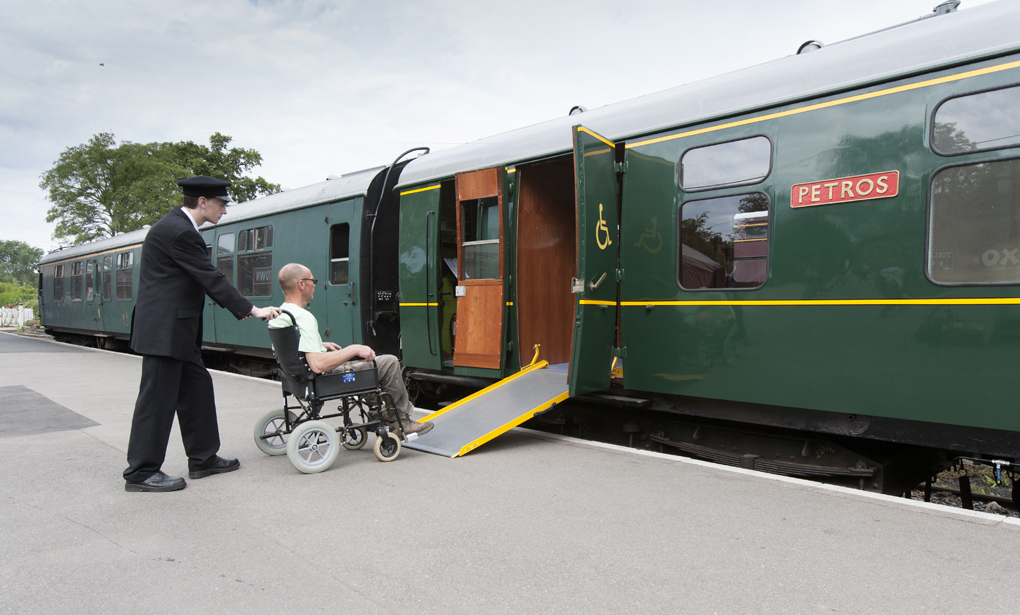 Our facilities have been carefully designed with the mobility impaired visitor in mind. There are normally dedicated parking spaces for Blue Badge holders at Tenterden Town and Northiam Stations and accessible toilets at Tenterden, Northiam and Bodiam.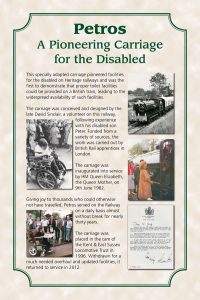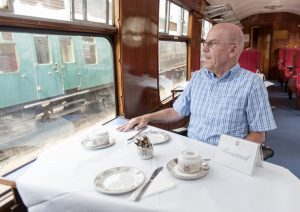 We are proud to boast the UK's very first railway carriage specially designed to accommodate users confined to a wheelchair. 'Petros' is fitted with ramped wheelchair access, wide aisles, moveable seating and an accessible toilet.
Some of our other carriages have ramped access too and there is full wheelchair access to the shop at Tenterden Town Station. The Colonel Stephens Railway Museum has level access with 42″ aisles. The Tenterden ticket office is fitted with an induction loop.
We recommend that visitors with special needs or specific requirements telephone our Booking Office (01580 765155) for friendly assistance: accommodation may be reserved at no additional cost and a free carer ticket is available for registered carers. These tickets may only be purchased by telephone or in person on arrival. When collecting your carer ticket, we ask that you produce one of the following documents: Entitlement to Disability Living Allowance (for children under 16) or Personal Independent payments (for those aged over 16); Attendance Allowance or Carer's Allowance letter of award; Incapacity Benefit book, or a letter notifying the recipient that the benefit has been awarded; A Certificate of Visual Impairment; A letter from a GP or consultant (dated within the last 12 months) confirming the need for a full time carer. One carer ticket per eligible individual.
Helpful downloads
A Guide to K&ESR Facilities for the Mobility Impaired v1.5
Feedback
Please share your experience while visiting us. If you've any suggestions for improvement, please do share them with us via enquiry@kesr.org.uk or by calling 01580 765155