Facilities for the Mobility Impaired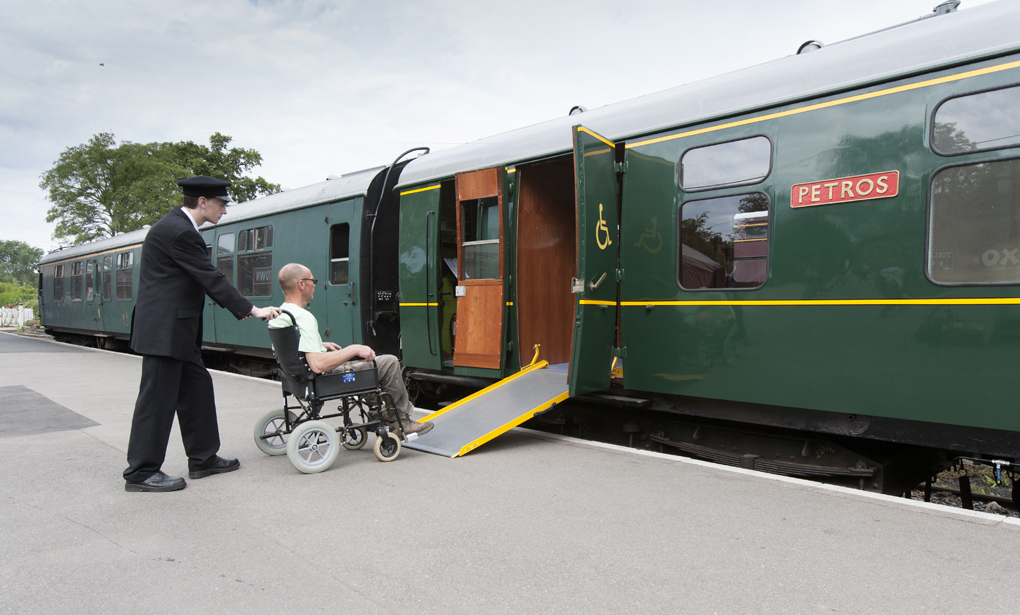 Our facilities have been carefully designed with the mobility impaired visitor in mind. There are dedicated parking spaces for badge holders in the main car park at Tenterden Town and adjacent to the platform at Northiam Station. There are accessible toilets at Tenterden, Northiam and Bodiam.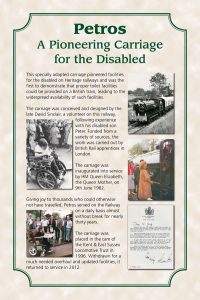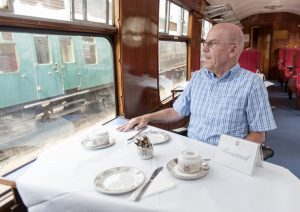 The K&ESR pioneered accessible railway travel in 1982 with UK's very first carriage specially designed to accommodate users confined to a wheelchair. The carriage is called 'Petros' and has ramped wheelchair access, wide aisles, moveable seating and an accessible toilet.
There are eight wheelchair accessible spaces, all at tables, plus a further 23 seats at 5 tables for four people and a table for three. Four of the accessible spaces are angled towards the carriage window, as shown in the image, so making it easier for those who may have problems with neck movement.
Accessible accommodation in Petros may be booked by telephone or via email
---
There is full wheelchair access to the Station Refreshment Rooms and Gift Shop at Tenterden Town Station. The Wealden Pullman has ramped folding wheelchair access available into 'Theodora' (max 25" width chairs). The accessible table is a table for three (two plus one wheelchair user). The Colonel Stephens Railway Museum has level access with 42" aisles. The Tenterden ticket office is fitted with an induction loop.
We are pleased to offer every assistance with your visit - if you have any special needs or specific requirements, do please email or telephone the Booking Office (01580 765155) for friendly assistance. Accommodation may be reserved at no additional cost and a free ticket is available for registered carers. When collecting a carer ticket, we kindly ask for one of the following documents: Entitlement to Disability Living Allowance (for children under 16) or Personal Independent payments (for those aged over 16); Attendance Allowance or Carer's Allowance letter of award; Incapacity Benefit book, or a letter notifying the recipient that the benefit has been awarded; A Certificate of Visual Impairment; A letter from a GP or consultant (dated within the last 12 months) confirming the need for a full time carer. One free carer ticket per eligible individual.
Helpful downloads
A Guide to K&ESR Facilities for the Mobility Impaired v1.5
Feedback
Please share your experience while visiting us. If you've any suggestions for improvement, please do share them with us via enquiry@kesr.org.uk or by calling 01580 765155