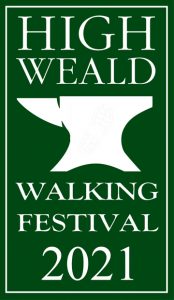 Free Guided walk – In the Footsteps of Hoppers
Part of the High Weald Walking Festival 11th – 19th September 2021
Join Philip Noakes on Thursday 16th Sep 2021 meeting at Bodiam Station at 11:45am
Come along and explore this beautiful, historic landscape
and learn more about
the hopping tradition in this area
Get off the beaten track this Autumn!
Put your walking boots on and came and join us and enjoy this opportunity to travel back in time through gentle rolling countryside, little has changed over centuries. if you come along you will learn about the special hopper trains which ran from London to Bodiam during the Guinness era as well as hopping traditions in the surrounding area.
This leisurely walk is 7 miles long and expected to take approximately 4-4.5 hours. Please note there are 10 stiles on the route.
Make a day of it!
Spaces for the walk are limited and you must have a ticket to join the walk,  please follow this link below and once you have secured your place you can them book your train ticket.
For full detail and to book this walk press here
This walk leaves from Bodiam Station – there is no parking in this location so we strongly recommend you park at Tenterden Station and enjoy the picturesque steam train ride to Bodiam to start your day. Return tickets cost £19.50 for adults
Book your train tickets here
The walk will return to Bodiam in time for you to catch the last train back to Tenterden at 4.40pm.
Dogs on short leads are welcome. Bring a packed lunch – alternatively there are cafes en route in Bodiam village or at the station. Please note, unfortunately we are unable to accommodate children under 18 on this walk.
———————————————————————————————————————————-
Kent & East Sussex Railway walks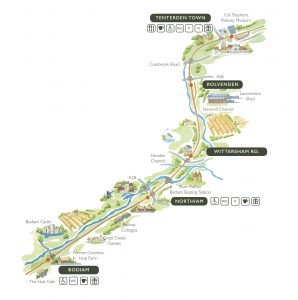 With Freedom Tickets giving you the flexibility to hop on and off along the railway line throughout the day and days becoming longer and warmer, why not dust off your walking boots and make a whole day of it with one of our six downloadable self-guided walks?
Walk options are available from every station along the line with varying lengths to suit all abilities, so you are bound to find one to suit you!  Be at one with nature and enjoy the beauty of the surrounding countryside which all falls within the High Weald Area of Outstanding Beauty, a specially protected area covering 560 square miles of West Kent and East Sussex.
Book online and save
Click on the links below to book your Rover Ticket and download your chosen walk PDF.
---
Railtrail 1 – Wittersham Road Station to Tenterden Town Station
Railtrail 2 – Bodiam Station Circular walk
Railtrail 3 – Tenterden Town Station to Rolvenden Station walk
Railtrail 4 – Northiam Station to Wittersham Road Station walk
Railtrail 5 -Tenterden Town Station Circular walk
Railtrail 6 – Bodiam Station to Northiam Station walk