SE&CR and LC&DR
No. 1100 - Birdcage Brake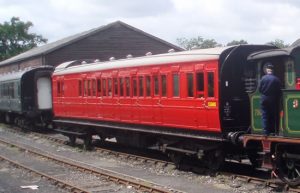 Following the formation of the SE&CR in 1899, new passenger rolling stock was urgently needed. The result was 'Birdcage' stock - thus called because of the distinctive raised guard's look out at one end.
This vehicle was completed at Ashford Works in December 1910, and provided accommodation for 55 people in Third Class, plus a Second Class compartment with lavatory.
The carriage was purchased from the Longmoor Military Railway in 1969 and was delivered to Robertsbridge by rail in 1970. After many years out of use, the coach was the subject of renewed interest in 1993 and was repainted in BR green on one side and red on the other by a group of photographers. In 2005 a full restoration of the Edwardian interior and exterior panelling was made & the coach entered traffic in 2008.
No. 3045
Built in June 1899 at Longhedge Works, this five compartment LC&DR coach body was LCDR No. 91, SE&CR No.3045 and SR No.1666. It was probably withdrawn in the mid to late 1920's and came to the K&ESR from the Spa Valley Railway in 1999. It awaits restoration.
No. 3059
This carriage was built by the LC&DR in April 1889. It was originally a Brake Second numbered 49. In 1894 it was down rated to third class and further renumbered No 3059 when equipped with electric lighting in January 1901. The vehicle seated 30 passengers. Withdrawn from service in March 1921, the coach body was sold to a farmer at Kingsnorth near Ashford. Here it survived until the mid 1970's when the K&ESR Locomotive Trust moved it to Tenterden for eventual restoration.
No. 2947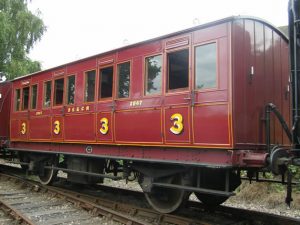 This 40 seat, 2nd class vehicle was built by the SE&CR at Ashford in 1901 was a typical London suburban coach of the late Victorian era. In 1921 No. 2947 was withdrawn & the body sold for incorporation (with three other coach bodies) into a bungalow in Ashford, where it remained in use until 1986.
The coach was well preserved and was acquired by the K&ESR for restoration, commencing in 1994. It entered service just one year and three days after restoration commenced.
No. 3062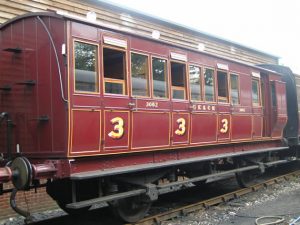 This vehicle entered service in May 1888 and was originally a second class brake. It was withdrawn in March 1921 and incorporated into the bungalow mentioned above, before coming to the railway in 1986. Restoration commenced in 2006 and it re-entered service in 2011 .
No. 7913 - Family Saloon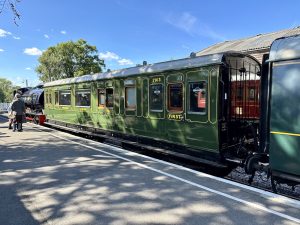 The vehicle was built by the SE&CR at Ashford Works in February 1900 to be available for hire by wealthy families travelling together to destinations often far removed from the home railway. The coach originally had a luggage compartment with double doors at one end, a large saloon, a vestibule and a short corridor leading to a five seat compartment. There was a small cubicle with a WC on one side of the corridor and another with a wash hand basin opposite. Social and transport changes, particularly the onset of the motor car led to layout alterations in 1907, when the vehicle was converted to an invalid saloon. Later sold to the Longmoor Military Railway, it arrived at Tenterden in 1985.
Restoration began in 1992, with new seating (sympathetic to the design and based on a picnic saloon layout) fitted. Since entering service, No. 7913 has proved a popular addition to the Vintage Train.
The Family Saloon was overhauled and returned to 1930's Southern Railway livery by our Carriage & Wagon Department in 2022/3 - click on the image to see a view of the main saloon interior
---
Great Eastern Railway
No. 197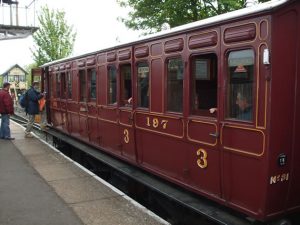 This typically nineteenth century six wheeled vehicle was built in 1887. It originally had one third and one first class compartment on both sides of a central luggage compartment. The LNER withdrew No. 197 in 1928 and the body sold as a holiday home at Wisbech in Cambridgeshire.
The body was recovered by the K&ESR in the late 1970's & restored in a GER livery, entering service in 1991. In 2005 extensive refurbishment was required and it re-entered service in in GER maroon livery. The first class compartments have been converted to 3rd to increase the capacity of this popular and useful coach.
---
London & North Western Railway
No. 7965 - 'Woolwich' Coach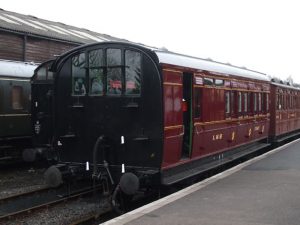 Built in 1911 at Wolverton Works for use on the North London line and was one of the last four wheelers built by an English railway. In around 1940 the LMS sold the coach to Woolwich Arsenal who used it on workmens' trains - although Winston Churchill is reputed to have also travelled in it. On withdrawal from service in 1964 it was purchased by the K&ESR and became the Railway's first passenger vehicle.
Unfortunately the vehicle deteriorated in storage but, thanks to a donation from a generous benefactor, restoration began in 1999 and, following a Lottery grant, work was completed in  2004 as No 7965.
No. ED33 - Inspection Saloon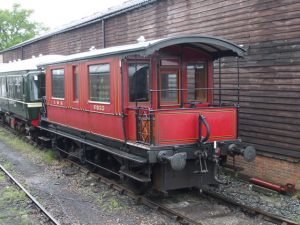 This most unusual vehicle was built in 1890. Between the balconies are two saloons divided by a toilet compartment. In May 1940 it was sold to the Army for use on the Melbourne Military Railway in Derbyshire but was later transferred to the Longmoor Military Railway, where it reverted to its role as an officers inspection saloon.
In 1984 it was acquired for the K&ESR and entered service on the Vintage Train. It is currently withdrawn for further overhaul and is securely stored in Rolvenden Carriage Storage shed.
---
Southern Railway
These vehicles are fine examples of the Southern Railway's stock and were all acquired in 1965.
No. 4432 & 4443 - Maunsell 'Nondescript' Brake Open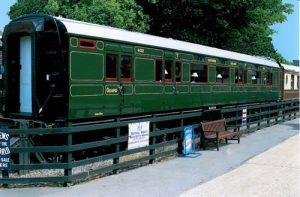 These comfortable coaches was built for Continental boat train services in 1933. After acquisition by the K&ESR they were restored to period livery and have regularly operated in daytime services & the Wealden Pullman dining train.
No. 5153 - 'Lowlight' Maunsell Composite Corridor
Built October 1928 for the Eastbourne and Kent Coast services. The vehicle worked between Tonbridge and Reading during its last BR years. Presently stored awaiting heavy overhaul, the vehicle is the only surviving example of its type with 'lowlight' corridor side windows.
No. 5618 - Maunsell Composite Corridor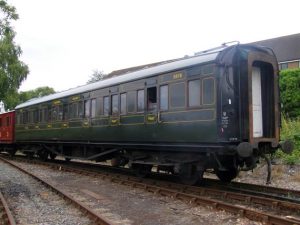 Built April 1931, its higher corridor side windows distinguish it from No.5153 above. This vehicle has a similar history to that coach but is in regular use following an extensive overhaul.
---
Pullman Cars
No.184 'THEODORA' & 185 'BARBARA'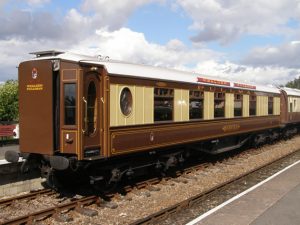 Both were built in 1926 for use on London - Tunbridge Wells - Hastings services. The Cars are adorned with marquetry wall panelling and have individual armchair seating. They have been remodelled many times during their life, to take account of changing social & traffic patterns.
Both Cars were purchased by the K&ESR in 1964 and delivered to the line via Robertsbridge. THEODORA was used as a static buffet car until 1986 but then fell out of use. Following a bequest and a grant from the Millennium Commission, THEODORA returned to service in March 2005 as the bar car in the Wealden Pullman dining train. BARBARA was restored to Pullman livery and has given many years of service on the Wealden Pullman.
No. 245 - LYDIA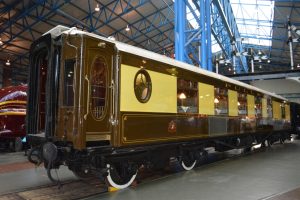 Built in Birmingham in 1924, LYDIA first worked service in France and Italy before returning to the UK for inclusion in the Golden Arrow train. A wartime favourite of Sir Winston Churchill, the Car was kept close to his Kent home. In 1965 it was included in Sir Winston's funeral train, before being sold to a museum in America and accompanying the famous Flying Scotsman on a three year tour of North America. Click on the image to read more about this fascinating vehicle
No. 247 - ISLE OF THANET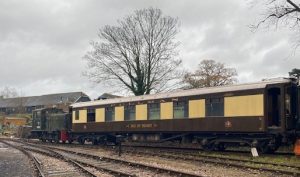 Dating from 1924, ISLE OF THANET was initially named 'LEONA' and was shipped to France for service in trains to Italy. Returning to the UK in 1929, she worked Golden Arrow trains prior to WW2. During the conflict she was retained for the use of General Eisenhower's Command Train, sustaining damage by enemy action on more than one occasion. Click on the image to learn more about the extraordinary history of this vehicle
No. 304 - ARIES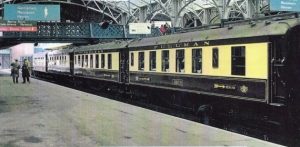 In 1952, ARIES became the last Pullman Car to be built at the Pullman Car Company's works at Preston Park, Brighton. Originally seating 20 & having a coupé, toilet & pantry, ARIES regularly formed part of the famous Golden Arrow service, which was the way to travel from London to Paris. Additionally, with these Cars being the newest in the Pullman fleet, ARIES and her sisters were the usual choice for Royal Trains from 1951 onwards.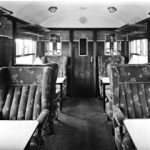 After a working life of just 16 years, ARIES was withdrawn & sold for use as a static restaurant, where she remained for thirty years until offered for preservation. After a number of owners, she was offered to the K&ESR and moved to restoration workshops near Chesterfield. When restoration is completed, ARIES will join our other Pullman Cars in the Wealden Pullman.
---
British Railway Mark 1 Coaches
The Mk1 was British Railway's first standard corridor coach and was in production from 1950 to 1964.
No. 1869 - Restaurant Miniature Buffet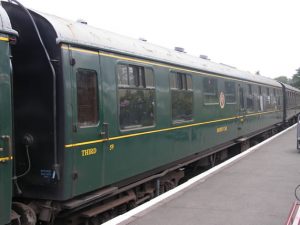 Built in 1961, to K&ESR 1998. Purchased for preservation in 1993 and previously on the Llangollen Railway. A much used carriage which, after many years of service, Is now awaiting overhaul.
No. 25446 - Corridor Composite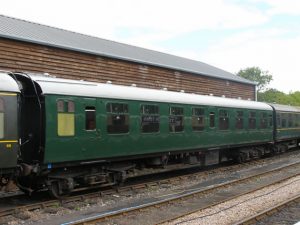 Built Wolverton 1957, to K&ESR 1977. Four compartments have been upgraded to First Class configuration at the K&ESR
No. 3753, 4355 & 4640 - Tourist Second Open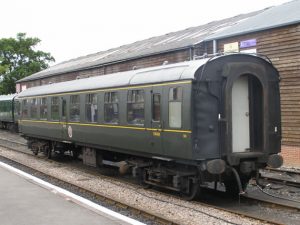 Built: 1953/1956/1957, to K&ESR 1977/1999/1986 respectively. One or more of these popular carriages have been in service since arrival. In recent years they have been extensively restored, with renewed body framing and external skin, repaired internal panelling and reupholstered seats.
No. 1955 - Restaurant Unclassified 'Diana'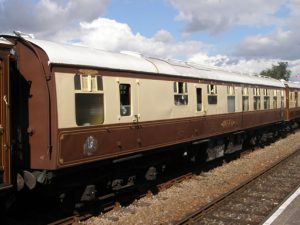 The underframe for this carriage was built at Ashford in 1959, then taken by rail to the large railway works at Swindon for the body to be fitted. It had a relatively short life working on the East Coast main line before being purchased by the K&ESR in 1979. The vehicle was fully refurbished and entered service in 1981, the year of the Royal Wedding and carried HM the Queen Mother during her visit to the railway in 1982. Diana operated as part of the Wealden Pullman set for over 40 years, during which time over 750,000 meals were prepared and served from her large (by railway standards!) kitchen. With the completion of restoration of sister carriage 1987 (see below), 'Diana' is now included in many of our daytime service trains between Tenterden & Bodiam
No. 9269 - Brake Second Open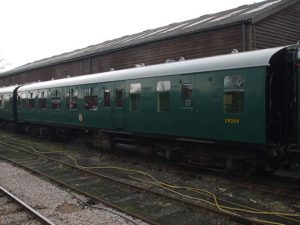 Built Doncaster 1956, to K&ESR 1981. This vehicle arrived at the K&ESR after departmental service. It has received an extensive body overhaul and the luggage compartment has been converted for catering use.
No. 9254 - originally a Brake Second Open, now 'Petros'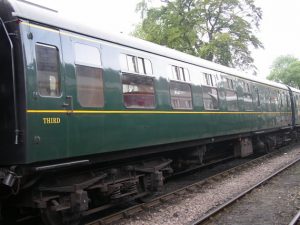 Built in 1956 as part of the same batch as No.9269, Petros is of great significance as it was the very first vehicle in the UK to be adapted for use by mobility impaired people. The vehicle was donated to the K&ESR by British Rail to mark the International Year of the Disabled in 1982. Much of the conversion work was undertaken at Stewarts Lane depot by BR apprentices under the direction of a founder member of the K&ESR's C & W Department, who himself had a disabled son. The coach was inaugurated into service by the late HM Queen Mother. The carriage has been in virtual continuous use since 1982, other than an extensive overhaul undertaken in 2010 and a rewire and repaint in late 2022/early 2023.
No. 7927 - Corridor Composite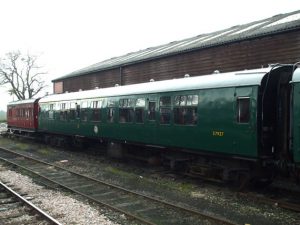 Built 1956, to K&ESR 1987. Formerly on the Mid Hants Railway, this carriage contains both First & Third Class compartments and is particularly popular on our Santa Special services.
No 1987 - Restaurant Unclassified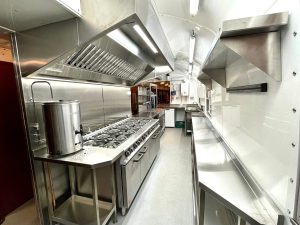 Similar to 'Diana', this carriage was built in 1961 at Swindon and was purchased (using donations provided by Wealden Pullman customers) from the Bluebell Railway in 2003. It had been withdrawn from BR revenue earning services during 1980 and was subsequently used as a dead weight in locomotive test trains,
An extensive (and expensive!) restoration commenced in 2019. Thanks to COVID disruption, the project took longer than planned but was completed in time for the coach to enter Wealden Pullman service on 19th March 2023.