Ashford Railway Works: the early years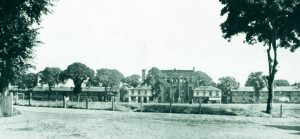 As early as 1834 The South Eastern Railway looked towards a line between London and Dover and by February 1846 the Directors had spent £21,000 to purchase 185 acres of countryside for what was quaintly referred to as a 'Locomotive Establishment'. By the summer of 1847 an initial seventy-two labourers cottages were built. In 1850 the Carriage and Wagon Works opened. In the same year (28 October) the railway line between Ashford, Rye and Hastings was opened by The Lord Mayor of London. A chaplain, the reverend John Pughe, was appointed in the same year to cater for people's spiritual needs, having his salary paid entirely by the company.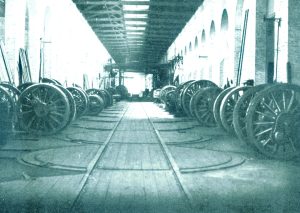 By 1852 Ashford's population had risen from 3,000 to 5,000 and increased to 7,000 by 1861. In the same year The Newtown School was built and this could accommodate up to 550 pupils.
Those who planned and managed the expansion of the works and associated dwellings had the foresight to provide a school, leisure facilities (including public baths) and a general store from the outset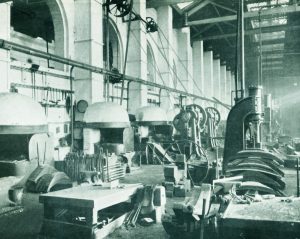 The first locomotives rolled out of the Railway Works in 1853. Examples of the stock built at Ashford can be seen at K&ESR. Our Family Saloon
was built there in 1900, followed by SE&CR carriage No. 2947 a year later. The P Class engine entered traffic in February 1909. The unique looking 'Birdcage' carriage was completed in 1910. Hundreds were employed as engineers, fitters, turners, smiths, drillers, lamp makers, carpenters, painters and labourers. Some of the lesser known occupations included a rubber down, stayer, striker, rivet lad, vicemen and fetler!
Many more houses were built around a village green, including a tavern built in 1866 (originally called The Locomotive, but later becoming The Alfred Arms), and shops. It was called Alfred Town or Alfred New Town, which by 1861 became known as New Town and is still referred to as this today: The highest paid employees were usually the smiths who earned between 24 and 36 shillings; closely followed by the turners who earned between 21 and 34 shillings; Fitters and carriage painters earned between 21 and 30 shillings and lamp-makers earned between 16 and 36 shillings; dependent on their experience and skills. Drillers received between 16 to 22 shillings with labourers earning between 15 to 18 shillings.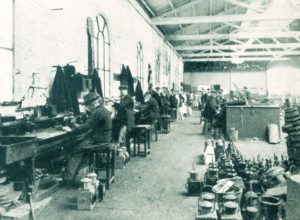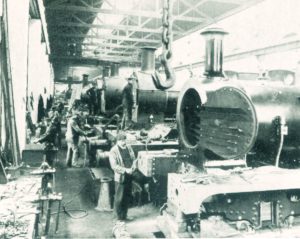 The 1851 census shows that just nine women were employed at the works as sheet and lining makers and paid between 12 and 15 shillings a week.
There was a large turnover of men in the early years attributable to perhaps the hard, dirty and noisy working conditions, or the harsh discipline imposed by the company. Reasons for dismissal included insolence, carelessness, drunkenness, dishonesty, bad timekeeping, disobedience, neglect of duty and 'stealing brass'
Ashford's legacy at
K&ESR today
"Birdcage" Brakes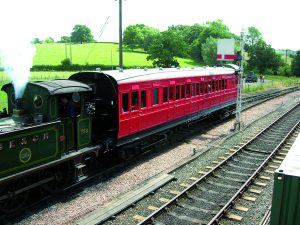 Following the formation, in 1899, of the SE&CR Managing Committee (an amalgamation in everything but name of the London Chatham & Dover and South Eastern Railways) new passenger rolling stock was urgently needed. The result was Harry Wainwright's 'Birdcage' stock -so called because of the distinctive raised guard's look out at one end of each guard's coach. There were numerous variations on the theme plus, of course, intermediate vehicles without either lookout or guard's accommodation. The pair of vehicles on the K&ESR were part of a three-coach set built for medium distance services. Nos: 60 and 61 (SE&CR Nos. 1106 and 1100). These two vehicles have stayed together since they were completed at Ashford Works in December 1910, and originally formed either end of three coach set No. 113. Although similar in design, No. 60 seated 68 people and No. 61 fifty five. Each vehicle included one second class compartment (the remainder being third class). No:61 also featured one second class and one third class lavatory compartment at the opposite end to the brake van.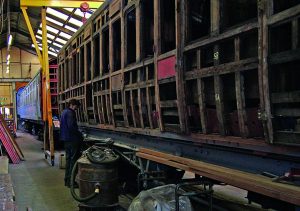 In October 1943 the Southern Railway sold the entire set of three coaches to the Longmoor Military Railway; No. 60 ( Southern No
3388) becoming 13583 and later AD 5312; and No. 61 (SR No 3368) becoming 13582 and later AD 5311 in the Army lists. The centre
coach was scrapped in the late 1950's after accidental damage but the two birdcages remained in service until the LMR closed in 1969.
Both vehicles were purchased for the K&ESR and were delivered to Robertsbridge, by rail, in September 1970. No:60 was used for several years after the Railway reopened but was then laid aside. No:61 was eventually stored in the carriage and wagon works at Tenterden and stayed there for some years. During 1993 both Birdcages were the subject of renewed interest. Sadly, No:60 had suffered whilst stored in the open at Northiam and it proved necessary to dispense with most of the cladding and the interior partitions. This action and a sheet of canvas has at least helped to prevent the main structure being further endangered until resources became available for a complete rebuild. No. 61 was in superficially good external condition and was repainted in BR green on one side and red on the other by a group of photographers. Some highly evocative shots, in company with ex-LB&SCR Terrier Sutton followed. Full restoration commenced in April 2005 and has seen both a full Edwardian interior restoration ( including the, non-operational, toilet compartments) and original exterior panelling. No.61 entered traffic following the official launch on 13th July 2008. Under a sponsorship scheme it is initially painted in early British Railways red livery as S3368S, a livery it never actually carried. Both Birdcage coaches are 54 ft. 1 ins. long and weigh 28 tons tare.
No. 88 - SE&CR No. 2947 4 Compartment Second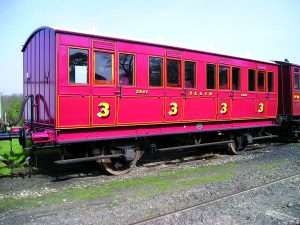 This carriage was built by the SE&CR at Ashford in August 1901 to a London Chatham & Dover Railway design. It was one of fourteen, 40 seat, 2nd class vehicles (Suburban Trains still had three classes of passenger (1st, 2nd & 3rd) intended to strengthen close coupled suburban sets from 10 to 11 vehicles. Originally fitted with electric lighting and Westinghouse air brakes these vehicles were otherwise typical London suburban coaches of the late Victorian era. By the 1920s 2nd class was in decline even in suburban areas, and with electrification planned, the coaches became obsolete. Eleven were then sent to operate on the restricted Canterbury and Whitstable branch where they lasted till the cessation of passenger services in 1931. However, No. 2947 was withdrawn from service in July 1921, the body sold and the underframe broken up. Together with three other bodies (one of which was No. 3062) it became part of a bungalow in Ashford and remained so until 1986 when it was recovered and brought to Tenterden. The coach was well preserved and retained its original doors, some partitioning and, best of all, its brown WW1 SE&CR livery. After some years in storage, restoration commenced in August 1994, sections of the original livery being conserved both for preservation and for future reference. The body, restored in the maroon SE&CR livery, is mounted on a cut down ex-Southern Railway PMV underframe  (from No. 1228 built at Ashford in 1936). Currently carrying 3rd class designation to avoid passenger confusion it joined the Vintage Train one year and three days after restoration commenced - probably a record.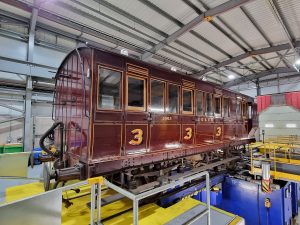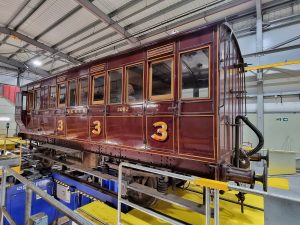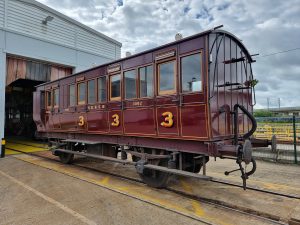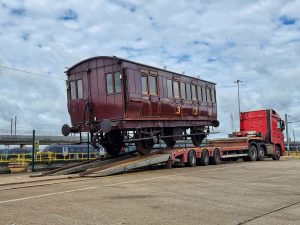 SE&CR Bogie Coaches No. 177 - (K&ESR No. 84) Family Saloon
The vehicle was built by the SE&CR at Ashford Works in February 1900. It was substantially a wooden construction and mounted on seven feet wheelbase steel bogies. Stone's electrical lighting was fitted from new. No. 177 was built to be available for hire by wealthy families traveling together to destinations often far removed from the home railway, and when necessary it was transferred between trains with the family in it. The coach originally had a luggage compartment with double doors at one end, a large saloon, a vestibule and a short corridor leading to a five seat compartment. There was a small cubicle with a WC on one side of the corridor and another with a wash hand basin opposite. Social and transport changes, particularly the onset of the motor car led to layout alterations in 1907. The vehicle was converted to an invalid saloon, the vestibule being replaced by double doors and the main saloon equipped with loose seating. Steam heating was fitted in 1911. The Southern Railway renumbered No. 177 to 7913. It was withdrawn from service and sold to the Longmoor Military Railway where it was numbered 118 and, after World War 2, 3006. It is one of the three ex-Longmoor saloon coaches obtained via the Severn Valley Railway, the others being the ex L&NWR and ex L&SWR saloons described elsewhere, and arrived at Tenterden in 1985. Restoration began in 1992 and was completed in 20 months, the livery being the original SE&CR Crimson Lake. New seating based on a picnic saloon layout was fitted but is totally sympathetic to the remainder of the design. Since entering service, No. 177 has proved a popular addition to the Vintage Train. No. 177 is 38 feet long and weighs 28 tons 13 cwt. It has recently undergone further restoration in preparation for a return to service in 2023.
SE&CR P CLASS 0-6-0T SIDE TANK. K&ESR No. 11
No. 11, (SE&CR No. 753, SR Nos. A556, 1556, BR No. 31556, Pride of Sussex)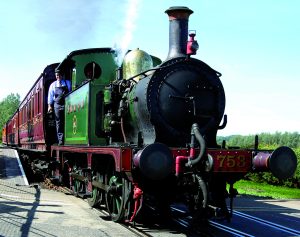 In the early 1900s the SE&CR tried out steam railcars on a number of branch and local services but these had only limited success. No doubt
with an eye towards the LB&SCR and its motortrain operations with A1s (Terriers), the SE&CR decided in 1908 to build some similar small but
robust tank engines to augment the railcars. No. 753, the locomotive now on the K&ESR, was the first of these and left Ashford Works and entered traffic on 18 February 1909. It was soon employed on the Sevenoaks to Otford services, Tonbridge becoming its home shed. From 24 April 1915 till 30 October 1916, No. 753 was engaged in military work, being shipped across the Channel for war service at Boulogne. Whilst there she was painted 'unvarnished' olive green and numbered ROD No 5753. On return, and after repairs to collision damage suffered on the Continent, No. 753 worked between Swanley and Gravesend West for a number of years but had became carriage pilot at Redhill by 1923. It was renumbered to 556 in December 1925, A556 in November 1926, and later to 1556 at a date after July 1931. In late 1928 it was employed on the construction of the Wimbledon - Sutton line and some time afterwards, in common with other members of the class, gravitated to Dover and Folkestone to work around the harbours. During 1936 and again in 1938 it was hired to the K&ESR which was temporarily short of motive power. It returned to the Channel ports until 1940 when it was transferred to Gillingham, returning to Dover by June 1945. A further period of hire to the K&ESR occurred in 1947. Under British Railways ownership it became No. 31556. During the 1950s there was little work for these small locomotives and they were placed in store from time to time. By the end of 1953, 31556 was at Brighton where it was found employment as a shed pilot and at Shoreham harbour. Withdrawal from BR service eventually took place in April 1961, it being the longest serving P class locomotive. No. 31556 was sold to James Hodson & Sons, millers of Northbridge Street, Robertsbridge. It arrived in June 1961 and was soon named Pride of Sussex, the brand name of the firm's products. For nearly ten years it worked around the mill and on that part of the K&ESR (by then a private siding) to Robertsbridge station yard. Change of ownership of the mill resulted in closure of the siding and the locomotive's acquisition for use on the K&ESR in 1970. It was steamed a few times after arrival but was dismantled in 1973 for major boiler repairs and mechanical overhaul. Nominally given the No.11 in the K&ESR fleet it spent 10 years in a stripped down state seeing very little restoration work. During 1984 - 86 steady progress was made and the locomotive returned to service in Southern Railway livery as No. 1556. There followed ten years of hard work, particularly with the Railway's increasingly popular Vintage train. On three occasions the locomotive has revisited France, to take part in the K&ESR's twinning with the Baie de Somme Railway. Following the expiry of the boiler certificate in December 1997 she was withdrawn from traffic and returned to traffic in 2001 restored to the full glory of its original livery.TECHNICAL DATA
Class P - Weight 28 tons 10 cwt - Tractive effort 7,810 lbs - Cylinders (2) 12 in. dia x 18 in. stroke
Boiler Pressure 160 lbs. - Tank capacity 550 gallons - Wheels 3 feet 9 ins. diameter
Southern Railways USA Class 0-6-0 SIDE TANK
No. 22 Maunsell (WD No. 1968, SR No. 65, BR Nos. 30065, DS 237)

These American built shunting locomotives are two of 382 that were built for the United States Army Corps of Engineers during World War 2 for service overseas. The class saw service in England, North Africa, the Middle East, Italy and Western Europe after D-Day. Post-war, survivors were employed in a number of countries including France, Austria, Greece, Egypt, Palestine Iraq and Yugoslavia. After the war, the 42 members of the class which had been loaned to the War Department were placed in store at Newbury Racecourse station. Fifteen were purchased by the Southern Railway, at £2500 apiece, and 14 of them were put into service at Southampton Docks where their short wheelbase was well suited for working over the sharp curves around the dock lines. The SR found that several of the locomotives had not been steamed since their trial runs. The locomotives now on the K&ESR were War Department Nos. 1960 and 1968 and were put into service by the SR in April and November 1947 as Nos. 70 and 65 respectively. They have been subject to various modifications for British conditions including ancillary equipment, bunker capacity and cab alterations for greater crew comfort. Despite these alterations the locomotives still had the appearance of typical American 'switchers' with bar frames, no running plates, stove-pipe chimneys and sand domes. Outside valve gear and cylinders driving on to the rear axle are also distinctive features. The USA tanks acquitted themselves well around Southampton Docks, their only major failing being a tendency to suffer hot bearings when running journeys of more than a few miles. Their dockside service lasted until 1962 when diesel shunters replaced them. The locomotives spent a while in store or were put on menial duties such as supplying steam to ships in dry-dock. In August 1963, however, No. 30070 was transferred to departmental stock, renumbered DS238 and sent to Ashford Wagon Works. It was painted green and named Wainwright after the SE&CR's first locomotive superintendent. The journey from Eastleigh to Ashford took a month to complete because of the inevitable hot box trouble encountered en route. No. 30065 was similarly transferred to Ashford in November 1963 as DS237, also painted green and named Maunsell after the Southern Railway's first Chief Mechanical Engineer. The pair were kept busy at Ashford until April 1967 when DS237 was laid aside followed two months later by DS238. In March 1968 they were sold to Woodham's scrapyard at Barry in South Wales but, as usual, ran hot whilst under tow and did not get further than Tonbridge. There they remained on the site of the former locomotive shed until resold to the K&ESR in August 1968, arriving at Rolvenden a month later. DS238 became K&ESR No. 21 and DS 237 No. 22. No. 22 was the first large locomotive in service in 1974, proving itself very capable of hauling five coach trains up Tenterden bank. She was fitted with an extended bunker and a improved lubrication to overcome its bearing problems. In 1978 it exchanged boilers with No. 21 and after overhaul re-entered service in April 1981 in black livery lined out in red. Various mechanical problems occurred and were overcome before the boiler certificate again expired and the locomotive was taken out of traffic at the end of the 1990 season. Another extensive overhaul followed, the locomotive re-entering service as Southern Railway No. 65 in the summer of 1997. Its original post-war livery of black with sunshine lettering was now carried. However by 2002 a new firebox was required. This was fitted and a further overhaul undertaken, the engine returning to service in 2008.
After many years out of use, restoration work to No. 21 began in 1988. Wainwright entered traffic in 1994 as DS 238. Although finished in a correct malachite green livery, extensive modifications were made to the cab and bunker. In regular service she represented the railway at the 150th Anniversary of railways at the National Railway Museum, York in 2004, but was then withdrawn for a routine overhaul, which is currently pending.
TECHNICAL DATA
Class: USA - Weight: 46 tons 10 cwt - Tractive effort: 21,600 lbs - Cylinders (2) 16½ ins. dia. x 24 ins. stroke
Boiler pressure: 210 lbs. - Tank Capacity: 1000 gals - Wheels: 4ft. 6 ins. di