No.70 Poplar A1 Terrier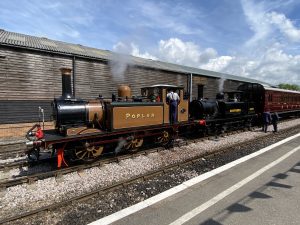 Two of the ten surviving members of this class of locomotive reside on the K&ESR. Affectionately known to many as 'Terriers', they had a capacity for hard work far in excess of their diminutive size. The loco now known as 'Poplar' entered service in 1872, working suburban trains in the London area, but by the turn of the century had become too small for the increasing traffic. However these locos had considerable potential on the second hand market and the loco was purchased by the K&ESR in 1901 for £650 - with 664,108 miles to its credit.
Renamed and renumbered to No.3 'Bodiam' in the K&ESR fleet, it served well until 1931 when it was withdrawn. In 1933 a sister locomotive was robbed of parts to restore the loco to working order. After nationalisation it continued to work the K&ESR & later the Hayling Island branch until 1963, when it was again withdrawn. Amazingly the locomotive was saved from the scrapheap for further use on the K&ESR and is now owned jointly by the K&ESR and the Terrier Trust.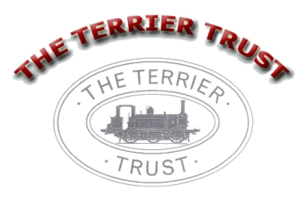 No.8 - Knowle - A1X Terrier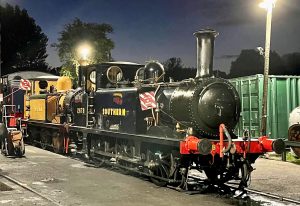 Sister loco 'Knowle' an A1X steam engine of a class known as "Terriers" has just completed her overhaul.
The A1X is an upgraded version of the A1 Terrier which increased it's boiler pressure thanks to a new boiler and increased tractive effort.
The locomotive brakes on all terriers are air braked and this adds to the distinctive sound you'll hear when a terrier is about, Knowle is fitted for both vaccum and air braked rolling stock.
In 2022 Stroudley's iconic A1 & A1X class "Terrier" locomotives will be celebrating 150 years since the first batch of these locomotives entered service. The A1 "Terrier" class locomotives' diminutive appearance belies the astonishing performance these locomotives put in on Victorian suburban services, earning their "Terrier" nickname from their performance and distinctive 'bark'.
A total of 50 Terriers - officially, the London, Brighton and South Coast Railway A1 Class - were built at the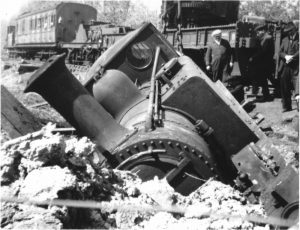 Brighton works between 1872 and 1880. The diminutive tank locomotives were designed to haul commuter trains on the already heavily congested lines in South and South-East London. Only 10 Terriers remain; two of which are on static display.
The Kent & East Sussex Railway are proud to be the home for two of these historic locomotives; Bodiam, was the first to be constructed and among the first batch to enter service in 1872, and Knowle, one of the last batch to enter into service in 1880.  Both locomotives are owned by The Terrier Trust CIO and run on the Kent & East Sussex Railway.
Knowle first saw service on the K&ESR in 1940 and pulled the final passenger train when the line closed – 60 years ago this year.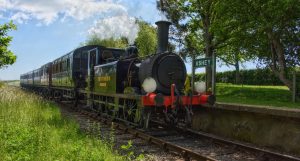 After a brief spell operating on Hayling Island branch towards the end of an astonishing operational career - she had covered nearly a million miles by the time the Southern Railway was formed in 1923, In the early 1930's Knowle had a short spell on the Isle of Wight becoming No.14 Bembridge - she was sold to Butlins in 1964, becoming an exhibit in the children's playground at Minehead.
Fortunately, she was rescued and brought back to working order at K&ESR & will be joining 'Poplar' in celebrating the 150th Anniversary of Terrier locomotives. To find out more about these remarkable locomotives, visit https://www.terriertrust.org.uk
---
No.8 - P Class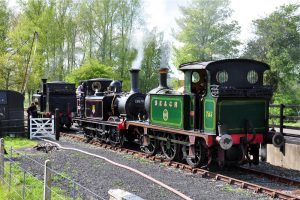 In the early 1900's the SE&CR experimented with steam powered railcars, but these had only limited success so in 1908 it built some small but robust tank engines. No. 753, the locomotive now on the K&ESR, was the first of these & was soon at work on Sevenoaks to Otford services. In 1915 it was shipped across the Channel for war service at Boulogne. By 1928, in common with other members of the class, it was employed on work around the harbours in Dover & Folkestone.
During 1936 it was hired to the K&ESR, but by the 1950s there was little work for these small locomotives and they were placed in store - withdrawal from service eventually taking place in April 1961, having been the longest serving locomotive of its class.
However further use followed sale to James Hodson & Sons, the millers of Northbridge Street, Robertsbridge, where it arrived in 1961. For nearly ten years it worked around the mill and on that part of the K&ESR (by then a private siding) to Robertsbridge station yard. Change of ownership of the mill resulted in closure of the siding and the locomotive's acquisition for use on the K&ESR in 1970.
It returned to service in 1986 & proved useful hauling the increasingly popular train of vintage carriages. It also revisited France, taking part in the K&ESR's twinning with the Chemin de Fer de la Baie de Somme. In 2001 she was restored to the full glory of her original SE&CR livery, but is currently currently withdrawn for routine overhaul.
---
No.12 - Marcia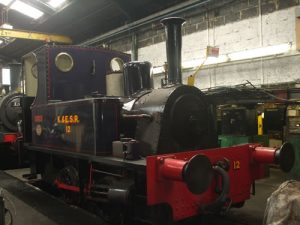 This diminutive locomotive, which weighs barely 12 tons, was constructed by Pecket and Sons of Bristol in 1923 and is an unusual design for a firm which normally specialised in robust saddletanks for heavy industrial work.
The first owner was Marcus Bain Ltd, but she went on to work for the West of Scotland Shipbreaking Co and the Manchester Oxide Company. The Peckett was named 'Marcia' after Marcia Clayton, the wife of James Clayton, the works Managing Director. The firm donated 'Marcia' to the K&ESR in 1962, although she was later sold to a society member and remains in his ownership today.
In the late 70's and early 80's Marcia was in regular use at 'Steam at Bodiam' events and was often a roving ambassador for the K&ESR at County Shows and other outdoor exhibitions. Marcia was withdrawn from service in 1982 for restoration, which was completed in 2011 but sadly her firebox was found to be defective. Marcia returned to steam in the spring of 2022 and is a particularly popular locomotive with our younger visitors.
---
No.14 - Charwelton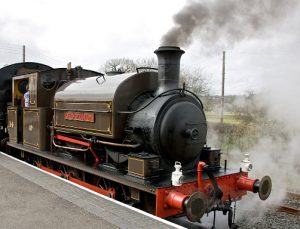 This locomotive was built in 1917 by Manning Wardle for the Parkgate Iron and Steel Company of Charwelton, Northamptonshire. There she worked virtually single handed on ironstone quarry lines for upwards of 25 years. By the beginning of World War 2 Charwelton was almost worn out and was transferred to the Sproxton quarry in Lincolnshire for major overhaul. The quarry railway there closed in 1963 and Charwelton was purchased (for £280) by the K&ESR Loco Trust, arriving the following year.
Charwelton was steamed for works trains on a number of occasions but was found to have severe cracking in the firebox. She was subsequently sold to a member and restored away from the railway, returning in September 1982, immaculately turned out in lined umber livery and has been a frequent performer on Locomotive Driving Experience courses.
Sadly she developed boiler problems in April 2017 and is currently undergoing major repairs - including a new boiler and new cylinders.
---
No.15 - Hastings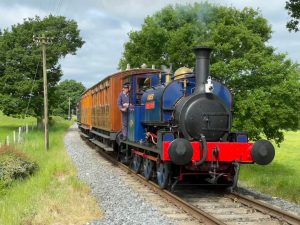 Built by Hunslet Engine Company in 1888 for the Manchester Ship Canal contractors, T A Walker.
It originally carried the name Liverpool, but was sold to Price, Wills & Reeves and renamed Hastings. After a spell on a contract at Immingham Docks, the locomotive the locomotive was acquired by the Park Gate Iron & Steel Company in 1915. In 1935 Hastings moved to Sproxton Quarry in Leicestershire. In 1963 the quarry closed and the K&ESR Locomotive Trust purchased Hastings for £250.
Arriving at Tenterden in January 1964, she was briefly returned to steam in April 1965 but boiler problem resulted in her not being used again. The locomotive was subsequently privately purchased and moved to Mangapps Farm Railway Museum for restoration. Work continued at the Elsecar Heritage Railway, whilst the boiler underwent major repair work at the North Norfolk Railway before passing its hydraulic test in January 2019. Reassembly saw Hastings steamed at Statfold Barn Railway in May 2021 following completion of its overhaul. In September 2021 the locomotive moved to the Chasewater Railway and entered service there a few days afterwards. Hastings returned to the K&ESR in May 2022 and is expected to see use hauling the railways superb collection of vintage carriages.
---
No.19 - Norwegian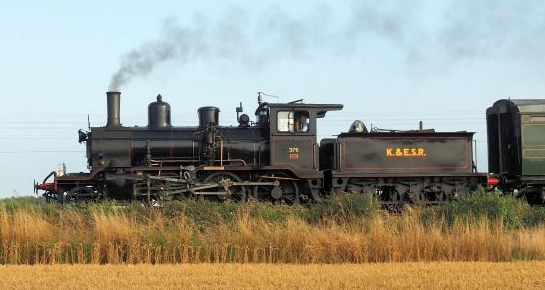 The only tender locomotive on the K&ESR, No. 19 arrived in 1971 having been purchased privately and transported from Oslo.
No. 19 was built for the Norwegian State Railway (NSB) at Trollhattan in 1919. Eight such locomotives were constructed, developed from an earlier series of locos built for the NSB by Messrs Dubs and Company of Glasgow in 1891. These locomotives were built for use on the Kongsvingar line in south eastern Norway, although our loco ended her days on snow plough work at Grong on the Nordland line. An interesting feature of the locomotive was the enclosed cab, fitted to provide shelter during the long hours of darkness encountered in the north of Norway.
After arrival on the K&ESR it was regularly in service from 1974, but was withdrawn in 1977 for extensive repairs. Work proceeded slowly and the locomotive changed hands several times until it came into the ownership of the Norwegian Locomotive Trust in 1984. The locomotive re-entered traffic in 1996 and was ceremoniously recommissioned by His Excellency the Norwegian Ambassador. Shortly afterwards the locomotive was named 'Norwegian'.
The locomotive has provided excellent service & has frequently been employed hauling the K&ESR's 'Wealden Pullman' dining train. She fell due for overhaul in December 2019 & is currently awaiting workshop space.
---
No.21 & 22 - Wainwright & Maunsell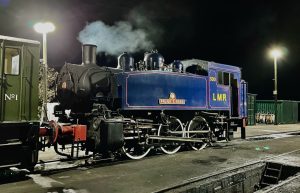 These American built shunting locomotives are two of over 300 that were built to serve overseas for the United States Army Corps of Engineers during World War 2. The class saw service in England, North Africa, the Middle East, Italy and Western Europe after D-Day. Post-war, survivors were employed in a number of countries including France, Austria, Greece, Egypt, Palestine, Iraq and Yugoslavia.
Although the locos were built with a very limited life expectancy, 15 were purchased after the war by the Southern Railway and used at Southampton Docks, where their short wheelbase was well suited to the sharp curves of the dockyard. In 1962 they were replaced by diesel shunters and transferred to Ashford, but the journey from Hampshire took a month to complete as the locos were not accustomed to long journeys! At Ashford the locos were named Wainwright (after the SE&CR's first locomotive superintendent) and Maunsell (after the Southern Railway's first Chief Mechanical Engineer) and were kept busy until 1967 when they were laid aside.
In 1968 they were sold to the famous Woodham's scrapyard at Barry in South Wales but, as before, their journey was interrupted when they suffered overheated bearings and didn't get further than Tonbridge. There they remained until resold to the K&ESR - their remarkable survival can therefore be said to have resulted from breaking down on the way to the scrapyard!
No. 22 was the first large locomotive in service on the K&ESR during 1974 and proved itself very capable of hauling five coach trains. After many years out of use, restoration work to No. 21 began in 1988 & it entered traffic in 1994. She represented the railway at the 150th Anniversary of railways at the National Railway Museum at York in 2004 and, following a further overhaul completed in 2017, she returned to service in Longmoor Military Railway livery as WD300. Sadly firebox wastage problems have now currently curtailed operation of this historic loco.
---
No 23 & 25 - Holman F Stephens & Northiam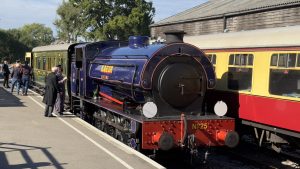 In 1942, in anticipation of an invasion of the continent, it was decided to design and construct a heavy shunting locomotive. The Hunslet Company took the design lead and the Austerity saddle tank was born. The first of 377 locos left the Leeds works less than six months after the initial order had been placed. After the war, 106 further locos were built, including seventy-seven destined for the National Coal Board. As a result of their simple robust design, they became widely used in industry, whilst others remained active on the Continent.
The K&ESR locomotives were built by Hunslet for the Army after the war and were initially stored at the Longmoor Military Railway. Following use at a number of locations, No.23 was sold and arrived at Rolvenden in 1972 - it had accumulated a total of just 23,178 miles during its 20 year military career. No. 23 entered service in August 1974 & was named Holman F. Stephens (after the Railway's engineer and first Managing Director) in 1977. It has operated extensively during the last forty years, but is currently awaiting an overhaul.
Sister loco No. 25 worked at various Army locations before coming to the K&ESR in 1977. It initially remained Army property, but the Ministry of Defence sold it to a small group of members in October 1979. Another 'low mileage' model, it entered service in 1981 in a lined blue livery similar to the K&ESR livery used in Colonel Stephens' days.
---
No. 75008 Swiftsure - Hunslet Austerity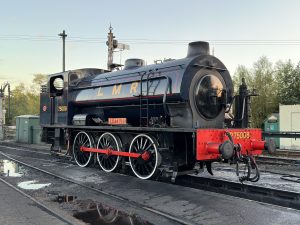 This locomotive was built in 1943 by the Hunslet Engine Company for the Ministry of Defence, entering service as WD 75008 at the Longmoor Military Railway, Hampshire.
In December 1944 it was sent to France and was hired to the SNCB Antwep Dam. The locomotive was returned to the War Department in February 1946 and brought back to Britain at the end of that year.
Now privately owned, we're delighted to welcome Swiftsure for a period of hire. Read more about Swiftsure here
WD132 Sapper - Hunslet Austerity
Sapper was built in 1944 for the War Department by the Hunslet Engine Company of Leeds. Works number 3153, the WD gave her the number 75103. She was then renumbered 132 after the war.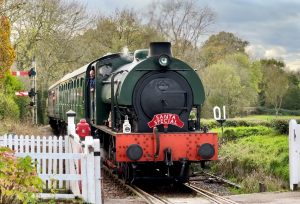 After military service, she was purchased by the National Coal Board for colliery work alongside many of her sisters. She has the distinction of being the last steam locomotive in industrial service in the UK, being taken out of use from Bold Colliery in 1984. After initial preservation at Chatterley Whitfield Mining Museum, she went to the South Devon Railway in 1994 where she worked for a couple of seasons before withdrawal.
Remarkably, over 80 of these versatile ex-WD locomotives have survived into preservation. 
Sapper & Swiftsure are very kindly on hire to us from Road & Rail Steam Services.
No.1638 - Pannier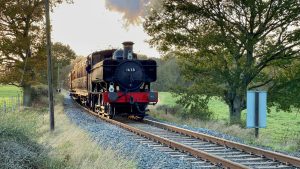 Of Great Western ancestry, the 70 locomotives of this class were built by British Railways between 1949 and 1955. They were constructed for use on routes with low overbridges in South Wales, whilst others worked in Cornwall and as far afield as Scotland.
No. 1638 entered service in March 1951 and was withdrawn in August 1966. It was purchased for preservation for £1300 and arrived at the Dart Valley Railway in 1967, before coming to the K&ESR in 1992. It has proved a useful addition to the fleet and regularly plays the part of 'Duck' during 'Day Out with Thomas' events. It currently carries a 1950's BR black livery.
---
No.6619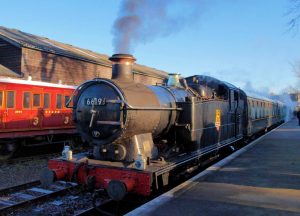 The GWR developed this class of loco from Rhymney Railway origins, using as many standard parts as possible. The first batch were built at Swindon in 1924, with 6619 built in January 1928. They lasted in service until 1962 when withdrawal proceeded rapidly - all were consigned to the scrapyard by 1965.
6619 was saved from Barry scrapyard & restored between 1979 and 1984 for use on the North Yorkshire Moors Railway (with some input from K&ESR volunteers, who have a long association with that Railway also). When its owners offered it for sale, it was purchased for use on the K&ESR and provided good service for a number of years. Withdrawal occurred in January 2015 when the scheduled major overhaul fell due. Currently in secure storage pending space in our Rolvenden Locomotive Workshop.
---
No.4253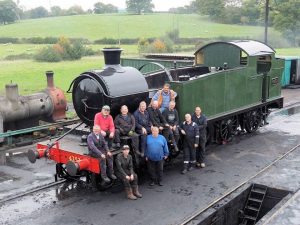 This GWR locomotive was built by the Great Western Railway in 1917 with the principal role of hauling 1,000+ ton coal trains through the Welsh valleys. The steep gradients and heavy weight of these trains demanded good steaming capabilities. 4253 spent all her working life hauling heavy coal trains from the pits to the docks and steelworks, as well as local mixed freight duties.
When modernisation reached the area in 1963, 4253 made the journey to Barry scrapyard where, like many others, she awaited cutting up. Luckily, recycling of other easier items resulted in 4253 escaping the cutters torch until, in 1987, it was rescued and taken to The Pontypool and Blaenavon Railway. However the engine remained unrestored until the present owners brought her to the K&ESR in 2011. Restoration has since proceeded apace & entry to service is likely before too very long - visit the 4253 website for latest project news.
---