Our collection of rolling stock is wide ranging, with some having been obtained for their historical interest, whilst others for their practical benefit. Historic vehicles are reserved solely for use on mixed or freight trains, whilst more modern counterparts are used by our Civil Engineers
No. 102 - SER Brake Van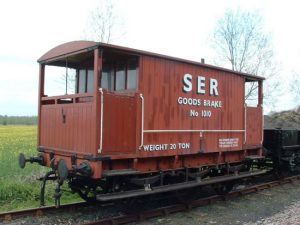 This brakevan entered service on the South Eastern Railway in July 1898 & remained in use until sold to the Royal Aircraft Establishment at Farnborough in 1946. When that closed in 1965 the van was purchased for use on the K&ESR.
---
No. 103 - SR Brake Van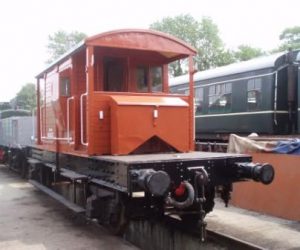 The design that became the standard Southern Railway brake van was introduced in 1928 and were known by staff as 'Pillboxes' . Built by the Southern Railway at Lancing in 1941 for Army use, sixteen went to the middle east but ours is one of the four that remained in the UK, based at the Longmoor Military Railway. It was purchased by the K&ESR in 1969.
No. 104 - LNWR Brake Van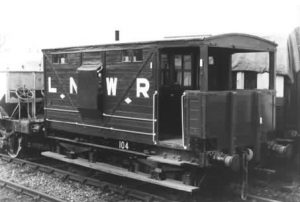 This vehicle was built by the London & North Western Railway in 1921. Acquired by the Army and based at Longmoor, it came to the K&ESR in 1969.
---
---
No. DS62862 - Shark Ballast Plough Brake Van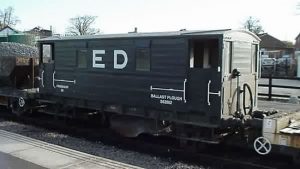 This 20 ton ballast plough brakevan was built in 1949 to an SE&CR design of 1914. It is a most interesting vehicle that uses ploughs to spread ballast evenly along track. It proved more than useful in relaying thousands of tons of ballast during the extension to Bodiam in the late 1990's. In Common with the other ballast Brakes of differing designs it is known by the telegraphic name of 'Shark'.
No. M515184 - LMS Box Van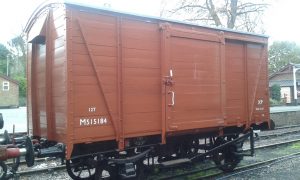 This van was built in 1940 at Lancing Works by the Southern Railway for the London Midland & Scottish Railway. It arrived at the K&ESR in May 1980. Painted in LMS bauxite red, for a short period in 1985 it carried a special colour scheme for use with a 'Kit Kat' bar advertising contract.
---
Midland Railway Box Van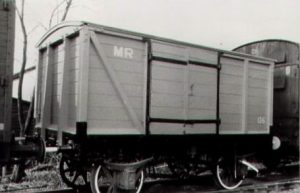 This small van is the oldest freight vehicle on the Railway, being built by the Midland Railway before 1886. It is of wooden construction and bears the carpenters marks of the original builders. It came from HM Dockyard Chatham in 1983, where it carried Navy Yard Nº. 564. Fully restored by its owner, it is now displayed at Tenterden Town Station. Its original number and build date have not been established.
Nº. 175 - "Elephant Van" (CCT) Nº. 37011
This vehicle was built as a CCT for the LMS in 1938. The van was purchased for preservation in 1985, initially on the Nene Valley Railway, where it appeared in the James Bond Film "Octopussy" - a hatch was cut into the roof through which 007 made his escape from a supposed East German train. It was acquired for the K&ESR in 1999 and is in use as a stores van.
No. 63101 - SR Four Plank Dropside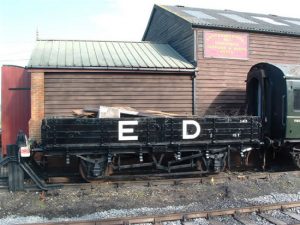 This wagon was built at Ashford in 1937 at a cost of £162. It was used by BR to convey sleepers. It arrived in February 1984 and was  reboarded during 1995 & painted in the present day K&ESR's engineers' black livery.
No. S11530 - SR Eight-Plank Open Wagon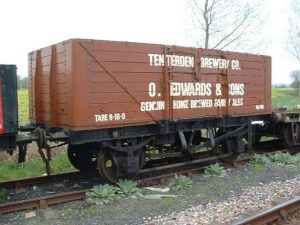 This SR eight-plank open wagon arrived from Ashford in 1984. It was built at Ashford at a cost of £128 and has a five-plank drop flap either side with a pair of hinged doors above. It now carries a fictitious livery commemorating a Brewery that once stood in Station Road (formerly named Brewhouse Lane) in Tenterden.
No. B 483720 - Five Plank Open Wagon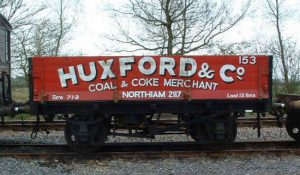 This 13 ton open wagon was built at Ashford in 1949 & arrived on the K&ESR in 1988. Repainted in 1990 in the private owner's livery of the then Northiam coal merchant.
No. S5916 - Five plank 13 Ton Open Wagon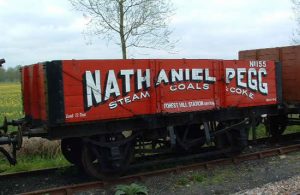 This vehicle was built by the Southern Railway at Ashford in 1943. It was delivered to the K&ESR 1988 and repainted in SR colours. It later received the private owners livery of Nathaniel Pegg, a one time South London coal merchant.
No. KDB741895 - 12 Ton Pipe Wagon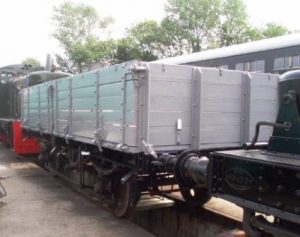 This wagon was built at Wolverton in 1961. It has full wooden dropside doors and was in S&T use on the London Midland Region prior to its arrival in January 1998. Patch repaired and repainted grey in 2006.
No. 132 - Tank wagon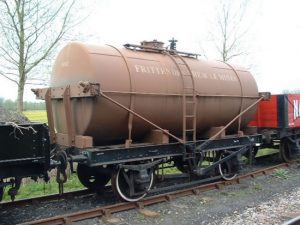 Built in 1941 for use as an Air Ministry spirit wagon, it came to the K&ESR from an Esso depot near Cardiff in 1982. The vehicle was restored to Esso livery of gloss black and white lettering but has also carried the fictional livery of "Frittenden Treacle Mines"!
---
DS 451 - 10 ton capacity Steam Crane
This six-wheel travelling steam crane was built for the Southern Region of British Railways in 1949 by Messrs Taylor & Hubbard (builder's No. 1603). It takes steam at 90 psi from a vertical 'Spencer Hopwood' patent steam boiler and weighs 47½ tons in full working order. Lifting capacity is 10 tons at 15 ft radius.
As DS 451, it spent most of its working life at New Cross Gate before being displaced by diesel cranes. It received a heavy overhaul at New Cross Gate in 1977 and was re-roped in February 1981, only a few months before being laid aside at Ashford. A group of members successfully tendered for it and delivery took place in August 1982.
DS 451 has seen much use since its arrival and is of extremely rugged construction - Taylor & Hubbard appeared to build their machines on the Victorian principle of 'If it breaks double the size and weight'. The engine and gearing were built to withstand a one hundred per cent overload & it is ideally suited to permanent way work.
The accompanying match wagon is a 58 ft underframe from former SR composite non-corridor coach Nº. S4668, itself a conversion of and ex-L&SWR composite carriage of the same number in 1935. It was converted to its present role in 1958 and was fitted with a jib rest, water tank and storage lockers.
No. 81S - 36 ton capacity Steam Crane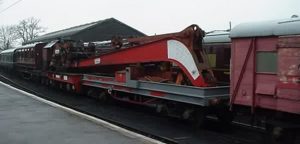 Built by Ransomes & Rapier of Ipswich in 1926, it was one of a pair ordered by the Southern Railway & allocated initially to Brighton Shed. It moved to Fratton in 1946 & Stewarts Lane in 1963 before it arrived on the K&ESR in 1987.
The crane can lift 36 tons at 20 ft radius and weighs 79 tons 10 cwt.
No. B900427 - 40 Ton "Weltol" Bogie Trolley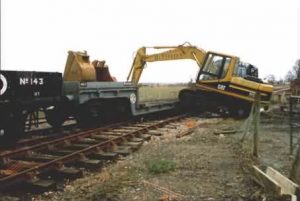 Built in 1957 by Head Wrightson, this vehicle was privately acquired for the K&ESR in 1995 and now carries the local designation 'Frimtrol FB'. It has proved particularly useful during civil engineering works.
No. S61103 - Bulleid Well Wagon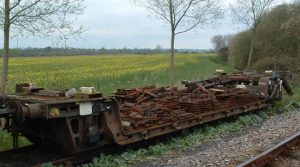 This wagon was built at Lancing in 1944 using castings supplied by the English Steel Corporation at Sheffield. It is one of 11 highly innovative wagons built to Oliver Bullied's design and consists of a number of steel castings welded together, the main side frame castings being one of the largest castings attempted to that time. This rather elegant wagon came to the K&ESR from the mainline in 2004.