The Wealden Pullman forms the perfect venue to celebrate a special occasion or for a more intimate evening. Your meal is carefully prepared onboard and served by authentically attired Pullman Attendants whilst the train gently winds its way along the Rother Valley.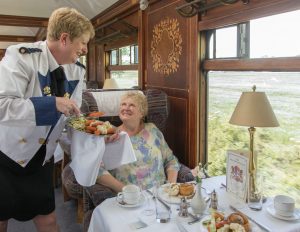 Dining carriages include historic Pullman Cars dating from the 1920's and a 1930's First Class carriage built for the Southampton Ocean Liner traffic. Each perfectly captures the atmosphere and style for which travel by Pullman train became renowned, maintaining the finest traditions of the Pullman Car Company for your enjoyment and as a reminder of a more elegant age.
The Wealden Pullman is staffed by a team of dedicated volunteers, who take great pride in recreating levels of service seldom enjoyed in today's busy world. Enjoy a complimentary aperitif whilst you admire the carefully restored steam locomotive or explore the intricate marquetry panelling in Pullman Car 'Barbara' & 'Theodora'. Take your seat and savour the moment as the train gently departs on its relaxing journey…….
Saturday Evening Dinners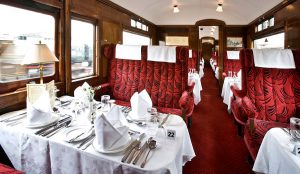 Wealden Pullman' departs Tenterden Town Station on most Saturday evenings from April to November.
A complimentary aperitif awaits your arrival from 6.30pm, before boarding the train in time for departure at 7.00pm.
During the journey through the beautiful unspoilt Rother Valley, your carefully prepared meal will be silver-served by Pullman Attendants dressed in the period uniform of the Pullman Car Company. An onboard bar is available, although the Attendants are pleased to provide full table service.
On arrival at Bodiam Station, a pause allows time to visit the steam locomotive, chat with its crew and perhaps take a photograph or two. Don't forget to pass by the kitchen pantry, where you can observe and chat to the staff hard at work.
As the train returns to Tenterden Town, the dessert trolley offers an enticing range, all of which are made onboard the train. Coffee is served as the train is hauled up one of the steepest gradients in southern England, with Tenterden Town Station being reached at approximately 10.30pm.
View or download menus here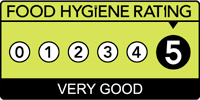 £94.50 per person
Information about the changes we've made to keep you safe during COVID is available at here
BOOK ONLINE
If you have any queries, please contact us by email
December Evening Dinners
Celebrate the festive season with a five-course dinner on our evening services. There's a complimentary seasonal aperitif on arrival plus a gift for everyone from Father Christmas too!
View or download menus here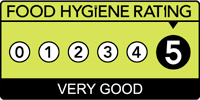 £102.50 per person
Information about the changes we've made to keep you safe during COVID is available at here
BOOK ONLINE
If you have any queries, please contact us by email
New Years' Eve
Welcome the New Year with a very special service featuring an six-course meal, extended journey, complimentary drinks, onboard jazz band and an exclusive firework display at midnight!
Contact us by email the latest availability of this popular event
Sunday Lunch
A traditional Roast Lunch is served on most Sunday afternoons between April & October. Especially popular for birthdays and family celebrations, the Wealden Pullman is available for boarding at Northiam Station from 12.30pm.
Join us for a complimentary aperitif whilst you chat to your fellow guests and admire the lovingly restored carriages. Liveried Pullman Attendants will be pleased to show you to your reserved table and provide any beverages required.
Following departure at 1.00pm, your meal is silver-served as the train steams to Bodiam – look out for the beautiful castle just a few hundred yards from the station. On arrival, the locomotive will "run round" the train in preparation for the journey to Tenterden, passing through Northiam again on the way. Enjoy the ever changing aspect from your window: wildlife abounds in the peaceful Rother Valley. The locomotive runs around again at Tenterden before returning the train to Northiam, reached at 3.20pm.
View or download menus here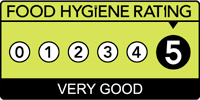 £75.50 per person
Information about the changes we've made to keep you safe during COVID is available at here
BOOK ONLINE
If you have any queries, please contact us by email
A train of your own!
The Wealden Pullman may be privately hired for special occasions, wedding receptions, business conferences, office functions, corporate entertainment and product launches.
A range of packages are available, from simple luncheons to full evening meals, all of which are silver-served onboard the train as it steams through the picturesque Rother Valley.
Further details of private hire may be found in the Charter Pack
Other types of train may also be hired. With a collection of locomotives and carriages dating from Victorian times to the 1960's, we will be pleased to quote for your exclusive meeting or special function –  enquiries@kesr.org.uk
Facilities & Seating Arrangements
Please note that table positions are fixed. Dinner services are unsuitable for children and Luncheon services are unsuitable for children under the age of five. Children must be fully supervised at all times and need to remain seated throughout the journey. We regret it is not possible to accommodate high chairs. Infant & Child accommodation is chargeable at the child rate, irrespective of their age. Whilst we will always try to accommodate requests for specific tables or carriages, the limited accommodation means we are unable to guarantee such requests. Access for wheelchair users is available to Pullman Car Theodora: please contact us is advance for details. Toilet facilities are available in each dining car and accessible toilets are located at Tenterden Town, Northiam and Bodiam Stations.
Dress Code
Many of our guests choose to complement the period atmosphere of the Wealden Pullman in their dress style. Guests are respectfully advised that T-shirts, jeans and trainers are not permitted. In keeping with the Pullman tradition, gentlemen are requested to wear a tie.
Special Dietary and Allergenic Requirements
We aim to accommodate all guests' special dietary and allergenic requirements. In order to meet your specific needs we require any such details at the time of booking. Our Chef will contact you personally prior to your visit to discuss your requirements. We regret that we shall be unable to accommodate any requests made once the train has departed.
Gratuities
Gratuities are discretionary. Should you wish to leave a gratuity, our staff have chosen that donations be used to make improvements to the train. In this way, there is complete fairness and both our volunteers and customers see the train continue to improve. Donations are also welcome to our Appeal
How to book
Wealden Pullman services are extremely popular, so early reservations are strongly recommended.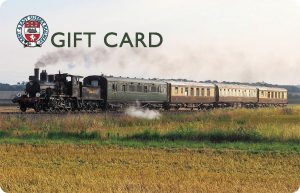 K&ESR Gift Cards are available for any value and may be redeemed in full or part payment for a Wealden Pullman booking, a daytime train ride, a Cream Tea, a souvenir from the Gift Shop or even membership of the charity that owns and operates the K&ESR. Click on the image to purchase
Wealden Pullman Booking Conditions
Saturday Evening Dinner ticket price consists of Table D'Hôte Menu £49.50 and Pullman travel ticket £45.00
December Evening Dinner ticket price consists of Table D'Hôte Menu £57.50 and Pullman travel ticket £45.00
Sunday Lunch ticket price consists of Table D'Hôte Menu £36.50 and Pullman travel ticket £38.00
All prices include VAT where applicable
Payment in full must accompany your booking. We shall be pleased to cater for any special dietary or allergenic requirements, but these must be advised at the time of booking.
In the event that you request cancellation of a confirmed booking, a refund will be made if the seats can be resold. In such cases, an administration fee of £10.00 per ticket will be levied. A similar charge will apply to requests for alterations, which will be granted at the discretion of CSRE Ltd.
In the event that the government or authorities heighten COVID control measures and we are obliged to cancel your Wealden Pullman booking, we will make every endeavour to re-book you for an alternative date, subject to availability. Alternatively, the value of your booking can be transferred to a K&ESR Gift Card which may be used to purchase a wide range of tickets, Gifts & Experiences – Gift Cards are valid for 3 years. Should you require a refund, the value, less a £10 non-refundable deposit, will be refunded to the originally used payment card/method.
The Wealden Pullman is normally hauled by a steam locomotive, but the K&ESR reserves the right to substitute diesel haulage in the event of breakdown, high fire risk or other operational need.
Catering services are provided by Colonel Stephens Railway Enterprises Ltd. – a wholly owned subsidiary of the Kent & East Sussex Railway Company Limited – the registered charity that owns and operates the Kent & East Sussex Railway. Full terms and conditions are shown here