No.20 – GWR Railcar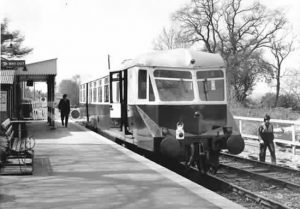 No. 20 was built by the Great Western Railway at Swindon in 1940. It is one of the fourth, and final, basic designs of railcar put into service by the GWR between 1934 and 1942.
Accommodation is provided for passengers in two open saloons having a total of 48 seats and there are driving cabs at either end. Two AEC diesel engines gave a top speed of 60 mph & the railcars were capable of hauling a tail load of up to 60 tons.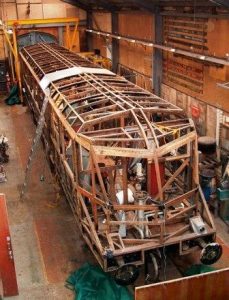 Purchased by the K&ESR, it arrived at Robertsbridge on 3 April 1966. Because of width restrictions on the Hastings line, it was necessary for the railcar's body to be weighted and tipped to one side, as an 'out-of-gauge' load & it remains the widest load to have run on that route prior to the tunnels being singled ready for electrification in the 1980's.
It formed the first fare paying public train on 3 February 1974 and for the next five years it regularly ran Saturday morning and services. Although in mechanically sound condition, it was withdrawn from service during 1980 suffering badly from bodywork corrosion. Much painstaking work has been completed but the body has required an almost complete rebuild and the project continues as funding permits.
---
No.40 – 'Ford' diesel electric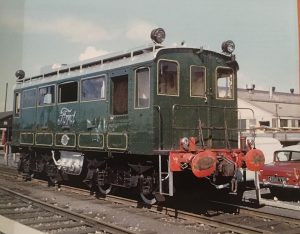 In 1931 the Ford Motor Company ordered three diesel-electric shunting locomotives for use at their new car plant at Dagenham in Essex. These locomotives owed something to an American 'switcher' design, which first appeared in 1925 at Fords American plant. At the time of building they were unique in Britain and created considerable interest at home and abroad. Notably the specification stated "all materials will be of British manufacture…". The locomotives worked for 34 years at Dagenham, during which time each one is estimated to have run well in excess of 250,000 hours.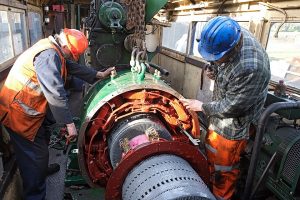 Ford No. 1 was acquired for the K&ESR and arrived on 7th July 1966, the locomotive having still been in use by Ford just two days previously. In February 1972 it hauled the last train from Robertsbridge to Bodiam, prior to the dismantling of that section of line. By 1986 it could usually be found working permanent way civil engineering trains. Following some restoration work, it returned to operating condition in 2000 but is only used on special occasions because of its great age.
---
M50971 & M51571 – Diesel Observation Train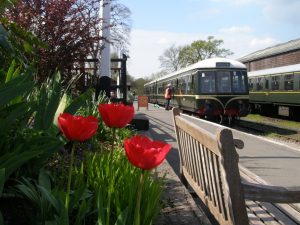 These vehicles were introduced in the 1950's for duties on secondary lines and are in direct line of decent from the GWR Railcars, exemplified by No. 20 above and, earlier still, from the Ford and Shefflex railbuses pioneered by Colonel Stephens on the K&ESR. These vehicles are commonly referred to as the Diesel Mechanical Multiple Unit – or 'DMMU' for short! They were acquired for the K&ESR in 1993 and an extensive programme of renovation has since progressed steadily.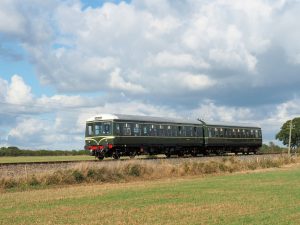 Both vehicles were constructed in 1959 and are now turned out in their original green livery. They are regularly used to supplement steam services on quieter days – their observation ends proving popular with passengers. One vehicle contains the guard's and luggage compartment, whilst the other features a first class saloon and lavatory.
---
D9504 and D9526 – Class 14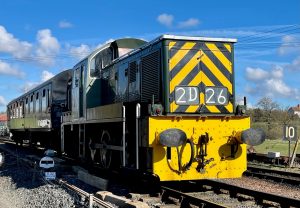 These Swindon-built locomotives were introduced in 1964 to work shunting duties, local freight and trip workings. They were introduced during the Beeching era – the very time when the work for which they were intended was rapidly disappearing! Thus they saw only two or three years' BR service and earned the nickname "Teddy bears". On the K&ESR D9504 has proved equally capable of handling heavy works trains or hauling the passenger services.
D9526 is currently on hire from the Diesel and Electric Preservation Group and is normally based at the West Somerset Railway. The loco was donated to the DEPG by Blue Circle Cement in 1980 and, following repairs and restoration work, D9526 made its preservation debut in 1984, working on the WSR for a further ten years. D9526 had a completely rebuilt Paxman 6YJXL engine installed, returning to service in time for the 2018 Diesel Gala. We are grateful to the DEPG and WSR for making the loco available to us.
---
D4118 – Class 08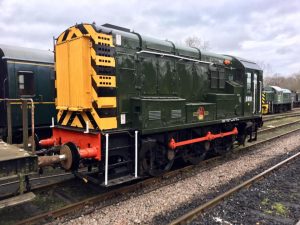 Built in February 1962, this popular shunting loco spent much of its working life in the West Country. The loco was modified and equipped with Remote Control equipment in the mid 2000's, enabling it to be remotely driven by an operator based on the ground.
In September 2016, the loco was purchased & moved by road to the K&ESR. The loco required some significant work to recommission, with the main emphasis on removing the Remote Control equipment. It has since been repainted into a traditional livery previously carried. The locomotive subsequently experienced problems with the remaining remote control equipment and the owners took the decision to send the loco to Valley Rail Shunters. The loco has now been back converted to its original condition, a project that involved significant rewiring – and expense!
---
D2023 & D2024 – Class 03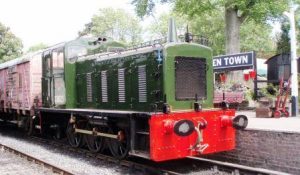 Two of these diminutive locos are on the K&ESR and have had a remarkably similar career. They were built at Swindon Works in 1958, to a similar design to those which were used on the Kent and East Sussex line during the final years of the BR freight service.
D2024 has yet to enter traffic and is on static display at Bodiam Station, but D2023 quickly received a major overhaul and re-entered service in Brunswick green livery. It has taken an active part in operating the railway but is usually to be found at Tenterden Town as the shunt pilot locomotive.