The Weston Point Light Railway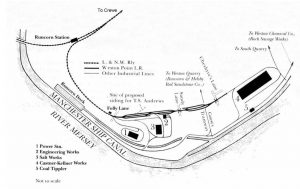 The Weston Point Light Railway at Runcorn Cheshire is probably the least known of the railways engineered by Col. Stephens and one of the last he engineered.
In reality the sidings had been in existence for many years as part of the dock complex serving the chemical plants of Castner-Kellner (now part of ICI), a number of quarries and other companies. There were many false starts at connecting the siding to a main line but problems with obtaining the land require stopped earlier attempts. It was not until 1920 that progress was made with the LNWR agreeing to build a single track branch line from the main LNWR Liverpool to Crewe line at Runcorn station to a point known as Folly Lane where it would fan out into the exchange sidings. For this to happen the sidings had to be upgraded to take an increased axle load.
The upgrading of these sidings was carried out by C.K. (Castner-Kellner) under 'The West Point Light Railway Order', sealed on 2 Dec. 1920. C.K. appointed Col. Stephens as the engineer for this work and the branch and sidings opened in 1922.
The sidings originally consisted of two main fans divided by a level crossing at Sandy Lane. There were also many of the original private lines and sidings connecting the WPLR with the quarries, dock area and chemical plants at West Point.
Today the line from Runcorn to Folly lane is still in use as is the first fan of sidings up to Sandy Lane and at least one branch from what was the WPLR sidings to the dock area is still in situ.
The Weston Point Light Railway has a new lease of life with building of a new £400m incinerator. Waste arrives compacted in containers to be unloaded at the new facility.
Return to Museum Menu
Return to Main Menu
Book Online and Save