North Devon & Cornwall Junction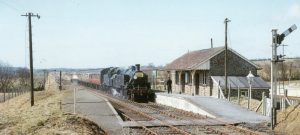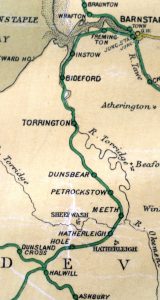 This railway had a long gestation period and was the last standard gauge public railway to be built before the modern era. It was based on the rebuilding of a narrow gauge industrial line and its extension south to a connection with the London & South Western Railway (LSWR) lines that become later known later as the 'Withered Arm'.
The LSWR had extended into North Devon and a branch had reached south from Bideford to reach Torrington by 1872. In 1881 it was met by a 6 mile long private narrow gauge railway, the Torrington and Marland, to connect the China clay mines. This was lightly built in part on trestles to the patent principles of John Barraclough Fell.
From 1905 Holman Stephens provided the driving force behind a new venture, personally negotiating finance and overseeing construction of a new railway. The line was now to extend south from Torrington to a geographically convenient junction at Halwill rather than to Okehampton. This decision proved unfortunate for future passenger traffic prospects.
An application for powers was made in 1909 and the line was authorised in 1914 but the Great War intervened. Plans were revived in 1919, but costs had more than doubled. Government support was necessary and, for once, sought successfully. Even this was a mixed victory for Stephens as the funds had to be bid for in opposition to another of long term aspirations, the Gower Light. Colonel Stephens was engineer and managing director of the new company and he oversaw the lines design and construction though operation was in the hands of the Southern Railway.
The first sod was cut in 1922 but work progressed only slowly. An established contractor was employed but the local unemployed workers required by the government grant lacked the skills to build a railway, and labour problems and weather slowed progress. In 1925 the contractor became bankrupt and Stephens took over construction personally. The 20 mile long line was completed and opened without formality on 27th July 1925.
The thinness of population in the area ensured minimal passenger traffic and there was not a great deal of agricultural traffic. Clay traffic was however steady and growing, the new railway encouraged a new clay works at Meeth which opened in 1920.
Apart from china clay, all goods facilities on the ND&CJLR were withdrawn on 7th September 1964 and the passenger service went from 1st March 1965. At the same time the line south of Meeth, to Halwill Junction, was closed. Clay traffic continued for some years but the clay companies had turned to road and were unwilling to invest in modern railway wagons. Total closure came in March 1983.
The line was lifted and much of the route north is now an excellent foot and cycle path, part of the 'Tarka Trail'.
Return to Museum Menu
Return to Main Menu
Book Online and Save