East Kent Light Railway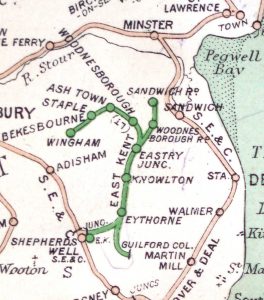 Born in great optimism this railway was the only outcome of numerous plans for railways and collieries in the newly discovered Kent Coalfield. Conceived to carry coal it soon reverted to a truly rural railway with a heavy coal flow for a few miles at one end. Holman Stephens was engineer from inception, subsequently becoming director and manager. Running from Shepherdswell to Wingham, with an intermittently operating branch to Richborough Port, it progressively opened from1911 with a passenger service from 1916.
Services ebbed away with the final passenger trains in 1948 and progressive closures back to Tilmanstone Colliery over the next 3 years. The line shut with the colliery in the 1980's. Enthusiasts have reopened the remaining line.
 The East Kent Light Railways were unusual even by Stephens' standards. The plural title is appropriate for it involved no less than 40 separate statutory railways designed to serve an extensive coalfield, and associated facilities, even though they largely failed to materialise. The amount of work involved for Stephens in surveying, planning and obtaining Light Railway Orders was huge for which he was underpaid, indeed in large part unpaid. Through Stephens' personal efforts in building, or partly building, a few of the railways, a very lightly built line emerged. This usefully served one working colliery and did a great deal to encourage horticultural businesses in the area until that traffic was stolen by the road.
Coal had been found deep under Kent at the turn of the 20th Century and numerous collieries were planned over an area roughly bounded by the Channel, the Great Stour River and a line from Canterbury to Folkestone. The dominant proponent and proposer was one Arthur Burr, who was eventually exposed as a crooked charlatan. Shaft sinking for the planned collieries took many years, as worthwhile deposits were only found around 1500 ft. down and geological conditions were far from easy.
The EKLR was promoted by a Burr company, Kent Coal Concessions Ltd, in 1910, which contracted to build the line. The primary line was intended to directly connect the coalfield to a new coal port at Richborough (sometimes called Sandwich Haven). However difficulties of finance and construction and the need for materials to build two of the first collieries at Tilmanstone and Guilford caused the line to commence from Shepherdswell on the L&CDR Dover-London line. Such was the urgency that a temporary line was thrown into use by October 1911.
A financial crisis in late 1913 brought further work to a halt, with only the lines to the collieries in full commission following the completion of Golgotha tunnel in October 1913. The Burr companies collapsed in near scandal during 1914 and with the coming of the Great War in August further work was impossible.
In 1916 the railway company assumed direct control of its construction. Hard work by Stephens, by now Managing Director and Engineer, permitted the public opening of the first part of the line from Shepherdswell to Wingham colliery to passengers and goods on 16th October, together perhaps with sections of the line towards Sandwich for goods. The Wingham line was extended, unofficially, half a mile to Wingham Town in 1920. By 1922 however both Wingham and Guilford colliery works had been abandoned together with their connections.
A further extension followed to Wingham, Canterbury Road, which, together with the section from Eastry to Sandwich Road, was officially opened in 13th April 1925, although the extremely sparse service to Sandwich was abandoned by 1928. The line to Richborough was a low priority given that the port had been effectively sealed off by the military for the duration of the Great War and by ensuing difficulties with the subsequent owners.
That the line finally opened was solely due to Stephens' efforts in using very limited resources to part finish, and usefully extend the line. It must be said however that the standards he was forced to use made for the simplest, perhaps too simple, forms of construction, notable for crude platforms and minimal facilities. The EKLR had become a truly rural light railway with a heavy coal flow for a few miles at one end between the Tilmanstone colliery and Shepherdswell.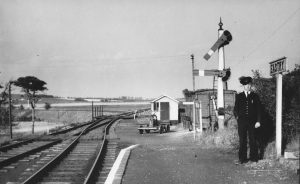 British Railways took control on 3rd May 1948.Passenger services, which by then carried virtually no passengers were withdrawn without ceremony on Saturday 30th October 1948. With the once extensive horticultural traffic having been lost to road, total line closures soon followed. The Richborough branch closed officially on 1st January 1950 but seems to have continued till the Wingham- Eastry line closed on 25th July 1950. This was followed a few months later by Eastry-Eythorne on 28th February 1951. Colliery traffic continued until 1st March 1984 when Tilmanstone colliery ceased production, the line being officially closed on 24th October 1986.
Return to Museum Menu
Return to Main Menu
Book Online and Save