Cranbrook and Paddock Wood Railway (South Eastern Railway)
There was a multitude of nugatory proposals during the 19th century for railways across the Kent High Weald but the traces they left were ultimately to have a material effect on Holman Stephens' career. His introduction to this world came in Cranbrook "the principal market town of the Weald", which despite many earlier proposals, lacked a railway till Stephens reached his maturity in the 1890s. The nearest 'big' railway to Cranbrook the South Eastern Railway (SER) was notoriously adverse to building new lines except when its territory was threaten by its neighbours.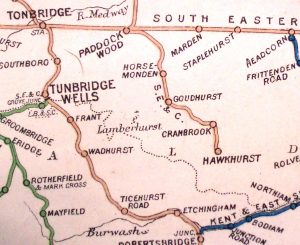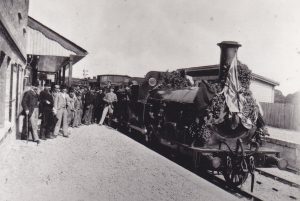 The Cranbrook & Paddock Wood was finally incorporated in 1877 which proved unable to raise adequate capital despite assurances of capital injections from the SER. However it had powerful friends in the family of Lord Cranbrook (Gathorne Gathorne-Hardy), who was at that time a cabinet minister with sons who were also in parliament. Finally in 1892 the SER effectively built and subsequently ran the railway.
The young Holman Fred Stephens got himself appointed as resident engineer through attaching himself to the consulting engineer for the railway, Edward Seaton. Stephens was officially credited with having assisted in the design of 20 small bridges, 2 short tunnels, 6 stations etc. and claimed himself to have designed 13, presumably staff, houses. He was not, however, responsible for of its general engineering or operational features. His job was to ensure that the experienced contractor (J T Firbank) was properly carried out to schedule.
As well as polishing his practical skills on a railway built through difficult countryside it brought several advantages for Stephens' future career. It brought him into rural areas, and he lived at Cranbrook for some time. This residency brought him into contact with his long time associate W H Austen who was a Cranbrook resident, the early contractors he came to use, the Mancktelow Brothers of Horsmonden and also the short lived Peterson Syndicate. Further he adopted for future use the characteristic style of station buildings used on it after they had been pioneered on the South Eastern Railway's Elham Valley line. His role was important enough to be favourably mentioned by the Lord Medway (John Gathorne- Hardy) the Company Chairman at the opening celebration and indeed to speak at that event. The Gathorne-Hardy family were also to play an important future role in Stephens' life as Lord Medway's younger brother Alfred Erskine Gathorne Hardy was for a long time head of the Light Railway Commissioners until his death in 1918.
The railway was worked from the outset, and absorbed in 1900, by the South Eastern Railway and its successors, and was closed in 1961.
Return to Museum Menu
Return to Main Menu
Book Online and Save