Colonel Holman Fred Stephens The Military Man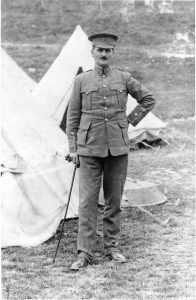 Stephens's early interest with the volunteer armed forces continued throughout his life. By May 1896 he was granted a commission as a 2nd Lieutenant in the Volunteer Forces with an engineering unit – the 1st Sussex Royal Engineers (Volunteers). Thereafter, he gained various temporary and permanent promotions: 1st Lieutenant in 1897, Captain in 1898 and Major in 1903. He was appointed Captain with the 2nd Cinque Ports, Royal Garrison Artillery (Volunteers) in 1905, and following the reorganisation of the volunteer forces in 1908 he became Commanding Officer of the Kent (Fortress) Royal Engineers with the rank of major.
With the outbreak of World War I, and the strengthening of the size of the companies under his command, in April 1915 Stephens was granted temporary promotion to Lieutenant Colonel (made permanent in 1921). The companies had initially been responsible for the defence of the vital Thames and Medway estuaries but were converted to field companies for service overseas in 1915, leaving training companies behind. By 1916, the increasing demands of his military and professional responsibilities led to Stephens having to choose between them, and he decided to step down transferring to the Territorial Reserve Forces on 1st April 1916. However, shortly afterwards he was appointed with the rank of Major to command the Weald of Kent Battalion of the Kent Fencibles, a volunteer unit. Later, in 1921, he became commander of the Sussex (Fortress) RE Territorials, which in 1923 was disbanded with the men transferred to the Cinque Ports (Fortress) RE, but with Stephens still in command. In later years, as was courteous at the period, he was addressed as Colonel Stephens.
For Stephens, his military volunteer role was a hobby, discharged as responsibly and professionally as he was able, but it was essentially a distraction from his day to day work, an important consideration for a man who had few other interests and was not known to take a holiday. He certainly seemed to have enjoyed taking part in field exercises and would attend to his mainly administrative duties at least every couple of weeks. Like so many of his class and generation Stephens saw military service as his patriotic and social duty. He also displayed the same paternalistic attitudes that he showed towards his railway employees, organising and presiding over a committee to raise funds for the comfort of troops sent overseas.
Return to Museum Menu
Return to Main Menu
Book Online and Save