Ashover Light Railway
Conceived by the Clay Cross Company to carry stone, this 60cm narrow gauge railway was engineered by Stephens. Initially conceived and authorised as Standard gauge line in 1918, it was finally constructed using second-hand World War I army light railway equipment. It opened in 1924 with, under pressure from government, a passenger service that lasted until 1936. The line finally closed in 1950. Stephens and Austen remained as consulting engineers virtually throughout the railway's existence.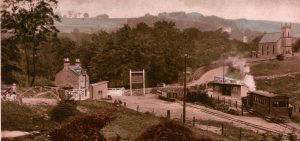 The Ashover originated in Clay Cross Company's desire to access good limestone deposits on its newly acquired Overton estate, in the Amber Valley, for use in its ironworks. Probably because it was required to cross land that the Company did not own, the line had to be constructed with statutory authority as a light railway. This had the drawback that it would be required to carry passengers. Colonel Stephens reportedly became involved as a result of a wartime meeting with the Chairman, General Thomas Jackson, during visits to North Wales. A warm relationship developed with the Jackson Family which continued beyond Stephens' death.
The initial plan for the railway was a straightforward standard gauge branch line from the Midland main line at Stretton. The advantages of a direct rail connection to the Clay Cross works appealed. Awareness of cheap and readily available quantities of 60cm gauge locomotives, stock and rail from War Department sources led to a change of gauge. The usual disadvantage of transhipment costs between gauges did not occur as most traffic went direct to its final destination.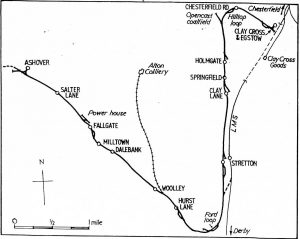 Stephens was very much concerned with the creation of the Light Railway Orders and his role in construction was summed up by him at the opening ceremony saying 'General Jackson designed the railway himself' and he (Stephens) 'simply acted as tail to the kite... merely advised on certain matters' with the humorous aside that 'not always was his advice accepted'.
The key rolling stock was standard WD 'D' bogie wagons which were durable and long lasting, and 70 wagons in all were purchased. These wagons also provided the running gear for the 4 passenger carriages bodies provided by the Gloucester Carriage and Wagon Company, and the eight semi-open coach bodies from the Wembley Exhibition 'Never Stop' railway.
Public opening came on April 7th 1925. Goods traffic was, naturally, steady from the beginning once the quarries were fully developed, and in 1927 nearly 66,000 tons of goods were carried. A generous service of around 8 Passenger trains a day was provided. Summer passenger traffic proved overwhelmingly popular as the public discovered the natural delights of the scenic valley, and the service required three train sets by 1927.
General Jackson had an octagonal shaped, and popular, refreshment room built at The Butts, a level area at Ashover. It was whimsically named 'Where the Rainbow Ends', after a contemporary children's play
In common with all light railways, year round passenger traffic declined as buses took away such local traffic as presented itself. No winter services ran after October 1931 and all regular summer passenger services were discontinued in September 1936. By WW2 the whole railway was wearing out and the end was in sight, and duly followed on 31st March 1950.
The sole remaining Ashover associated wagon seems to be a fluorspar quarry tub from Milltown Quarry preserved at the Colonel Stephens Railway Museum
Return to Museum Menu
Return to Main Menu
Book Online and Save