A Simplified Guide to Our Locomotive Policy, Strategy, Plan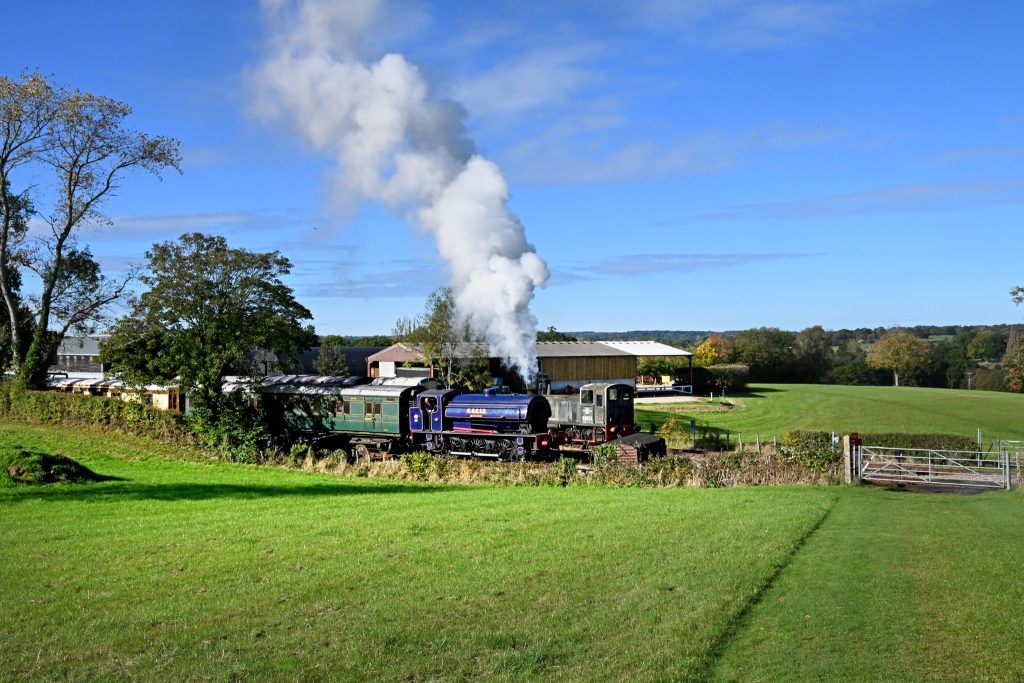 This is a breakdown of our locomotive plan in the simplest terms. We've got three important parts to talk about: the policy, the strategy, and the yearly plan.
1. Locomotive Policy – What the Board Does
The board has a policy, and it's pretty straightforward. It says we'll use different types of locomotives. Some we'll own, and some we'll borrow or hire. We'll also make sure all these locomotives have written agreements, so everyone knows who's responsible for what.
2. Locomotive Strategy – A Bigger Picture
Now, let's talk about the strategy. It's like a big picture plan. We want to make sure our trains run well, and we want to keep the locomotives in good shape. But there are some challenges. Sometimes we don't have enough people with the knowledge and skills of how to take care of the locomotives and fixing them can take a long time.
3. Yearly Plan – The Details
Lastly, there's the yearly plan. This is where we get into the nitty-gritty. It tells us which locomotives we'll use each year and what we'll do to keep them running. It's like a schedule for our locomotives.
The objective is to maintain a robust and versatile fleet of motive power that meets the KESR's commercial and operational requirements while safeguarding its historic and charitable preservation goals.
The KESR shall either resource the relevant departments or have contractual arrangements with third parties to ensure maintenance and overhauls are carried out to enable the commercial needs to be met.
To ensure the well-being of staff and motive power the KESR shall adhere to all applicable regulations and standards that may be in force from time to time.
The KESR shall explore opportunities for the acquisition, hire or loan of motive power as required by this statement.
4. What the Policy says:
Diversified Locomotive Ownership: The KESR shall adopt a diversified approach to locomotive ownership, encompassing the acquisition of locomotives as well as entering into hire, loan, or reciprocal arrangements with other railway entities. This approach will ensure the availability of a diverse fleet of locomotives while fostering positive working relationships.
All locomotives not owned solely by the KESR shall have written ownership and operational agreements as required.
Operational Alignment: Locomotive acquisitions and arrangements shall align with the operational requirements of the KESR. Priority shall be given to tank locomotives, "small" tender locomotives and mainline diesels up to Type 3 classification (up to 1999 horsepower) and Railcars / Diesel Multiple Units, with exceptions for one-off visiting locomotives of any size or type for special events. Each visiting locomotive shall be assessed for suitability from a traction, historic and operational point of view before visiting the railway.
Historic Preservation: The KESR is committed to preserving historically significant locomotives, maintaining their provenance to both the original KESR pre-preservation and post-preservation eras. Such locomotives will serve as tangible links to the railway's rich heritage.
Financial Considerations: The acquisition and use of locomotives through hire, loan, or other arrangements shall be accompanied by financial commitments as required. The KESR shall prudently manage resources to facilitate locomotive deployment and ensure cost-effective operations.
5. What the Locomotive Deployment and Management Strategy says:
Objective
The primary objective of the Locomotive Deployment and Management Strategy is to maintain a robust and versatile locomotive fleet that meets the KESR's operational requirements while safeguarding its historic preservation goals. The strategy will be designed to achieve the following key outcomes:
Operational Efficiency: The KESR shall maintain a balanced, effective and efficient locomotive fleet, capable of providing reliable and safe services to meet passenger demand and operational schedules, together with the needs of the railway for non passenger services.
Preservation of Heritage: The strategy prioritises the preservation of historically significant locomotives, ensuring their proper maintenance and restoration to retain their historical value and significance. The railway will take a long-term view 50 to 100 years ahead to ensure the collection and its legacy is secured and accessible for future generations to experience operational heritage rail traction of various types.
Adaptability and Flexibility: Emphasising the importance of collaboration and diverse ownership, the strategy shall enable the KESR to adapt and utilise locomotives through hire, loan, or reciprocal agreements, as per operational needs.
Safety and Compliance: The KESR shall adhere to all safety regulations and compliance standards while operating and managing locomotives, ensuring the well-being of staff, volunteers, and visitors.
Implementation
Locomotive Acquisition and Arrangements: The KESR shall explore opportunities for locomotive acquisition and collaborative arrangements with other railway entities. Consideration shall be given to locomotive classifications, suitability for operational requirements, and historic preservation significance.
Resource Management: The KESR shall prudently allocate financial resources to support locomotive acquisitions, hire agreements, maintenance, and restoration activities. Resource allocation shall be balanced to optimize operational efficiency and heritage preservation.
Partnerships and Collaborations: The KESR shall actively engage with other railway entities, preservation societies, and locomotive owners to foster mutually beneficial collaborations, aiming to enhance locomotive fleet diversity and operational resilience.
Regular Reviews: The strategy shall be subject to periodic reviews of not less that every 12 months, and additional reviews as soon as practical after any event that will have an impact on the information contained within this strategy (e.g. a failure or defect on a locomotive that will affect its availability in the medium to long term). At these reviews, the strategy will be updated to reflect changing operational needs, historical preservation priorities, and industry best practices.
The KESR shall, as far as reasonably and practically possible and in line with its contractual obligations make financial provision for dilapidation of all motive power it owns and for hired and loan motive power.
This policy and strategy shall be reviewed at least every five years by the Board of Trustees to ensure it meets the needs of the KESR and its stakeholders.
The KESR shall prudently manage its resources to facilitate the implementation of this Policy, Strategy and annual loco plans.
6. What the 2024 plan says:
2024 50th Anniversary
Locomotives in service:-
Class 5 steam – Requirement is for 3 locomotives all year plus 1 further locomotive for Santa.
Austerities: Swiftsure and No.25.
"Yank Tank" No 65 during year, planned for the summer
GWR 2-8-0 No 4253 during 2024
Hired in locomotive between March and June / July
Class 2 steam – Requirement is for 2 locomotives all year
No 15 Hastings
No 70 Poplar during 2024
Class 5 diesels – Requirement is for 2 locomotives all year plus 1 further locomotive for the summer
Class 14 No D9504
Hired in locomotive on long term contract for all year Class 20
Hired in locomotive on short term contract for Summer as required
Railcars / Units – Requirement is for 1 DMMU
DMMU
GWR railcar during 2024
Shunting / Pilot locomotives – Requirement is for 3 locomotives all year
Ruston No 41, Class 03 No D2023
Ford No 40 during 2024
Hired in Class 08
Locomotives under overhaul / heavy maintenance
Class 5 Steam – GWR 2 – 8 – 0 No 4253, Austerity No 23, Austerity Sapper (off site overhaul)
Class 2 Steam – No 14 Charwelton (note – may be released as a class 3 or class 4 locomotive), Terrier No 70 Poplar / No 3 Bodiam
Class 2 Diesel – Ford Diesel No 40, Class 03 No D2024
Locomotives stored
Class 5 Steam – "Yank Tank" no 21 Wainwright / No 300, GWR 0-6-2 No 5668 and No 6619, GWR Pannier No 1638 (see comments)
Class 4 Steam – No 19 Norwegian
Class 2 Steam – P Class No 753, Terrier No 2678 Knowle
Class 5 Diesel – Class 25 No 25244, Class 08 No 08108
Notes and commentary
Currently searching for a visiting Class 5 steam locomotive March to June and potential additional Class 5 diesel for summer period and/or considering the hire of an additional Class 08 for additional resilience. No visiting locomotive required for Santas providing Sapper and / or No 4253 are returned to traffic as expected. Debate as to future for GWR No 1638, when funding available, earliest likely to enter service is 2027. No 23 to enter works for overhaul. The historic anniversary fleet during 2024 to be Poplar, Ford Diesel No.1 and GWR Railcar.
As always there is the caveat that everything is subject to change as events (and opportunities) do occur, the budget, insurance claims.
The Traction, Rolling Stock and Plant Committee is developing a yearly loco plan to 2040.
7. In a Nutshell
So, there you have it. The board makes the policy and strategy. The General Manager in conjunction with the Loco Department, Operations and Commercial responsible for the yearly plan It's all about having different kinds of locomotive, taking good care of them, and working with others when we need to. The yearly plan tells us which locomotives we'll use and what we'll do to keep them going.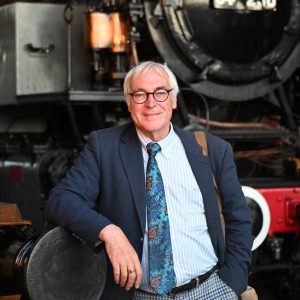 General Manager Robin Coombes
Robin Coombes
General Manager
For K&ESR Members Newsletter NOVEMBER 2023