Fundraising Working Party (FWP)
You will already have read the Chairman's announcement on Friday 2 April of the very good news that K&ESR has been awarded up to £250,700 from the Second Round of the Government's Culture Recovery Fund; this follows on from the £301,500 awarded in Round 1, all of which has now been spent! And even if we are awarded the full £250,700, that will only enable us to get through to the time we can start running revenue-earning services.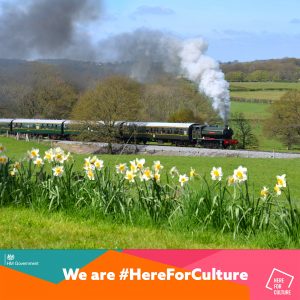 It is, by the way, worth reflecting a little on the two words "up to" as we do not know the exact amount which will be given – we can hope but we cannot yet be sure.
None of this detracts from the need to maintain the momentum on our 60th Anniversary Appeal, which I am delighted to say is progressing better than we might have feared under present circumstances. Many of you, like me, belong to other charities and like bodies and cannot have failed to notice that everybody is asking for help. No railway, museum, zoo, cultural centre etc. has been immune from the devastating effects of the COVID restrictions on visitor numbers – and hence income. We are in a competitive environment and we have done well.
At the time of writing, donations to the 60th Anniversary Appeal are in excess of £56,000 so we are more than half way to our target of £100,000. However, it is often the way that after an initial surge of enthusiasm, donations drop away to low levels so the second half is much more of a struggle than the first. That is why your Fundraising Working Party, in conjunction with K&ESR managers, will be refining and updating our communications' strategy and messages to both members and the public, to emphasise different aspects of the benefits of our Railway. We do not ask for donations just so that we can enjoy running steam trains: we need to demonstrate what we give back to the community and what would be lost without us.
Every volunteer and member can support the appeal, not just through donating money, but by spreading that message to potential donors of mutual benefit.

Norman Brice
Chair
Fundraising Working Party