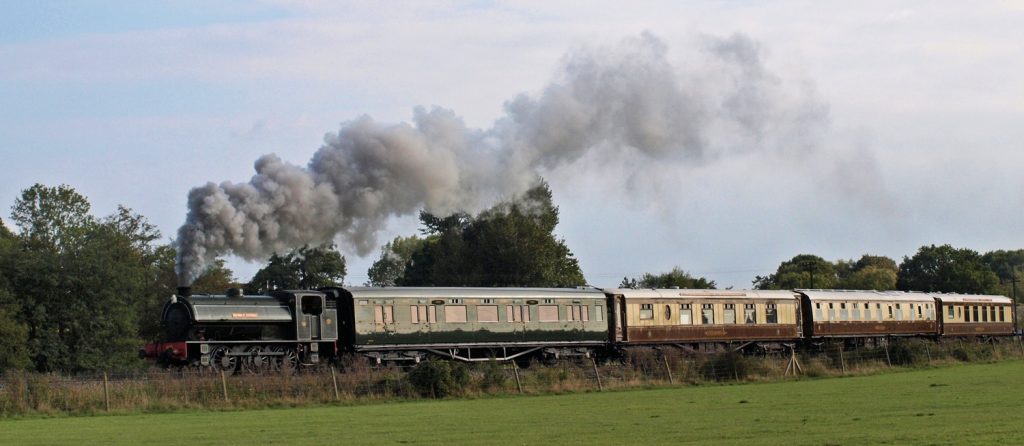 Securing the future of the Wealden Pullman
We're working on an ambitious investment programme to enhance and secure the future of the Wealden Pullman dining train – and we need your help!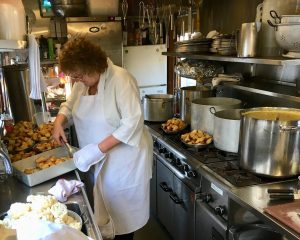 The first part of the journey is the replacement of our kitchen car, the very heart of the train where all the wonderful meals we serve are freshly prepared onboard. Our existing kitchen carriage 'Diana' has served us well, but after 40 years continuous service, she will soon require a major update. With this in mind, we purchased another kitchen carriage which we're now overhauling to the latest standards.
Thanks to the generosity of donors and a grant from Kent County Council's LEADER fund, the project is well underway with structural work on the carriage now completed. The next stage is to fit-out the kitchen with all the necessary equipment, sinks, worktops etc.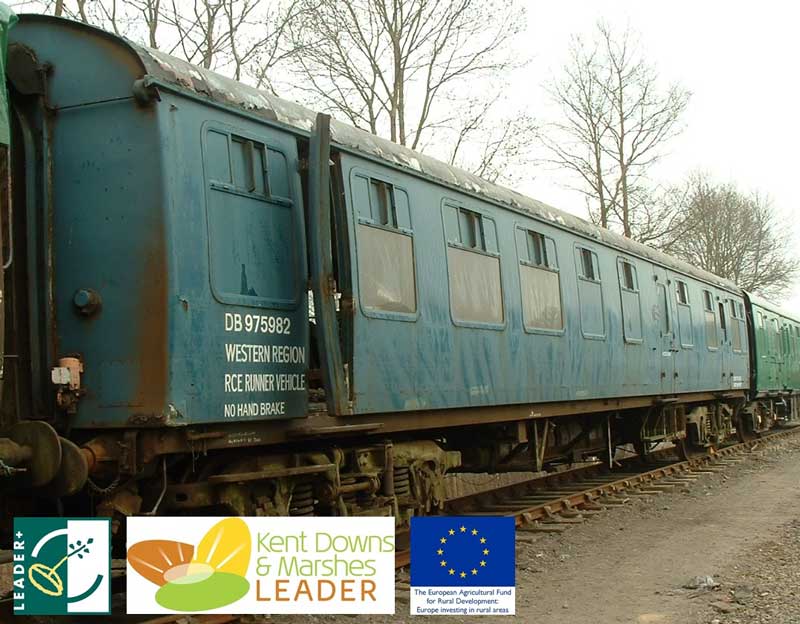 With your help, we've turned this ↑ into this ↓ !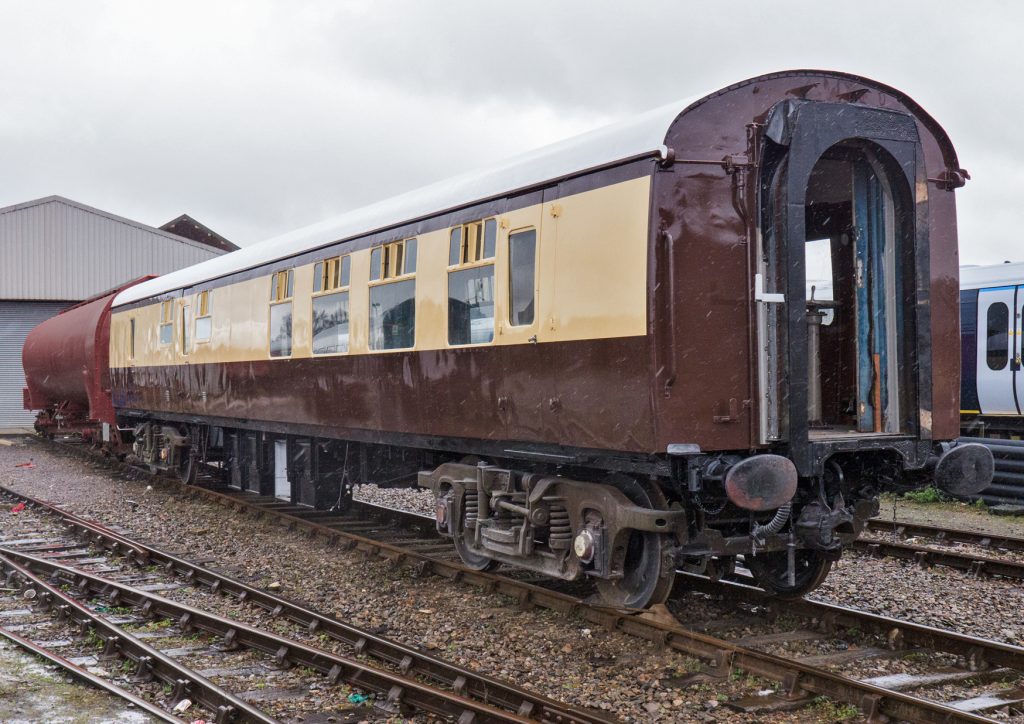 To make a donation for another amount or to setup a regular donation, visit our dedicated donation page
DONATE ONLINE
---
Project Progress
January 2022
Work to complete the restoration and remodelling of the Kitchen Car continues apace in the K&ESR Carriage & Wagon workshops at Tenterden. Further meetings have been held with our kitchen fitters and detailed plans for the ventilation system have been compiled.
Update September 2021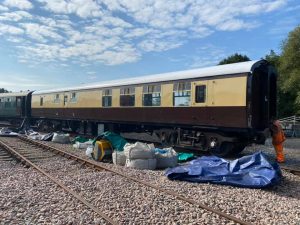 The kitchen car has now returned to the K&ESR and is seen here at Rolvenden Carriage Storage Shed having just had the protective sheets (that were fitted to prevent damage by trees during its lorry journey from Hampshire) removed.
Update 4th January 2021
The Kitchen Car goes Green!
In light of continued development of battery technology, the project team have been able to review their plan to fit a large diesel generator to the carriage.  With the carriage likely to be in service for many years on the K&ESR, the requirement for present and prospective needs was re-examined and at a virtual meeting on 20 December 2020, the team took the decision to move the kitchen car to an all-battery solution.
Using modern high-capacity batteries and inverter systems capable of powering all electrical loads whilst the train is not connected to a shore supply has a number of benefits including:
• avoiding the need to fit a large generator in the limited space between the vehicle floor and rail level
• avoiding the noise and vibration of a diesel generator
• avoiding the need to fit exhaust stacks to the vehicle in such a way as to conduct combustion gasses away from windows
• future-proofing the train against increasing environmental controls on diesel engines
The project team has the assistance of both rail industry specialists in battery technology and a local Kent company experienced in off-grid power solutions. The team will be meeting again in January to finalise the electrical design and give the go-ahead to contractors Arlington Fleet Services to have the vehicle painted. This will allow it to be returned to Kent for the kitchen fit out.
Meanwhile, fundraising has not been neglected. A section of the K&ESR Fundraising Group, in particular Kevin Bulled and Derrick Bilsby, recently created an appeal letter to K&ESR members which has already raised over £11,000. To date the project has cost just under £200,000, leaving £57,000 still to raise. Kevin, joined by Elliott Walters, also created a short video promoting the project which can be seen below – if you're able, please help us bridge this final gap and finish the job
DONATE ONLINE
Robin Moira White
Project Director
---
Update 20th August 2020
As with much else in 2020, the project has been affected by Covid-19.  Pullman services will continue to be catered for from Kitchen Car 'Diana'.
The down-time in the project has been absorbed getting the electrical power specification agreed, including an additional fuel tank to ensure a full weekend's operation can be run without refuelling and how the generator exhaust is to be fitted to the vehicle.  The technical team have identified that a drawing of the diesel generator arrangements is necessary and a quotation has been received from Arlington's for producing that drawing for approval. Arlington's were given the authority to proceed with the engineering drawings to illustrate the generator installation on Tuesday 18 August.
The Arlington's project draughtsman is currently in Poland and will have to self-isolate once he returns, so we will not see our completed drawings until mid-September. Once these have been received and approved by the team the generator installation will be authorised.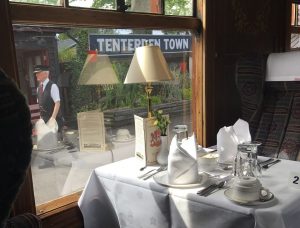 Arlington's are currently working on another £multi million contract which will be complete by the beginning of November. Work to our kitchen car will re-commence then.  This bodywork is complete so this largely consists of fitting the generator and painting the vehicle.  It should be back at Tenterden by Christmas for the internal fit out to be carried out by K&ESR C&W staff and specialist kitchen fitting contractors.
Kitchen Car 'Diana' is due to have a light overhaul to enable her to increase the catering offering on the principal service train.  This will have to be re-considered as part of Covid-19 compliance measures for the 2021 Season and beyond.
Project Finances
The follow figures are given in round thousand pounds. (But we are watching every penny!)
The anticipated project costs have risen from £200,000 to £212,000, largely to ensure that we have a vehicle to meet the Pullman's needs for many years to come.
We have a grant of £74,000 from the EU 'Leader' Fund managed by Kent County Council.  We have received Donations of £60,000, and interest free loans of £29,000 have been made.  The Pullman 'tips' fund has made a significant donation.
This leaves a funding gap of £37,000 still to find and £29,000 in loans to repay.  Now that we have a clear view to the finish line we will be shaking the fundraising bushes again to get this gap closed.  Remember also that if you are UK tax-payer, the government will add 25% to your donation through the 'gift aid' scheme.
Below is a list of the major outstanding items and their expected cost. Help sponsoring a part or all of one of these items would be of great assistance to the Railway.
| | | |
| --- | --- | --- |
| 1 | Develop engineering drawings for the installation of the diesel generator and exhaust. | £2,550 |
| 2 | Supply and install 10KVA diesel electric generator, connect to coach AC electrical installation. | £12,500 |
| 3 | Fit conventional 24v DC carriage lighting system and provide shore supply/vacuum brake interlock. | £6,000 |
| 4 | Repaint carriage in Pullman livery. | £15,000 |
| 5 | Overhaul refurbish and re-spring Commonwealth Bogies where necessary, inclusive of professional advice on springing. | £10,000 |
| 6 | Kitchen fitting to include ventilation system, wall coverings etc. | £15,000 |
| 7 | Purchase and install 5KVA inverter. | £2,000 |
| 8 | Kitchen flooring. | £2,500 |
| 9 | Signwriting. | £900 |
| 10 | Passthrough dishwasher. | £2,000 |
| 11 | Gas Safe certification. | £150 |
DONATE ONLINE
Update 6 – 28 June 2020
Despite disruption resulting from the COVID-19 pandemic, the project continues to make progress: we're delighted to report that structural work on the coach is now complete!
Only two further significant items remain for Arlington's to undertake at Eastleigh, before the car can return to Kent for fitting out.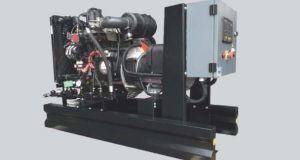 The first is the purchase, modification and fitting of Perkins 404A-22SG1 01 diesel generator which will power the kitchen equipment. It will be modified to enable it to be fitted discretely under the floor & will incorporate a fuel tank of sufficient capacity to ensure that the generator can run for a whole weekend of Pullman services. A high level stainless steel exhaust will be fitted on the coach end.
None of this comes cheap – the cost of this essential element amounts to £20,750. Donors have been very generous so far, but in these difficult times we must manage our limited funds very carefully. We continue to seek support towards this phase of work – donations to keep the project moving would be greatly appreciated.
Once the diesel generator has been mounted as tested, the coach will be painted with long-lasting two-pack paint in traditional Pullman colours (£15,000) and transported back to Tenterden (£5,000).
Upon return, the all-important kitchen, including high level extraction system and stainless steel cladding (£15,000) will be fitted, together with an electrical inverter (£2,000) and specialist non-slip flooring (£2,500). The icing on the cake is the carriage signwriting (£900), undertaken (as it is on all our locos and carriages) by Wealden Pullman Chef Meg Gooch.
Our existing Kitchen Car 'Diana' will have its life extended to stay in service until the end of the 2020 season but during 2021 the bogies on 1987 will need to be refurbished at a cost of £10,000.
If you feel able to help us to finish this exciting project by making a donation, we'd be extremely grateful
DONATE ONLINE
Update 5 – 1st March 2020
A short update to show the state of progress on 18th February 2020, when K&ESR representatives visited Arlington's premises in Eastleigh. Arlington's work is nearly complete and the vehicle is expected to return to Tenterden in March for completion of external paintwork & signwriting by K&ESR staff and the kitchen fit-out by contractors Keemlaw.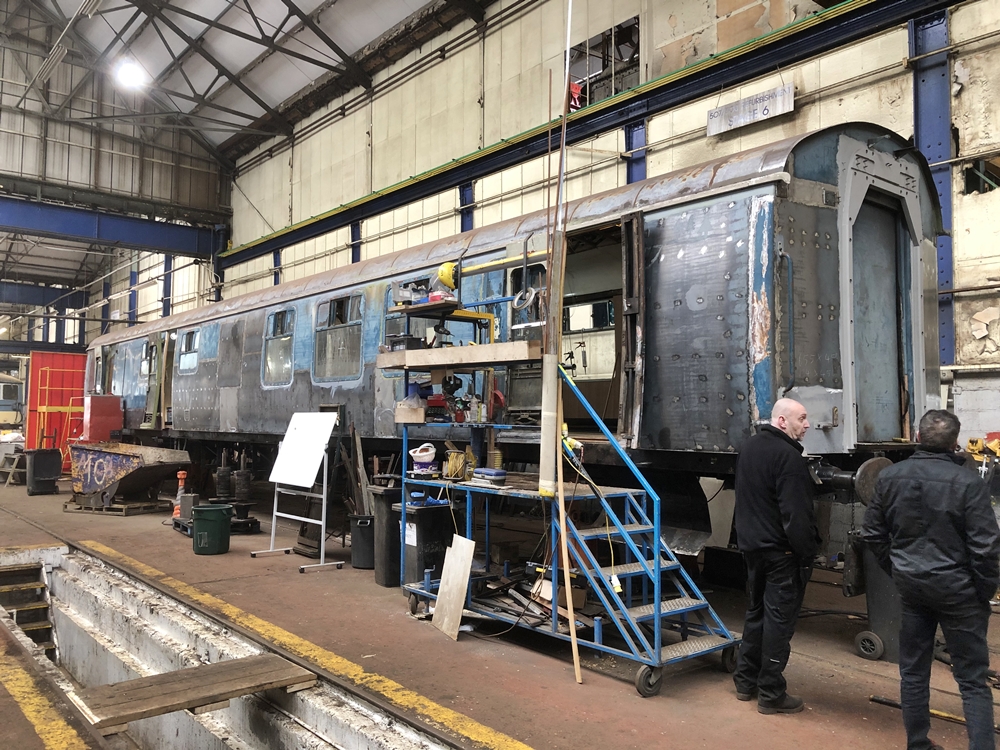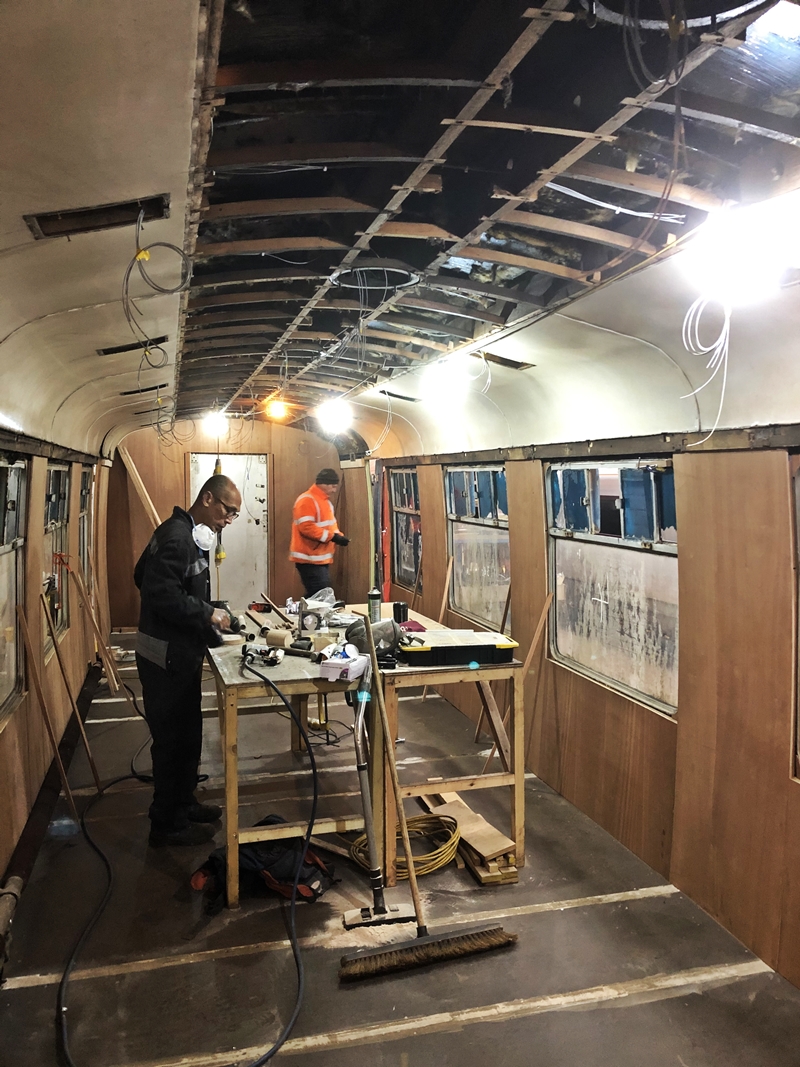 We still need to raise funds for the kitchen equipment fit out – every donation, of whatever size, helps us to close the gap – thank you!
---
Update 4 – 27th January 2020
It is pleasing to be able to report that Arlingtons Ltd have now finished the bodywork refurbishment of the vehicle and are well on with the internal fit out as the accompanying photos show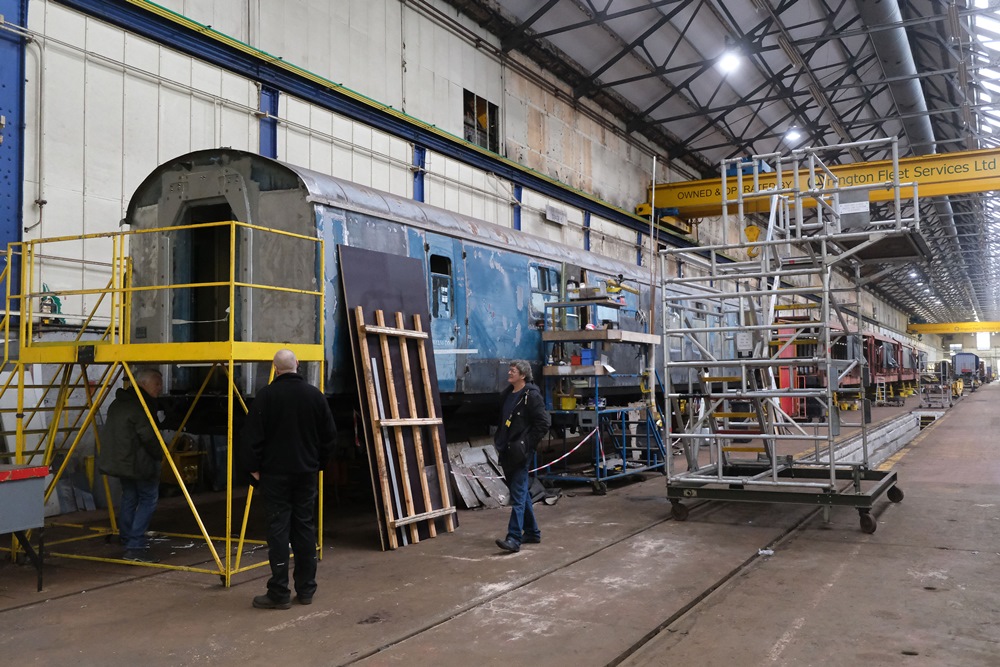 The current focus is electrical work and the doors.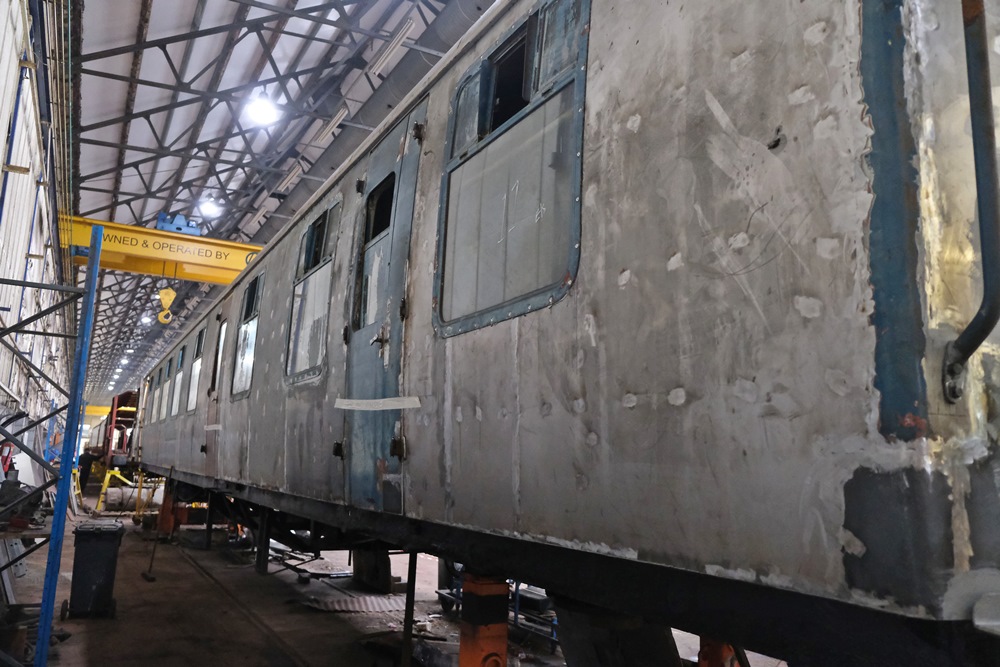 There has been about a month's delay to the project, largely due to the K&ESR in-house overhaul of some door components and the fictionalisation of the kitchen plan taking a little longer than expected. Car 1987 will be the Pullman kitchen for many years to come and so it is important to get it right.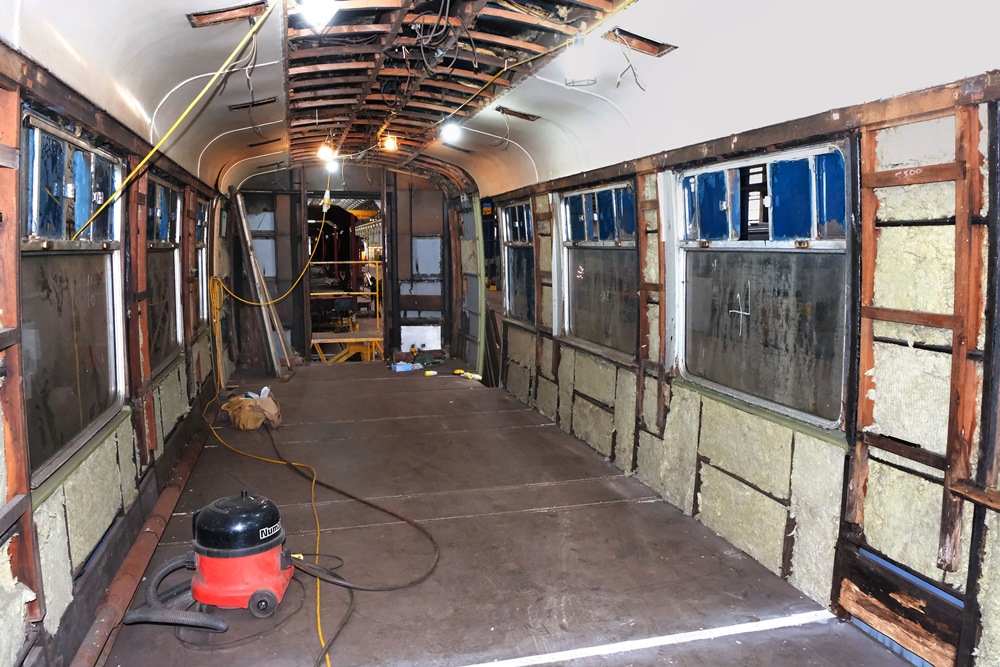 The car is now expected back on the K&ESR in March for final fit out. Car 1987 will initially return to traffic on bogies loaned by the K&ESR 'TREATS' group while its own bogies undergo overhaul. The Railway is grateful to them for this.
The K&ESR management team are now turning their minds to the use of 'Diana' on service trains when Car 1987 takes the Pullman load.
Approximately £60,000 remains to be raised to complete this project and allow us to move on to the other items to make the K&ESR Pullman sustainable for the long term. Every donation, however small (or large!) to close that gap would be most appreciated
---
Update 3
27th October 2019
Project Manager Dave Raimbach, supported by K&ESR experts Alan Crotty, Alan Brice and David Brailsford, visited Arlington's on 15th October to inspect progress to date. All asbestos has now all been removed, and the underframe has been cleaned and painted.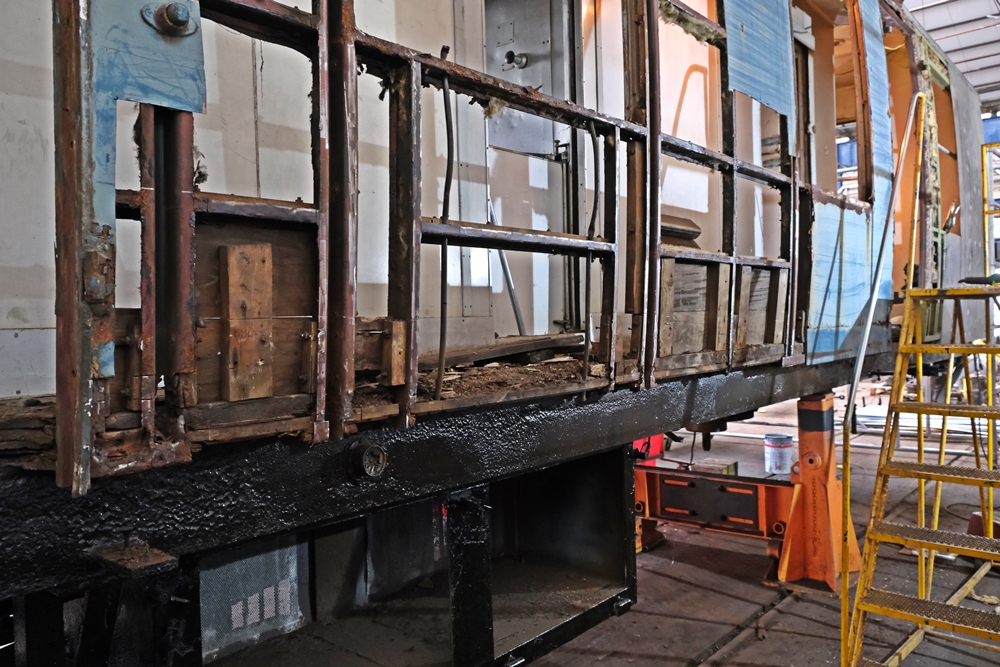 Bodywork and roof repairs are underway, surplus air brake equipment has been removed, and K&ESR refurbished vacuum cylinders and pistons are ready to be fitted..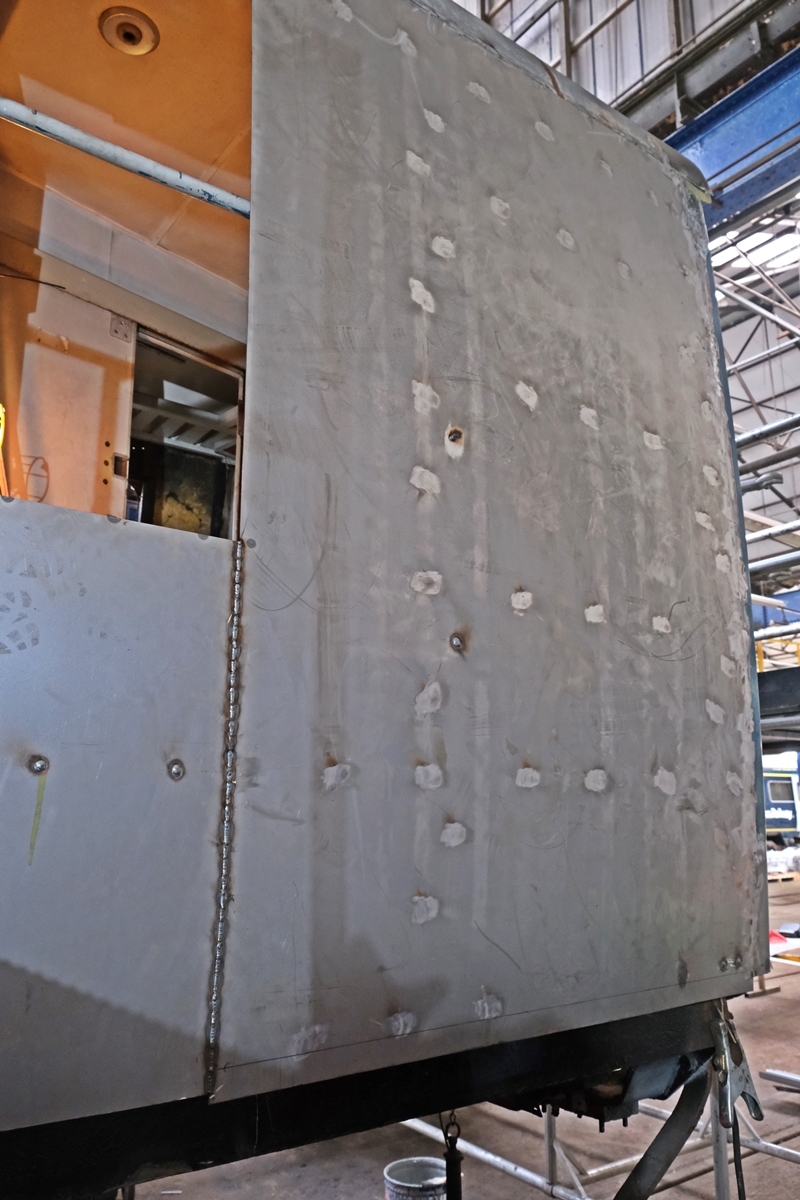 Fundraising
The biggest risk to any project of this magnitude is funding. Can you help us with the major "Next steps" and their expected cost?
Parking brake modification to include an interlocking parking brake and isolating valve – £10,550
Install steam heat pipework and refit existing radiators – £11,900
Water tanks and pipework, overhaul water raising equipment, fit drain down valves and thermostatically controlled trace heating system – £5,040
Refurbish and fit gas cabinets, run gas services to kitchen – £2,975
Fit 24v DC carriage lighting system, supply and install electric generator, connect to coach AC electrical installation and provide shore supply/vacuum brake interlock – £20,860
Overhaul vestibule connections, buffing and draw gear, re-fit drop-head auto couplers, fit vestibule diaphragms, gangway hoods and tail-pin rubbers – £6,836
Bodywork and roof repairs, replace buffer-beam top plates – £12,600
Alterations to windows, doors and roof fans – £23,205
Create Guards Brake area – £10,000
Replace flooring throughout – £5,452
Guttering repairs – £2,500
Fit insulation material, walls in saloon area and Guards partition – £3,275
Repaint in Pullman livery – £15,000
Sponsoring any of these items would make a huge difference to the K&ESR. If you are a UK tax payer, please consider gift-aiding your donation, which boosts the value by 25% thanks to the UK government
DONATE ONLINE
Update 2
17th August 2019
The carriage is now safely in Arlington Ltd's premises at Eastleigh.
K&ESR Project Manager Dave Raimbach, supported by Alan Crotty, have met with the appointed contractors and asbestos removal will be undertaken shortly.
Back at Tenterden, the K&ESR C&W Dept are making plans to refurbish a pair of 'Commonwealth' bogies on which the refurbished coach will run.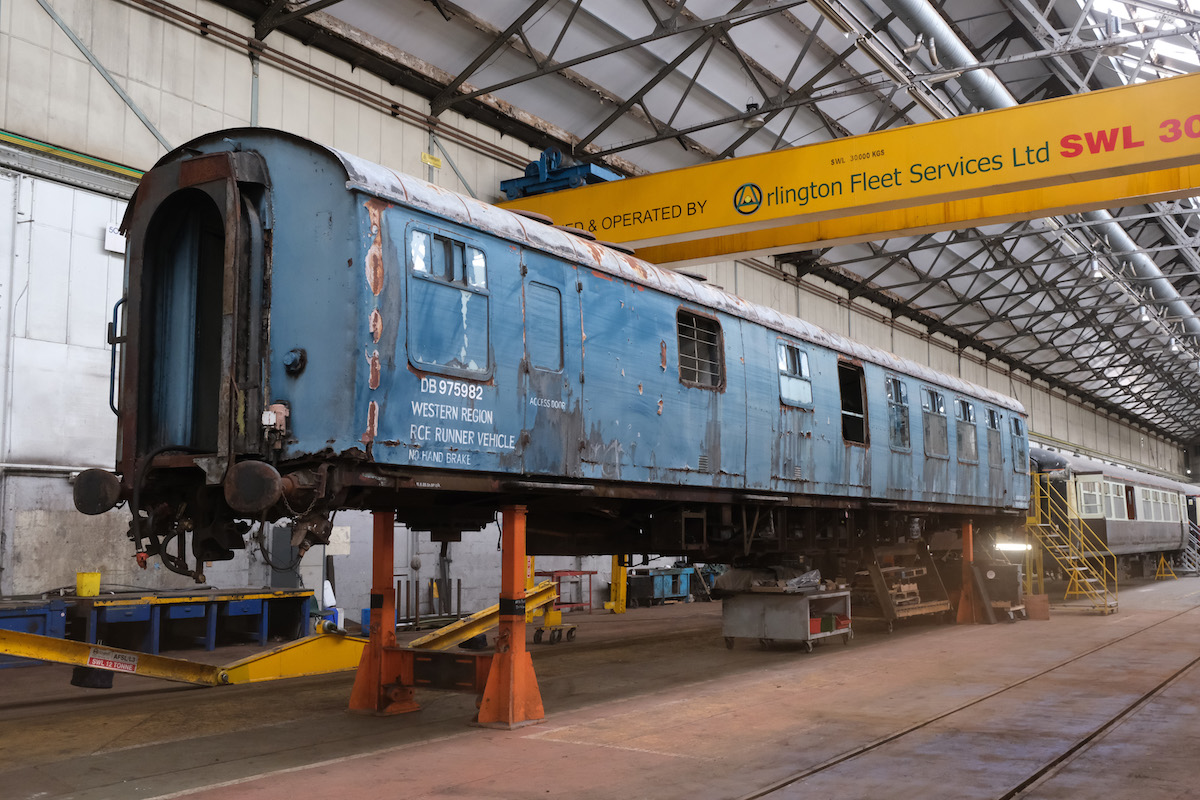 The project cash-flow needs to be carefully managed, as funds have to be spent and then the 40% contribution claimed back from the 'Leader' fund. We are very grateful to the K&ESR Loco Trust for a £20,000 loan to the project, and a similar sum loaned by a number of private individuals which have provided some much needed 'working capital' for the project
---
Update 1
29th July 2019 – We're Off!
Departure from Wittersham Road
The first physical steps in the ambitious project to restore a kitchen carriage for the popular 'Wealden Pullman' dining train were taken today. Having been loaded onto a specialised lowloader yesterday, the carriage left the K&ESR for transfer to Arlington Fleet Group Ltd's restoration workshops at Eastleigh, Hampshire.
The bodywork overhaul is expected to take around 6 months. Following restoration, it will be returned to Tenterden where specialist catering contractors will fit out the kitchen.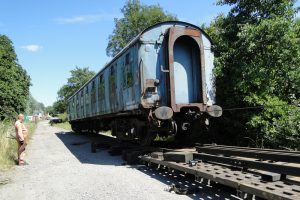 The restoration of 'Restaurant Unclassified' coach No.1987 is a significant and essential step in securing the future of the 'Wealden Pullman' dining train by having a newly refurbished kitchen car in service during 2020. The new kitchen car will replace car 'Diana' which will take up its new place in our public daytime services. The new coach will have enhanced kitchen facilities, including a commercial dishwasher, enhanced disabled access and a guard's compartment.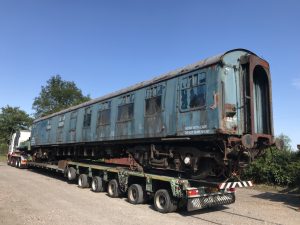 The work to prepare the coach for departure:
The K&ESR-based 'TREATs' group have kindly lent some spare bogies for the duration of the Arlington's overhaul, so that we can prepare an overhauled set, made up from the existing RU1987 bogies and other commonwealth wheelsets that we have in stock. The bogie swap was completed 12th July – thanks to all those involved! The carriage's preparation for transport including the replacement of buck-eye couplers and the boarding up of windows without glass.
Specifications for the overhaul of Mk1 RU1987 were finalised by the K&ESR in June, and contract agreement with Arlington's of Eastleigh was reached soon after.
The coach was loaded onto road transport on the 29th July and left the Railway that evening for a delivery to Arlington's the following day.
The expected progress of the project:
The £250,000 overhaul is expected to take around 6 months, following which the interior fit-out will be undertaken at Tenterden.
If you have any questions, Dave Raimbach, Project Manager will be pleased to assist via enquiries@kesr.org.uk