‍

Kent & East Sussex Railway
Members e-newsletter No.36
‍Welcome to the latest edition of your e-newsletter - we hope you are keeping safe & well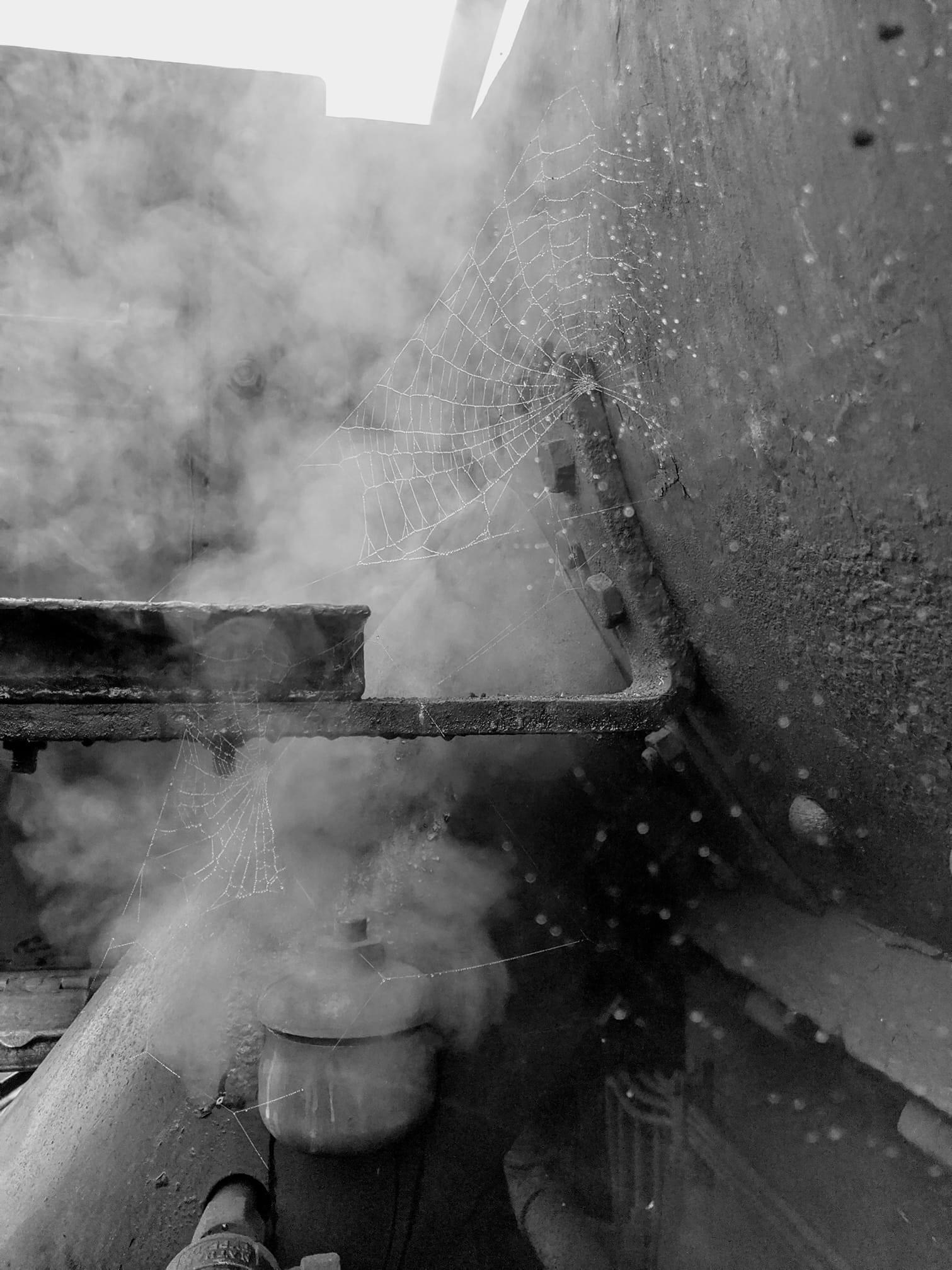 ‍Reawakening - the welcome sight of steam seen at Rolvenden shed, 30th June 2020
Image courtesy of Dan Dickson
From the Chair
Another fortnight and the Railway is coming back to life.  We are on course for our projected re-opening on Saturday 18 July – assuming of course that it is safe and appropriate to do so.  There is activity in the workshops at Rolvenden and Tenterden, the site is being spruced up and the long list of essential jobs is being tackled.
As we expected, getting into the process means that additional issues, many invisible to most of us, are being uncovered; General Manager Shaun and the team are working through them as they appear.  Among them is our booking system – it's much better than it was but it is by no means perfect and Shaun quite rightly wants everything up, running and tested before the go-live button is pressed.
An important part of our planning is the detailed K&ESR COVID Recovery Plan which will sit within the Safety Standards Manual and describe how the Railway and all its staff and volunteers are going to manage the new risks.  It is an advanced state of drafting and the first version (it will, inevitably, be a document subject to regular revision) is expected to be ready at the end of this week.  Shaun's intention is that it will be made available on HOPS for all our working staff and volunteers to access.  Departmental briefing sheets will be added in due course.
Which leads me to a very important point.  We are going to have to restrict access to the Railway to those who have definite business on a particular day.  Basically, this means customers who have booked; those rostered for specific duties; and those who have agreed with their managers to carry out pieces of work.  No-one else; not even volunteers not on duty who want to catch up with friends.  And when you are on site, do please resist the temptation to wander round and do please observe all the guidance.
Please respect this, and don't make things difficult for the Railway, yourself or anyone else.  It won't last for ever, and we still hope to allow members access to the test trains that should start running next week.
In addition to all the above, successful re-opening depends on three things.  First, volunteers.  The roster clerks have already gone into action, and they will provide people with more detailed information about turns just as soon as they can.  This is one of those times where we all need to be flexible, being prepared to take the rough with the smooth and in some grades learning new routines. 
Secondly, customers.  We are going into the unknown.  We might soon be in the happy position of having to ramp up our services quickly, which we will be able to do; equally, we might not.  There are fears of a second wave of the virus, and recent crowd scenes in the media and the news from Leicester are not going to do anything for public confidence.  That and the need to bed in the new arrangements are the reasons why we are starting cautiously.
And thirdly, money.  Whatever happens, things are going to be very tight.  We will have to continue to exercise unprecedentedly firm control over our costs and ensure that whatever we spend or do feeds through to the bottom line.  Even if that means not doing things in the way we are used to.
Many people have been very generous to us and I take this opportunity to thank them. Donations whether to the Railway as a whole or to one of our extant Appeals are still always welcome and very much needed.  All our Appeals remain open - to see how you can continue to help us through this challenging period visit https://kesr.org.uk/donate/

‍What else?  The Board held its monthly meeting last Saturday.  I have written about that elsewhere in this issue and I won't repeat it here.
So let's hope nothing stops us reopening and filling our trains.  To those of us with very long memories it feels a bit like 1974 when we opened to the public for the first time.  The world has of course changed since then; the business and the commercial and regulatory environment are vastly more complex and demanding, not to mention the new need to manage our response to COVID-19. But we need to recapture the spirit of those early days.  I'm sure we can do so.
Stay safe, look after your wellbeing, and remember to talk about the Kent and East Sussex Railway to your friends and on your social networks.
And I look forward to seeing as many as possible at Tenterden in the next month or so – subject of course to social distancing requirements!en in the next month or so – subject of course to social distancing requirements!
Simon Marsh
Chairman
‍We're proud to have been granted the Visit England "We're Good to Go"  Industry Standard mark, demonstrating that we have followed government and industry COVID-19 guidelines, have Risk Assessments in place and a process to maintain cleanliness and aid social distancing.

 

| | ‍The Permanent Way team have continued their backbreaking work, through some scorching  temperatures, to repaint our largest bridge over the River Rother |
| --- | --- |
| Further progress too on the container park: existing containers have been moved, enabling much needed improvements to be made to the access road - a prerequisite to the continued development of this area. | |
| --- | --- |
| | ‍Very many thanks to everyone that responded offering their help with the essential tidy & spruce up work to our stations - there's plenty more to do, so if you're able to help, contact Brian Richards & join the happy team - contact [email protected] Click on the image to view a selection of images |
| --- | --- |
---
‍‍Rolvenden Locomotive Works
‍‍Some of us returned last week to tidy up and put safety items in place, the workshop is now follow the arrows, social distancing is set up in the yard and mess room.

4253 have made their own arrangements to prevent the yard becoming overcrowded. We have reduced the amount of volunteers and paid staff on the premises at any one day. I would ask that unless you are expected you do not turn up for a nose around or any other reason, the workers safety is paramount.




We are preparing two Locos for use once services re-open, after three month idle there is plenty of work required to make sure they are fit to run and safe to run.




Once the two locos are running we will turn our eyes onto 1638 that still needs a firehole protector and then test runs.




We await the return of the Terrier tanks and will start to lag the boiler before it is returned to its frames.




Stay safe everyone.




David Brenchley

Locomotive Delivery Manager
---
‍‍ Carriage & Wagon Department
‍With a long line of coaching stock in the platform at Tenterden, Lesley Lee and Cliff Webb will have their hands full in carrying out the periodic 2 month exams to get them ready for service. Already completed are 18 month exams on the Metropolitan coach 353 and SE&CR 3062 and now have to do the same on Barbara, Diana and BNO54.
Whilst this is occupying our thoughts, staff are undertaking a long overdue refurbishment of the C&W mess room. With the smell of new paint I thought Royalty was due! 
Whilst we are able to welcome back those volunteers who wish to resume duties we do need them to be mindful of Covid-19. It has not yet gone away, so we need to be strict in our discipline to stay safe. Please respect your colleagues and do what you are asked to stay safe and well.
Paul Wilson
C&W Delivery Manager
---
‍Managing Safety in the 'New Normal'
Liam Head and Pannier 1638 become reacquainted
As the railway prepares to reopen in mid-July, our managers are working very hard on getting the infrastructure and resources that we need ready for our first trains whilst putting in place various procedures to protect our staff, customers and other stakeholders from the risks of catching Coronavisus. A lot of work is taking place on this, all summarised in a new Element in the Company Safety Standards Manual (part of the suite of documentation underpinning the Safety Management System) created specifically to record processes created with regard to Covid 19. It will very much be a living document regularly reviewed and updated as government advice changes and we gain experience of running the railway in the evolving circumstances.
It is not straightforward; we need to balance the risks of infection with other factors. Although a lot of our staff are of senior years and thus statistically more vulnerable, for many the railway is a large part of their lives and we need to be aware that keeping them away could cause more harm than good from both a physical and mental health perspective, accepting their wishes to be part of the operation and taking steps to protect them as best we can from the risks of the disease. We have various control measures in place but at the end of the day, each volunteer must make their own mind up if they are happy to undertake duties now or stay away for longer until the risk further recedes. We respect everyone's wishes and look forward to welcoming colleagues back whenever they feel comfortable.
As well as the new risks and mitigation measures in place to deal with the Covid risks, reopening presents a plethora of other safety challenges; and three are the subject of particular focus:
• Trespass – we know from the regular security patrols that have been undertaken during the shutdown that local people have been using parts of the railway for part of their daily exercise regime. We will be using a number of means to communicate to the communities that trains will be running again, and our staff will be briefed to keep a lookout for trespassers as services recommence.
• Railway awareness – we haven't run regular trains since February, and many volunteer staff haven't been involved on the railway since last December. It's easy to forget the basics after not being involved for so long and we will be ensuring that our staff are re-briefed on their personal safety and how to act around moving trains, that's not a five minute job and is another thing to be done as we start up operations.
• Competence – "skills fade" is a risk that needs carefully managing. Making sure that everyone is competent is a key area being addressed. We are used to reintegrating the odd volunteer who has been away from the railway for a while but usually the rest of the railway will provide mentoring and support. We now have a vast majority of the team coming back from a prolonged period of absence and a limited number of staff to support team, and restrictions on being able to provide mentoring due to Covd restrictions. The management team are working hard to put support processes in place to ensure that the reintegration is effective and that we deliver the same high level of safety performance as usual.
‍Paul Jesset hard at work repainting the Rother Bridge

‍Whilst these issues present risks now, they would have significantly increased the longer reopening was delayed and the management and board have factored these and many other factors into their consideration of reopening and have opted for the earliest date at which we believe we can operate the railway safely and efficiently. The low level of start up service will enable us all to find our feet before we need to ramp up as (hopefully) customer demand grows.

Rest assured, a lot of hard work is being put in behind the scenes to provided support to our workforce and to ensure that our customers will be in safe hands as they come back to enjoy our railway!
---
‍
From the Boardroom 
(not virtual this time)
The board of trustees had its monthly meeting on Saturday 27 June. Members were given the choice of using Skype or attending in person; all except one chose the latter. We therefore met in the Station Refreshment Rooms at Tenterden subject to social distancing and other precautions. It was useful to be together again, at this important point for the Railway, and encouraging to see and hear people working outside around the station.
This e-Newsletter provides an opportunity to give a brief flavour of some of the most important points.  It should not in any sense be regarded as a formal record.
We welcomed Richard Styles on his first solo run as assistant company secretary.
We had a detailed update from the General Manager on the Railway's planning for re-opening on 18th July, should it be safe and appropriate to do so. It was clear that despite a number of challenges this was in good shape and everything was coming together. We reaffirmed the intention to be able to ramp up services quickly should the demand be there. Among other points during the discussion we noted the importance of not losing sight of "traditional" railway safety matters among all the COVID-19 precautions that would be necessary.  We also noted that a suite of COVID-19 related documents for all staff and volunteers was at an advanced stage of preparation and would be made available as soon as it was ready.
We thanked the General Manager for the continuing high quality and timeliness of the work he and the team were doing – and noted that this would be required for the foreseeable future!
Following on from an item at the previous meeting, Trustees agreed the principles that should guide the Railway in the future. In short, we needed to run a profitable business that would generate funds for reinvestment in the heritage. The way to do this was through streamlining the offering by concentrating on our core activities and focusing our spending on them. We would look at the "how" at the next meeting.
We noted the financial situation, and the importance of getting in as much income as possible during the remainder of the 2020 season while at the same time rigorously controlling our costs. This would be a balancing act.
We noted that the Management Safety Group was making progress in addressing a wide range of issues. The time had come to review its terms of reference, and this was in hand.
The new Risk and Compliance Committee was bedding in; its immediate priorities were to review the Railway's risk management policy and to provide assurance on the plans for re-opening.
The overhaul of the Railway's governance and committee structure was continuing, and draft proposals would be ready in the next few weeks.
We had a strategy update.  We noted the progress that had been made so far in 2020 despite the Coronavirus outbreak and we agreed a challenging yet hopefully achievable list of actions for the rest of the year. We agreed that the Board should take stock every six months. We agreed that although there was a strategy article in each e-Newsletter we needed to communicate our strategy to the wider membership; the meeting at which this was to have happened fell victim to the coronavirus lockdown.  A suitable means would be found.
The Fundraising Working Group was now bedding in and developing a list of actions.  We were very grateful to those who were taking the weight of this essential activity and noted that more help was always required.
We noted progress on the Kitchen Car, Terrier 150 and Rolvenden projects. On the first, the vehicle would come back to the Railway once its generator had been fitted and there would be a fundraising push for that; on the second, Knowle was nearly complete but stalled pending return of the side tanks and work on Bodiam in Norfolk is getting under way and will progress as fundraising permits; and on the third we noted the remarkable physical progress that was being made.
We commissioned a review of the way in which the Board prepared and managed its business.
And we decided to take the plunge and work towards streamlining the K&ESR's membership categories. There were far too many at present: it was far too unwieldy and was difficult – and, crucially, expensive – to administer.
The next scheduled meeting would be on Saturday 25th July.
Simon Marsh
Chairman
---
‍News from the General Manager

‍
Times they are a changing!
What an understatement that is as we approach what would normally regarded as the summer peak, with a limited service offering on the railway.
The reasons for this have been well published. With the exception of Santa the railway has more or less been idle for nine months since last October, and the rustiness is not just with our track and rolling stock.
Our slow build up is for the safety of both our customers and staff and allows us to slowly ramp up in line with both customer demand and staff competency.
The only people permitted onto the railway will be precooked customers and staff specifically rostered or requested to work. 
Pre booked customers will come to the railway for a timed return journey to Bodiam and will leave on returning to Tenterden as there will be no buffet catering service encouraging them to stay on site afterwards. This combined with social distancing will help customers not only be safe but also feel safe.
Likewise with staff. A simpler reduced operation does not require the same number of people in each category. Many paid staff remain on furlough and they like many of our volunteers will be itching to get back, but here again, we have to say, if you have not been rostered for a particular turn or been requested to work by your manager, then please do not just turn up to see what's happening or to sit and chat to mates, because we will not be able to accommodate you at the railway, harsh as that may sound.
We have the example of Leicester. Guidelines were not observed, there has been a spike and now more severe restrictions are being imposed left, right and centre. We do not want, and certainly cannot afford a similar occurrence happening at the K&ESR.
Everyone can therefore play a part in making sure the railway, your colleagues and our customers not only be safe but also feel safe.
Times they are a changing, indeed !!!
Shaun Dewey
General Manager
---
‍4253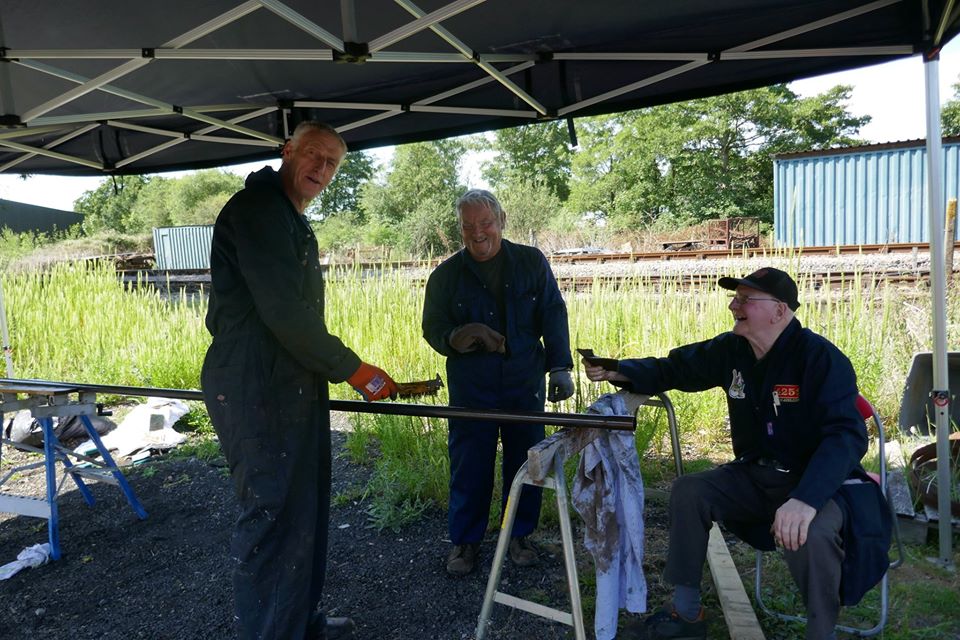 ‍The new boiler tubes that we had in store for 4253 are slowly being taken out and inspected, the surface rust rubbed off, a coat of oil applied & put back into store in readiness for fitting to the boiler when the time comes. Dave, Dave & Colin are seen above ostensibly working, or perhaps simply enjoying a social distanced alfresco mutual support class! The boiler itself is being overhauled by HBSS of Liverpool and they are making great progress.
Whilst waiting for some more machining to be done (to allow us finish bits we started before lockdown), we have been preparing platework and angle ready to start the building of the new drivers side tank for our other loco - 5668. Heidi is seen below taking her turn at grinding back weld on the front tank angles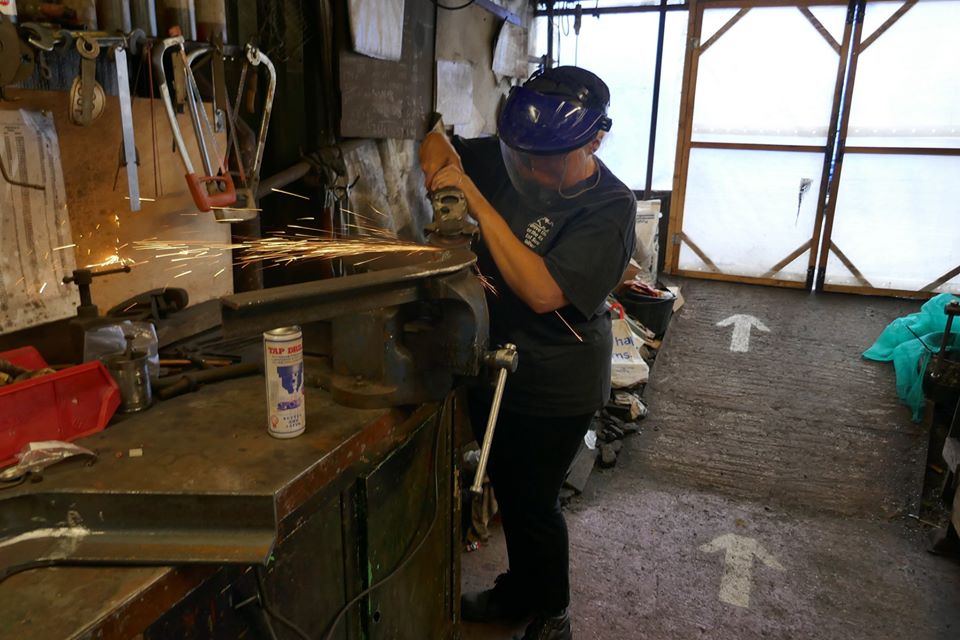 ‍
Paul & Jerry drilling baffle angle on the side sheet which ends up in the water space. In the background, Henry checks the drawings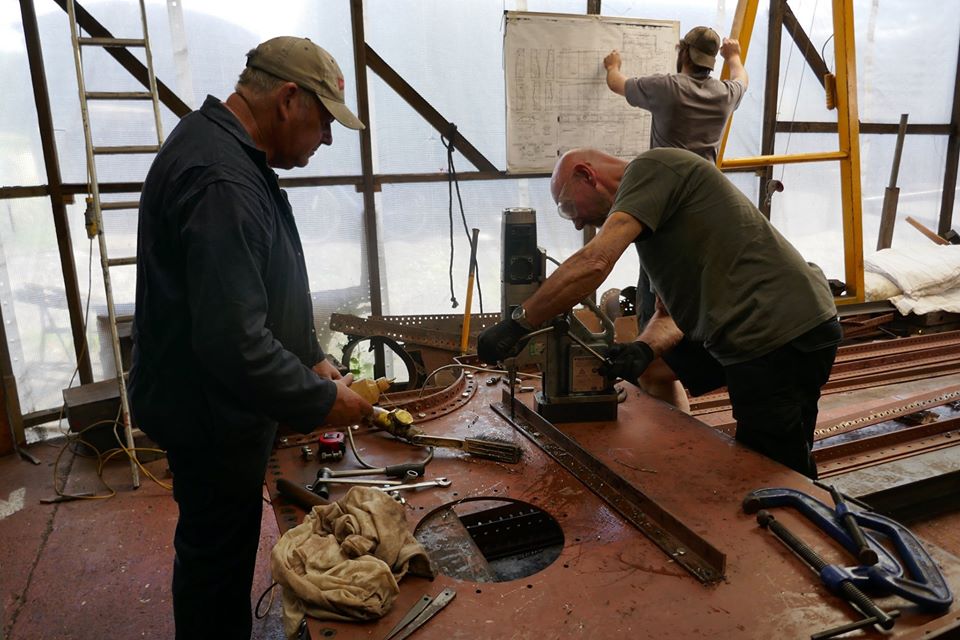 ‍
In the last e-newsletter we mentioned our super 4253 recycled egg timers - thanks to all who responded so generously by making a purchase, so helping us to finance the continued good progress on the boiler. We've still a few available, so if you missed out last time, visit our online shop to see these and the other goodies we've available!

---
‍K&ESR Strategy to 2024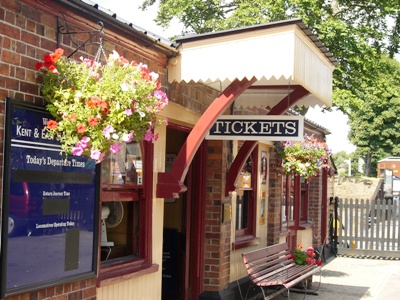 ‍People are the heart of the Kent & East Sussex Railway. Of course, we know the delight that seeing our historic locomotives and rolling stock can bring to visitors of all ages, but it's the people they interact with as part of a day at the railway who can make the difference between an interesting day and a truly memorable one. If you have the time to browse the customer comments at Tripadvisor or Google reviews you will see this emphasised time and again.
As a charity working to preserve the railway for future generations, we are reliant on:
 Our visitors, who pay their fare for a quality experience
 Our staff and volunteers, who make the safe operation of the railway possible and whose friendly approach is a hallmark of K&ESR
 Valued supporters of our fund-raising appeals, whether they be private individuals or grant givers
We have in the region of 500 people who give their time and effort freely to support a shared vision 'to preserve the railway as living history and make memories that matter.' It's no accident that the volunteers themselves are integral to that vision. It's all of you who make this a 'living' railway, and we can never lose sight of that fact that volunteers are here to create great memories too. As a volunteer guard, whilst undertaking my duties for the safety of passengers, it's a privilege to be 'up close' to our heritage engines, travelling up and down such a beautiful line and enjoying the sights, sounds and smells of steam. Being guard on the Pullman, seeing steam rise into a star-studded and moonlit sky is truly unforgettable.
As we tackle the next phase in the railway's history, working closely with our volunteer base is a top priority. Here some specific areas of focus: 
Communication: We have been working hard to keep lines of communication open during the lockdown period through this e-newsletter and other means, and we intend to continue that as the trains start to run. Of course, communication involves listening as well as speaking. The recent re-opening survey for volunteers received a high response (thank you) and your detailed feedback has had a significant impact on our plans. 
Volunteering committee: Last year the Volunteering Committee was formed. A number of recommendations from the group have been agreed by the Board and the committee will be critical to a positive two-way flow of information, ideas and recommendations. Special thanks to the committee for organising a number of social gatherings for volunteers to enjoy.
Growth: There are those who will say that with retirement ages increasing and pensions less generous than they once were, it might be difficult to grow our volunteer base. However, there are other trends – people are working more flexibly which can provide more opportunity to contribute. We will be working with the volunteering committee and our recruitment officer to actively bring more people to the railway, targeting across the age groups. It is a particular aim to encourage more young people to join us; there is much evidence that volunteering at an organisation such as ours provides life skills and technical knowledge that are very valuable in the world of work.
I'm sure it's been said many times before, but if each one of us were to introduce just one volunteer to the railway, it would have a transformational impact on our operation.. ..and that friend would most probably be most grateful to us too! There are so many roles to undertake that there really is something for everyone. Who could you introduce? Or if you don't volunteer already, are you interested?
As always, we are keen to hear your views. If you have ideas, please do send in them in via email to [email protected]
To enquire about volunteering visit https://kesr.org.uk/volunteering/ or contact [email protected]
Preserving our railway as living history – making memories that matter
David Nibloe
Trustee
---
‍K&ESR Reader Offer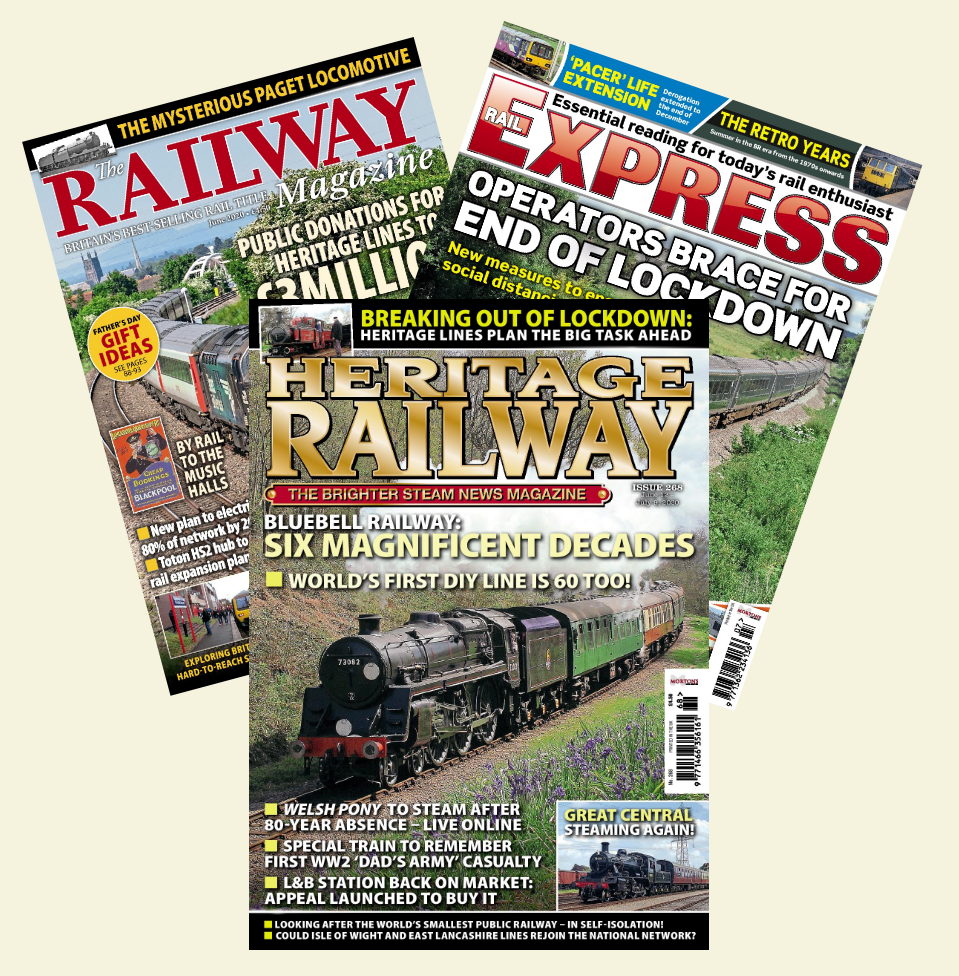 ‍Lockdown and 'social distancing' may be starting to ease, but there's no doubt this has been perhaps the most challenging year yet for the heritage railway sector.
So we've joined forces with three of Britain's leading magazines to bring you a great offer… one which will also directly benefit the K&ESR.
If you subscribe (at a special offer price) to any of The Railway Magazine, Heritage Railway or Rail Express, the K&ESR will receive part of the proceeds, helping us to keep going through these toughest of times.
The Railway Magazine, Britain's biggest rail title and a fixture in the news stands since 1897, offers in-depth coverage of news of the entire rail sector, from modern to historic – you could even access the entire 123 years of history by building on your subscription. Heritage Railway provides in-depth news and features from the world of steam preservation, while Rail Express is the magazine for the modern rail enthusiast and modeller, but always with an eye to the history of the sector.
Now you can take out a special subscription to any of these titles at a discount price, PLUS  when you take out a subscription the publisher, Mortons Media Group, will donate £4 directly to the Kent & East Sussex Railway, especially welcome in these tough times.
‍Offer expires December 31, 2020
---
‍Marcia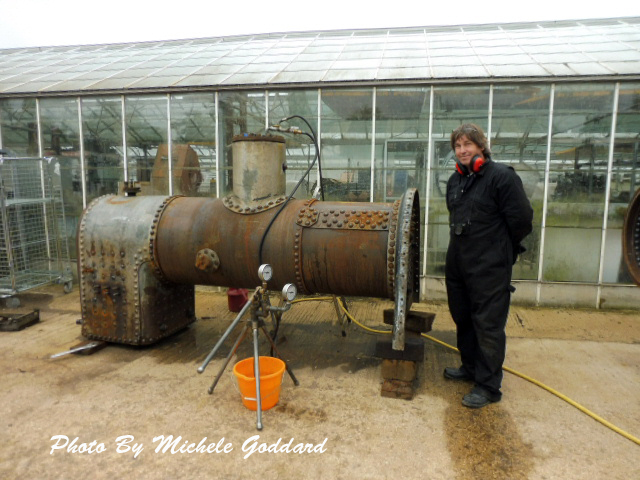 Alan Crotty is delighted to advise that the Marcia's repaired boiler has successfully passed its hydraulic test!

‍Charwelton
Charwelton's cylinders have been heat treated in Dudley and are now at the machine shop for finishing. Meanwhile, the wheelsets have finally returned to Rolvenden following their retiring and subsequent 'lockdown'.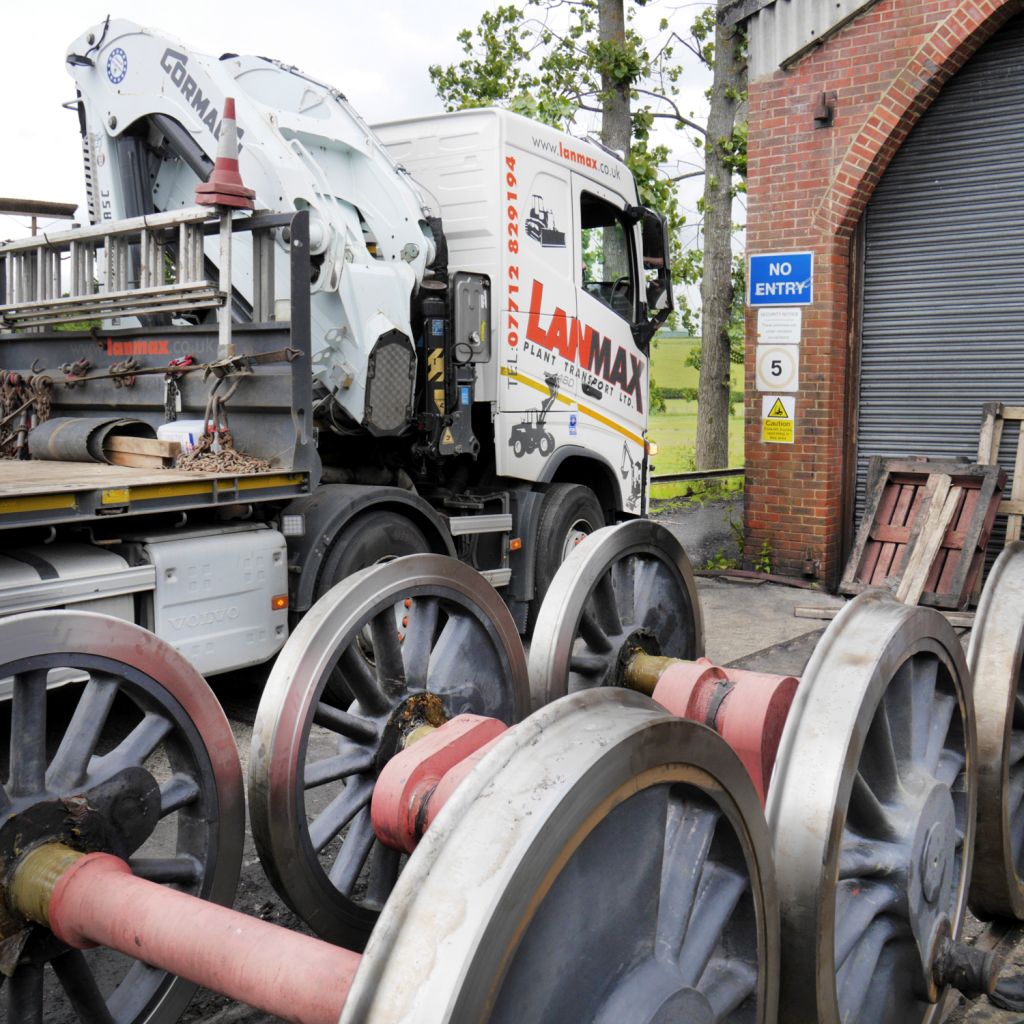 ---
‍From all of us here at the K&ESR, our very best wishes
‍

STOP PRESS!


Shakedown trains
As part of our comprehensive re-start verification process, we plan to operate two 'shakedown' test trains on Sunday 12th July. A limited quantity of accommodation on these services will shortly be made available to pre-book online by K&ESR members only. Further details will be circulated imminently.
‍

Kent & East Sussex Railway
Tenterden Town Station, Station Road,
Tenterden, Kent TN30 6HE
www.kesr.org.uk
Registered charity 262481