‍

Kent & East Sussex Railway
Members e-newsletter No.42
‍Welcome to the latest edition of your e-newsletter - this edition contains the latest news following the Government announcement on 31st October 2020.
Our 2020 Santa Specials poster campaign is inspired by the "Jolly Fisherman" of Skegness LNER fame and continues the rebranding of the K&ESR products and services.
Here we go again with another lockdown, hopefully for a shorter period than last time! We have taken the decision to cancel all November services and to re-open as soon as it ends, thus hopefully preserving the bulk of the Santa season. We will be allowing work on site, but only in strict accordance with Government guidelines and in each case with the specific approval of the relevant departmental manager. Working from home will be the default position. As before, the health and safety of our people and potential visitors will be the prime consideration.
In the meantime, we are continuing the work of resetting the Railway. By the time you read these words the staff reductions will be complete.  We are saying goodbye to people who have been real stalwarts of the Railway, some for very many years and some who have arrived more recently. We wish them all well, and I'm delighted that a number have said they will continue to be associated with us as volunteers. That is humbling, and an indication of what a family we are.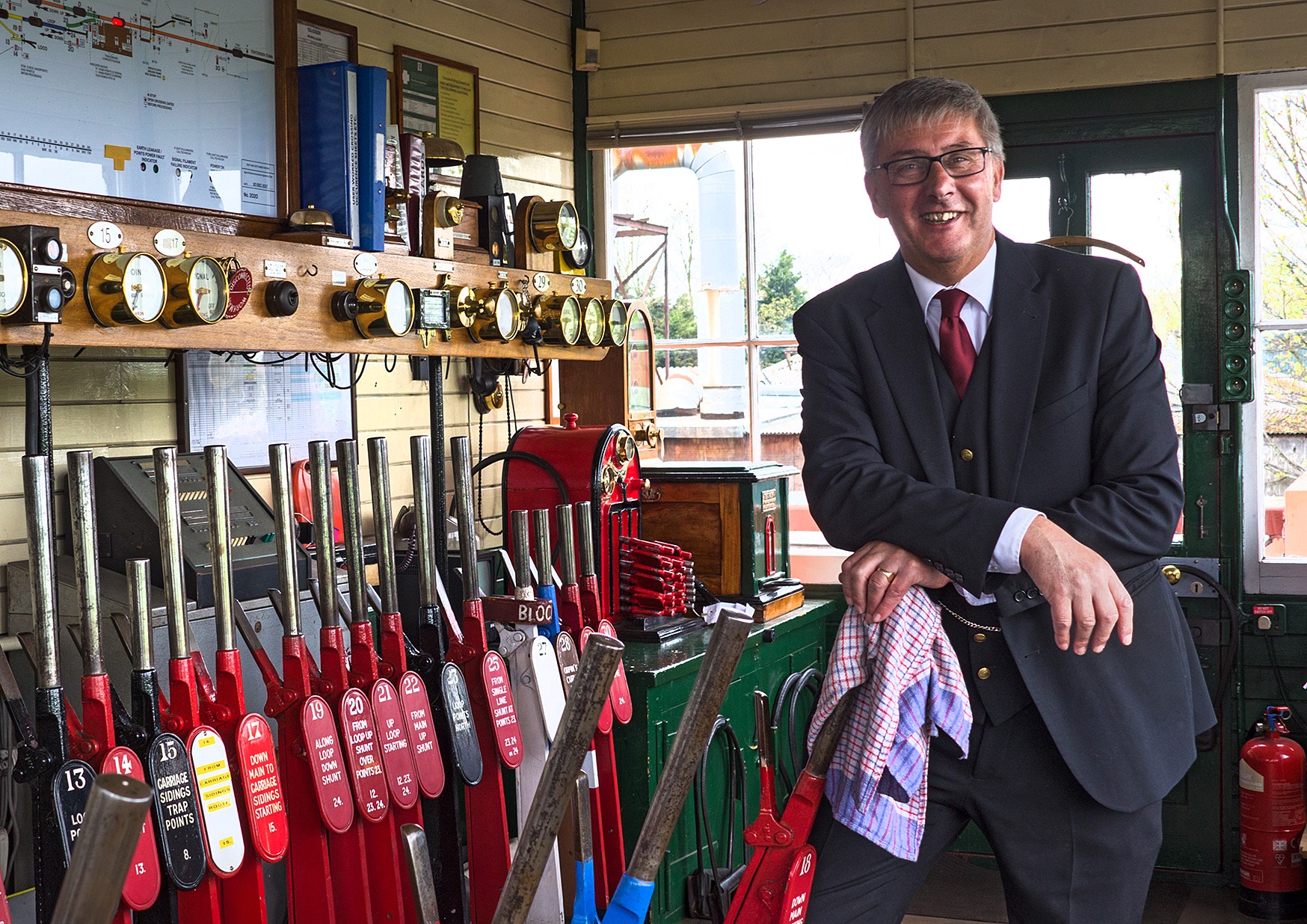 Simon Marsh, Chairman on duty at Rolvenden signalbox
I need to say a word about the closure of the Tenterden Station Refreshment Rooms, historically known to staff as the "buffet". For the foreseeable future we do not expect to have the visitor numbers to make the pre-pandemic buffet operation, with its high costs and limited returns, sufficiently profitable. 
We have therefore decided to offer a limited range of refreshments in our other outlets. Our ability to do so will be dependent on volunteer input - the money simply does not exist for us to continue as we were. We shall continue to gauge customer reaction and how we may best deliver what our visitors want in a profitable manner.
None of these decisions have been easy.
The next step towards resetting will be to embed a fully joined up way of planning and managing our day-to-day activities, centred on the new business committee chaired on a weekly basis by the Finance Director. We are already making progress with this and it will accelerate during November and more particularly in the new year.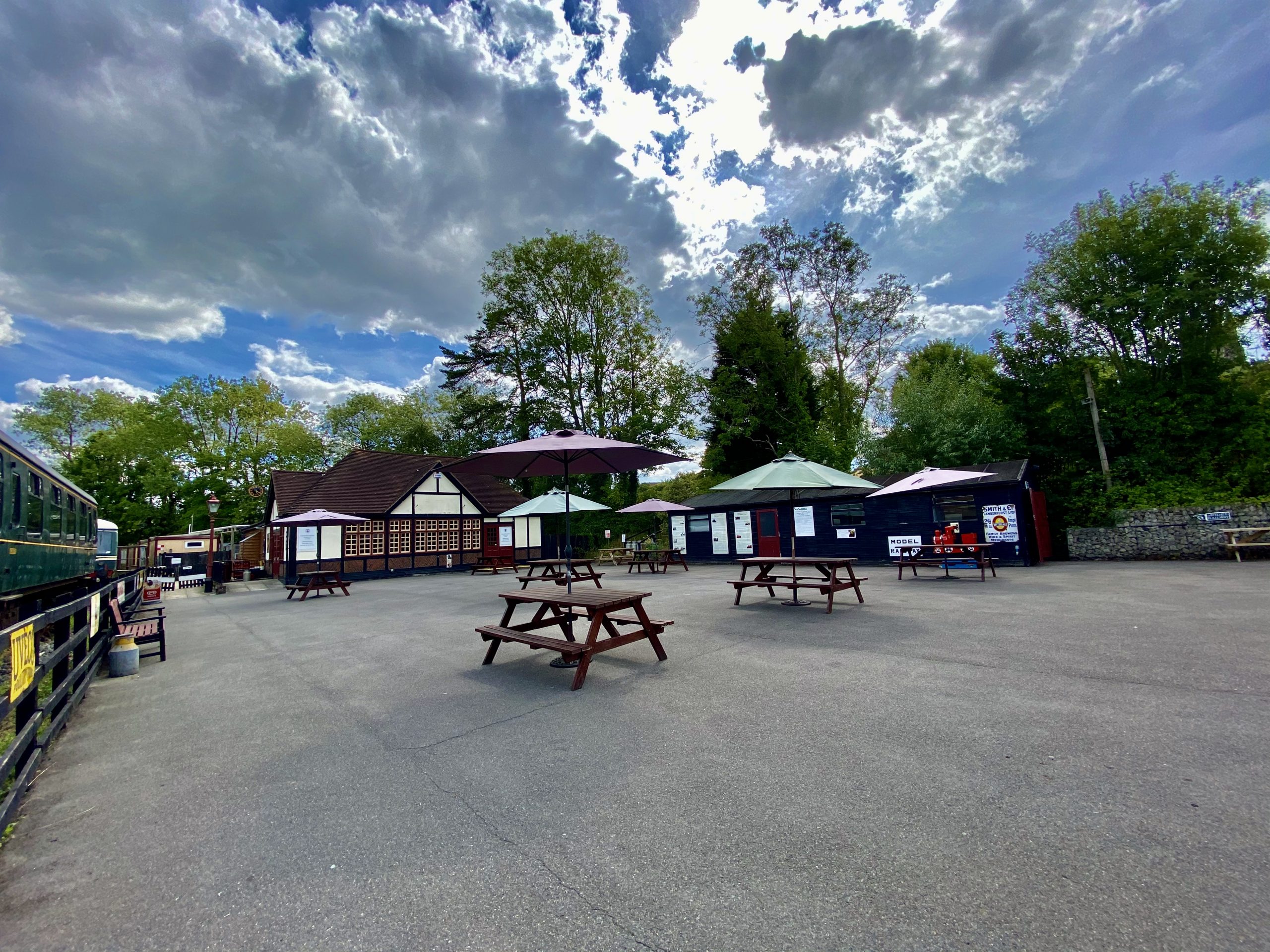 Image courtesy of Sue Ferguson
Our summer services have now come to an end: they were well worth doing. We re-established ourselves in the public eye, we maintained operating competences, and we generated some very welcome profit. Importantly, we learned that a streamlined offering, largely marketed and booked online, is a viable model for the future. Less pressure on our people (although there were times when it didn't feel like that!) and a far better ratio of income to expenditure. There are still adjustments to be made, but it will form the basis of our 2021 offer.
As I mentioned above, we still intend to operate most of our Santa season if we can. Tickets are selling very well, aided by some new and very imaginative artwork. Given the pandemic there will be delivery challenges which the team have worked hard to overcome. Please support and offer your help if you can.
Our IT system, as I have said before, is better than it was but still poses too many risks and is not all we need for the future. We are reviewing options for outsourcing as much as possible with potential independent suppliers. There will certainly be a cost attached, but it is absolutely essential to our future and, thanks to the Culture Recovery Fund grant, we shall be well placed to meet it. 
As you will know from a previous newsletter, the date for conducting the formal business of the 2020 annual general meeting is approaching. All members, including the surprisingly large number for whom we do not hold an email address, should have received their papers by now, although sadly there have been some delivery glitches. We intend there to be an opportunity as soon as possible for trustees to give a full account of what has been a very challenging year and to answer your questions.
You will see an article on our finances by the Finance Director later in this issue.  We will always need additional external funding, for capital investment and for further improvement to our daily activities.
Image courtesy of Liam Head
‍The work of the Fundraising Working Party will remain vital and is about to increase in tempo. The campaigns to raise funds to complete the Kitchen Car and Terrier 150 projects must continue. The Kitchen Car is of course essential to the future of the Wealden Pullman, and our other on-train catering operations, and hence is mission-critical.  Please help us to get both these campaigns over the line.  To see how you can continue to help financially visit https://kesr.org.uk/donate/
Volunteers are essential too in all roles - and not just the obvious ones. The Volunteering Committee is now well advanced in its study of our end-to-end recruitment processes and is reviewing recruitment materials from other organisations to see if they have relevance to us. Watch this space.
Progress on all the issues I have mentioned above – and plenty of others not mentioned – can be frustratingly slow even without the battering we have all had from Covid-19. People rightly get impatient; your trustees and managers share this feeling. But this organisation can only cope with so much change at any one time and our human and financial resource can only be stretched so far.
Onwards and upwards as we all continue the arduous task of resetting our Railway to cope with the new world.  We will get there.
Stay safe, look after your wellbeing during the lockdown, and remember to promote the Kent and East Sussex Railway to your friends and on your social networks.
Simon Marsh
Chairman
Notice from the General Manager
Notice - Covid Lockdown 2
On Saturday 31st October the Prime Minister, in response to the worsening Coronavirus situation, announced a second national lockdown, this time for a period of four weeks commencing Thursday 5th November through to Wednesday 2nd December.
We have therefore taken the following actions with immediate effect:
Planned public services during the Lockdown 2 period, including November Wealden Pullmans, Armistice Day and the first two Santa days, are cancelled.

K&ESR premises and infrastructure will remain operational but closed to the public.

Working from home will continue to be the preferred option wherever possible.

Only those staff and volunteers rostered or specifically requested by their department manager should attend our sites.

Santa Special specific work will continue, if approved by the department manager.

Safety critical work will continue, if approved by the department manager and notified to the General Manager.

In the interests of safety for all, Government Covid guidance, or any enhanced measures introduced by the Company, must be followed at all times.

Regular security patrols of our sites have been reinstated.

Rolvenden Accommodation will not be available for any K&ESR staff during Lockdown.

Tenterden Volunteer Accommodation has been closed for the duration of lockdown, unless otherwise approved by the General Manager

Our public services will recommence following the end of Lockdown 2, starting with Santa Specials and the Wealden Pullman on Saturday 5th December.
May I thank you all for your cooperation and assistance as we go through yet another period of upheaval.
Shaun Dewey
General Manager
4th November 2020
Staff Changes
The process of "Resetting the Railway" is all about looking at everything we do and understanding the environment we do it in. Understanding the new challenges required and effecting change for the good before outside change affects the Railway.
There is no doubt the catalyst for change has been Covid-19. The business has to change in order to survive and has to adjust accordingly, simplified in all areas as we adapt to the new normal
Unfortunately there are casualties and difficult decisions along the way, one affecting paid staff in particular. We are saying goodbye to a number of personnel from departments across the railway by way of either voluntary redundancy or through their own choice to move to horizons new. 
We say goodbye to the following paid staff:
Commercial              Karen Gay
Retail & Catering      Michelle Kenward
Operating                  Andy Hardy
Operating                  Bradley Bottomley
Carriage & Wagon    David Brailsford
Carriage & Wagon    Julian Coppins
Loco                          Adrian Landi
Loco                          Lawrence Donaldson
Retail & Catering       Zero hour contract staff
May I, on behalf of everyone at the Railway, pass on our thanks to each and everyone of our leavers for the contribution they have made to the Railway over the years and we wish them all the very best going forward.  
Shaun Dewey
General Manager
---
| | ‍We have been thrilled with the continuing sale of our popular Santa Specials.  Despite some unexpected challenges caused by some phantom availability in the software, the team have worked exceptionally hard to allocate all online bookings and process the small number of telephone bookings since sales were launched.   |
| --- | --- |
Sales of tickets (now excluding weekend of 28th/29th November) currently stand at 80% of budgeted income.
We thank the volunteer team who continue to work tirelessly with our commercial department to get the railway ready for the event. Your help would be most welcomed if you are able to assist with preparations or during the event.
Please email Commercial Officer Heather Packham if you are able to get involved in the preparations or delivery of the event: [email protected]
‍Following an evaluation of our bookings during the summer holidays and the midweek offering in July, we decided to provide two departures per day from Saturday 24th October to Sunday 1st November (excluding Monday 26th and Friday 30th). 
Despite the best efforts of the weather to keep customers away for the first weekend, we saw reasonable visitor numbers and then bookings from Tuesday onwards sold out 24 hours before. Compartments were particularly popular, as were tables of two. Despite it being school holidays, we noticed a difference in the profile of our visitors, many being grandparents and parents with very young children (under 5) or those with teenagers. 
The included Peter's Railway Actiity Book we provided free of charge for all children was extremely well received and it was noticeable how many adults were engaging with these and their young charges during the journey! Storytelling, provided by volunteers in the buffet searing area, was generally attended by a sensible number of visitors when adjustements were made to their advertising onboard the trains
The services attracted over 1600 visitors across the seven days, with the train loadings being excellent
Given how close to the date of travel many customers made their booking, adding an additional departure would likely have been fruitless. However we shall again consider early booking discounts for 2021 to secure bookings earlier.
We chose to operate a Fish and Chip Train on the evening of Friday 30th October, in lieu of the usual Fright Night train of previous years. This decision resulted from an inability to accommodate the necessary number of socially distanced visitors to make a Halloween themed event viable. However the revised offer proved worthwhile, as the train was fully booked for its food offer and a number of passengers chose a travel-only option too.
Thanks to all those involved in the planning and delivery of our half-term activities, it was very much worthwhile and we look forward to developing the February 2021 half term offer.
Whilst writing, the author would like to mention the joy that she experienced when she worked a volunteer turn on the Wealden Pullman dining train in October. These services are routinely operated by a very small pool of volunteers and I was struck by the sense of fun and positivity during the evening - particularly creditable given the need to work within the challenging covid requirements. So many of the staff mentioned how wonderful it has been to welcome back the (reduced number of) Pullman customers since re-starting in September. Customer feedback too has been wonderful and so inspiring; a just reward to the hardworking staff who have implemented the numerous changes required to make it possible. The team look forward to restarting once again when the current lockdown ends.
If you would like to help the Wealden Pullman, contact Meg Gooch, Pullman Manager, for a fun and rewarding volunteer experience. No previous experience is necessary as full training is provided. There are roles front of house and many more behind the scenes!
Helen Douglas
Sales & Marketing Manager
---
Strategy to 2024
It goes without saying that Heritage is at the heart of what we do. It is core to our charitable aims. So, it follows that valuing our heritage is a central part of our strategy.
We need to create a virtuous circle whereby our heritage assets are used effectively, generating profit which can then be invested to further our educational purpose. In the first instance this means having the right locomotives and carriages available to convey passengers on a return trip across the length of our beautiful line. It also means having heritage assets on display to add interest for our visitors and enhance their experience -  these can equally be buildings, wagons, signalling equipment or our overhead pole route, permanent way or yard cranes, etc.
‍‍Image courtesy of Brian Janes

‍From my experience as a guard, I know how much visitors enjoy being able to see the Cavell Van and hear its story from an enthusiastic volunteer or the audio-visual display inside recounting its history.

The Wealden Pullman in the dock at Tenterden is another attractive feature generating great interest and many conversations.
‍The Museum too is a very important part of our offering and integral to our attraction to visitors. It houses a collection of national importance, telling the story of Colonel Stephens and his light railway enterprises. Last year we were delighted to be able to make arrangements to secure its tenure in the current location for years to come.
| Of course, there are compromises that are inevitable in the way we operate. We use Mk1 coaches and locomotives that never graced the line during its heyday. It is our aim to provide a representative experience of a rural line from the past and to preserve not only the literal sights and sounds of a Colonel Stephens line, but also a broader railway history that deserves to be told. | ‍Image courtesy of Sue Ferguson |
| --- | --- |
| ‍‍Image courtesy of Elliott Waters | ‍Our diesel fleet is integral to our purpose. Again, guarding has taught me that passengers very much enjoy the experience of travelling in the diesel unit. It boasts a 'driver's eye' view of the line which is a vantage point not readily available on a steam hauled train, together with unparalleled views of the nature and environment along the Rother Valley. Other diesels are both vital to the effective operation of the railway and items of historical importance in their own right. |
| --- | --- |
‍So, turning to the future, we need to develop new ways of generating income from the heritage assets we are fortunate to have in our custody. What new visitor experiences could we offer that would ensure our heritage pays it way? We know a Terrier can't pull a 5-car corridor train, but what could we offer with one of our historic pair and a rake of vintage coaches? How can we use the GWR Railcar when its restoration is completed? 
Innovation is not just about rolling stock. We would like to have more heritage assets on display, which may not be in operational use but can help explain the workings of the railway. We have unique status as the first light railway, so will be asking ourselves how to make more of this. Even now we are in conversations with the Docklands Light Railway about how we might link up on an educational programme.
‍‍Finally, we must never forget that it's the people who bring the heritage alive. Our friendly welcome makes a huge impression on our visitors - and just as important are the conversations explaining the operation of the railway and its equipment.

Without the heritage there would be no story to tell, but the story doesn't tell itself – so we all have a role to play in that. 

‍‍Image courtesy of

Helen Douglas
As always, your input and ideas are welcome to [email protected]
'Preserving our railway as living history – making memories that matter'
David Nibloe
Trustee
---
Financial Report
When I first heard about Covid 19 in February this year, I think I thought "that's something that happens to other people, it won't affect me". That was far from reality and it continues to affect us all today.
The finances of our Railway were looking very good as we passed Christmas 2019 and we looked forward to re-opening for the new season. Thanks to two legacies, I had earmarked £250,000 for capital investment, and another £200,000 to add to our cash reserves. I am almost certainly the only Finance Director in our history who was lucky enough to have made such plans.
When the grim reality of Covid hit and we were forced to shutdown almost everything, it quickly became clear that our budget was null and void, and that the £450,000 was instead our survival fund. A few of our people carried on in the background, including, the General Manager (thanks Shaun), the Accounts Team (thanks Matsya, Pam and Rosemary), Lin (Customer Services) and our Commercial Manager Andre. There were others. Some were brought back, and then stood down as and when their skills were required.
We were able to do this thanks to the Furlough Scheme, which paid most of our wage bill for nearly 8 months.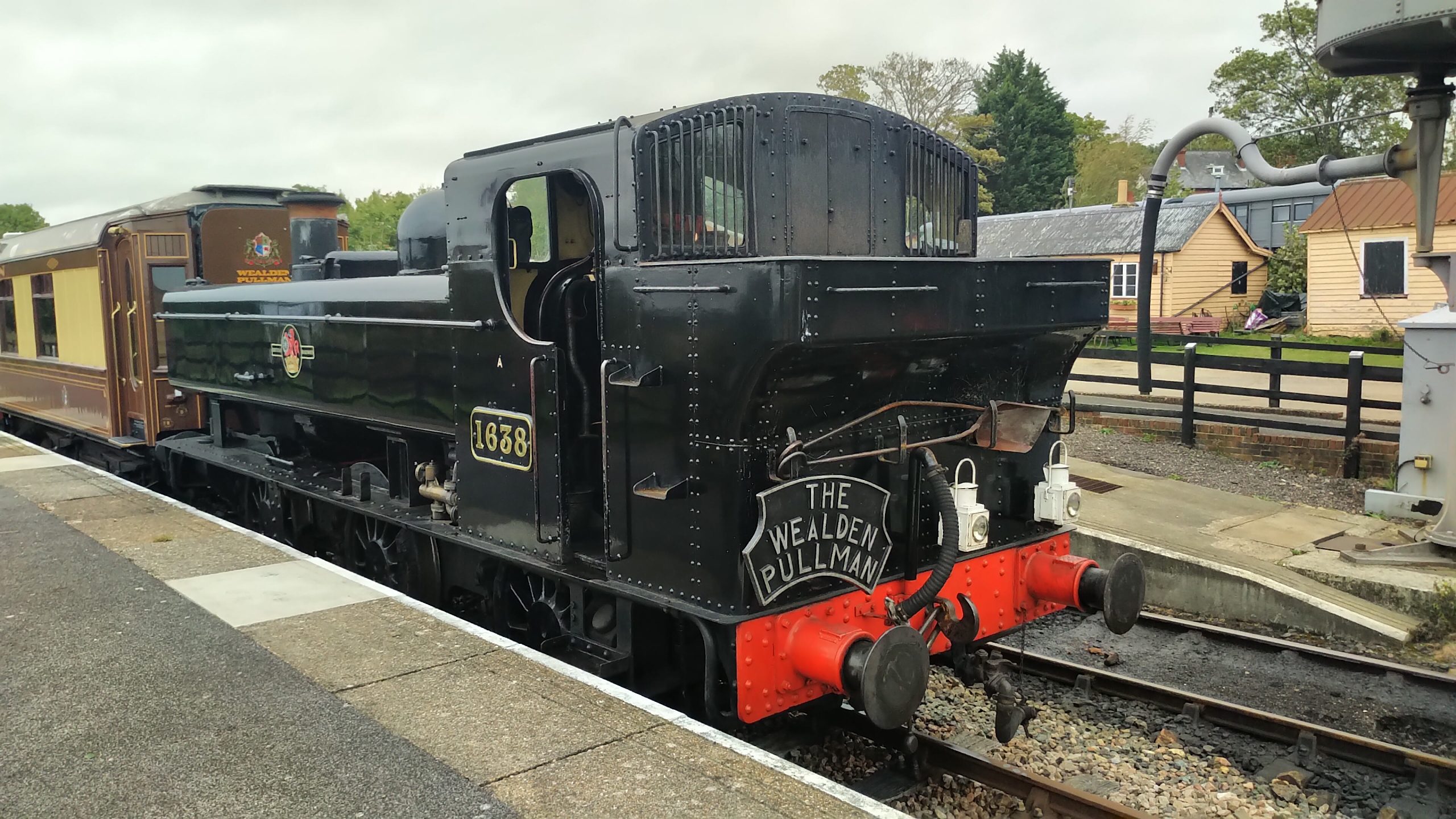 P‍annier Tank awaits departure of the Sunday Lunch Pullman at Northiam
‍Image courtesy of Neil Sime
The Finance team applied for as many grants (free money) as we could, and took advantage of the Government Bounce Back Loan. This loan was the only thing that we will have to re-pay (on very favourable terms).
In addition to the "free cash", we received donations of £36,000 from well-wishers as well as donations to our Appeals for the Kitchen Car and our Terriers. People who had loaned us money for the Kitchen Car converted their loans to straight donations. You know who you are. Thank You.
We moved through March, April and May in a state of limbo, with our cash reserves holding up and our income and outgoings virtually nil. As we entered June, there were changes to the Government message and we began to plan for re-opening. There were so many safety considerations, for our own staff, and our Customers. As we refined our plans more and more, we had to bring in staff from the Furlough scheme, increasing our outgoings whilst income remained almost zero. In early July we announced that services were restarting and they quickly sold out. There was a demand from customers to "get out of the house", and we provided a safe environment in which to do so.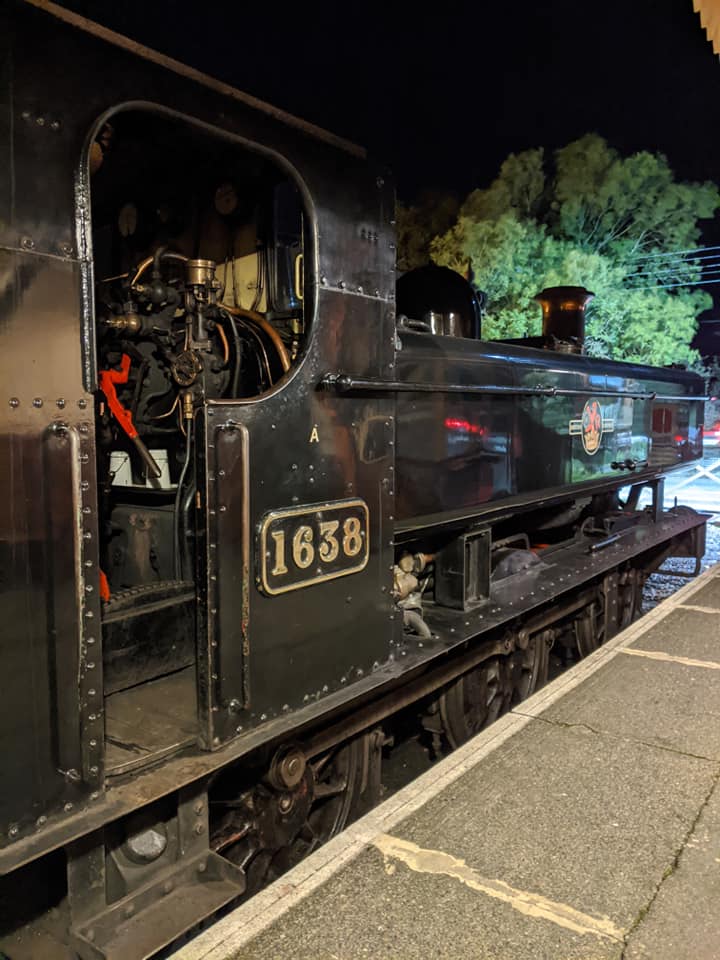 ‍‍Image courtesy of Dan Dickson
‍
Throughout the pandemic the Railway remained financially secure in the short term, although we lost out on nearly all of the operating profit needed to see us through into the 2021 season. And we had to consider the likelihood of severely reduced income throughout 2021.
A chance email in early October was the catalyst for a grant application, totalling £301,500, to offset our costs through until the end of April 2021. We would not have been awarded this had we not been able to demonstrate a realistic approach to future planning, including reducing our costs to levels affordable in the longer term. The use is specific and we will be audited later.
We could have opened a "Save Our Railway Appeal".  But this would have been based on a false premise, and when our accounts were studied at year end there would have been unpalatable questions to answer. So far we haven't needed it.  I believe that honesty is always the best policy.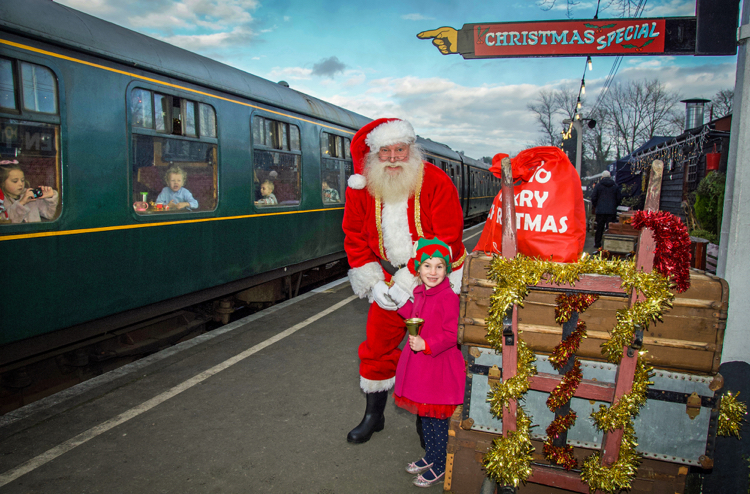 ‍Santa bookings have added to our reserves, but the latest lockdown has meant that we will have to re-book or refund those who would have travelled with us in November. The money is ring fenced for that reason. The way bookings were made (£100k within a few days of opening online bookings) shows a determination to have as near a "normal" Christmas as possible – something we all hope for.
Please take care of yourselves, and if you can help over the Santa season, that would be great. Don't worry about the Railway. It is safe and we have taken all reasonable measures to ensure the Railway will still be here for everyone when this dreadful pandemic is over.
Geoff Crouch
Finance Committee
---
‍K&ESR Reader Offer 
| | ‍‍‍Following the launch of Steel-Oil-Steam, which shows the world and work of the engineers, fitters and volunteers of our Railway, we are pleased to extend the offer for purchases by members for just £20.  This beautifully printed book, with 67 facsimile-quality full-page black and white reproductions, explors the engineering underpinning our railway. |
| --- | --- |
‍By virtue of the generosity of the creators of the book, K&ESR members can purchase at a discounted rate of £20 (£24RRP) and additionally for each of these Member purchases a royalty donation will be made to K&ESR 
---
As part of the fundraising plan being developed by the Fundraising Working Party, the railway has established a page on the Linked In social media site.
Linked In is used by professional people to share contacts and information across the corporate business world. We are going to use this platform to publish regular information about the railway. 
Our objective is to make executives in the wider business world aware of the challenges the railway faces and to bring to their attention the appeals that are being made, to aid funding of key projects. We hope this will lead to contacts and connections with people that can influence corporate sponsorship.
So, do you have a Linked In account?  If so, then please help us by following the K&ESR page and share our postings with your network:
‍The wider we spread the information the better the chance of securing corporate sponsorship funding for our appeals!  Thank you for your support.
Derrick Bilsby
Fundraising Committee Volunteer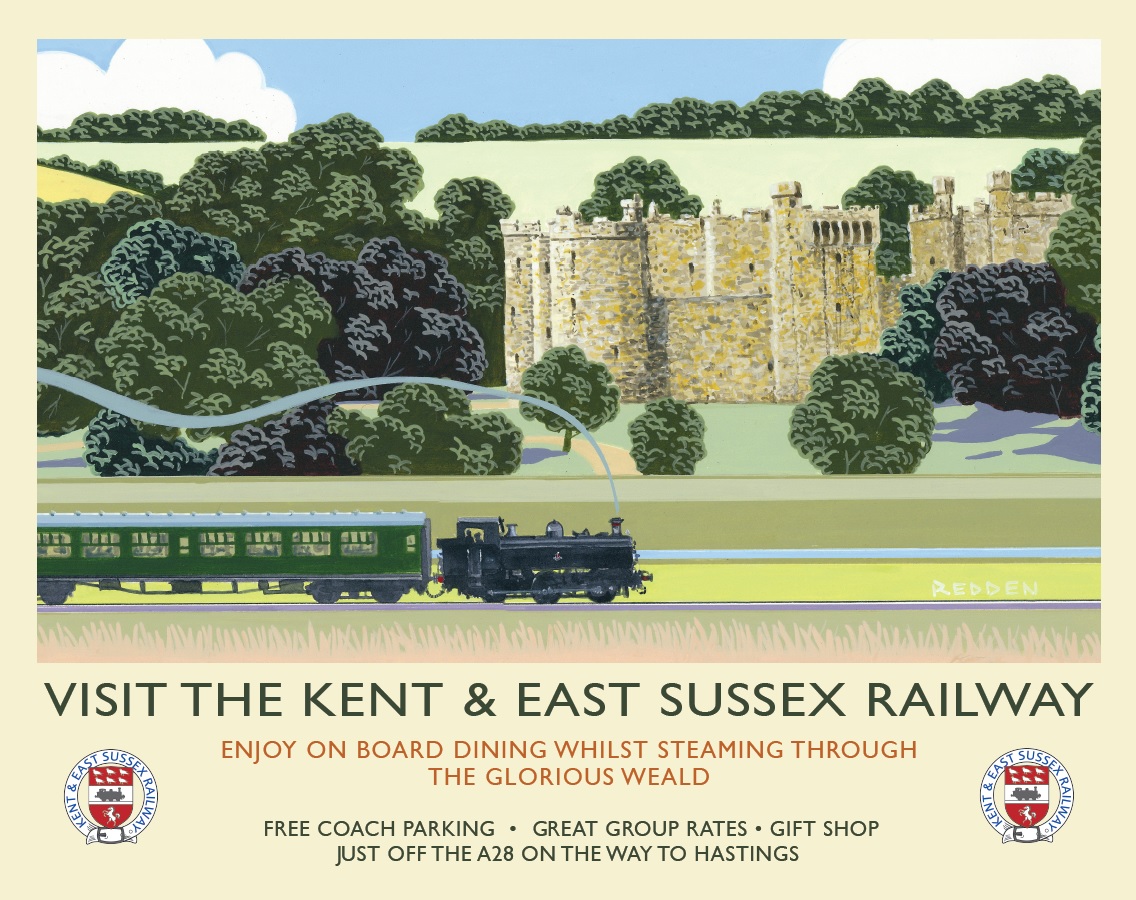 ‍The commercial team are developing the 2021 advertising strategy to attract families, groups, pensioners and the variety of customer groups that enjoy our railway.
‍Over the course of the last 7 or so months, we've managed to achieve a lot on our little fleet of On Track Machinery, despite the difficulties that COVID-19 has made for all of us around the whole organisation! 
You may remember that, just before Lockdown 1, we had two new tamping machines delivered, having been purchased by Clive Lowe. Since then a great many hours have been spent getting one of these machines, 75201, ready for service.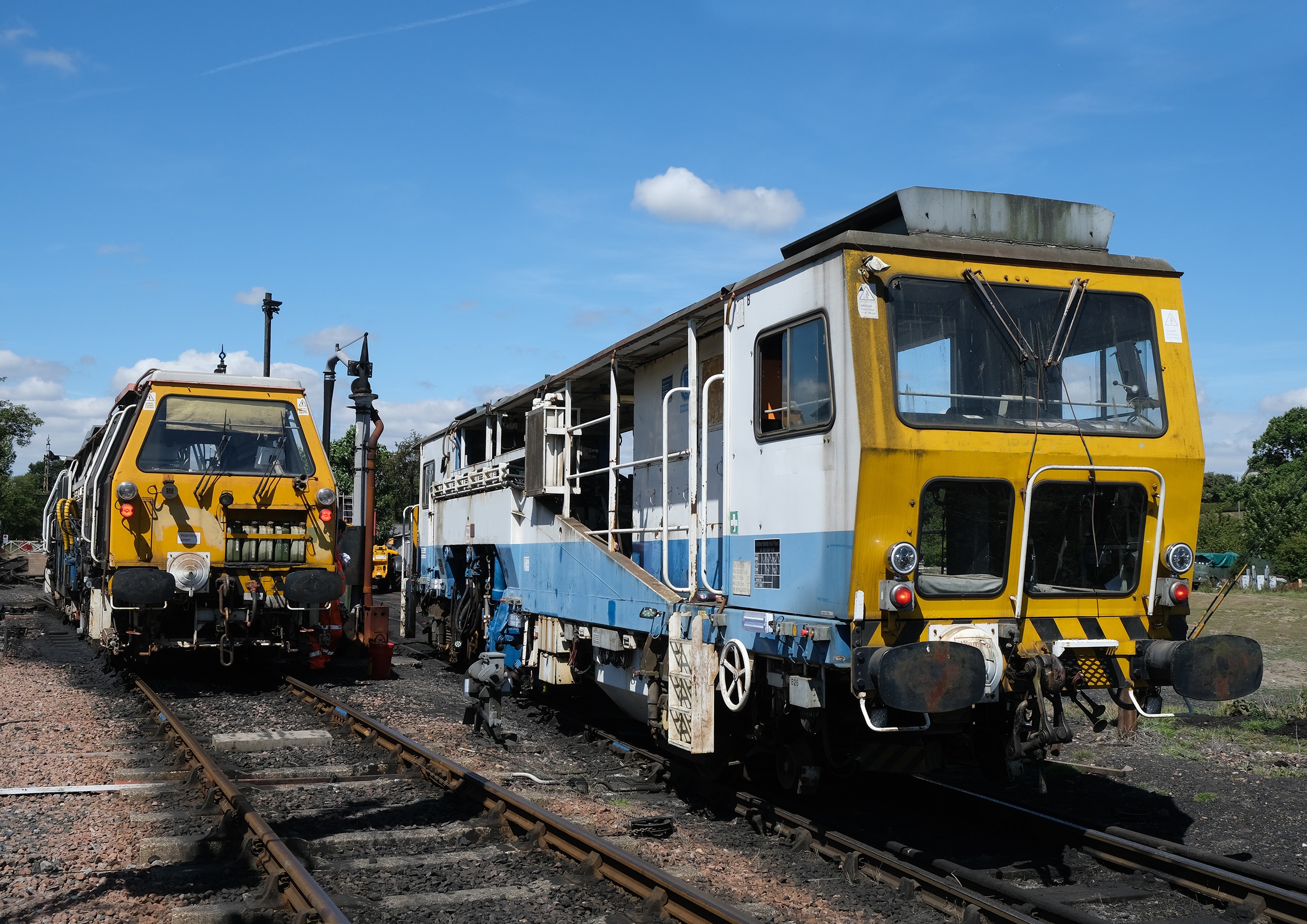 Tampers 75201 and 73434 at Rolvenden August 2020 
Image courtesy of Alan Crotty
‍We are now nearing completion of the 24m maintenance on this machine, having taken the view that, given this is the most invasive level of maintenance we carry out on our OTM's, carrying this out would provide and document our full and thorough examination of the machine, prior to commissioning it for use on the K&ESR.
As is often the case, as we've worked through this maintenance a good many faults have been thrown up. These have largely been the result of the machines having sat out in the elements out of use for some years prior to purchase. However, this has provided us with a good, structured approach to inspecting and testing each system on the machine, and repairing the faults as they arise. 
Not only have we spent a lot of time working to get 75201 ready to go to work, we've also completed a 6 monthly maintenance and are part way through a 12m maintenance on the 07 tamper 73434 and, in between all of this maintaining, we've even been out to do some tamping at all times of day and night!
| | ‍Tamper 73434 tamping near Padghams Crossing.  27 October 2020. Image courtesy of Jamie Douglas |
| --- | --- |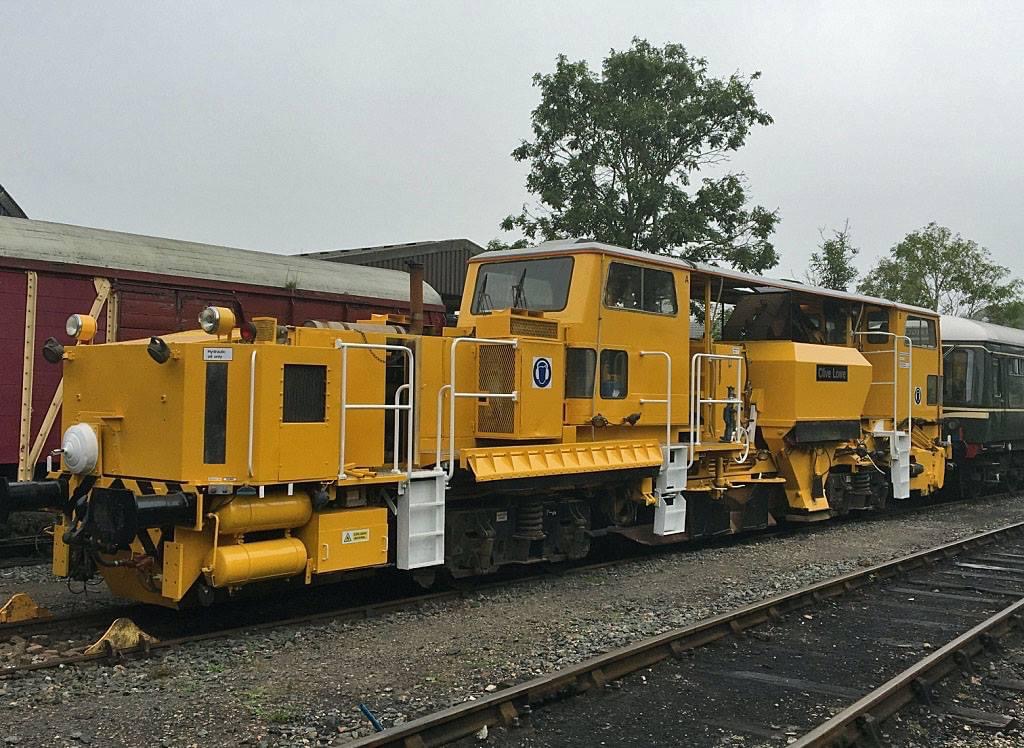 B‍allast Regulator 77329 in better times - following its repaint in August 2016. 
Image courtesy of Paul Jessett.
Unfortunately we've not been able to get out and do very much in the way of ballast regulating, as the ballast regulator has developed a fault with its engine resulting in significant dilution of the engine oil with diesel fuel. This means that we need to find some time to have a good look at this machine and repair whatever is causing this fault, enbling us to get back out there and make best use of the ballast we have!
If there is anyone reading this who has expertise and/or experience with Cummins Diesel engines, we'd be delighted if you could get in touch to with some advice, guidance or offers of assistance!
‍Whilst the regulator has been out of action, the Road/Rail excavator has been out and about topping up stone where required, either prior to, or following tamping. However this is quite a slow and labour intensive process! This machine has also been out carrying out some flailing work, as well as a multitude of other works to support the railway. It did suffer with a parking brake fault a few weeks ago, causing the brake to not release, however the cause was traced to a defective solenoid coil and a replacement was found and fitted, curing the problem.
‍TRAMM tractor in the workshop at Tenterden, cab windows removed. 

Image courtesy of Jon Grimwood
‍Finally, the TRAMM tractor unit is getting some much needed attention to its bodywork. Our thanks to Jon Grimwood and his team at Tenterden for the great work they've been carrying out so far. In parallel with the bodywork, we'll be carrying out a 24m maintenance to ensure that the machine is given a thorough looking at. Once completed, the tractor unit can be reunited with the trailer unit and, after some refresher training for driver/operators, we'll be able to get the TRAMM back out assisting the various departments that make good use of it across the railway.
‍After removal of the steel sheet, showing the extent of corrosion found in some areas of the cab structure on TRAMM. 

Image courtesy of Jon Grimwood
The steel framework at the back of the cab shown here after renewal of almost all of the lower half of the framework.

Image courtesy of Neil Jackson
‍Jamie Douglas
Permanent Way Volunteer
---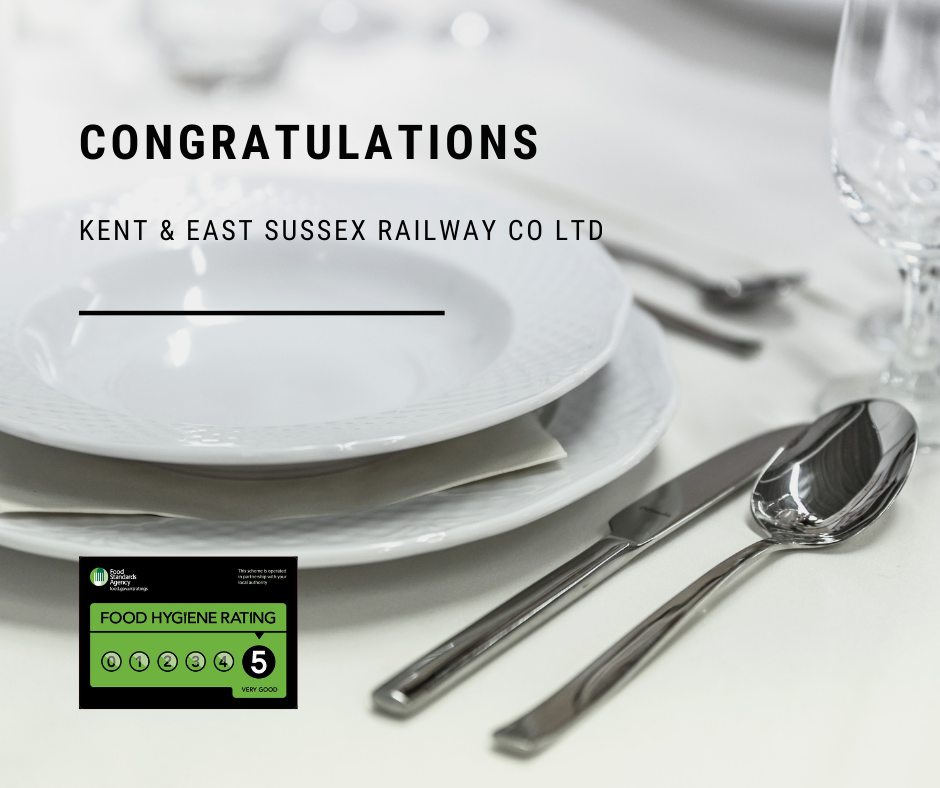 ‍

We're a 5!
Following an unannounced external audit, the K&ESR have again been awarded a 5 (star) rating by the Senior Environmental Health Officer from our local authority.
The inspection examined all aspects of our Station and Pullman catering safety management systems and operations. The result is particularly pleasing given the challenges faced by restarting catering operations in the current climate and is a testament to the hard work of our volunteers, both front and back of house.
---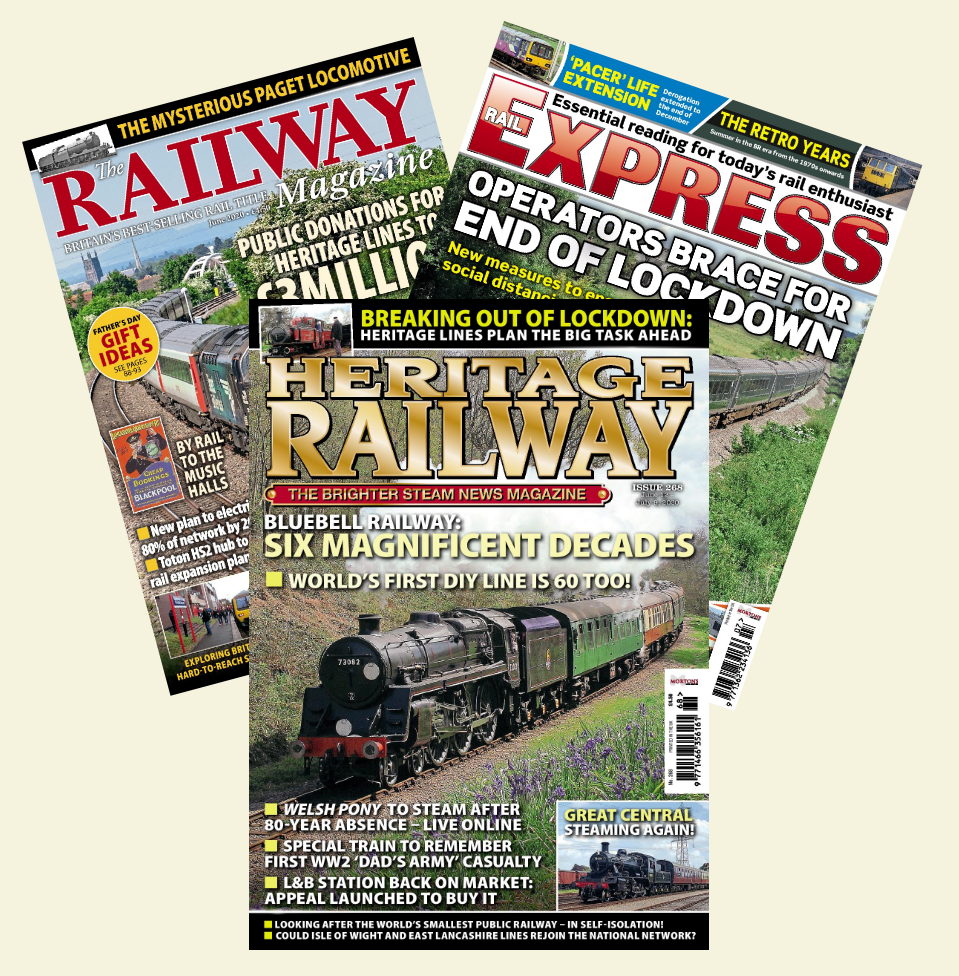 ‍

K&ESR Member Offer - a Christmas Gift that lasts a year!
We've joined forces with three of Britain's leading magazines to bring you a great offer, and one which will also directly benefit the K&ESR.
If you subscribe, at the special offer price, to any of The Railway Magazine, Heritage Railway or Rail Express, Mortons Media Group will donate £4 directly to the Kent & East Sussex Railway.
The Railway Magazine, Britain's biggest rail title and a fixture in the news stands since 1897, offers in-depth coverage of news of the entire rail sector, from modern to historic – you could even access the entire 123 years of history by building on your subscription. Heritage Railway provides in-depth news and features from the world of steam preservation, while Rail Express is the magazine for the modern rail enthusiast and modeller, but always with an eye to the history of the sector.
‍Offer expires December 31, 2020
---
---
‍Support the K&ESR - at no cost to you!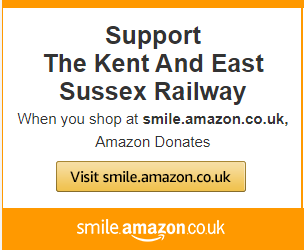 If you're an Amazon customer, you can now support the K&ESR when shopping - at no cost to you! Simply follow the link above to setup the K&ESR as your favourite charity, then follow the simple instructions shown when shopping online
---
‍From all of us here at the K&ESR, our very best wishes
‍

Kent & East Sussex Railway
Tenterden Town Station, Station Road,
Tenterden, Kent TN30 6HE
www.kesr.org.uk
Registered charity 262481