‍

Kent & East Sussex Railway
Members e-newsletter No.37
‍Welcome to the latest edition of your e-newsletter - we hope you are keeping safe & well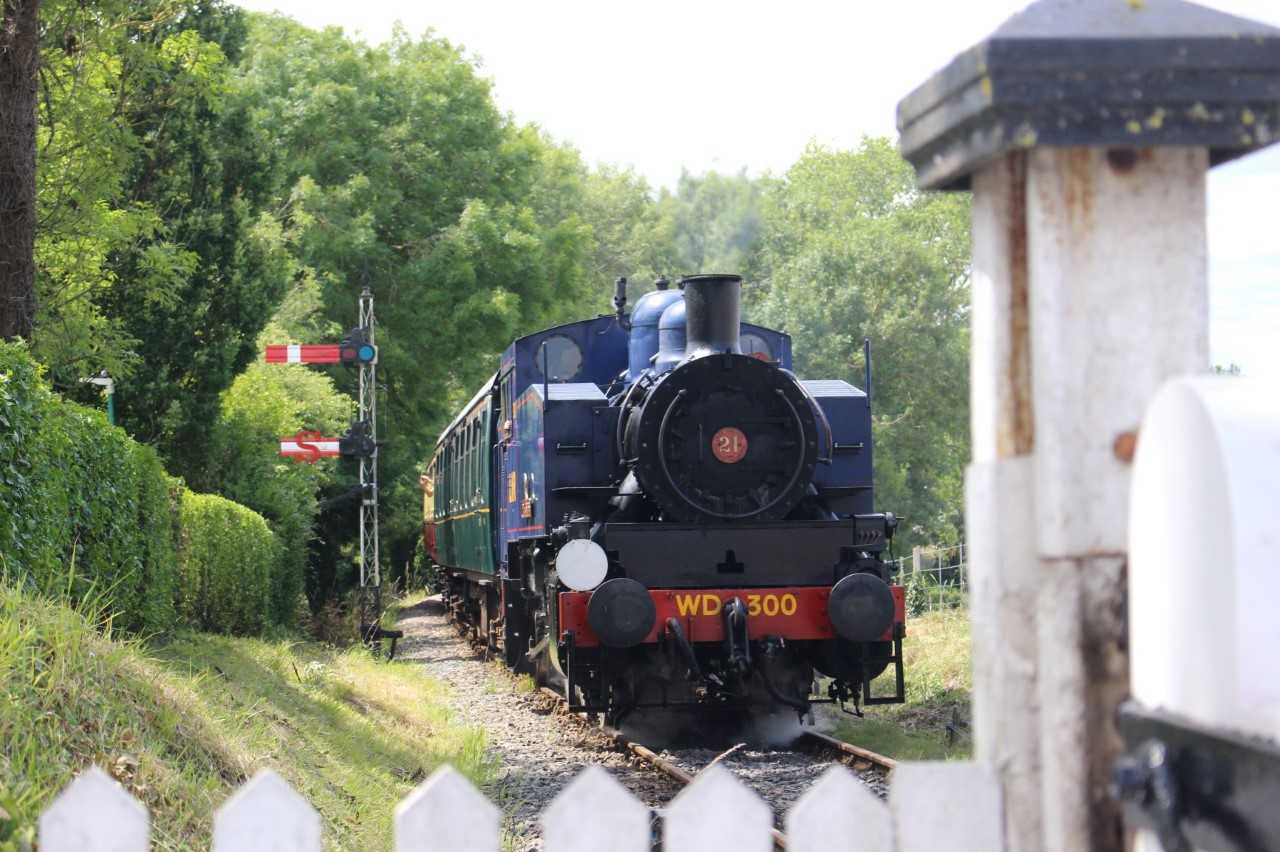 ‍The welcome sight of USA Wainwright, running as 300 Frank S Ross, framed by the crossing gates as it approaches Tenterden with the 1040 Shakedown Test Train on Sunday 12th July
Image courtesy of Kevin Boorman
From the Chair
We're running trains again!
This is now the third weekend of operation and we're rediscovering the magic. The stations and the rolling stock look smarter than they have done for many years, and most importantly we have customers who are appreciative and smiling.
On the first day we even had a filming contract as Lucy Worsley and team got some railway shots for a historical documentary. It is good to be back.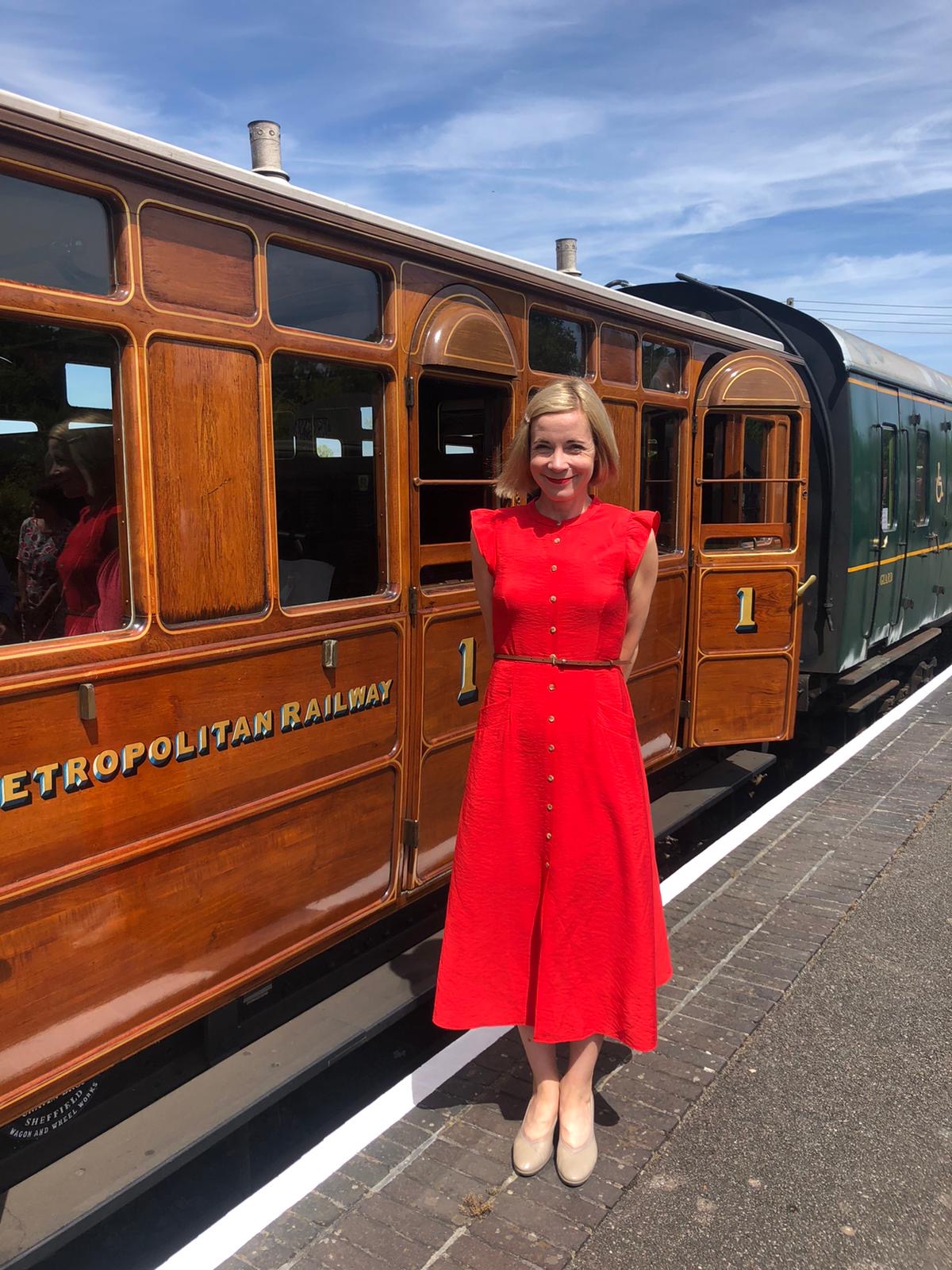 ‍
Huge congratulations and thanks to all who have helped, in any way.
Now we are past this significant milestone we need to develop some momentum.
We still need more bookings, and General Manager Shaun and the team continue to ramp up the awareness and marketing. We have taken the plunge and decided to run additionally on two midweek days throughout August. We shall be watching the market very carefully and we're in a position to react quickly to any upswings (or downswings) in business.
Projects are being established to come up in short order with specific proposals for: the Pullman and on-train catering; the Santa season; and the basic service pattern for 2021.
We are of course launching ourselves into a very new and uncertain world – there remain huge challenges but we shall overcome them.
What of the bigger picture?  I have said before that your trustees believe that in order to generate funds for reinvestment in the heritage we must run a profitable business, and that the way to do this is by concentrating on our core activities and focusing our spending on them.
This means that we must simplify our timetable and our organisation, and direct our limited resource to making money that can be ploughed back into maintaining and developing our Railway without compromising on safety. We can no longer (if we ever could) afford to spend on activity that brings at best a marginal return. We must be able to justify every single item on the expenditure side of the K&ESR ledger.
We are now looking in considerably more detail at what the practical implications might be. It could be that we keep in service only sufficient locomotives and rolling stock to run fewer and shorter trains than we have been used to. Or that we scale right back on special events, which when all the hidden costs are added in are not nearly as profitable as might be thought. Or that we put nearly all our catering on-train, offering only light refreshments in the secondary catering outlet at Tenterden. I could give many other examples.
We do our core activities well, and if we are to survive and thrive that is where the focus must be. Not doing things because we can, or because we've always done them that way, but because they will demonstrably benefit the organisation.
There will be more on this in the coming weeks and months.
But in the meantime the immediate task is to establish ourselves in the new, hopefully post-coronavirus, world. We have already shown that we can take the first steps in what could be a lengthy and difficult process. And that is something to be proud of.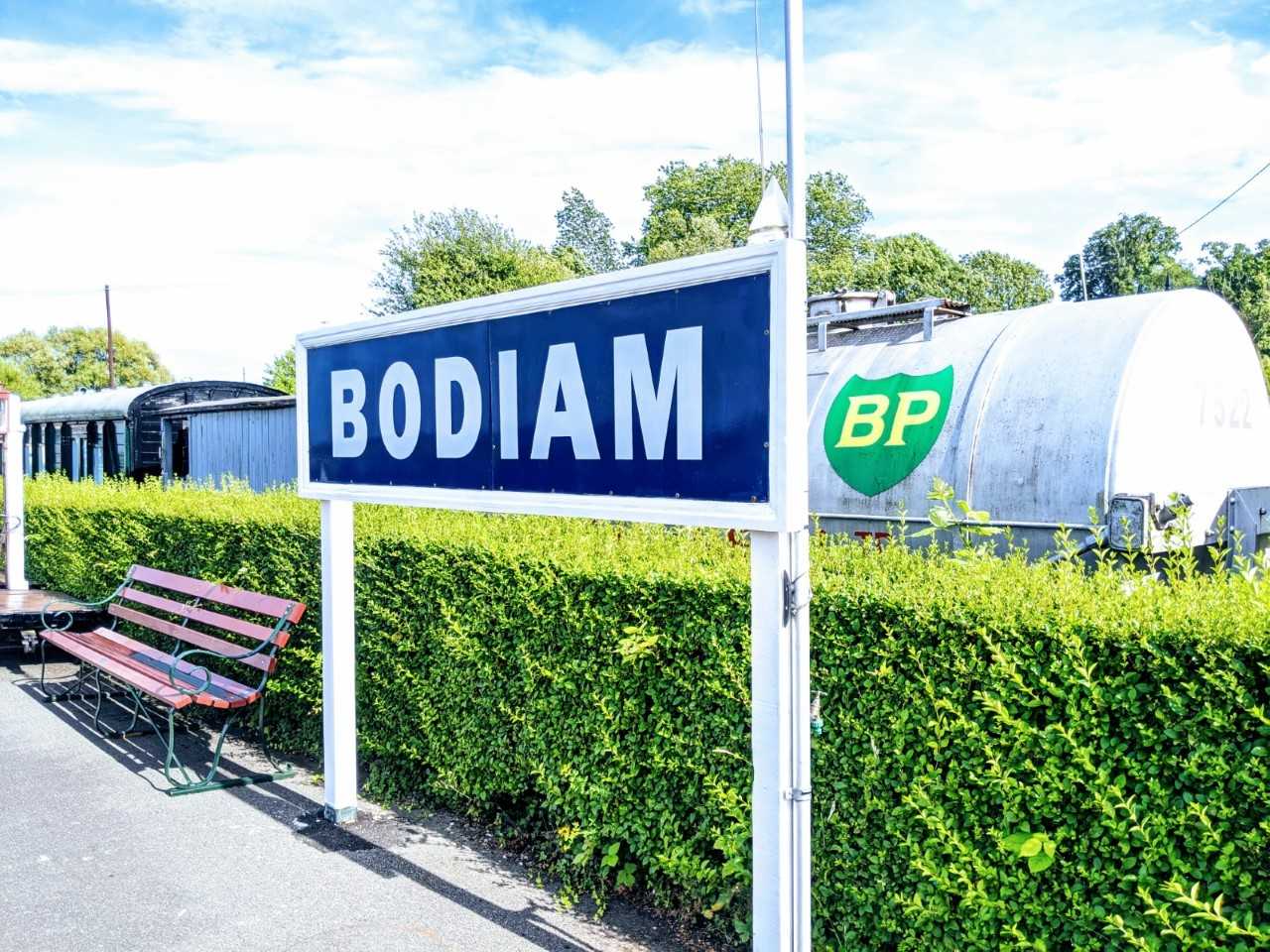 ‍ 
I'll finish by making the usual appeal. Many people have been very generous to us and I take this opportunity to thank them. Donations whether to the Railway as a whole or to one of our extant Appeals are still always welcome and very much needed.  All our Appeals remain open - to see how you can continue to help us through this challenging period visit https://kesr.org.uk/donate/

Stay safe, look after your wellbeing, and remember to talk about the Kent and East Sussex Railway to your friends and on your social networks.
There will be difficult times ahead, but we intend to be around to celebrate the 60th anniversary of our preservation movement next year!
Simon Marsh
Chairman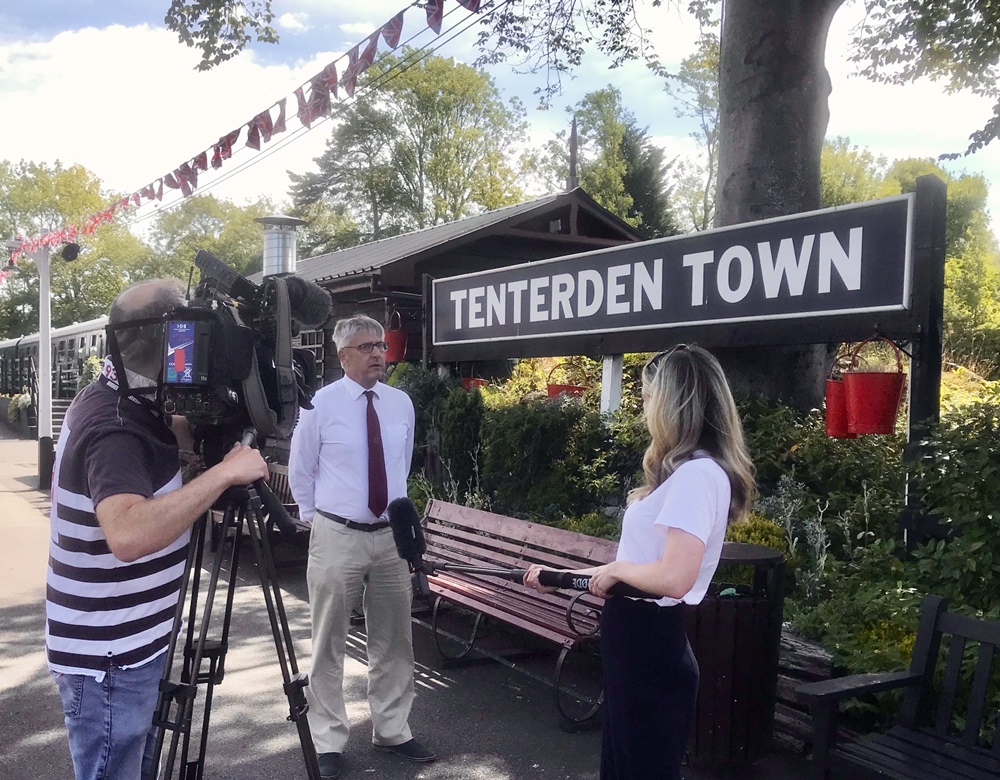 ‍Simon Marsh being interviewed by the BBC on our reopening day
‍We're proud to have been granted the Visit England "We're Good to Go"  Industry Standard mark, demonstrating that we have followed government and industry COVID-19 guidelines, have Risk Assessments in place and a process to maintain cleanliness and aid social distancing.

 

| | ‍A huge amount of work has been undertaken to our sttion sites by a growing band of supporters |
| --- | --- |
| The previously tired appearance has been banished - the last time it looked this good we had a Royal Visit planned! | |
| --- | --- |
---
‍‍Rolvenden Locomotive Works
‍Rolvenden is up and running with two class 5 locos ready for service.
The Pannier should be back in service later next month as we are currently waiting for parts.
'Knowle' is coming on well, with the boiler back in the frames.
David Brenchley
Locomotive Delivery Manager
---
‍‍ Carriage & Wagon Department
‍C&W have worked hard to ready the carriages required for services.
The TSO's, Petros and the GER carriage needed 2 month exams, with SE&CR 3062 and Metropolitan Railway 353 getting their 18 month exams. As a result of these exams there were a few defects to sort out which were all attended to in time for the test trains on 12th July.
Attention now is on getting the Pullman set ready. Apart from Theodora that needs a 2 month exam, Barbara, Diana and the Maunsell need 18 month exams. Barbara also needed a new water pump to be fitted as the old one had finally died. That in itself was a challenge as the pump type, although widely advertised on the internet, was discontinued so a new model was fitted - only minor amendments needed thankfully.
Paul Wilson
C&W Delivery Manager
---
‍Fundraising Working Party
It is hardly necessary to say that this has been a bad time to be asking for donations, with millions either unemployed or fearing for their jobs, companies and shops just starting to reopen - or in too many cases shut forever - food banks running empty and every charity seeing a dramatic fall in its income. But in the face of all of this, our own COVID appeal has been fortunate to have received no less than £30,000 since March, plus some generous bequests. Thank you to all who have donated.
The Fundraising Working Party (FWP) has been active in the background, focusing on the three priorities set for it by the Board: the immediate "Keep Us on Track" (replacing COVID), Pullman Kitchen Car and Terriers. Although engineering work on the latter two had of necessity been suspended, with workshops shut, more money will be needed to complete them when normal working resumes. And that is where you, the members, can help. Not just by continuing to donate - though that of itself is very welcome and helpful - but through joining with the FWP's efforts in two key areas, where they have identified additional resource being needed.
Firstly, there are opportunities to sell railway artefacts - with the owning Managers' permission of course - these could be surplus items in stores or simply lying around in the grass, unloved and unwanted; or made from scrap – pieces which spring to mind include cross sections of track, mounted on a wooden base, chrome plated chair screws and whatever the imagination can conjure up. And we pay tribute to the 4253 Group for their imaginative and successful sales. The intrinsic value of our proposed items is limited but, appropriately displayed and with a small plaque or certificate, they would demonstrate the buyers' support. The volunteer would source, prepare and sell these on the company's website. 
Secondly, the FWP is looking for help to organise and manage a raffle in support of the Terrier appeal. Because selling raffle tickets on trains is best done face-to-face, it has been decided that now is not the right time (irrespective of whatever social distancing regime may be in place and recognising our only limited train services) so the raffle should launched at the beginning of the 2021 running season. Skills required include business experience, accounting for income and sourcing prizes. Raffles require a licence from Ashford Borough Council and support would be available from K&ESR management for the legal and financial aspects. A sales team to travel on trains and sell raffle tickets is also needed to supplement books of tickets distributed more widely by post.  
Finally, something a little different. Many major companies make donations, usually through a charitable subsidiary. Companies will often have specific targets in mind that applicants must meet (as indeed does the Heritage Lottery Fund now): increasingly, these mandatory outcomes extend beyond the simple restoration of a building, painting or railway engine and require community consultation and engagement, training, education, inclusivity or economic growth, unfailingly targeted at improving the welfare of disadvantaged groups. One such grant the FWP is currently evaluating has a target outcome called "care and compassion" and requires the applicant to demonstrate the "social value generated per £ of donation". It's a lot more complex than it used to be!
Returning to where you, the membership, can help. Alstom is a major international engineering company which has very generous grants available and which has in the past donated to preserved railways. But it does set down one absolute condition: an Alstom employee must be involved, though the level of involvement is not actually defined. So are any of you employed by Alstom, married or related to such a person, or even know one? If so, do please let me know. We can then make an approach to see if that person would be willing to be associated with a project here.
So even during unpromising times, the K&ESR is still working on its fundraising projects. 
Volunteers for any of the above activities please write to [email protected]
‍Norman Brice
Fundraising Working Party
---
‍
From the Boardroom 
(aka Tenterden Station Refreshment Rooms)
The board of trustees had its monthly meeting on Saturday 25 July. We met in a socially distanced way in the buffet at Tenterden station; it was good to hear the trains and feel part of a working railway again.
This e-Newsletter provides an opportunity to give a brief flavour of some of the most important points. It should not in any sense be regarded as a formal record.
We had a detailed update from the General Manager on the re-opening. We noted the issues that had been overcome and we discussed plans for increasing the offering should demand exist. We were concerned to hear that the online booking system was proving clunky to operate and agreed that there needed to be a quick and lasting fix.
We thanked the General Manager for the continuing high quality and timeliness of the work he and the team were doing – and noted that this would be required for the foreseeable future!
We noted the financial situation and stressed again the importance of getting in as much income as possible during the remainder of the 2020 season while at the same time rigorously controlling our costs in 2020 and further forward. This would be a balancing act. As part of this we had a discussion on the measures that would be necessary to balance the books and ensure that we could survive and thrive.
We noted the Safety Director's report and affirmed the importance of maintaining our safety compliance and adhering to change management procedures. We also agreed new terms of reference for the Management Safety Group, now to be known as the Safety Committee. These changes had been made in the light of experience.
The new Risk and Compliance Committee informed us that there was a high level of compliance with the Railway's comprehensive COVID-19 safety manual, and another spot-check was planned for that afternoon. The Committee would now move on to reviewing our risk management policy and our governance and policy documentation.
We noted progress from the Fundraising Working Group, and on the Kitchen Car, Terrier 150 and Rolvenden projects.
We discussed the 2020 Annual General Meeting, scheduled for 14 November.  It was becoming increasingly clear that despite our best intentions it would be neither safe nor possible to hold a traditional meeting and that alternative means of transacting the business would have to be found. This would be addressed and communicated to members in the coming weeks.
Given the importance of adding to volunteer numbers we discussed a report from the Volunteer Committee and noted with thanks their enthusiasm to rise to the recruitment challenge. We also noted the desirability of all working members, irrespective of role, using the online Heritage Operations Processing System (HOPS) which was becoming increasingly central to the Railway's business. The Board would return to this at its next meeting.
We noted progress on a number of other issues including the streamlining of membership categories, the review of the way in which the Board prepared and managed its business and the revision of the Railway's central governance document, and agreed to defer substantive discussion until a future meeting.
Normally there is no Board meeting in August, but we decided that this year would have to be an exception. The next scheduled meeting would therefore be on Saturday 29th August.
Simon Marsh
Chairman
---
‍From the General Manager

‍
Why do we use HOPS?
Running a railway is a massive administrative and procedural task and anything that simplifies and standardises this process must be regarded as an essential part of the tool-box.
We often use the expression "heritage on the outside, state of the art on the inside". Well HOPS is a perfect example of this. Heritage Operations Processing System, also known as Heritage Ops, or HOPS, is a web-based tool for the day-to-day running and management of preserved and heritage railways. Its uses include administration of staff operations and compliance, and is slowly being developed to include other day to day administrative processes.
Though the system is owned by the Heritage Operations Processing System we pay a fixed monthly licence fee to use it, so the more we use it the better. The day to day K&ESR administration and content of the system is controlled and managed by the railway.
At present we have 513 K&ESR users on HOPS. The system is used for, in no particular order - id cards, emergency contacts, staff lists, safety and general document repositories, staff competence, online question papers, safety data, rostering, staff messaging and much more. The data is secure, GDPR compliant, and personal information is updated by the user.
There is much in HOPS that we are not yet using or fully understand. The one weakness of HOPS is the user help data but maybe we need to do more to help ourselves.
The Asset Management and Risk Assessment modules are the next for us to get to grips with. From a compliance point of view  every asset regardless of whether it is a locomotive, carriage, wagon, building, fire alarm, fire extinguisher, crossing gate, lawn mower, portable electrical equipment, all have a number of scheduled maintenance events or regulatory checks. The Asset Management system can greatly assist our management in this area, warning of forthcoming due dates and enabling us to demonstrate our compliance at the press of a switch, instead of compiling many, many different pieces of paper.  To get this completed it needs to be set up correctly, so if there are any volunteers who would be interested in helping with this please let me know on [email protected]
A general comment I often hear is that "HOPS has nothing to do with us, it is for operating". That however is not the case. It is a company requirement that if you are a working member (paid or volunteer) you need to be registered on HOPS otherwise you will not have an id card or competence, cannot work and are missing out on important company messaging, documentation, and much more. Ask yourself the following question and this applies more to volunteers than paid staff. If I have an emergency at work who and where are my N.O.K. details held. It would be hard luck if the person holding them is only in three days per week, and they cannot be accessed.!    
HOPS is an essential part of the tool-box, and a system that everyone should embrace.
Shaun Dewey
General Manager
---
‍Wagon Group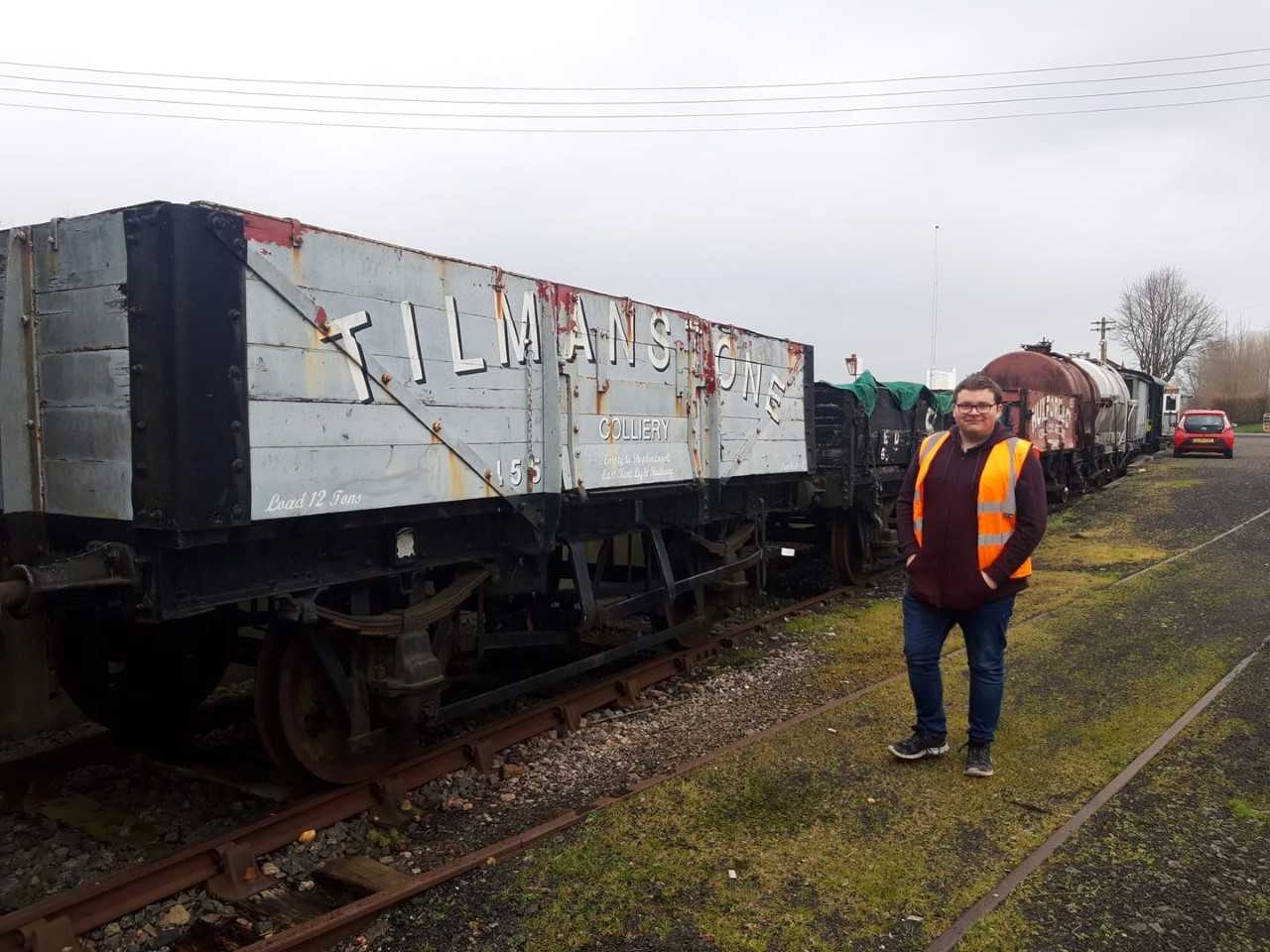 ‍Before the pandemic Ben Goodsell and Nathan Tutty had been spending a lot of time inspecting our freight rolling stock. On the face of things most of the fleet that is in service or is awaiting maintenance requires minor work and a "tart up" (technical term!). This will need to include clean up and inspection of parts such as bearings, brake rigging, brake cylinders, draw gear etc, which can be repaired as required. There are a number of vehicles that could be returned to service with only minor works. There will of course be others requiring heavy overhaul.
Our aim is to operate as a group under the management of Carriage & Wagon Manager Paul Wilson. This will allow C&W staff to concentrate on keeping our coaching stock to the high stands we, and most importantly, our visitors expect them to be in. Importantly we will work with our Permanent Way and C&W colleagues to ensure that there are adequate wagons in a safe and "fit for purpose" condition for our own engineering works.
During the setup of this new group we will focus on establishing a base, tools and equipment. We are also exploring having a small number of volunteers qualified for wagon inspection and repairs, which would further reduce the demand on C&W staff.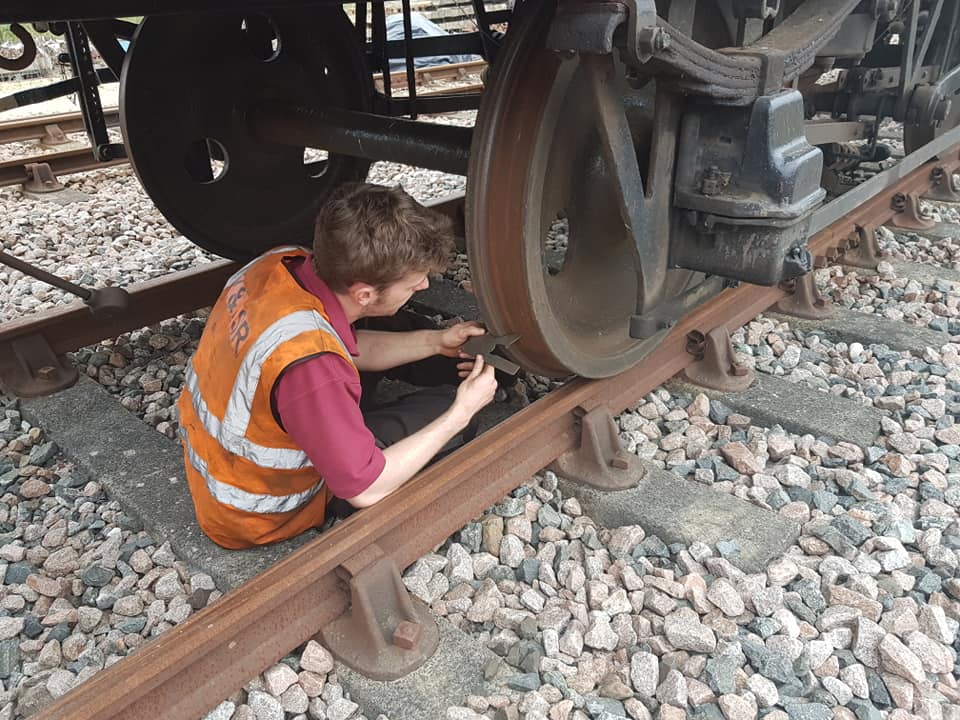 ‍
We also hope to support the operation of a demonstration freight set, which is a great way of utilising these vehicles for a multitude of both Commercial and Operational needs.
As a group we will be focused on no more than a couple of projects at a time, with the priority always on anything that is scheduled into Carriage and Wagon, and secondly a project that can be completed in slower time, without the need to enter the works.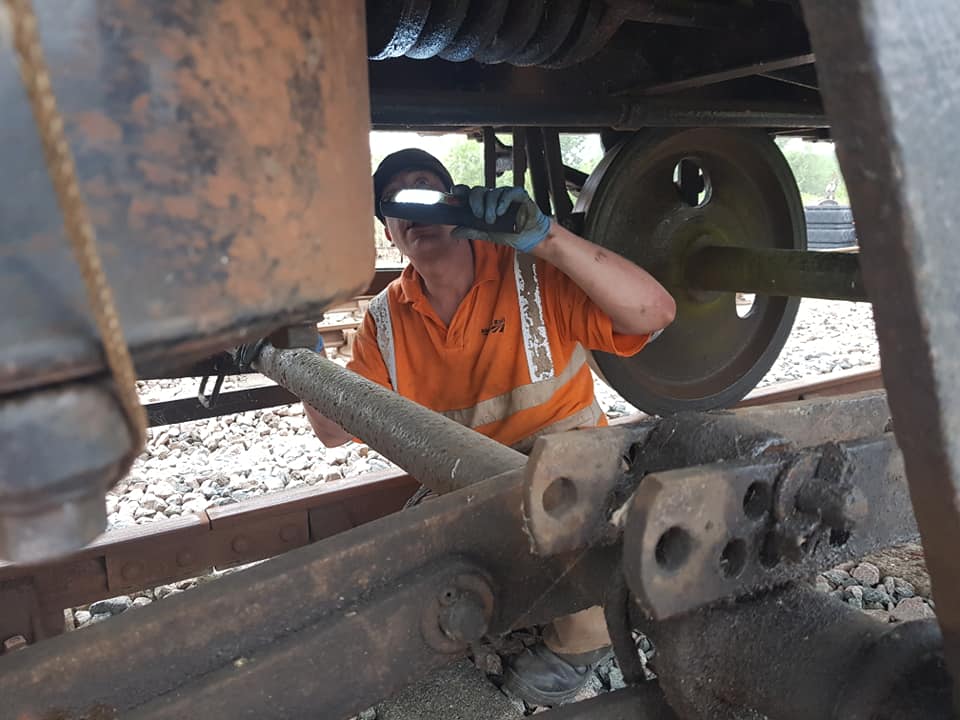 ‍
Our first project has been to work (within COVID measures) on the Cavell van, completing its maintenance and inspection). The volunteer effort of this has largely been organised by Neil Jackson, with assistance from Mike and John Grimwood to facilitate a lift of the vehicle using the Sefac jacks.
We would like to grow this group - if you would like to join us please contact Ben Goodsell
We would be pleased to hear from you!
Nathan Tutty
Wagon Group
---
‍K&ESR Reader Offer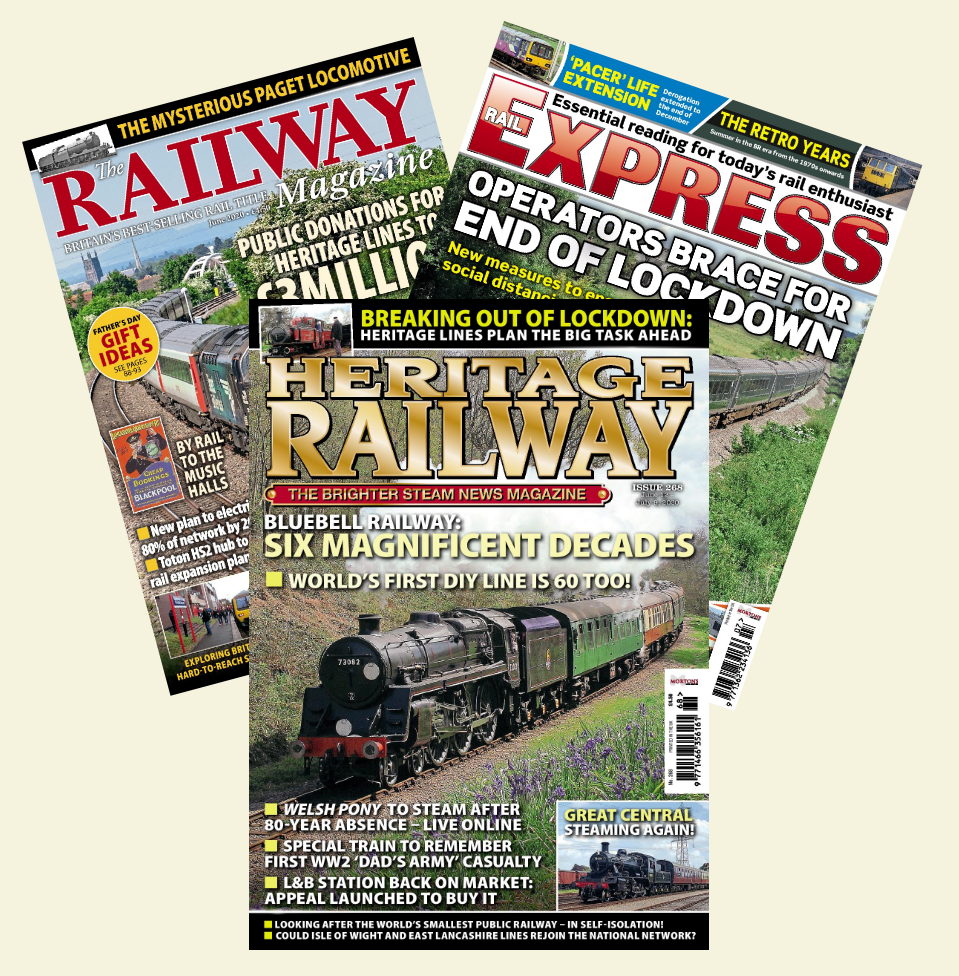 ‍Lockdown and 'social distancing' may be starting to ease, but there's no doubt this has been perhaps the most challenging year yet for the heritage railway sector.
So we've joined forces with three of Britain's leading magazines to bring you a great offer… one which will also directly benefit the K&ESR.
If you subscribe (at a special offer price) to any of The Railway Magazine, Heritage Railway or Rail Express, the K&ESR will receive part of the proceeds, helping us to keep going through these toughest of times.
The Railway Magazine, Britain's biggest rail title and a fixture in the news stands since 1897, offers in-depth coverage of news of the entire rail sector, from modern to historic – you could even access the entire 123 years of history by building on your subscription. Heritage Railway provides in-depth news and features from the world of steam preservation, while Rail Express is the magazine for the modern rail enthusiast and modeller, but always with an eye to the history of the sector.
Now you can take out a special subscription to any of these titles at a discount price, PLUS  when you take out a subscription the publisher, Mortons Media Group, will donate £4 directly to the Kent & East Sussex Railway, especially welcome in these tough times.
‍Offer expires December 31, 2020
---
‍Working from home......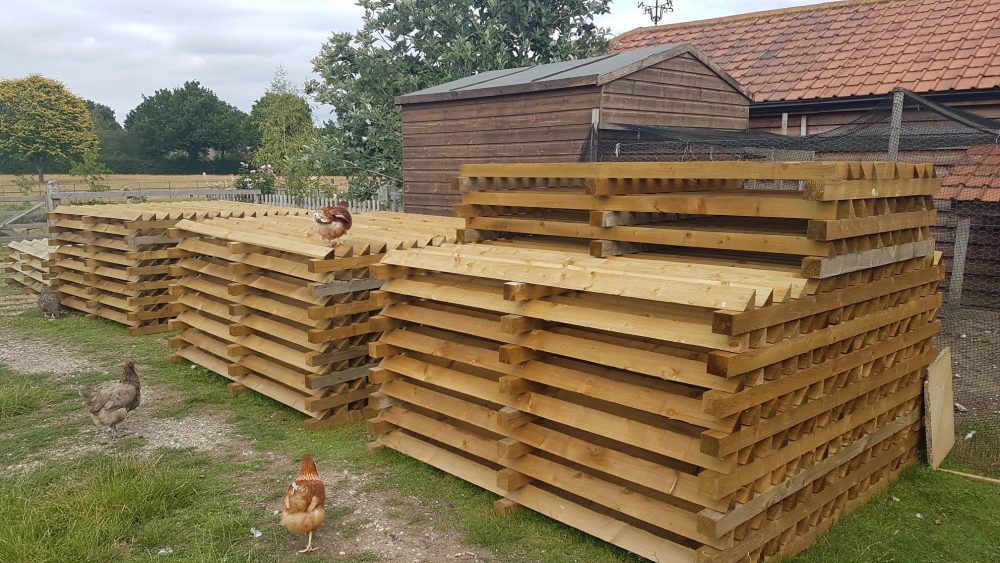 Permanant Way stalwart Paul Rand reports that his neighbours were pleased to hear that the 'golden galvanised nail' was driven at 13.00hrs on the 16th July, so completing the construction of 46 anti tresspass grids, 15 of which have already been delivered to Rolvenden. Three full sets are destined for the RVR Bodiam/Junction Rd section. 
For those that like statistics, 46 grids require:
138 Bearers;
628 Arris Rails;
1884 nails ( 25kg box);
4 Chickens!
Thank godness home working has finished!
Paul Rand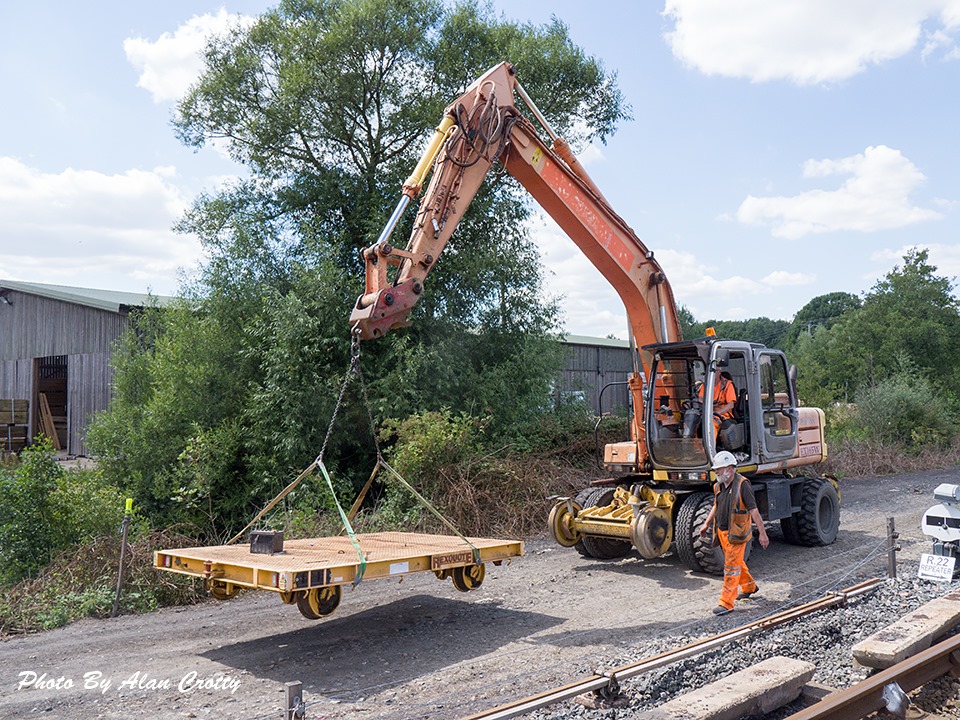 The newly acquired Road Railer trolley
---
‍From all of us here at the K&ESR, our very best wishes
‍

Kent & East Sussex Railway
Tenterden Town Station, Station Road,
Tenterden, Kent TN30 6HE
www.kesr.org.uk
Registered charity 262481