‍

Kent & East Sussex Railway
Members e-newsletter No.44
‍Welcome to the December edition of your e-newsletter. 
We wish you a very Merry Christmas and a Happy New Year!
Terrier 2678 'Knowle' rests in the yard at Rolvenden Loco Works
awaiting its steam test. Image courtesy of Liam Head
‍From the Chair...
‍LOOKING BACK ON 2020 – A CHAIRMAN'S PERSPECTIVE
We are very nearly at the end of 2020 - a year that many people would rather forget.
It started well – we had had a pretty good 2019, we had a bit of money in the bank and after a lot of hard work we had the makings of a plan for getting to grips with the issues facing us and all other heritage railways.
We were intending to run fewer but better-loaded trains and there was an achievable list of things that we wanted to do. By early March the trustees had signed off on a strategy for guiding our development over the next five years, we were ready to present it to staff and volunteers, and we were looking forward to the Mothering Sunday Pullman followed a few weeks later by the start of the season proper.
All that now sounds like another world.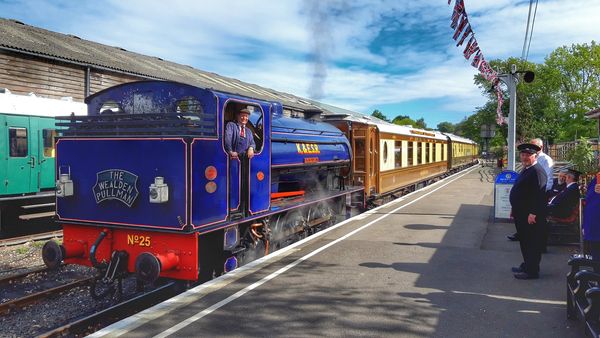 ‍It was 17 March when it became clear that what we were hearing on the news was going to have a definite and potentially serious effect on the Railway. But the clarity stopped there; what that effect would be, how long it would last and what we might need to do to keep going was utterly unknown. That set the theme for the rest of the year. Like everyone else we had to plan in unique conditions of extreme uncertainty.
We took an early decision to close completely until at least the end of June.  That was right, and the responsible thing to do. Shaun Dewey started the process of closing us down for the duration and devising arrangements for ensuring necessary work could carry on albeit under very restrictive conditions. At the same time Shaun, Geoff Crouch and others tried to make sense of the various schemes being devised for making emergency money available.  
These schemes were, and are, complex and in the early days at least seemed to be changing all the time. The pattern was that a headline announcement would be made on the evening news, followed a day or so later by pages of incomprehensible small print often appearing to contradict what had already been written. This is another theme of the year – the sheer unsung hard work, some of it with no result, involved in securing funding to take the place of our lost income. Suffice to say that we took advantage of everything we could, including the Government's continually evolving furlough scheme, and together with donations and legacies we succeeded in keeping ourselves afloat without materially increasing our indebtedness.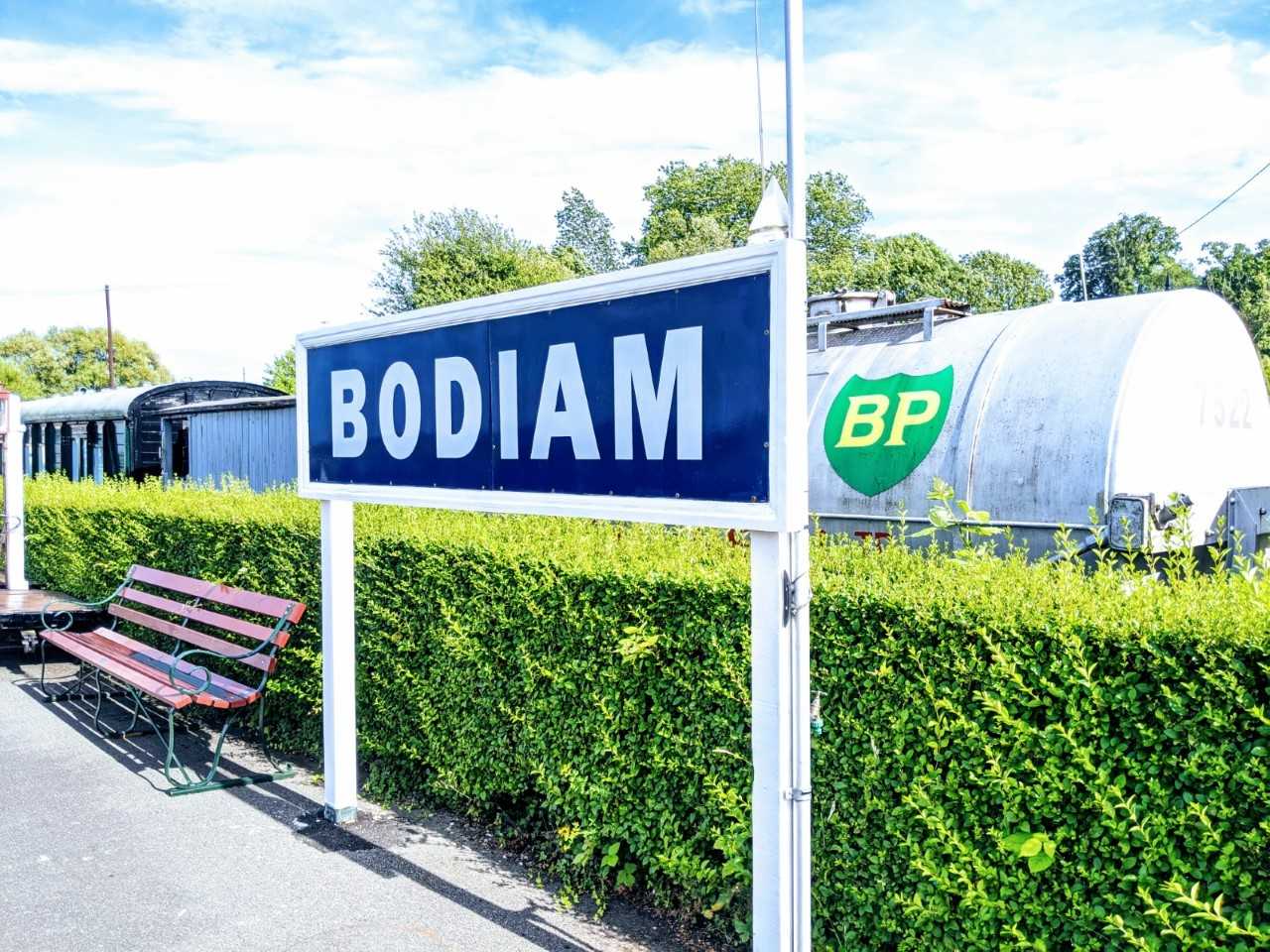 ‍Closing down was the easy bit. We also had to plan for whatever new world emerged once the Government had decreed it was safe to go out again. It was obvious that we would have to cut our costs to remain viable in the longer term; it was equally obvious that our income and expenditure forecasts for 2019/20, 2020/21 and probably further in the future were so much waste paper. Crunching the numbers and making decisions based on them has been – and remains – a continual process. We have taken the conservative approach of not wanting to expose ourselves to too much financial risk. We need to keep things simple and only do what we can afford, even if that means retrenchment.
So it hasn't only been about this year. We have needed to look at our prospects going forward. We have developed the concept of a more streamlined offering, with a train service more responsive to customer demand, starting small but being able to build back up as and when the demand is there. All underpinned by a revised staff structure and greatly improved IT.  Inevitably some of this is still a work in progress, but most of it will be ready for the start of the 2021 season. Doing it in pandemic conditions has been a considerable challenge, and a lot of people have worked hard under pressure while anxious about their personal lives and their families and friends. Difficult decisions have had to be made. Not all of them will turn out to be right, and not all of them will have been implemented as cleanly as expected.
Coming back to 2020, reading the runes led us to the conclusion that a limited opening from 18 July would be achievable in terms of what we could manage and what we would be allowed to do. We thought carefully about the financial risk and we took the plunge. The weather was very hot at the time, but equipment had to be made ready, new procedures worked up and everything thoroughly risk-assessed. After that first day things began to settle into a routine, and we learned lessons that will stand us in good stead next year. The Pullmans restarted on 6th September, again under Covid-compliant conditions, and planning for the Santa season resumed.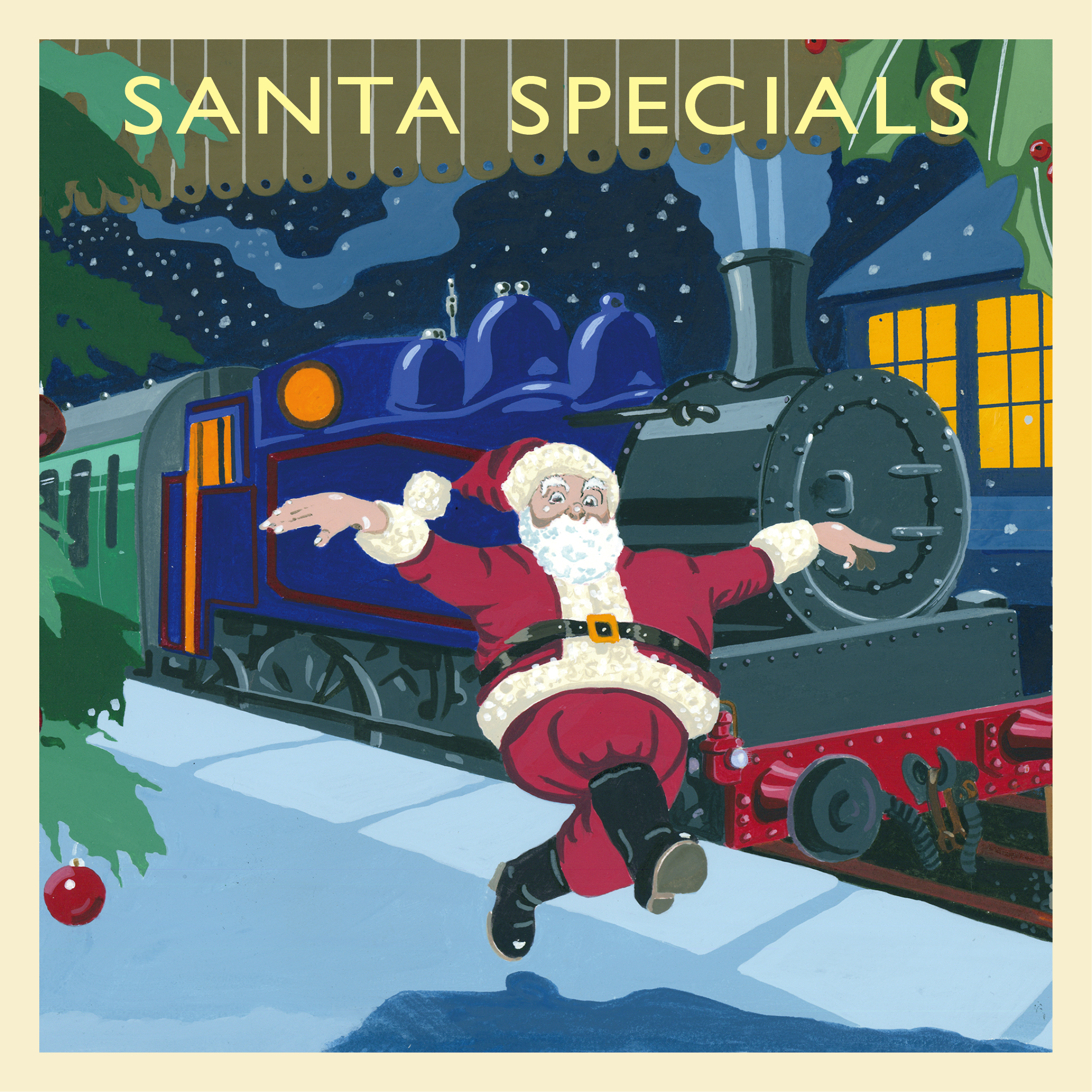 ‍This is where the year proved that it still had a sting in the tail. We were alive to the possibility of the Santas not being able to go ahead, and indeed we had thought long and hard before putting them on the market. We had also taken steps to minimise the effects should we have to cancel. As it turned out, Lockdown 2.0 meant the loss of the first weekend, and then the placing of Kent into Tier 3 from 2nd December led to the decision, again the responsible and right one, to pull the plug completely. Sadly, this is another of the year's examples of much effort leading to little or no benefit. At the time of writing we are yet again having to rework the 2020/21 budget, to take account of the large loss of income. And so it goes on.
What then are the main themes of 2020?
Two have been mentioned already: extreme uncertainty, and the necessity for sheer hard work to keep on top of everything. There are plenty of challenges at the best of times, but this year has been something else.
Another one is the human factor. The events of the year have been unprecedented, for our personal lives, for our wellbeing and in many other respects. Many among us are stressed, often without realising it. That needs to be understood and managed.
Communication can help here; we've taken some steps to improve it and in the coming months, if we can find the capacity, we'll consider what more we can do.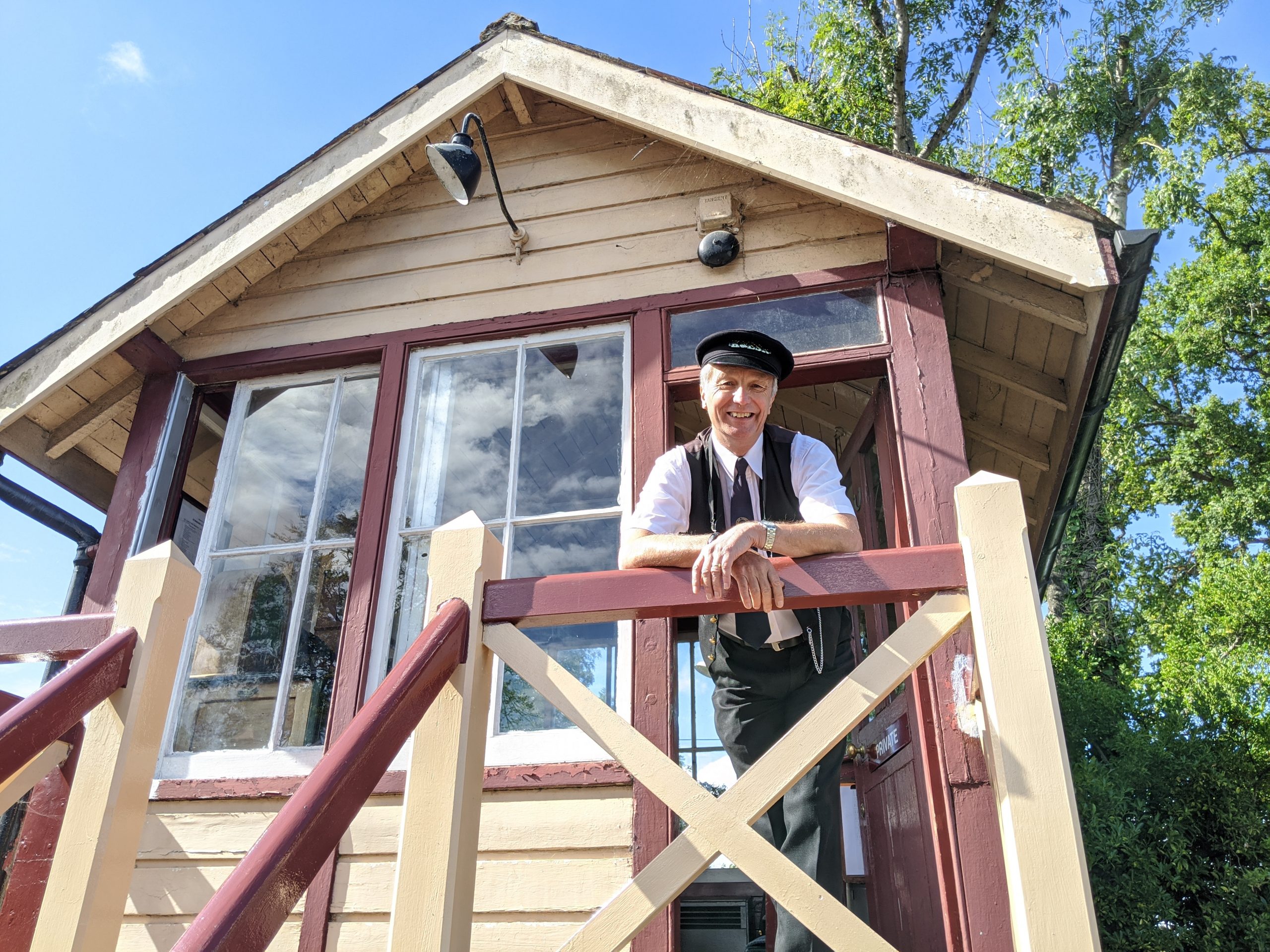 ‍A final theme for me is perhaps a surprising one. 2020 has meant that we have had to examine thoroughly what we do and how we do it. We had already begun on this, but we have now gone wider and deeper in resetting our operating model. The Railway does not have a right to exist; we have to earn it. So maybe the legacy of the year will be a Kent & East Sussex Railway that has been through the fire and is in better shape to face whatever the future brings.
We are still here, and we have kept our nerve. We are in better shape than many other heritage railways and tourist attractions. Barring the unexpected (and we said this at the end of last year!) we can look forward with confidence.
So let's draw a line under 2020 and welcome 2021!
A happy Christmas to everyone in our Railway family.
Simon Marsh
Chairman
‍

The 2020 Annual General Meeting
THE KENT & EAST SUSSEX RAILWAY COMPANY LIMITED
MINUTES - 49th Annual General Meeting
Held virtually under Covid pandemic restrictions on Saturday 14th November 2020.
The meeting was chaired by Simon Marsh. There were 11 members in attendance.
APOLOGIES FOR ABSENCE.
None.
Charles Mavor (Company Secretary) confirmed that as there were more than 10 members present, the meeting was quorate.
1 APPROVAL OF THE MINUTES OF PREVIOUS AGM MEETING HELD ON 16TH NOVEMBER 2019
Ian Legg proposed acceptance of the Minutes, seconded by David Nibloe.
The Minutes of the 48th Annual General Meeting were then adopted with 256 votes for, 2 votes against and 17 abstentions. 
2 RECEIPT AND ADOPTION OF THE ANNUAL REPORT OF THE DIRECTORS AND THE AUDITORS FOR THE YEAR ENDING 31ST OCTOBER 2019
Geoff Crouch proposed acceptance of the accounts, seconded by Ian Legg. The accounts were adopted with 260 votes for, 3 votes against and 12 abstentions. 
3 TO AUTHORISE THE DIRECTORS TO APPOINT AUDITORS TO THE COMPANY FOR THE YEAR ENDING 31ST OCTOBER 2020 AND TO FIX THEIR REMUNERATION
The motion was proposed by Geoff Crouch and seconded by David Nibloe and approved with 262 votes for, 3 votes against and 10 abstentions.
4 ELECTION OF RETIRING DIRECTORS AS REQUIRED BY THE ARTICLES OF ASSOCIATION
Under the Articles of Association, Simon Marsh, Geoff Crouch and Robin White retired as Directors and all offered themselves for re-election. Simon Marsh relinquished the chair, while Charles Mavor as Company Secretary assumed the Chair to oversee the re-election proceedings. 
The Chairman declared the result of the poll (including proxies) as follows:
Simon Marsh
Votes received from members For: 252. Against 14. Abstentions 9.
Simon Marsh is therefore duly re-elected to the Board.
Geoff Crouch
Votes received from members For: 249. Against 17. Abstentions 9.
Geoff Crouch is therefore duly re-elected to the Board.
Robin White
Votes received from members For: 214. Against 52. Abstentions 9. 
Robin White is therefore duly re-elected to the Board.
Simon Marsh resumed the Chair.
5 SAFETY MATTERS RELATING TO THE RAILWAY
Neil Sime presented the safety report for the year to date to the meeting.
The report is attached to the minutes as attachment 1 [read online here]
Adoption of the report was proposed by Ian Legg and seconded by Paul Vidler and adoption was approved unanimously.
6 ANY OTHER FORMAL BUSINESS
Charles Mavor informed the meeting that presentations of 25 and 50 year  awards would be made at the members meeting proposed for early 2021, to be arranged once Coronavirus restrictions allow.
Letters with questions had been received from;
Mr Groves, Mrs Mitchell, Mr Ramsey, Mr Veitch and Mr Wood.
The meeting noted the letters and observed that responses to the letters were underway; written answers will be given to the correspondents.
A vote of thanks was given to the membership secretaries for their efforts in assisting the board to deliver the AGM in very difficult circumstances.
There being no further business, the Chairman closed the meeting at 14.35.
Simon Marsh
Chairman
---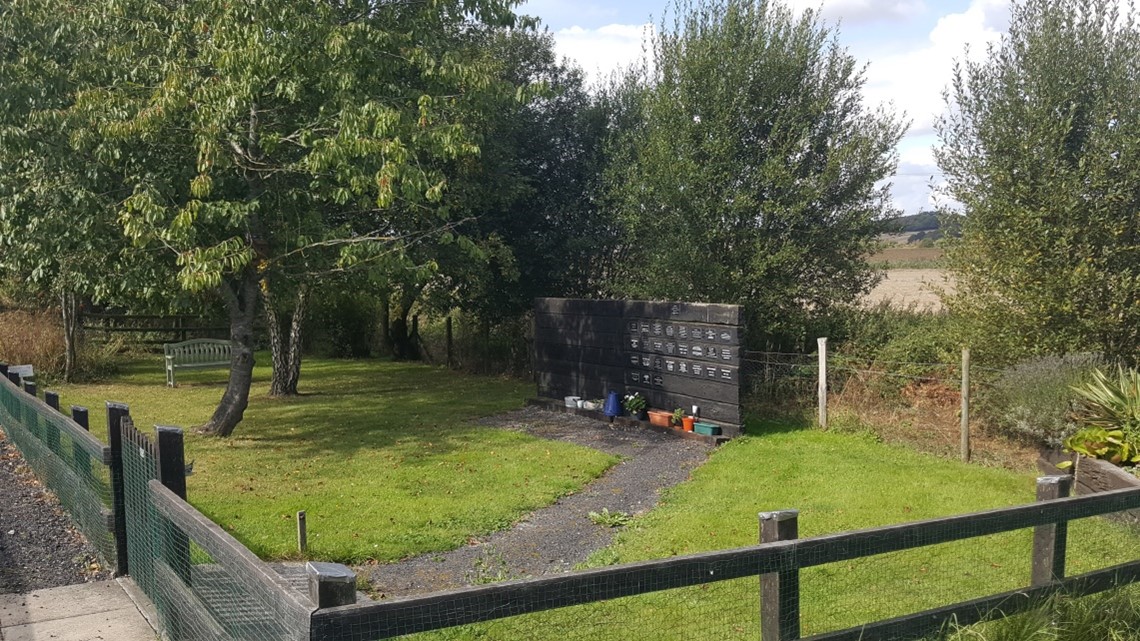 Memorial Services
Most members will be aware that there is a Memorial Garden at Northiam Station, but may not know much more about it. Ten years ago the Tuesday Group and gardener, Veronica Hopker, suggested the idea and were given funds to cover the cost of setting it up. Veronica laid out and planted the garden, while the Group made the memorial wall from railway sleepers and installed wire fencing around the whole area. The garden is a peaceful place where loved ones can be remembered, ashes scattered and a plaque put on the memorial wall. It is not intended for K&ESR volunteers and staff alone; anyone who loved steam railways maybe commemorated there.
The railway offers various services to this end. At the moment it is not possible to travel on the train and get off at Northiam but, under normal circumstances, a family group could book accommodation, order a Cream Tea or Ploughman's Lunch, have ashes put in the firebox of the locomotive, alight at Northiam, scatter ashes in the garden, visit their plaque, even have a few appropriate words said by the Railway Pastor. Hopefully it will not be too long before these things can all be done again.  However, much of this is still possible.
Because there are many different strings needing to be pulled together to give a good service, it was decided to appoint a Volunteer Memorials Cordinator, which is what I have been attempting since last September. Anyone interested in this service can contact the railway via [email protected] or call 01580 765155. Plaques 8" x 6" are currently £25 and take about a month to make and erect. I can give you any more information required and arrange whatever it is you would like. Needless to say, donations for the service are gratefully received.
Wendy Furey
Memorials Coordinator
Carriage & Wagon Update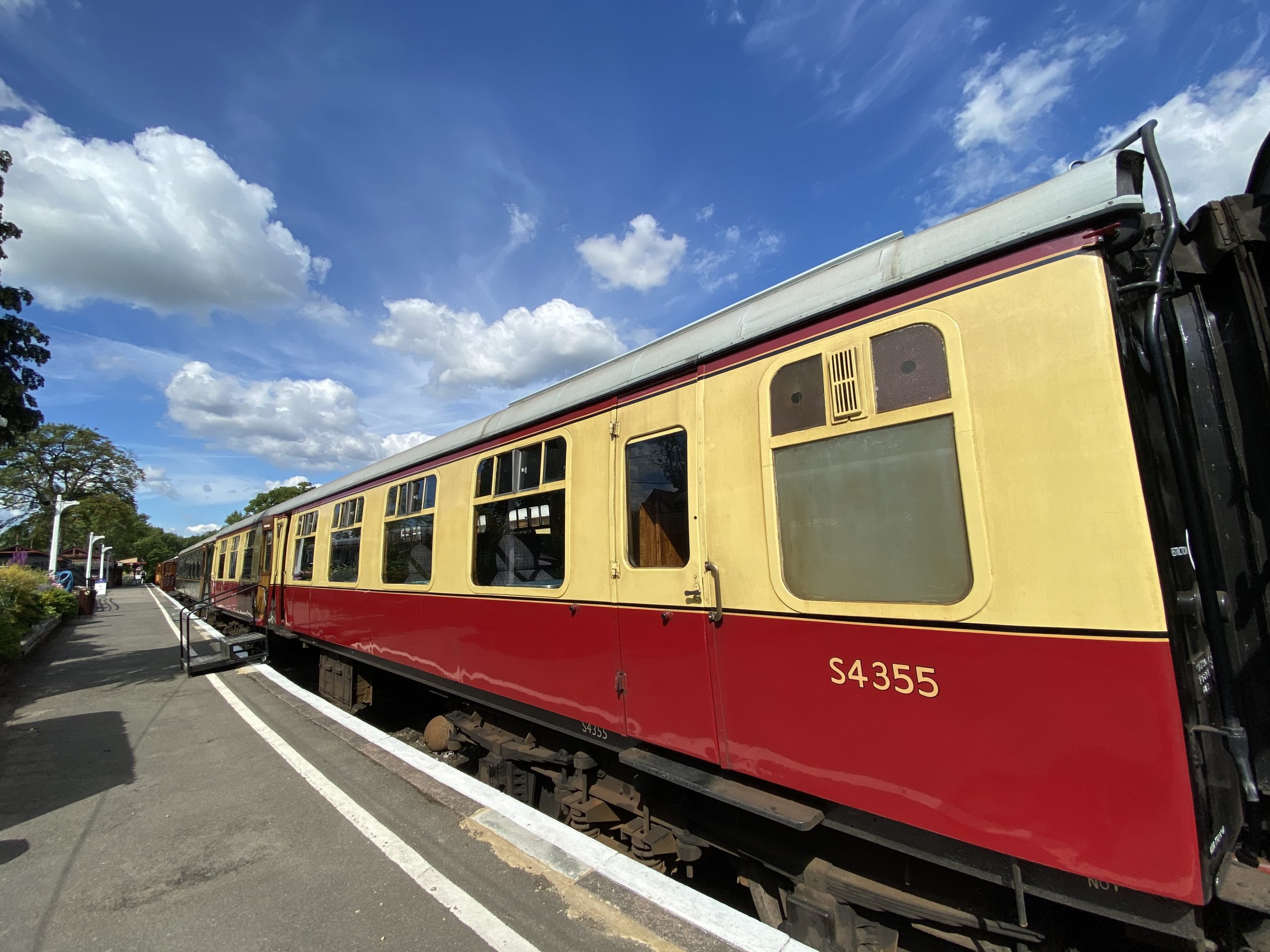 Firstly a huge thank you to David Brailsford and Julian Coppins. Both took voluntary redundancy to make sure that Alan and Peter (the youngsters of the department!) did not have to go through the process of selection. A selfless gesture that is most appreciated. David is already back volunteering but Julian is taking a more cautious approach to covid and staying home at the moment. I am sure that we will see Julian's craftsmanship again however.
Just as we were beginning to settle to the new way of working, we lockedown again. As we know that means all non essential businesses have to shut. What does that actually mean in C&W?
True - we cannot carry passengers so there was no ability to run trains. This was only short term, whereas C&W works over longer terms when looking at workloads and requirements. The Government advice also seems geared to "proper" companies where the workforce is paid rather than those such as K&ESR where a lot of the workers are unpaid.
I have approached this on the basis of being a "proper" company. We need the SR Brake as replacement for the Shark which is in dire need of repairs. As we cannot leave the Pway with no brake van and the Loco Trust are, as owners, covering the cost, it makes sense to keep progressing work on this. In addition the Woolwich coach is taking space in the shed that is needed for the Kitchen Car project bogies. Rather than push out yet another unfinished project it makes sense to complete it. Once again the Loco Trust are funding the costs. To get this work done I need staff. The fact most are unpaid is wonderful. However we must be mindful of the spirit of lockdown so we'll be asking staff to assist rather than operating a normal turn up and help policy. As volunteers there is no complusion to attend - you are perfectly at liberty to decline to come in. 
I'd also remind those who are classed as being at moderate risk of Covid the advice is only to go out if you really have to.
The primary focus has been on stock for the Santa trains. Steam heat testing identified repairs and the Birdcage needed to have attention to the doors and windows that have showed signs of distress in the current wet weather.
The other factor to consider is that we need to think about our colleagues and not risk bringing infection to them just because we fancy carrying on our hobby. Rolvenden Loco had a confirmed covid case, thankfully not requiring hospitalisation, so it's clear we must be on our guard and not ignore the procedures we have to stay safe.
Paul Wilson 
Carriage & Wagon Managerl Wilson
Carriage & Wagon Manager
---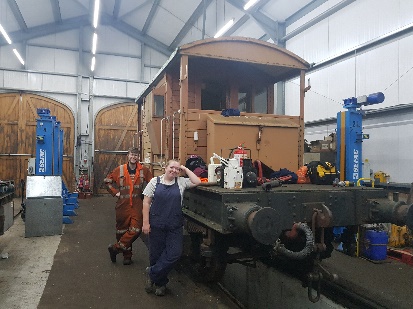 ‍First night of work completed - stripping the interior and making assessments on the work to be undertaken by Ben & Rebecca Goodsell and Nathan Tutty 
‍We have been able to start and continue, work on the pillbox brake van. Although there has not been much visible progress in last few weeks, needle gunning the metal work has continued at pace - mostly on the underside. The second ducket has now also been removed after putting up a bit of a fight. Several bolts have been loosened to break the grip the paint, rust and rot had taken on them, ready to remove the timber work for replacement where required.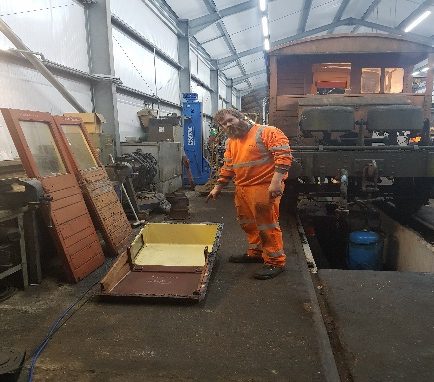 ‍‍Richard Stone also offered his assistance in removal of Ducket No1 as well as several other tasks.  Image courtesy of Ben Goodsell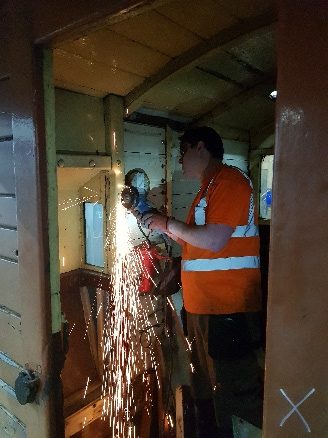 ‍Neil Jackson helps with removal of Ducket No2. Sadly the rotten wood prevented the bolts being undone so a groove was cut to hold them whilst loosening the other end.  Image courtesy of Ben Goodsell.
‍A big thank you to everyone for their help so far, we still have a long way to go and really do need all the help we can get. In the coming weeks the last few bits the way will hopefully be removed and parts requiring replacement ordered. There's still lots of cleaning up of metal to do and some preparation for painting on the horizon, so if you don't mind getting grubby and are happy to help, do get in touch with Ben Goodsell via [email protected]
Ben Goodsell
Wagon Group Volunteer
---
Strategy to 2024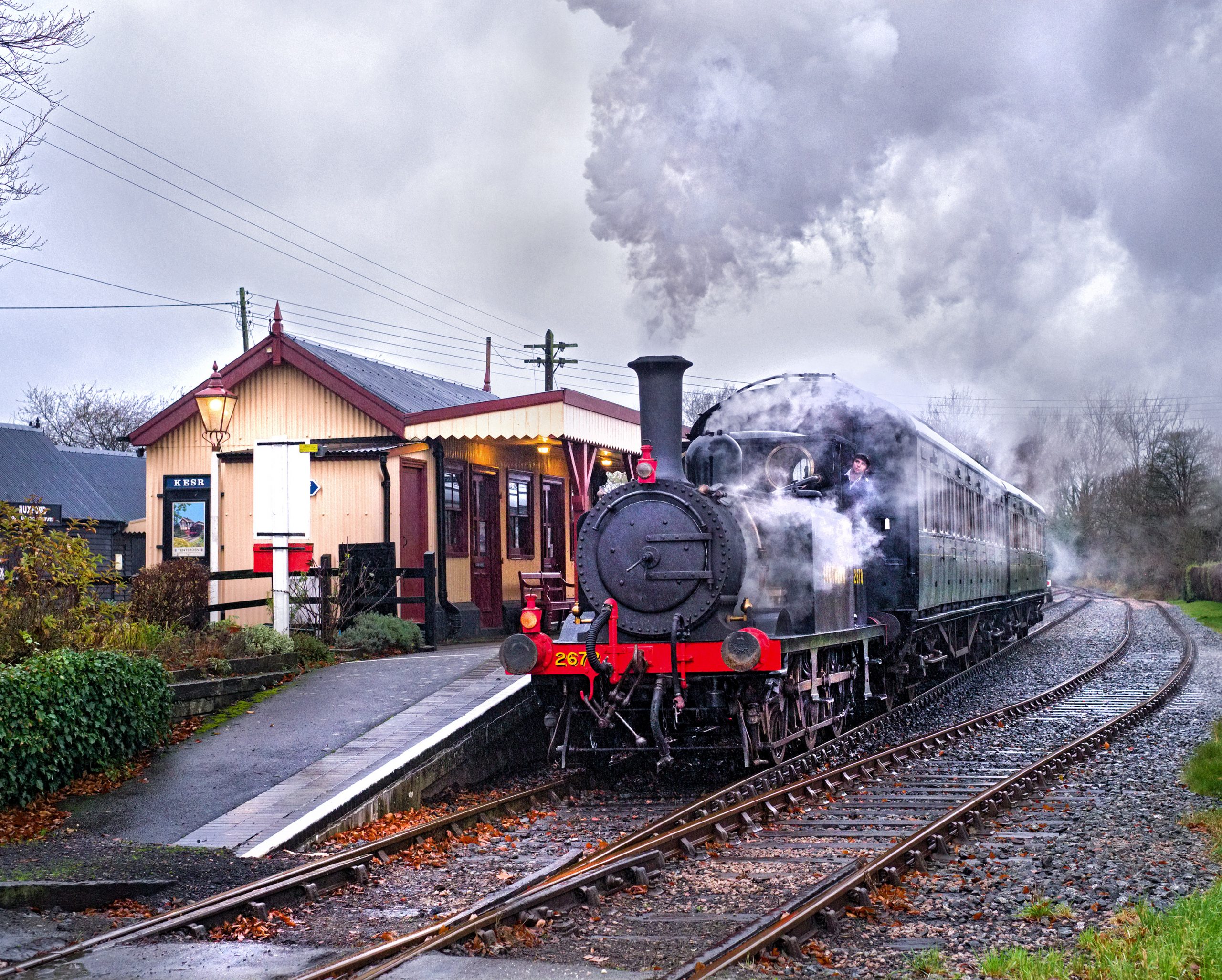 ‍Terrier 2678 'Knowle' ready to depart Bodiam during its steam test, December 2020. 
Image courtesy of Alan Crotty.
‍To recap, so far this series has covered the following key pillars of our strategy: our Purpose and Vision ('to preserve our Railway as living history.. ..making memories that matter'), Governance, our top priority of Safety, our Financial goals, our Commercial approach, the importance of People - the lifeblood of the organisation, our Educational activities, the importance of Heritage, and our Engagement with those inside and outside of K&ESR. 
Today we turn to Infrastructure. We all enjoy the sight of our favourite locomotive powering up Tenterden bank, but it's important that that we always remember the infrastructure on which the trains run is absolutely critical to what we do. Without the sterling work of the Permanent Way team, those who take care of the lineside in Forestry and Conservation, and the Signalling and Telecommunications teams, there would be no line on which to run our services.
It's also important to recognise the work of those groups who meet at the stations along our line to maintain them in smart and tidy condition, providing a welcoming environment for our visitors and playing their part in presenting K&ESR as 'living history.' 

 


We are committed to an investment approach that balances the needs of rolling stock, infrastructure and visitor facilities. If we neglect any one of these, we endanger the future of the railway and the legacy of those who have developed and cared for the line before us. 
‍Of course, it's always a difficult balance when investment monies are tight, as will be the case after the difficult year we've experienced, ending with the disappointment and financial hit of cancelling the Santa Specials – but it's a balance we must achieve. We are close to launching a new approach to investment decision-making which is designed to make it clear how proposed initiatives are evaluated and ensure that there is maximum transparency as to why some things are funded and others not.
This theme of Infrastructure gives me the opportunity to draw attention to the unsung work of the teams involved. It wasn't until I participated in a couple of track walks along the full length of the line that I appreciated the level of detail which is captured about the track. A specialised trolley captures details of such things as the cant, gauge, rail levels, and identifies any twists which could pose a derailment risk – amongst many other readings. The depth of dropped joints are measured and the gaps where one rail meets the next. The type of rail, sleepers and state of fencing are all recorded.
We are fortunate to have so many specialists amongst our volunteer force, including those who operate the tampers which correct any deviations identified from the track design and rectify the faults.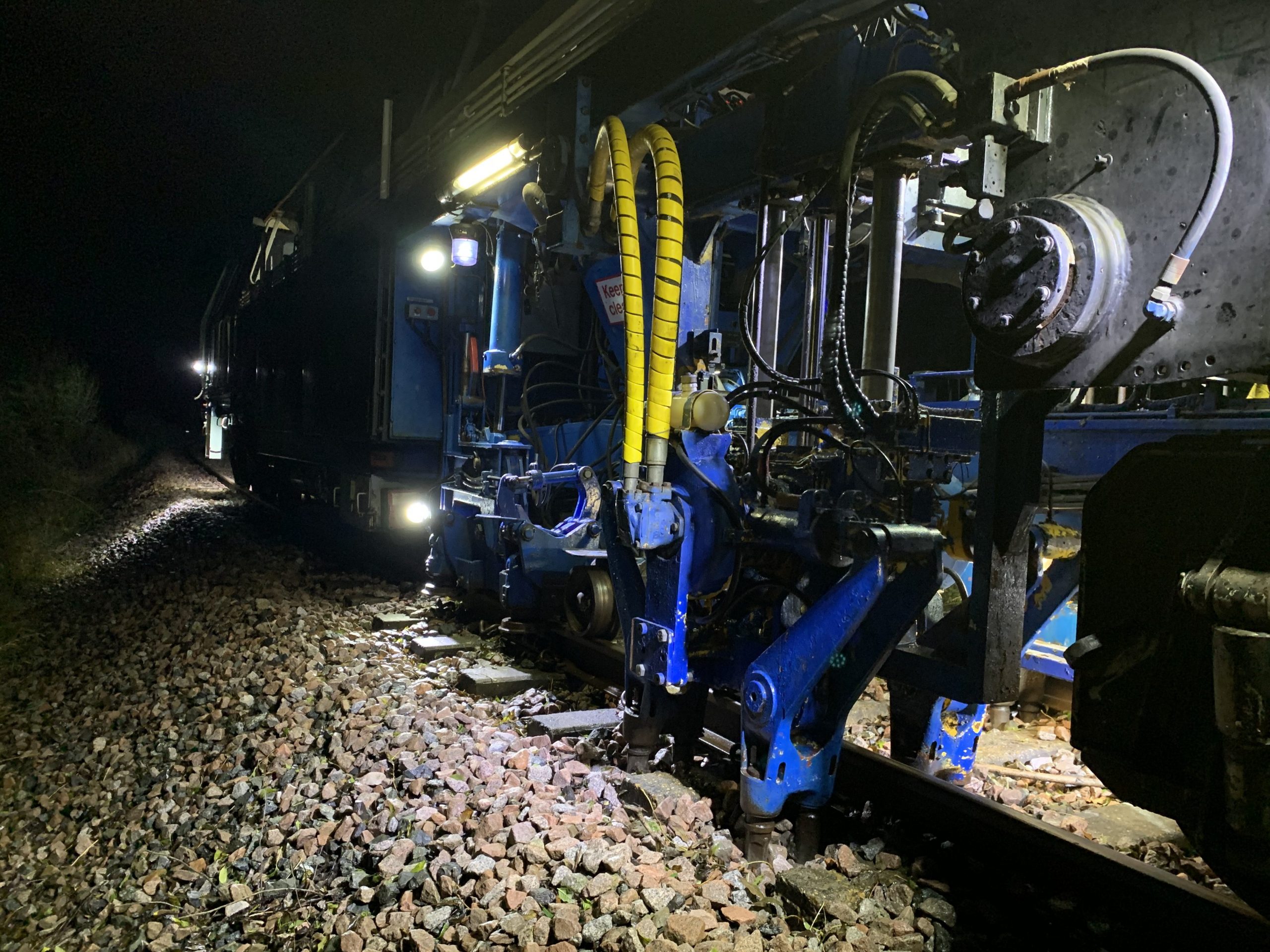 Earlier in the year I was guard on a train which took the forestry and conservation team to a site near Bodiam where some huge poplars had been identified as endangering the line following high winds. It was a pleasure to witness the skilled work of the team as these colossal trees were brought safely to the ground – for the benefit of the railway and the landowners.

 


There have been some significant projects over recent months that deserve specific mention: the repainting of Rother bridge, which involved the use of a moveable gantry system and working methods designed to minimise impacts on the surrounding natural environment. 180 litres of paint were applied to this vital structure! 
Another major undertaking was a collaboration with our farming neighbour between Hexden and Rother bridges, which has resulted in an improvement to drainage for both parties, new fencing, and reduced future maintenance along 1200 metres of the lineside.
We all owe a debt of gratitude to the volunteers who care for our infrastructure; they are often unseen, but without them we have only a static museum. 
'Preserving our railway as living history – making memories that matter'
David Nibloe
Trustee
---
Locomotive Department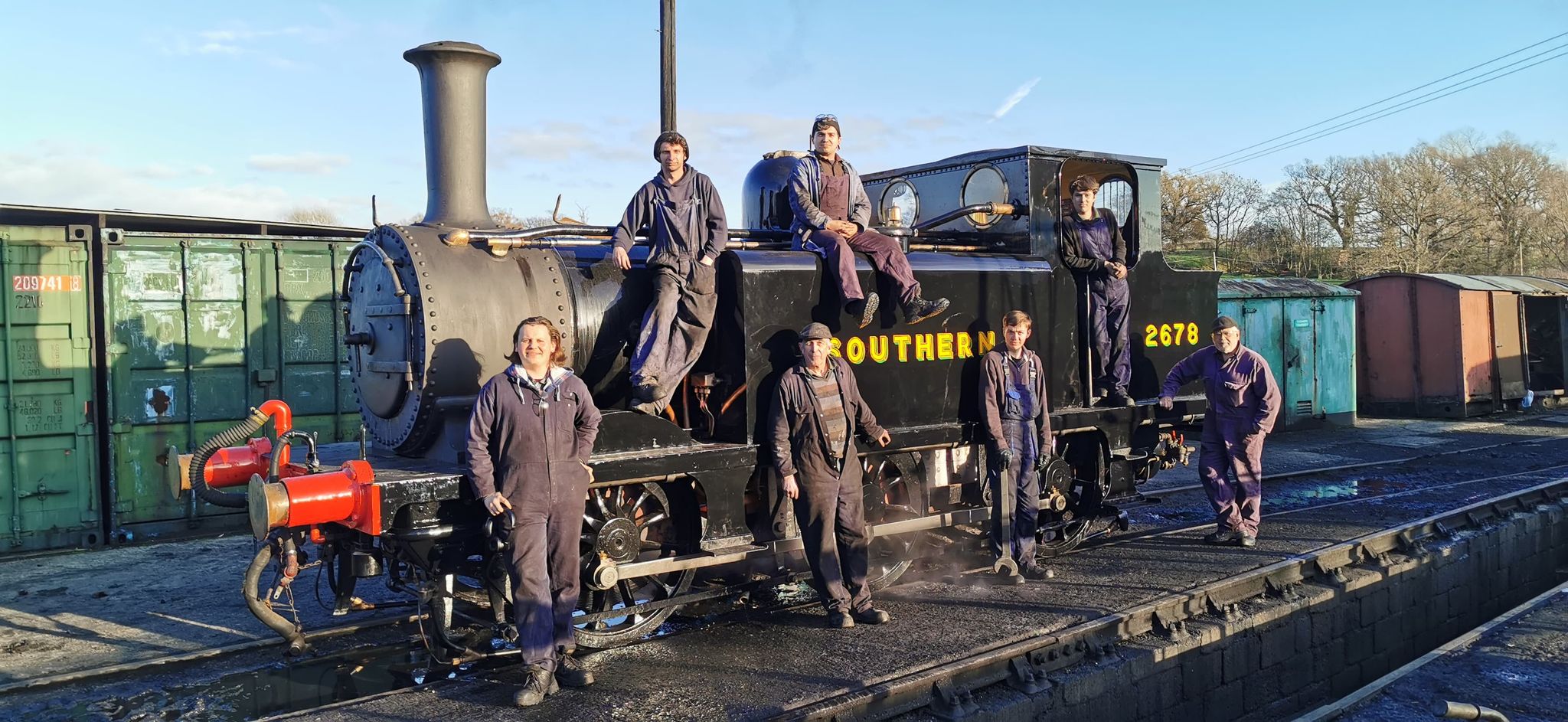 ‍‍Terrier 2678 'Knowle' with some of the Rolvenden staff who have worked on the restoration project.  Image courtesy of Liam Head
‍Well it has been an interesting month.
First, two of our longest-serving paid staff, Adrian Landi and Lawrence Donaldson, decided to take voluntary redundancy as part of the result redundancy consultation. Both have been with the railway for some 40 years and their skills and knowledge will be sorely missed, on the plus side they will both continue as volunteers.
The saga of the Pannier's ability to fill vacuum pipes with water has finally been solved but not until after causing a lot of trouble to both Carriage & Wagon and Loco teams!
We were settling down and looking forward to Santa including a "new" hire loco when the plans came tumbling down around us. Fortunately from a financial perspective, the hire engine had been delayed for a day and was able to make a swift right turn to another destination after a lot of frantic phone calls to the owner and haulage company. We hope that we may yet see this guest loco sometime in the New Year...
So 3 locos ready for service and nowhere to go. We have started to winterise them and catch up on some outstanding maintenance - a new cab floor for 1638 to replace the rather sorry planks - it keeps Liam busy while we are not running when he ordinarily has daily water tests to keep him occupied.  
Everyone is having a general clean up; the team have nearly filled a second skip with metal and the waste bins are starting to bulge - its amazing how much "stuff" accumulates over the years and takes valuable storage space.
We will be saying goodbye to Ewan our BESTT apprentice before Christmas, hopefully we have kept him amused as much as he has us. He has been a useful pair of hands and has learnt some new skills over the past few months.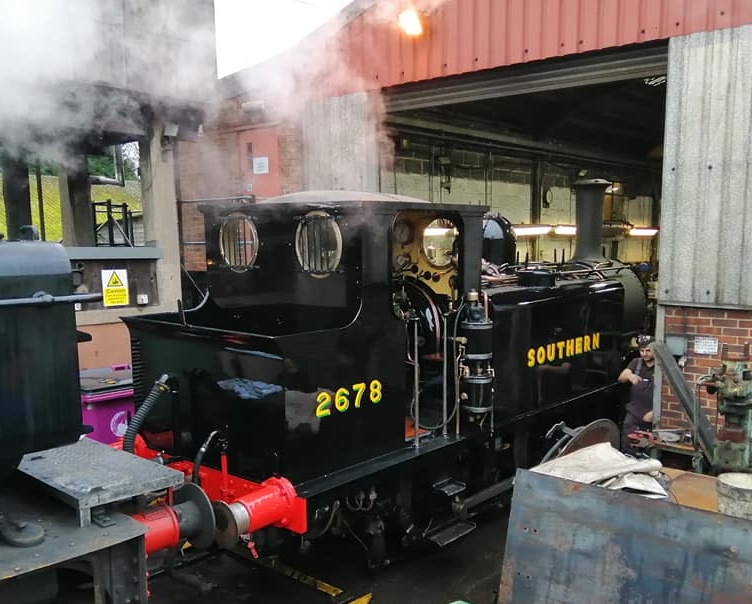 ‍Terrier 2678 'Knowle' emerges from Rolvenden Loco Works for a post-overhaul steam test on the 17th November. Image courtesy of Graham Williams.
‍Last but not least, 32678 has been featured on social media quite a lot over the last few weeks and hopefully by the time you read this will have been certified fit for service. The extended rebuild has been worthwhile and hopefully will set the standard for future overhauls. A massive thank you to all involved, you can be really proud.
For the time being Covid still looms over us, so we are keeping numbers down in the workshop.  With a bit of luck the restrictions will change and this will be less necessary in the New Year, so that we can welcome back some familiar and much valued volunteers!
From everyone at Rolvenden, Merry Christmas and a happier New Year.
David Brenchley
Locomotive Delivery Manager
‍At the end of October, Brian Thompson stepped down from the role of Chief Travelling Ticket Inspector (TTI) - a role he has undertaken for well over a decade.

Brian rightly expects high standards of attention to detail, but is well known for his warm welcome and good humour. Having passed on the batton to Barry Lee, who we welcome to the role at this particularly challenging time, we're delighted that Brian intends to continue providing a warm welcome to our customers.

 


Thank you Brian!
| ‍Community Christmas Spirit | In order to raise revenue to cover the costs of our perishables purchased for Santa Specials, the commercial team approached Tenterden Town Council about hosting a pop up stall in the High Street.  In a lovely turn of events, the council reverted to us with an offer to buy the mince pies from us and subsequently donated them to the local  food bank. They've also bought half our stock of chocolate selection boxes and donated them to the Tenterden Big Wrap - both causes benefit families in the local area. That's a really good news story for all! |
| --- | --- |
| ‍This story captured the interest of our friends at ITV Meridian who undertook interviews in Tenterden with our Sales & Marketing Manager Helen Douglas, plus representatives from the Food Bank and Big Wrap on 8th December. Watch our social media for details of when this piece will appear on your screens! | |
| --- | --- |
---
‍

K&ESR 'Second Thursday' Meetings
‍In an effort to further improve communication, we are inviting members and staff (volunteer & paid) to a series of monthly re-connection meetings, using the 'Zoom' virtual platform, for an hour at 19:00 on the second Thursday of each month.
The meetings are intended to keep everyone in touch with events on the Railway and behind the scenes. The format will offer a 30-minute presentation followed by 30 minutes for questions and comments.
To get the programme started, the first three talks will be coordinated by Trustee Robin White and will be given by Trustees. Talks will then be opened to the wider staff and working members to spotlight all aspects of the Railway.
If you have something you would like to see covered, or would like to volunteer to give a presentation, please contact Trustee Robin via e-mail: [email protected]
It will be possible to raise questions relevant to the topic via a chat facility during the meeting - instructions will be provided. 
The link to the first meeting on Thursday 14th January at 19:00 is below. Note that this link functions at the time of the meeting only and it is not necessary to pre-book attendance:
‍The first three meetings are planned as follows:
Thursday 14th January 2021
Chairman Simon Marsh and General Manager Shaun Dewey delivering a presentation looking back at events on the Railway in 2020 and a focus forward to 2021.
Thursday 11th February 2021
Safety Trustee Neil Sime will give a presentation entitled 'It's a Risky Business' looking at the Office of Rail and Road's 'RM3' model as relevant to the K&ESR and how it will be rolled out to involve the workforce in 2021.
Thursday 11th March 2021
Strategy Trustee David Nibloe will address 'K&ESR Strategy to 2024'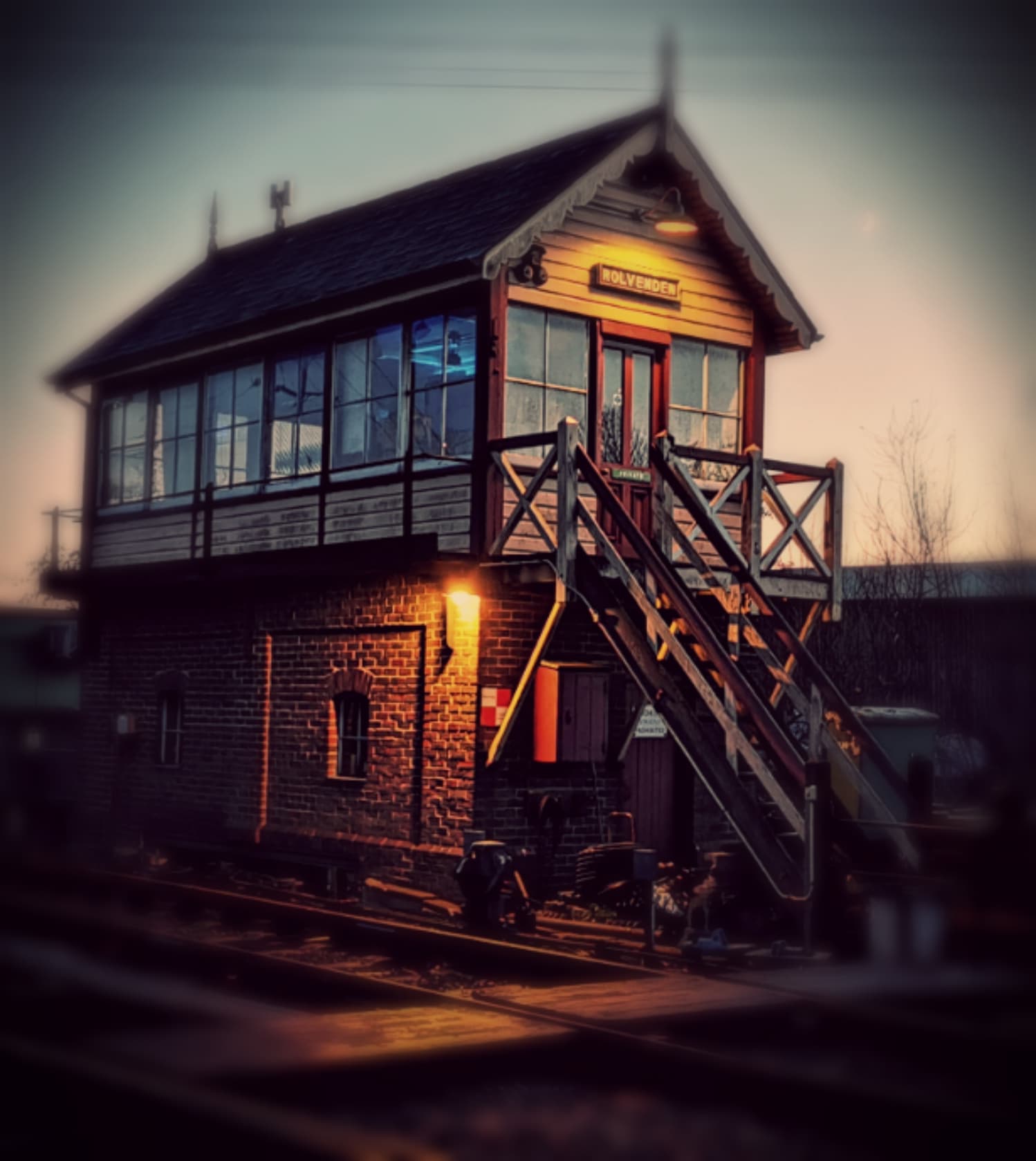 ‍The Lights are on but no-one is home...for now!  Rolvenden signalbox as the daylight fades. Image Courtesy of Liam Head
‍‍‍Looking for that perfect Christmas gift for the enthusiast in your life? Well look no further! Steel-Oil-Steam is a stunning collection of photographs highlighting the world and work of the engineers, fitters and volunteers of our Railway.

 


The book is a beautiful 84 page paperback composed of photographs taken by Tom Evans and Terry Hulf on-location at the locomotive depot at the Kent and East Sussex Railway.  What makes this book really unique is that all the photos were taken using a historic Victorian camera, giving them wonderful technical detail and beautiful composition… Even Santa couldn't resist having a quick peep.



‍Thanks to the kind generosity of the book's creators, K&ESR members may purchase a copy for £20 (£24RRP), with each purchase benefiting the K&ESR through a royalty donation.

---
R‍eader Offer K&ESR Poster Art
Many have already expressed their appreciation of the newest Santa Specials advertising artwork. This design was painted bespoke for the K&ESR by Kent Artist Andrew Redden and was inspired by the iconic LNER poster Jolly Fisherman of Skegness!


 

Andrew says, "If you look around the railway, it is uniquely representative of a time when things were done by hand.  The maintenance sheds are full of hand operated tools such as lathes, drills and planes and there are people of all ages operating them; a mixture of experience and apprentice.  It's great to see.  The work we produce to reflect this environment has to be generated in the same fashion, by hand, using paint and brush and pencil and paper.  The only time a computer is used, is in final production."
| ‍The images and marketing posters which have been created in partnership since 2017, have been inspired by the great railway posters of the middle part of the last century, when rail travel was at its zenith and the big four companies invested heavily in creating imagery to promote their products, destination and work force.  Wonderful artists such as Tom Purvis, Frank Mason and Norman Wilkinson became the first famous and respected commercial artists, as passengers began to buy copies of the posters to put on their walls at home, a true sign of a successful advertising campaign. | |
| --- | --- |
‍To accurately reflect the style of this work, Andrew paints on stretched watercolour papers using acrylic paint, each overpainted two or three times to get the depth of colour to match the look of the originals.


 


"The work of the 1930's and 40's looks as it does because of the limitations of the printing processes then available." says Andrew. 
‍Now YOU can order your Santa Special Christmas cards in packs of 5 or 10 (or just one!) on our website. Order by 18th December for last Christmas postage.

There are limited edition A3 and A4 mounted posters signed by the artist on sale at our Gift Shop at Tenterden Town station.  The shop will be open on Saturday 12th and Sunday 13th December 10am to 3pm so you can purchase these and other products in the extensive artwork range.  If visiting in person, present your membership card for member discount.  
‍

Wealden Pullman Kitchen Car Project - Update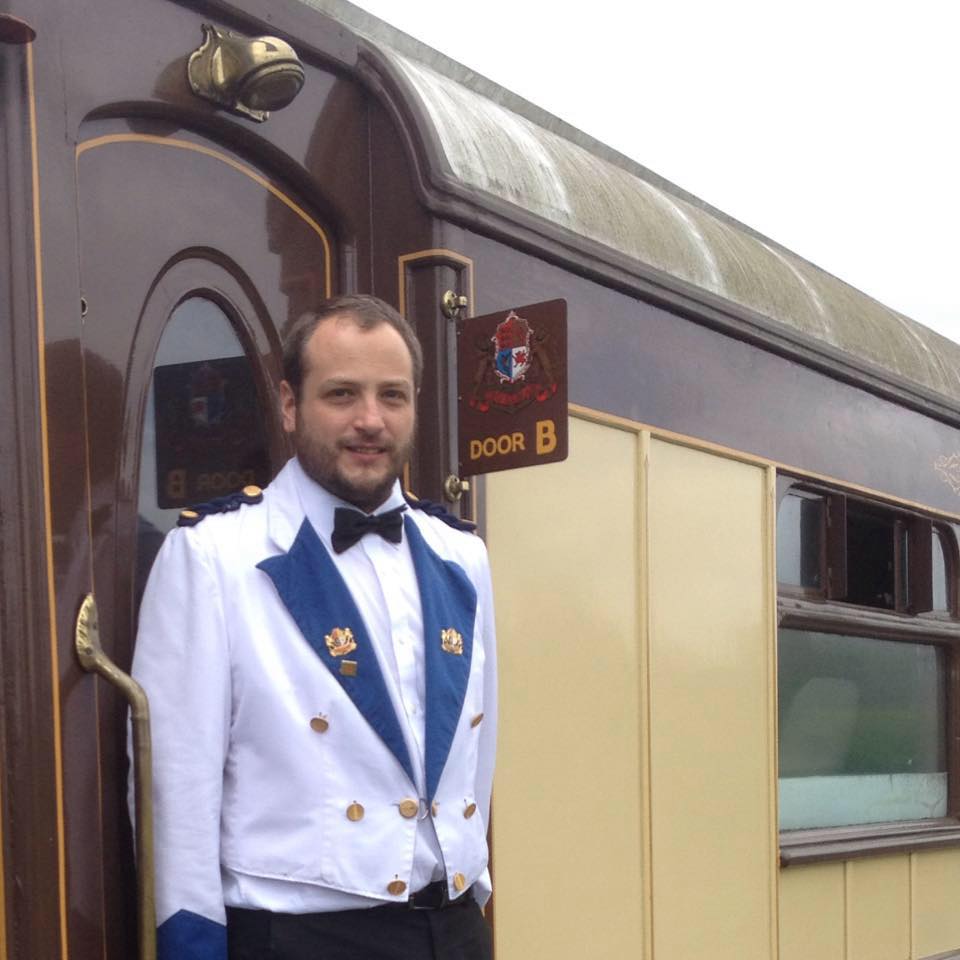 We are really pleased with the response to the personal Kitchen Car Appeal and our thanks go to all those members who have already signed up to make regular donations. If you haven't taken the opportunity to do so, click below to sign up!

Many thanks for your support. 

---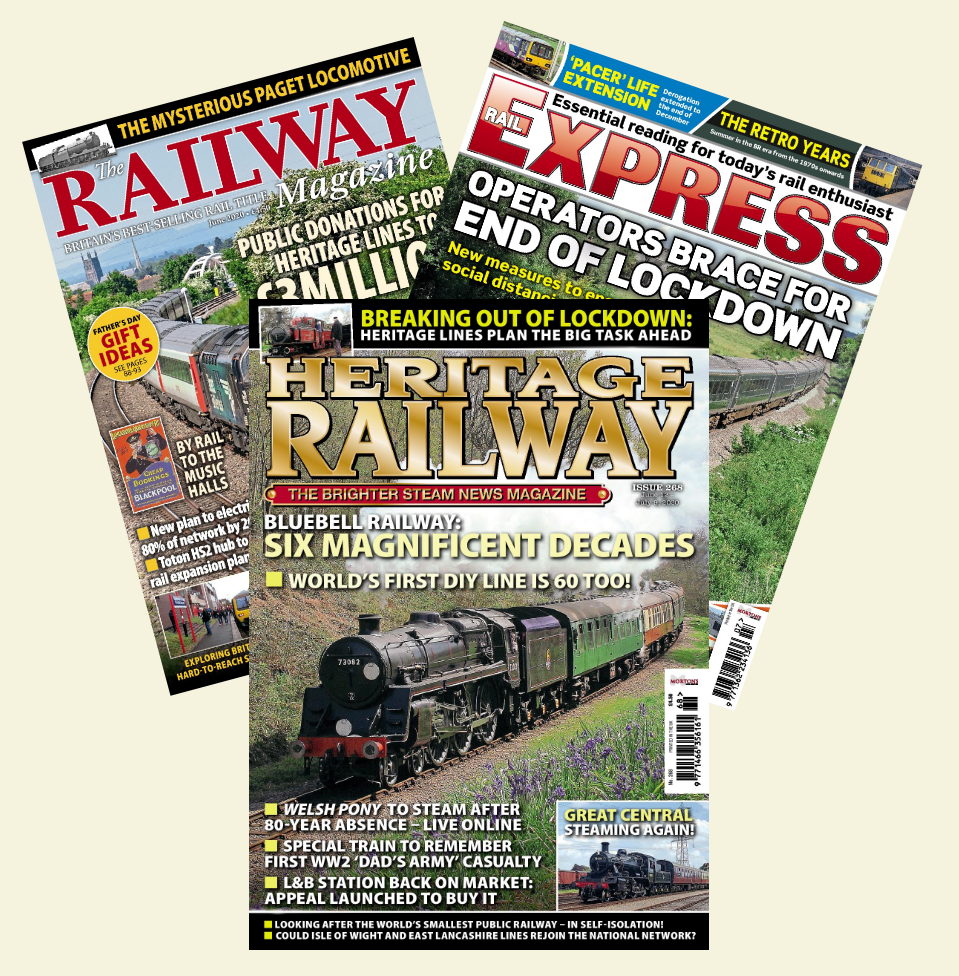 ‍

K&ESR Member Offer - a Christmas Gift that lasts a year!
Subscribe, at the special offer price, to any of The Railway Magazine, Heritage Railway or Rail Express and Mortons Media Group will donate £4 directly to the Kent & East Sussex Railway.
The Railway Magazine, Britain's biggest rail title and a fixture in the news stands since 1897, offers in-depth coverage of news of the entire rail sector, from modern to historic – you could even access the entire 123 years of history by building on your subscription. Heritage Railway provides in-depth news and features from the world of steam preservation, while Rail Express is the magazine for the modern rail enthusiast and modeller, but always with an eye to the history of the sector.
‍Offer expires December 31, 2020
---
---
‍From all of us here at the K&ESR, our very best wishes
‍

Kent & East Sussex Railway
Tenterden Town Station, Station Road,
Tenterden, Kent TN30 6HE
www.kesr.org.uk
Registered charity 262481