‍

Kent & East Sussex Railway
Members e-newsletter No.40
‍Welcome to the latest edition of your e-newsletter - we send you our best wishes and thank you for your continued support.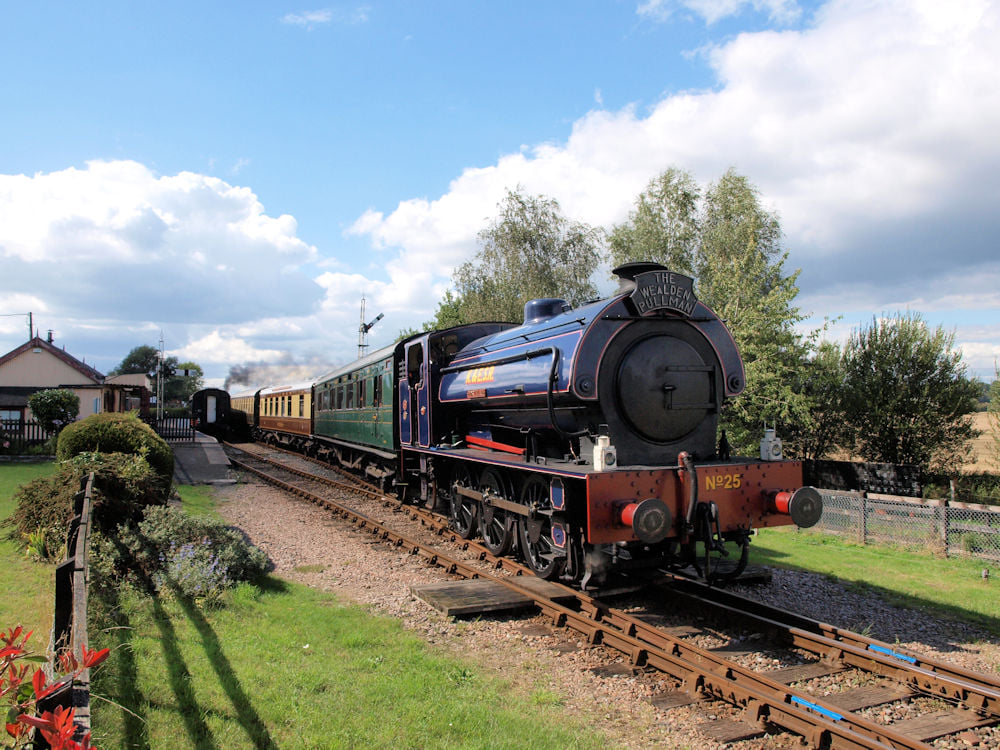 Wealden Pullman on it's first excursion since New Year's Eve 2019!
Image courtesy of Phil Edwards
Trip Advisor Traveller's Choice Award for 2020
The annual Travellers' Choice awards celebrate the very best in hospitality and tourism worldwide, using traveller reviews to recognise excellence in areas such as service, quality and customer satisfaction.

We are proud to have received this award from TripAdvisor, demonstrating that the hard work put in by our colleagues year round, is recognised and celebrated by our visitors,
Based on a full year of Tripadvisor reviews, prior to any changes caused by the pandemic, award winners are known for consistently receiving great traveller feedback, placing us in the top 10% of tourism businesses around the globe!
---
‍There was no letter from the Chair in the last edition as I was on a short break.  And this edition has been delayed slightly for reasons that will become obvious later on.
Despite one or two glitches we have continued to deliver our reduced timetable and, importantly, fill most of the trains.  The Pullman is back in operation.  Customer feedback has been almost universally positive.  Looking ahead, the team are working hard on our Santa offering and we hope to have that on sale very soon.  Other ideas are being explored.  As ever, thanks are due to everyone, but I do need to stress that in some areas we are critically short of volunteers.  I can't emphasise enough how important the Santas and Pullmans are to the Company's wellbeing; we need the income, more than ever this year.  Please volunteer if you can.
‍As I write this, the national situation looks worrying and we have of course, like many organisations across the UK, already been hugely impacted by the Coronavirus pandemic. We have lost most of our 2020 income, and we have had to revise downwards our income projections for 2021. As I have said before it will be a long time, if ever, before we return to the kind of visitor numbers we have been used to. Attempts will of course be made to increase our income through tried and tested and NEW covid-safe products and experiences for our visitors where resource allows.

In order to safeguard the charity we need to reset the business and adjust to the new reality, whatever that might turn out to be. We have made no secret of the fact that difficult decisions will be necessary. It is essential to reduce our expenditure, a significant amount of which currently goes on staff. We have therefore now entered a period of consultation with our employees regarding a reduction in paid staff positions. Depending on the outcome of that consultation it is likely, sadly, that redundancies will be necessary. We are not alone in this – many others in the heritage and tourism sectors, including locally, are in the same boat.  We cannot be exempt.
We are not doing this lightly and obviously there will be an impact, on individuals and on the organisation. But it reflects the fact that for the foreseeable future we shall be running fewer trains for fewer visitors and doing only what we can afford to and which has a direct beneficial effect on the bottom line. Reducing staff expenditure sits alongside other measures including reviewing our costs and relationships with contractors, developing ways of working more efficiently, and taking advantage of government assistance and any other opportunity for getting financial support. These, especially the last, need to continue, and we are very grateful to those who have stepped up to help.  They are going to be crucial, and we cannot rule out yet more Coronavirus related restrictions resulting in further damage to the organisation.
‍I do believe that the Kent & East Sussex Railway has a bright long-term future, and that we shall be able to maintain and develop the vision of our pioneers nearly sixty years ago. This is dependent on being able to balance the books as we weather the storm. And on not talking ourselves down. We need to support one another and our Railway in difficult times.
As ever, all donations and assistance are welcome and necessary.  All our extant appeals remain open. Many people have been very generous to us and I take this opportunity to thank them.  To see how you can continue to help us please visit https://kesr.org.uk/donate/
Stay safe, look after your wellbeing, and remember to talk about the Kent & East Sussex Railway to your friends and on your social networks.
Simon Marsh
Chairman
| ‍The pride in our cleanliness is reflected  from the windows of our fantastically clean coaches! | It doesn't seem the most exciting of subjects but in the new world we find ourselves operating in, cleanliness at the Railway since re-opening has been the subject of excellent feedback and high praise from our passengers. Enormous thanks to Brian along with Andy Papworth and Chris Johnston who are the volunteer carriage cleaning team. The train is now cleaned externally each week, and internally after EVERY trip, ensuring that our passengers feel safe & we can now be prouder of our carriages. |
| --- | --- |
‍Brian enjoys a rare moment of quiet and a well-deserved cup of tea!
Locomotive Department
During August Locomotive Engineering Manager David Brenchley visited our friends at the North Norfolk Railway (NNR) to have a look at progress on the restoration of Terrier Nr 3 "Bodiam". Like us NNR have been shut down for the lockdown period but are now gradually opening up.
Given the circumstances we find ourselves in, reasonable progress has been made.  The side rods will be returned to Rolvenden for measurement prior to arranging new rods, courtesy of the volunteers of 4253.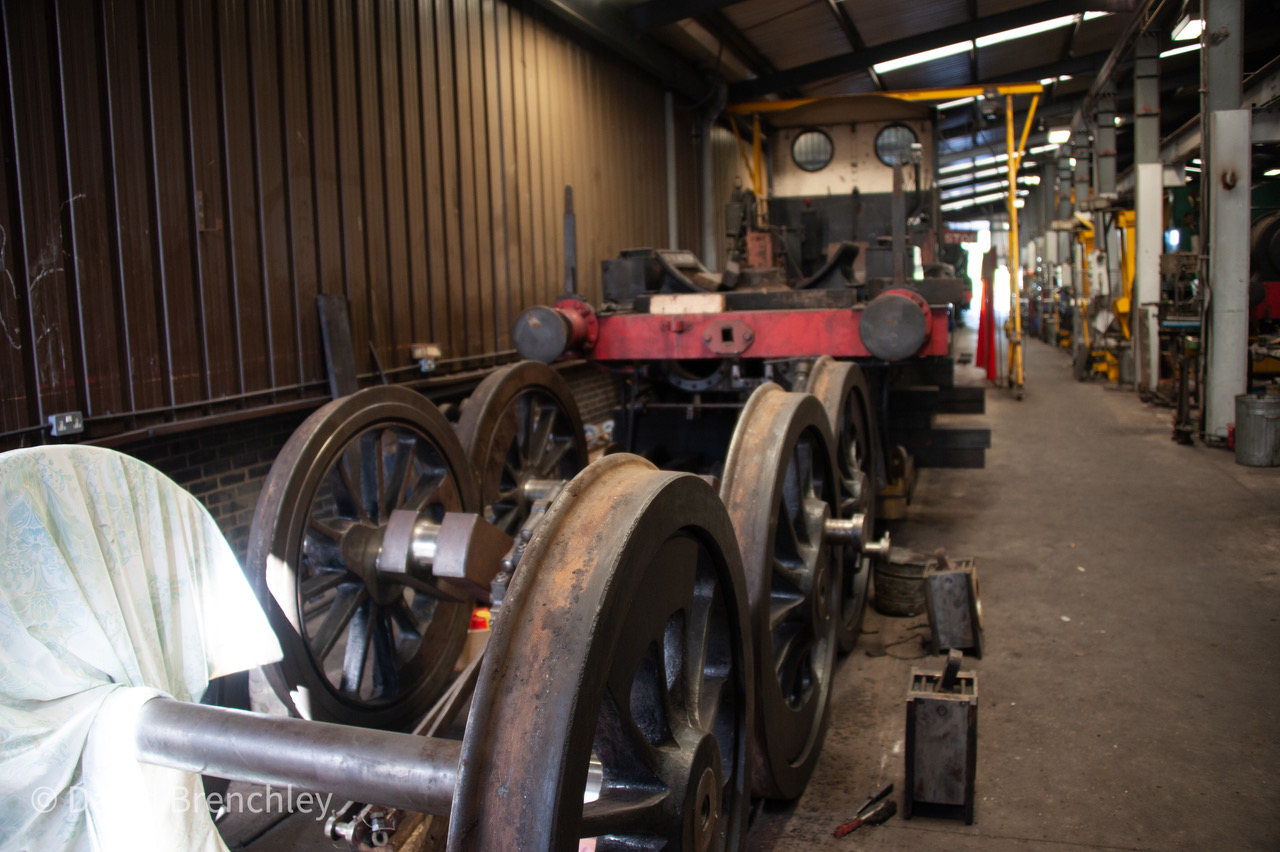 Terrier locomotive 78 "Knowle" is coming on nicely at Rolvenden, the tanks have been fitted and then will follow the fitting of all the ancillaries and a nice new cab floor.


 

‍The Boiler and Engineering Skills Training Trust (BESTT)

This is the first national boilersmith training programme for heritage boilers since the closure of steam facilities at the major railway and engineering works in the 1960s.  Amongst its objectives are to increase the number of skilled boilersmiths available to heritage projects including railways, ships, traction engines and museum engines to help maintain their steam operations into the future. 




During 2 years, trainees for a BESTT course will each undertake a 12 month-long paid placement, leading to a specialist qualification.
‍Trainees benefit from the teachings of experienced heritage boiler engineers at locations such as Llangollen Railway, the North York Moors Railway, the Severn Valley and Bluebell Railways or specialist boilersmiths such as Hatch Steam Engineers, near Swindon, and Israel Newton & Sons Ltd at Cromford, Derbyshire.

K&ESR has close ties with BESTT with Lawrence Donaldson being one of its directors.  Several of our staff have attended BESTT courses including the boiler washout course held at Rolvenden.




Here at the K&ESR we have taken one student in for work experience for the next two months. He has integrated well and is becoming one of the team and increasing his skill base.

 


David Brenchley

Locomotive Delivery Manager
---
Colonel Stephens Railway Museum, Tenterden
| | Well we are largely back in the living world and operating successfully as we come up the 25th anniversary of opening our present Museum! |
| --- | --- |
| ‍With Lockdown preventing any meaningful on-site activity a large part of the Museum resembled a building site as we reconstructed the 'Colonels Tent' site with redundant stuff stacked here and there. With the easing of the brakes in June a small group of us, particularly Dave and Matt Stubbs and Dave Brown, recommenced rebuilding work and showcases were put together fairly rapidly. The work has given us more display space and a far more attractive area. | |
| --- | --- |
| ‍ | ‍Preparation for visitors and custodians also called for more work. A screened for the front desk, room found for a card payment terminal and spacing lines were taped throughout the Museum. However one or two small areas were impossible to arrange for social distancing so are now 'Out of Bounds'.  |
| --- | --- |
‍One blocked off area has given us an unexpected bonus. The lifting of lockdown released a torrent of really top quality book donations which have stored there; if and when we can work out a safe system the dam can be released for a giant sale. Office work also recommenced in June, though in truth this had continued much as before in because of dedicated homeworking. 

We originally thought that a short opening would cope with very limited, almost nominal, numbers expected to linger on site.  ‍However the enthusiasm of passengers to extend their railway experience was severely underestimated. 


With full bookings on the trains our average attendance has been over 50 and August culminated with 4 days of over 100!To the end of August we have admitted 1,336 visitors (last year 5,271), taken £1,150 (£3,085) in sales, and received £317(£478) in donations.

Remember last year's figures are for the whole of July and August when we were open 7 days a week. Individually our visitors are generous; the spend per visitor is up from 66p to 84p and donations are up from 16p to 26p.
‍To achieve all this we have had to rely on a very small group of dedicated volunteers. Of course departures from active involvement must always be expected and long term stalwarts Philip Cheetham and Peter Southgate have done so with many thanks and blessings from us. So like every other department we must look for extra help next year to increase our visitor attraction and spend. We need every penny to ensure we can endure.
Brian Janes
Colonel Stephens Museum
---
Operating Department
Since the last newsletter, Service Delivery Manager Andy Hardy has left K&ESR employment to take up a new opportunity elsewhere. Thank you Andy for your efforts on behalf of the K&ESR and best of luck with your new role.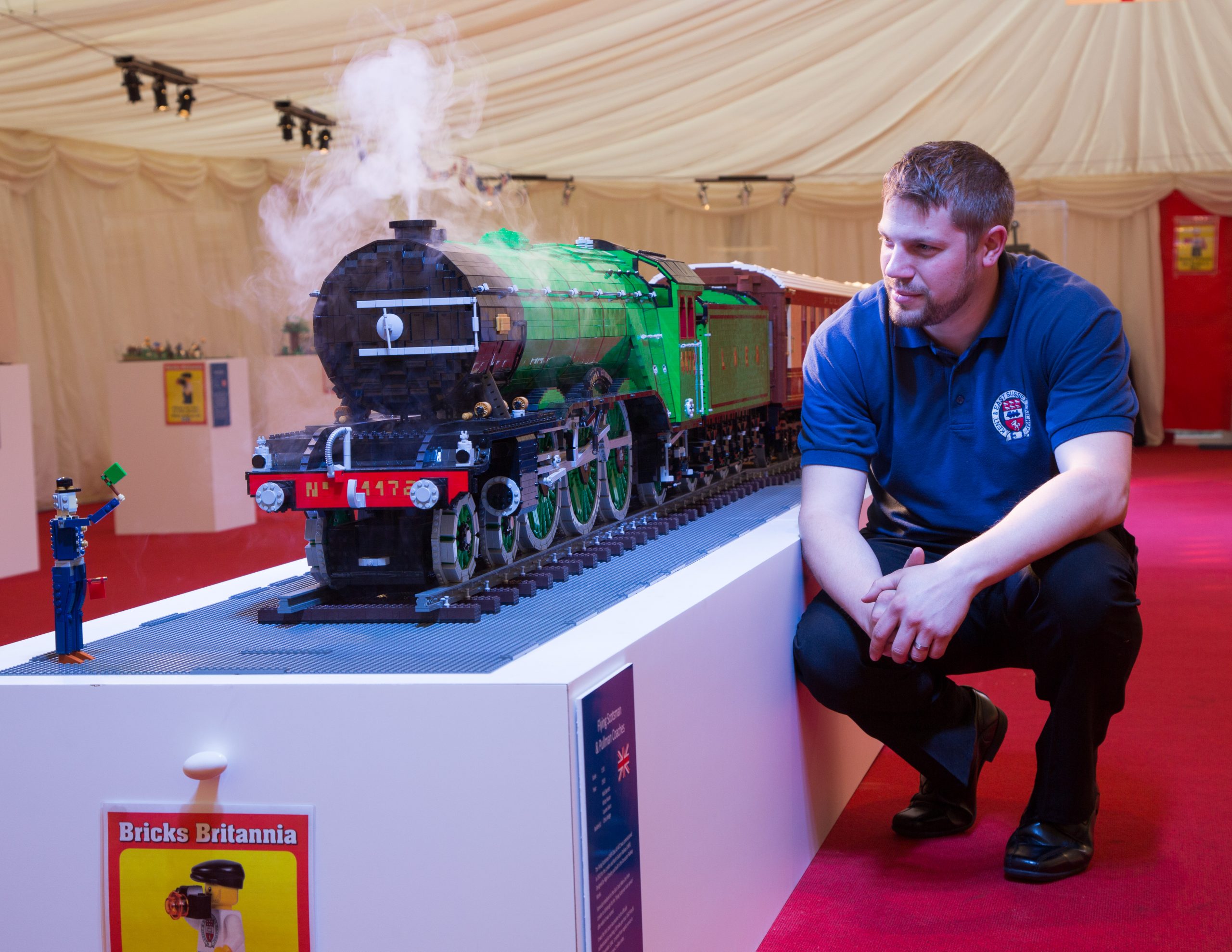 ‍Andy Hardy enjoying the fruits of his efforts to bring Lego® and Steam Locomotives together for the benefit of the K&ESR at the Bricks Britannia exhibition April 2017.
Sadly Patrick Judson, a former member of footplate staff passed away on 30th August after a 9 year fight with cancer. Our condolences go to Patrick's family and friends.
Patrick's wife Elizabeth wrote the following in her email to us and I thought it summed up what the K&ESR means to so many volunteers. "Patrick loved his time with you and used to leave home with his overalls and cap, complete with his tuck, wearing a big grin, eventually arriving home very tired and very, very dirty but, he had a great time, and that was all that mattered. Thank you for giving him the opportunity to fulfil his dream of working on your preserved steam railway".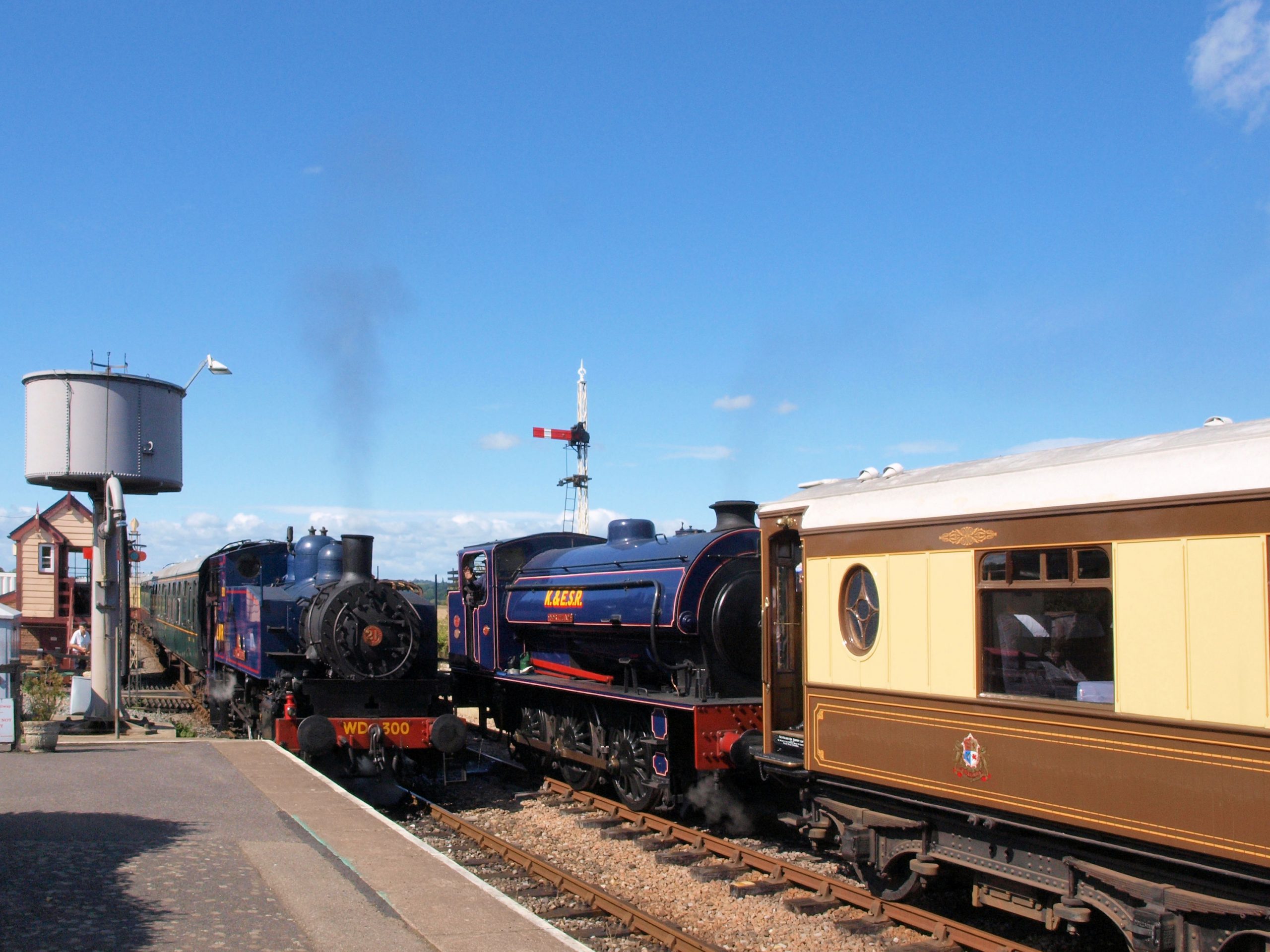 On a happier note, train services have run well throughout August with trains selling well. We added an extra trip on a few days towards the end of the month to cope with the demand.  Pullman services have also re-started, which means on Sundays with two locos in steam the railway really feels alive again!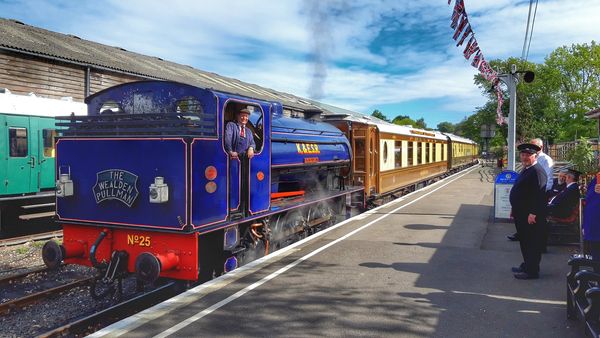 ‍Driver Mark Williams ready for the "off" with No 25 on the first Sunday Lunch Pullman of 2020, on 6th September 2020.  Image courtesy of Pete Salmon
| ‍Congratulations to Paul Davies who passed his steam raising exam on 6th September under the watchful eyes of Dan Dickson. Paul undertakes a number of volunteering roles across the railway and it's always great to see his smiling face and enjoy his positive attitude!   | ‍‍Welcome to new volunteer Edward McNaughton who has joined us as a trainee cleaner for the operating department after waiting many years to volunteer!  Edward is the son of K&ESR Driver Chris McNaughton and is a familiar face to many, having been keen to follow in Dad's footsteps for a long long time. |
| --- | --- |
‍Many thanks to everyone who has played a part in getting the railway up and running safely.
Pete Salmon
Operating Manager
---
‍Commercial Department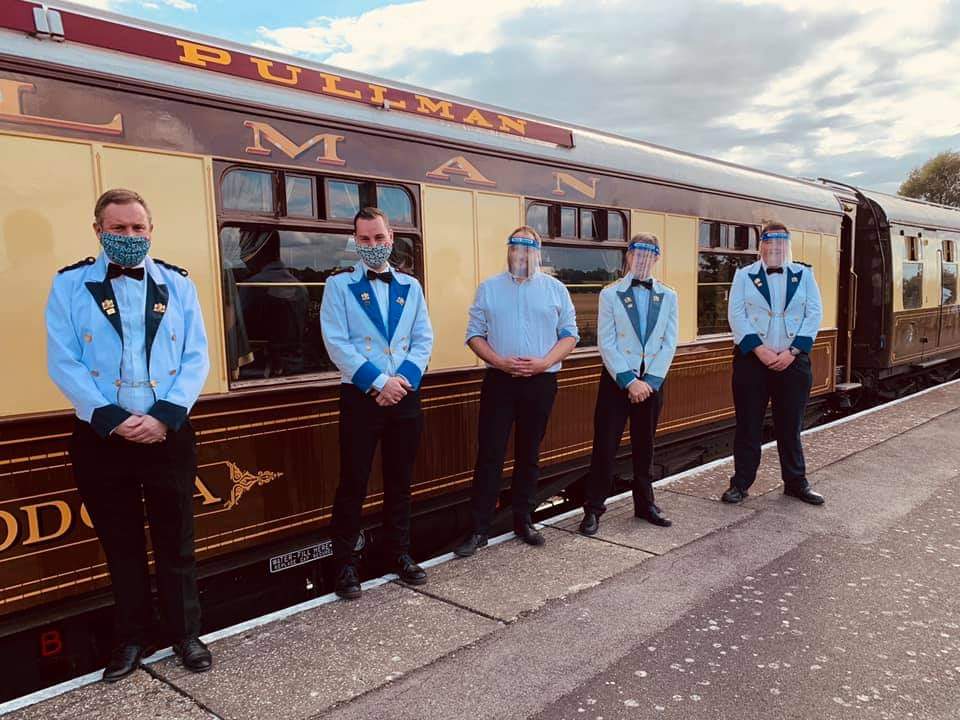 ‍‍Pullman volunteers ready to welcome our visitors for the first time since New Years Eve!  Image courtesy of Kieran Wildman
Exclusive Members Offer
‍Steel–Oil–Steam shows the world and work of the engineers, fitters and volunteers (of both genders and all ages) whose efforts behind the scenes at the Kent and East Sussex Railway keeps the steam locomotives running.

This beautifully printed book, with 67 facsimile-quality full-page black-and-white reproductions, explores the engineering underpinning our railway. It takes us behind the scenes and into the workshops, and shows us the people who keep everything working, as volunteers and employees, engineers and fitters, cleaners, steam-raisers, firemen and drivers.



‍By virtue of the generosity of the creators of the book, K&ESR members can purchase at a discounted rate of £20 (£24RRP) and additionally for each of these Member purchases a royalty donation will be made to K&ESR.
Buy direct online HERE
The dramatic black-and-white photographs were taken by Evans+Hulf between 2016 and 2020 using a giant 15x12" camera made in the 1880s and originally used by two Victorian photographers to take pictures of locomotives made at the Beyer Peacock works in Manchester.
Evans+Hulf is a collaboration between Tom Evans and Terry Hulf. Terry Hulf is an independent photographer, painter, video artist and musician who specialises in long-term projects with a strong sense of people and place. Photographs by Tom Evans are in museums and public collections including the V&A and National Portrait Gallery.
Andre Freeman
Commercial Manager
---
The overhaul of the Cavell van is progressing, courtesy of the restricted fund for this historically significant asset. 

"New" spring hangars were required as the old ones had rusted badly.

New may not be the fully correct term as they were in store having been recovered for use many years ago!

 

 

‍Cavell Van looking suitably smart after re-varnish. Image courtesy of Paul Wilson.
‍On Compartment coach 63 work is underway to refresh the compartment interiors which had become tired.

 




| ‍Ceilings in compartments have been extensively refurbisned... | ‍The beautfully repainted ceilings will create a lighter, brighter and well-cared for environment for our passengers. |
| --- | --- |
‍‍Corridor Coach "CK86" is undergoing extensive overhaul

The doors are being fitted to CK86 and John Wheller has been spotted leaving the workshop with various window components- working from home in line with Covid requirements!

 ‍You can, in the right hand picture, see the join where new body side panels have been fitted.  Rest assured, when our painters are finished there will be no sign of it!

‍The Woolwich coach came in as water was leaking into the compartments, suggesting a problem with the aluminium sheeted roof. The Headcorn end panel needed replacement but of course when screwdrivers were prodded into the bodywork more rot was discovered. This has all been replaced and the new roof panel is being fitted. Happily the rest of the roof was in very good condition, no doubt due to the fact that the coach has benefitted from being stored in the carriage storage shed when not in use.

Thanks to all the volunteers working on this and to the Loco Trust who are covering the costs.
Paul Wilson
Carriage & Wagon Manager
---
‍4253 Locomotive Company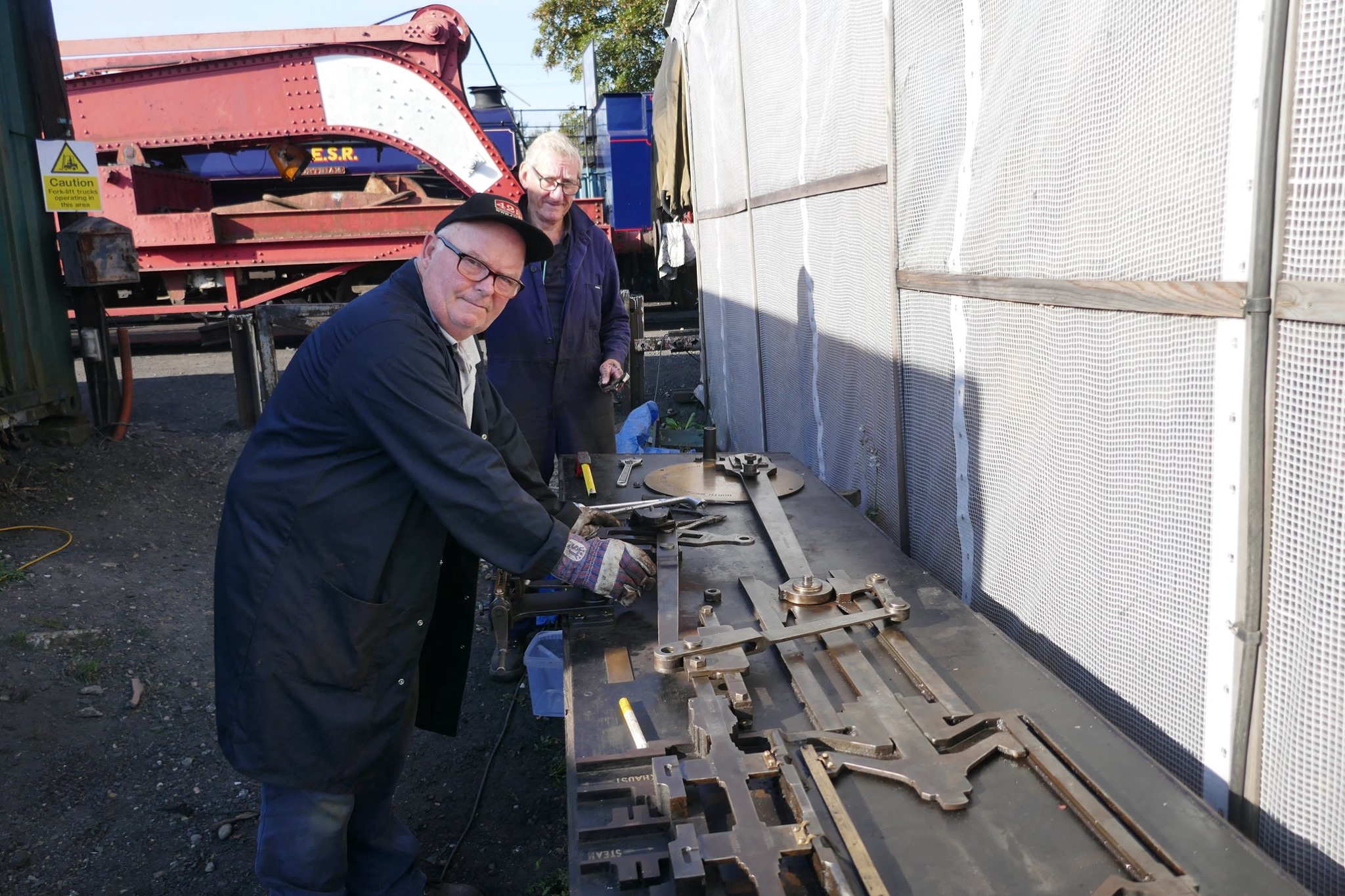 In addition to restoration of the loco, the team undertake many other tasks in support of our railway. The latest project is the restoration of the wonderful model of Walsharts valve gear that we've had hidden away for more years than anyone can remember. After overhaul it will be going to Tenterden as part of the planned display in the model railway.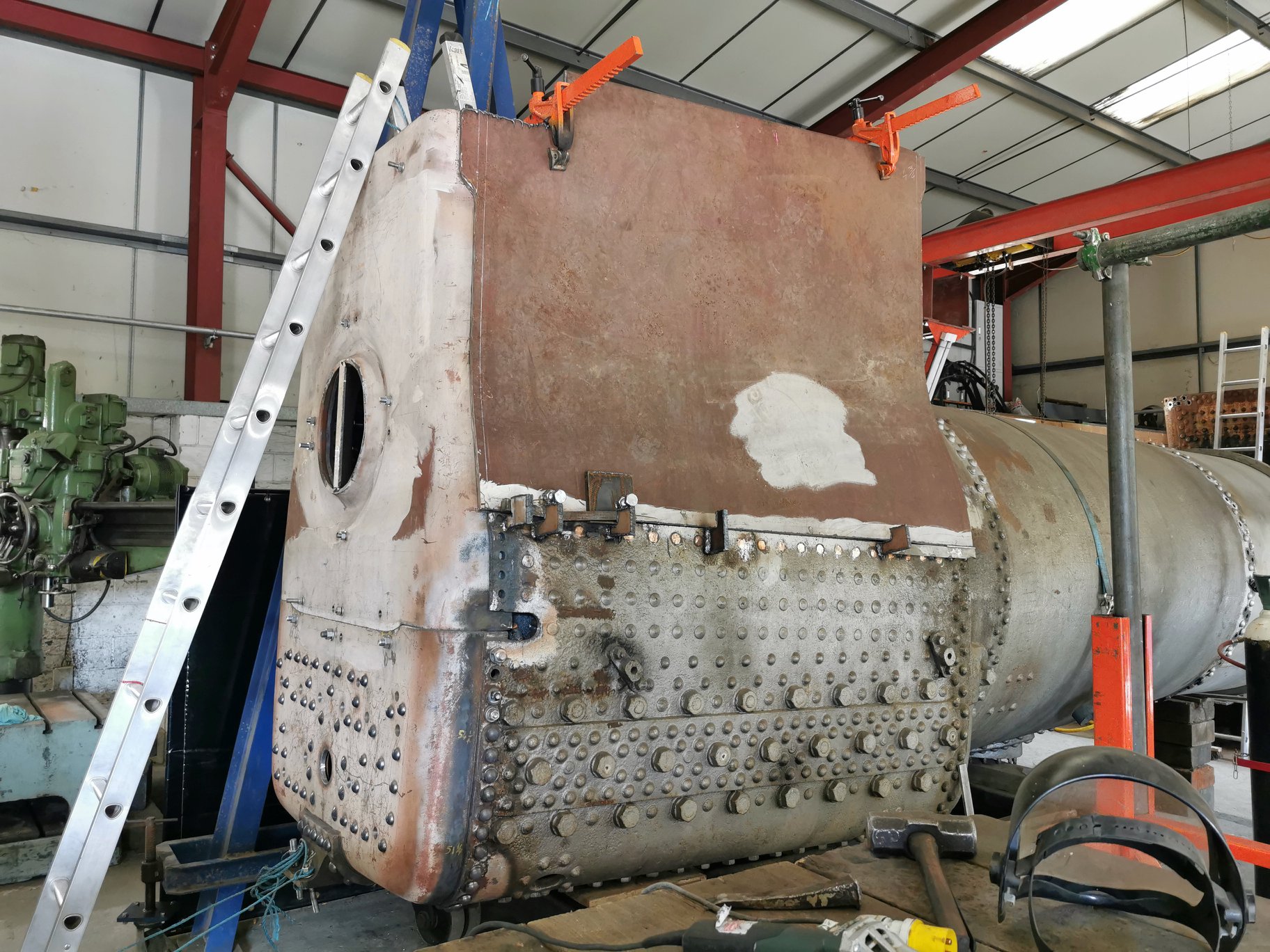 ---
‍Visiting Engine - GWR Prairie Tank 4144
‍BREAKING NEWS! 

Following ultrasonic testing of the firebox for locomotive 300 Frank S Ross, it has been necessary to put our visiting engine into steam to operate on services to supplement our own home fleet whilst repairs are underway. 

The initial run for the Prairie is planned for Sunday 27th Septenber on our regular service whilst the Wealden Pullman will be hauled by our GWR Pannier Tank 1638.  Welcome to the Kent and Great Western Railway!
---
‍Support the K&ESR - at no cost to you!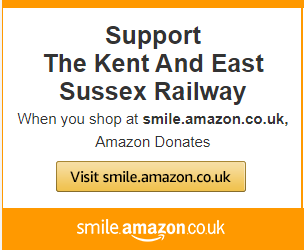 If you're an Amazon customer, you can now support the K&ESR when shopping - at no cost to you! Simply follow the link above to setup the K&ESR as your favourite charity, then follow the simple instructions shown when shopping online
---
‍From all of us here at the K&ESR, our very best wishes
‍

Kent & East Sussex Railway
Tenterden Town Station, Station Road,
Tenterden, Kent TN30 6HE
www.kesr.org.uk
Registered charity 262481