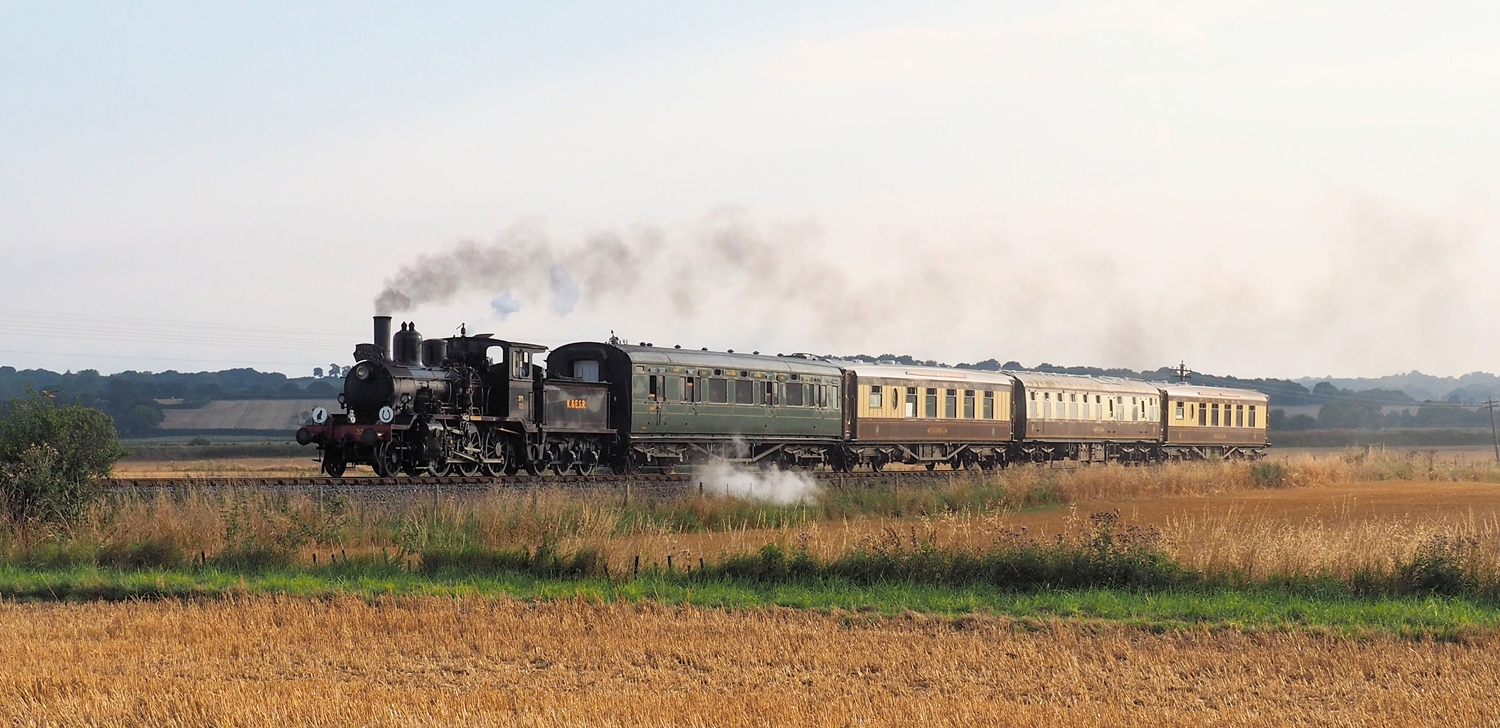 We are delighted to confirm that the Wealden Pullman will once again be welcoming customers from 22nd May 2021.
Welcome aboard!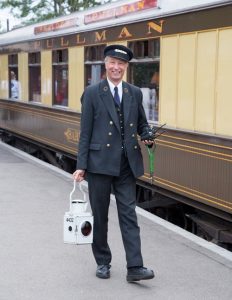 Whether you're enjoying a six course evening dinner, a three course luncheon, or our New Years Eve service, you can be assured of a warm welcome at the Kent & East Sussex Railway!
Everyone you see is a dedicated volunteer, giving up their time so that you, our customer, can enjoy the wonderful experience of dining aboard a steam hauled train dating from the 1920's & 30's. It's great fun – we enjoy it just as much as we hope you will! Our team comes from all walks of life and, although very few had previous experience of hospitality when they started, we train everyone in-house to a high standard and work together as one team to create an unforgettable (for the right reasons!) experience. We've 46 years of service to date and are proud to be regarded as one of the UK's finest heritage railway dining services.
Whilst the need to adopt social distancing has inevitably affected the way that we must work, it certainly has not changed our ethos!
We've worked hard to ensure that travelling with us remains as safe as possible – but keeping the fun element for which we are well known! We are a COVID-19 secure organisation and have been granted the Visit England "We're Good to Go"  Industry Standard mark, demonstrating that we have followed government and industry COVID-19 guidelines, have Risk Assessments in place and a process to maintain cleanliness and aid social distancing.
If you've travelled with us previously, you'll know that the period carriages we use have always had low density seating. For your peace of mind though, we have fitted acrylic safety screens between bays of seats in 'Theodora' and 'Maunsell' (the seating layout in 'Barbara' means screens are not required). All our seating meets or exceeds the 2m/1m plus requirements and as a result, there's no requirement to wear face coverings when seated in our dining carriages.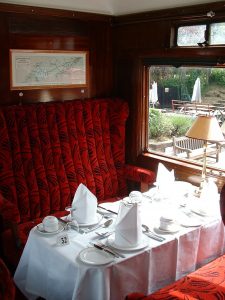 In 'Maunsell', where there are tables for two people and tables for four people either side of the aisle, to ensure you feel safe there will be a maximum of 4 passengers allocated seats across each bay of 6 – unless of course you've booked two adjacent tables for your own social 'bubble'. Some examples are shown below:
---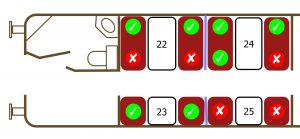 In this example, two couples are each seated at their own tables (22 & 23) and are socially distanced from one another. Behind is a group of three people (seated at table 24).
All individual groups are socially distanced from each other & table 25 is maintained vacant.
---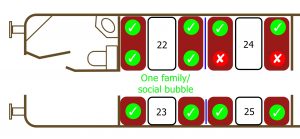 In this next example, tables 22 and 23 have been booked by a family of six people.
Tables 24 and 25 each have two people seated at them, with all individual groups socially distanced from each other
---
We've always taken great care with our cleaning regimes, but we've stepped up housekeeping throughout with particular focus on the lavatories, door handles etc. We're using a product called Zoono, (a long lasting sanitiser, as used on the national rail network) on all contact surfaces. We're also providing hand sanitisers at strategic locations through the train.
There's no requirement to wear a face covering on our station platforms, but of course, if you wish to do so then they you may. We would however recommend wearing a face covering when visiting the lavatory. We carry a small stock of face coverings onboard the train so that should you lose or break yours then we can help and ensure it doesn't spoil your experience.
Keep it simple, keep it safe
We're asking for everyone's help by following the simple safety measures we've put in place. These measures include:
Not attending if you experiencing COVID-19 symptoms
Maintaining a social distance from other customers and our staff when at the station
On arrival at the station, the Conductor (the Train Manager) will provide you with a boarding card/wine list, which will state which door you should use to access the train. Please listen carefully to the guidance that will direct you to your reserved table and minimise contact with other passengers
Remaining seated onboard whilst the train is moving – unless you need the toilet of course!
Settling you bar account by card payment – cash is not accepted
Regularly using the hand sanitiser provided
---
FAQ's
The K&ESR is a registered educational charity and relies on the support of our members, donors and visitors to fund its work. This is an exceptionally challenging time and we have experienced a huge loss of income this year. Although we have now reopened, we still face significant financial challenges due to the need to restrict visitor numbers. We are extremely grateful to our everyone who has been so very kind & supportive.
We understand these are uncertain times for everyone and are very grateful for any support offered, no matter how big or small – our appeal remains open. If you would like to help, please donate, join as a member HERE, or purchase a Gift Card.
Thank you for your support!