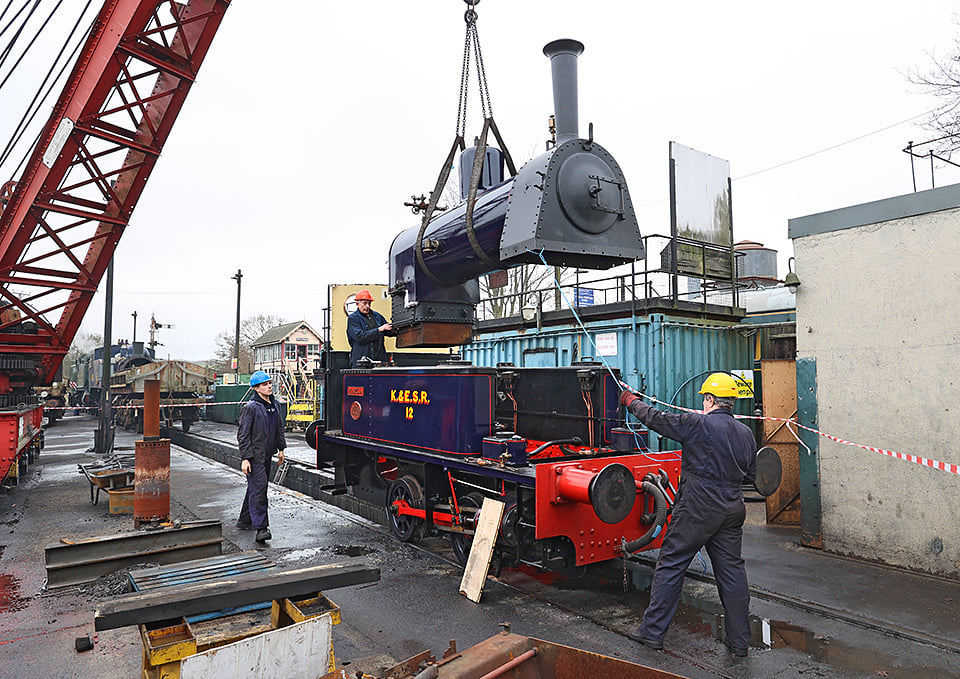 Join our Team - Fitter/Welder
Start Date: Immediate
Remuneration: Salary dependant upon experience
Are you captivated by heritage railways? Do you relish the idea of being part of a dedicated team that breathes life into historical locomotives, carriages, and wagons? If so, the Kent & East Sussex Railway  is calling your name.
About Us:
The K&ESR is a thriving heritage railway that welcomes 80,000 passengers annually, solidifying its status as a premier tourist attraction in Southeast England. With a passion for preserving and restoring heritage steam and diesel locomotives, carriages, and wagons, our team is committed to providing an unforgettable experience to all who journey with us.
The Role: Fitter/Welder
As a Fitter/Welder, you'll be at the heart of ensuring our fleet remains in top-notch condition to deliver our diverse range of services. Your mechanical finesse will shine as you contribute to the maintenance, repair, and overhaul of rolling stock and locomotives. Operating within a team, you'll adhere to procedural excellence to meet high standards and tight deadlines. Upholding cleanliness and safety will be your mantra as you work, and you'll be an advocate for these values.
You'll be embedded in our Locomotive, Carriage and Wagon Department, gaining an intimate understanding of the technical aspects of operating a heritage railway. This unique role within a volunteer-driven organization is perfect for those who wish to contribute their skills and passion to the realm of service improvement.
Essential Requirements:
Demonstrated experience in Mechanical Fitting.
Welding - manual metal arc, oxy-gas & MIG fabrication.
Ability to bend, set and fit copper and steel pipework.
Practical aptitude with hand and power tools.
Familiarity with mechanical equipment.
Keen attention to detail.
Ability to interpret drawings and schematics.
Minimum of 3 GCSEs or equivalent including Maths and English.
Desirable Skills:
Painting expertise.
Knowledge of railway vehicles and locomotives.
Familiarity with rail vehicle electrics.
City & Guilds / NVQ Level 1, 2, or 3 qualifications in Engineering or Mechanics discipline
Benefits of Joining KESR:
Competitive annual leave.
Access to our contributory pension scheme post-probation.
Enjoy National Rail Privilege travel rates after probation.
Salary: to be advised.
Joining the K&ESR isn't just about a job; it's about embarking on a historical journey that fuses passion, skill, and heritage. Our business evolves, and this role's duties and responsibilities may evolve with it.
Ready to Join?
If you're ready to play an instrumental role in our commitment to heritage and excellence, then step aboard. As a vital piece of our team, you'll help ensure that the legacy of the K&ESR continues to thrive.
To apply, please send your CV and a covering letter to enquiries@kesr.org.uk We look forward to welcoming you to our passionate and dynamic team.
Note: This specification outlines primary responsibilities and is not a permanent, unchangeable statement. Our business is ever-evolving, and your role's duties may shift accordingly. Applicants for this position must have the right to work in the UK. The Kent and East Sussex Railway is committed to safeguarding and promoting the welfare of its staff and visitors. All staff are expected to share this same level of commitment. The role may require the post-holder to be in a position of responsibility with respect to young persons or to vulnerable adults and may, subject to requirements, require an enhanced Criminal Records check. The successful candidate will be required to complete a Medical Questionnaire Form and an examination carried out by the Company's appointed Medical Practitioner.
Robin Coombes
General Manager,
Kent & East Sussex Railway
Tenterden Town Station,
Station Road,
Tenterden,
Kent
TN30 6HE
rcoombes@kesr.org.uk
Download the Job Application Form