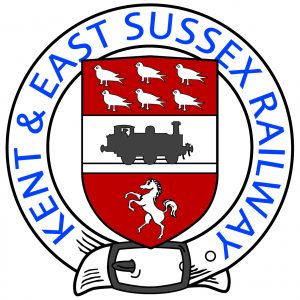 PRESS RELEASE 4TH DECEMBER 2020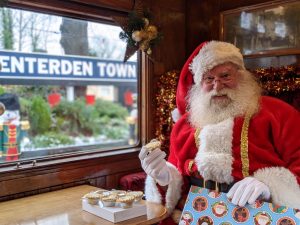 TOWN COUNCIL STEPS IN TO HELP SANTA
A new destination has been found for hundreds of mince pies and chocolates which were due to be handed to excited children riding on a steam railway's Santa Specials.
The Kent & East Sussex Railway in Tenterden had to cancel the 72 trains, due to carry 9,000 visitors over the Christmas period, following the announcement that Kent was to be a Tier 3 zone, leaving it with the headache of what to do with the treats it had already purchased.
Now Tenterden Town Council has come to the rescue, by buying them for distribution to the local food bank.
Railway Commercial Manager André Freeman said: "It was heartbreaking to have to cancel the Santa Specials. Not only are they hugely popular, but they bring in a significant contribution towards our colossal maintenance costs.
"This would have been the 46th year we have run them and hundreds of hours had been put in by our volunteers to ensure another spectacular event, despite the problems caused by covid.
"But the latest lockdown gave us no choice. We are in tier 3 and we obviously have to put the safety of our staff, passengers and local community above everything else.
 In working with the council we are pleased that the perishable supplies we purchased for the event will add some joy to Christmas for families inside our own community."
Deputy Town Clerk Claire Gilbert says: "Even Santa sometimes needs a hand, and we are really pleased to have worked with the Railway to ensure that the goodies normally given out on the Santa Specials will still help families enjoy a great Christmas.
"The way that the community is pulling together at this time of year is inspirational, and the council is delighted to have been able to help the railway – and Santa, in particular".
Commercial Manager André added: "Our customers have been magnificent. Nearly half of those who had booked for this year have asked us to rebook them for a visit next year instead. Others have made donations. This is an enormous help in ensuring we bounce back from the pandemic as quickly as possible."
"Yes, we are desperately sad there will be no Santa Specials this year, but cancelling them was the morally responsible thing to do. We understand how disappointed families must feel at missing out on their annual treat, but we have been greatly encouraged by the many touching messages we have received.
 "Typical was a note saying 'We are very sad to hear of this inevitable decision you have made. Your Christmas service has yearly made our family's Christmas special and wonderful'.
 "Another wrote: 'Please can you make sure you transfer it to a weekend date of similar time next year. Your events are so special we can't wait to meet Santa and thanks for being so kind and offering a rebooking service. Stay safe and thanks'
 André extended thanks to the supporters of the Railway and the stakeholders that work together to make the Santa Specials so unique:  "Many of our suppliers have also been very understanding of the difficult circumstances and thankfully we have been able to cancel some of our Santa Special orders to reduce our financial commitments."
In between the first and second wave of the corona virus, the heritage railway did manage to introduce a limited service on the line, which runs through 12 miles of beautiful countryside, from Tenterden to Bodiam, on the Kent/Sussex border.
André said: "We have been fortunate to be very well supported since we reopened in the summer and have learned some valuable lessons, meaning we may do things in a different way in the future for the benefit of our visitors. Like everyone else, we look forward to when the restrictions are eased and our volunteers are doing everything possible to ensure that our lovely railway will be raring to go."
Regulations allowing, the Railway are planning to run steam train services over the post-Christmas period.  Details will be released in due course via their website and social media channels.
Notes for Press
The Kent & East Sussex Railway, was the first light railway opened in Britain under the Light Railways Act of 1896, built by Colonel Stephens. Today it is one of Britain's most loved and original heritage railways, running for over 10 miles from Tenterden, capital of the Kentish Weald, to Bodiam in Sussex in the shadow of the 600 year old castle.
The Kent & East Sussex Railway is operated by the Kent & East Sussex Railway Co Ltd, a charitable company, limited by guarantee and not having a share capital. Registered charity No. 262481.
 Tenterden Town Station, Station Road, Tenterden, Kent TN30 6HE  Telephone 01580 765155  www.kesr.org.uk