Welcome back!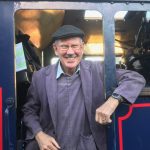 We are delighted to advise that the K&ESR will reopen to visitors on Saturday 18th July 2020
We've been working hard to make sure that travelling with us remains as safe as possible – but keeping it fun too! In this first step of our phased reopening, we're reducing the number of people we welcome each day and to help us to achieve that, we're asking everyone to book online in advance.
We'll initially be operating two departures between Tenterden & Bodiam only. Tickets must be pre-booked online at least 24 hours in advance and entry to Tenterden Town & Bodiam stations will only be available to pre-booked ticket holders.
Initially our steam hauled trains will run on Saturdays & Sundays only, but we'll keep this under review & adjust our services according to demand. Trains won't be stopping at Rolvenden, Wittersham Rd. or Northiam Stations and Bodiam Station will remain closed other than to allow pre-booked customers to alight and rejoin their train.
Our Family Return Journey tickets are available for groups of up to four or eight people travelling together and are valid for one return journey, by the same train, between Tenterden – Bodiam & return.
---
We're proud to have been granted the Visit England "We're Good to Go"  Industry Standard mark, demonstrating that we have followed government and industry COVID-19 guidelines, have Risk Assessments in place and a process to maintain cleanliness and aid social distancing.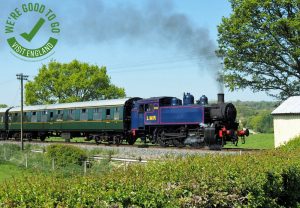 ---
Our trains
We've listened to what you had to say about seating accommodation during these strange times and have selected two types of carriage based on your feedback:
Open plan carriage – suitable for families of up to 4 people
These open plan carriages offer seating around a table. To ensure you feel socially distanced safe, we're blocking the seats adjacent and behind out of use, as shown by the red dots in the drawing below. These carriages have an onboard toilet accessible during the journey, although we're suggesting everyone remains seated where possible. Family Return Journey tickets are £45 for a family of up to 4 people travelling in an open plan carriage. We also have a limited number of wheelchair friendly spaces suitable for a user & up to 3 accompanying family members.

Compartment style carriage – suitable for families of up to 8 people
These old fashioned style carriages offer seating in a compartment – your family group of up to 8 people will have exclusive use during the journey. Because these compartments are physically segregated, there's no access to onboard toilets during the journey, although there are of course toilets at our stations. These compartments may of course also be booked by smaller families who prefer a little more space or exclusivity! Family Return Journey Tickets for a family of up to 8 people in a compartment style carriage are £75.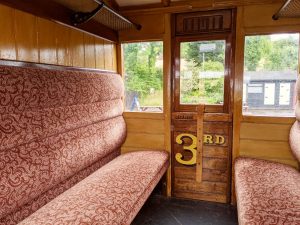 ---
Keep it simple, keep it safe
We're asking for everyone's help by following the simple safety measures we've put in place. These measures include:
Limiting the number of visitors we welcome each day
Asking all visitors to pre-book online
Protective screening at the Ticket Office
Payments accepted online only, no cash
Floor markings & barriers to manage our entrance routes
Hand sanitiser points at strategic locations
Catering outlets offer takeaway snacks only
---
FAQ's
Can I visit the K&ESR?
Tenterden Town station will reopen to pre-booked visitors ONLY from Saturday 18th July. Sadly we are unable to welcome visitors who have not booked online in advance.
What precautions is the K&ESR taking?
The safety and welfare of our visitors, staff and volunteers is our top priority and we are taking every measure to ensure this. We are limiting visitor numbers so that we can ensure physical distancing and a great experience with us.
The following measures have also been put in place:
• Protective screening at the Ticket Office
• Increased intensity and frequency of cleaning on our trains and stations
• Online & Card payments only, no cash accepted
• Floor markings at the Ticket Office entrance, shop & museum
• Signage to remind everyone of physical distancing and handwashing guidelines
• Hand sanitising points available at strategic locations
• Refreshment outlets offer takeaway snack options only. You're welcome to bring a picnic to enjoy on the train or at station picnic benches.
• The children's play area remains closed
• Regular cleaning & sanitisation carried out. We're using Zoono on all contact surfaces, as used on the national rail network.
Do I need to wear a face covering?
Government regulations require the wearing of a face covering when using public transport, other than: children under the age of 11; you are travelling in a compartment style carriage with members of your same household or support bubble; you are unable to wear a face covering for health reasons; you are eating or drinking; to take medication; you are travelling with, or providing assistance to, someone who relies on lip reading to communicate. If you do not have a face covering, disposable masks will be available for purchase on arrival.
Are there discounts on admission?
The K&ESR is a registered charity that relies on the support of our members, donors and visitors to enable us to continue our work. Whilst the vast majority of our staff are volunteers, it still costs around £2 million each year to operate the railway. Although our admission prices barely cover the cost of operating our trains, we're keen to ensure we make the K&ESR a welcoming and affordable place to visit. We offer a range of memberships which offer great value – join online HERE
Is there any reason why I should not visit?
We respectfully ask that everyone take responsibility for their own health before visiting. Please do not visit if you are experiencing symptoms of COVID-19 or have any underlying health conditions that might put you at risk. It is your responsibility to make the right choice for yourself and others around you. Please follow the government advice https://www.gov.uk/coronavirus 
How are your catering outlets minimising risk?
We are operating a takeaway snack service only. In order to maintain safe physical distancing, the following measures have been put in place:
• Queues are managed
• Waste must be disposed of in the bins provided
• Outdoor tables are 2m apart and cannot be moved to create larger tables
Can I book my ticket on arrival?
Sadly not – all tickets must be booked in advance. This is essential so that we can safely manage the number of people visiting each day.
Can I bring my dog?
You're welcome to bring your dog – they're part of the family and we know they're just as keen to get out & about as everyone else! Dogs go free on these trains, but please help us by ensuring they remain under control within your seating area – and please don't allow them to sit on the seats.
Can I visit if I am a member of the K&ESR?
In recognition of their support, we are providing opportunities for members to visit the K&ESR free of charge, as detailed in our regular Members e-newsletters. All members must pre-book and bring their membership card.
If you would like to take out membership of the K&ESR, please click HERE
Does the K&ESR still need financial help?
As a registered educational charity, we rely on the support of our members, donors and visitors. This is an exceptionally challenging time and we have experienced a huge loss of income this year. Although we have now reopened, we still face financial challenges due to restricted visitor numbers.
We are extremely grateful to our everyone who has been so very kind & supportive. We understand these are uncertain times for everyone and are very grateful for any support offered, no matter how big or small – our appeal remains open. If you would like to help, please donate, join as a member HERE, or purchase a Gift Card. Thank you for your support!
Is the Gift Shop open?
Our Tenterden station Gift Shop will be open when trains operate and has a social distancing one-way system. We also have an online shop where you may purchase a K&ESR Gift Card.
Is the Colonel Stephens Railway Museum open?
Entry to the Colonel Stephens Railway Museum is free of charge when trains are operating. A social distancing one-way system is in place.
Is there wheelchair accommodation on the train?
Although we're currently unable to provide blue badge parking in the station forecourt, visitors may be dropped off and collected at the station entrance & vehicles parked in the main car park. 'Petros' is included in our trains whenever possible – check for current availability via the 'Family 4' booking button
Can I use the train to visit Bodiam Castle?
At the time of writing, Bodiam Castle remains closed & the National Trust have introduced a booking system for castle grounds admission. We hope to be able to resume our discounted entry arrangements with the National Trust is due course, but we are currently unable to offer the option to break journeys at Bodiam or other intermediate stations.
Have another question?
Please contact us via

[email protected]

if you have any questions that have not been answered in our FAQs.