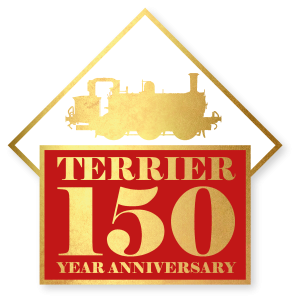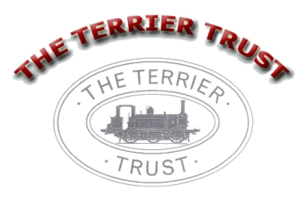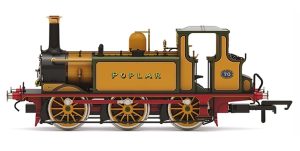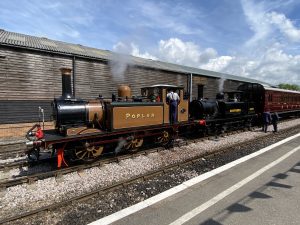 The History of Poplar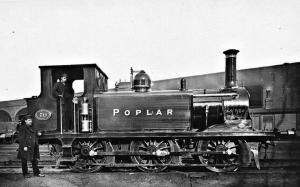 "Built in 1872 Believed to be the first of the class ordered and constructed, London, Brighton & South Coast Railway (LBSCR) No 70 was one of the first batch of Terriers to enter service and like others of the type was named after areas served by the railway."
1901 – 1930s Purchased by the Rother Valley Railway (later K&ESR), renamed No. 3 "Bodiam" becoming a regular performer on K&ESR throughout the line's busiest years
1930s – 1940s Kept in service through a series of heavy repairs which included using parts from other Terriers and repainting in K&ESR apple green
1947 – 1954 Thoroughly overhauled at Brighton and painted in K&ESR dark green, a livery she carried under BR until the line closed to passengers in 1954!
1954 – 1963 Used on goods services and specials on K&ESR, and then on the Hayling Island Branch that was run exclusively by Terriers!
1963 Saved for preservation and returned to K&ESR
Poplar at Poplar DLR
Join us for a unique opportunity to see Poplar at the DLR's Poplar Depot on Saturday 18th & Sunday 19th June 2022
From 10am to 4pm on each of these two days, 1872 steam locomotive 'Poplar' will be on display for public viewing at Poplar Deport on the Docklands Light Railway, in the shadow of Canary Wharf. At the invitation of Transport for London, KAD (operators of the DLR), the Terrier Trust and the Kent & East Sussex Railway (owners of the locomotive), come and find out more about the history of these famous class of locomotives which started commuting in London and were so useful that 10 have survived to the current day.
Visit the footplate and handle the controls of this Victorian time-machine.
Groups for each 30 minute timeslot will be strictly limited to 20 people to ensure a full experience for visitors.
Proceeds from the booking fee go towards preserving these wonderful machines for the future.
K&ESR Terrier 150th Anniversary Pack
Join us this Jubilee weekend when both locos are in steam and the boxed set is brought to life!
The K&ESR Terrier 150th Anniversary Pack is currently available to pre-order and will be shipped as soon as they have been received. The Kent & East Sussex Railway has been synonymous with 'Terriers' since purchasing the 1872 built No. 70 'Poplar' in 1901. Having spent most of its life on the K&ESR, to celebrate its 150th anniversary the Railway commissioned 'Poplar's overhaul, with the locomotive now resplendent in its original livery of Stroudley 'improved engine green' The second 'Terrier' No. 78 'Knowle' completes this celebratory brace of Stroudley's locomotives. Now preserved at the K&ESR 'Knowle' today carries the plain black Southern livery with 'sunshine' lettering.
K&ESR Terrier 150th Anniversary Pack
 £241.99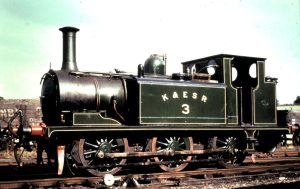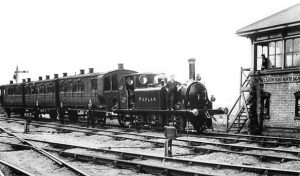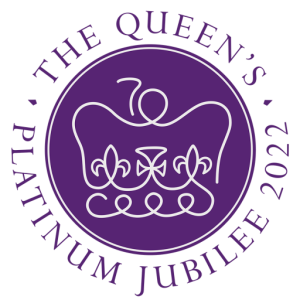 BBC News Online: 
https://www.bbc.co.uk/news/uk-england-kent-61648240
ITV Meridian – piece by Joe Coshan
Available to view and read here:
https://www.itv.com/news/meridian/2022-05-31/victorian-steam-train-gets-modern-makeover-to-celebrate-queens-jubilee
KMTV – Kent Today – piece by Tommas Dimiddio
Available to view here,  for a short time only
https://www.kentonline.co.uk/kmtv/video/kent-tonight-tuesday-31st-may-2022-52039/
It's the 'and finally' story near the end of the programme.
BBC Radio Kent – pieces by Robin Dixon
Broadcast last night just after 7pm.
https://www.bbc.co.uk/sounds/play/p0c6bw7f