‍

Kent & East Sussex Railway
Members e-newsletter No.43
‍Welcome to the latest edition of your e-newsletter
Terrier 2678 'Knowle' emerges from Rolvenden Loco Works for a post-overhaul steam test on the 17th November. Image courtesy of Graham Williams
‍

The 2020 Annual General Meeting
The formal business of the 2020 Annual General Meeting was conducted on TEAMS on Saturday 14 November. It was an occasion unique in the annals of the Railway, and hopefully one not to be repeated!
The formal record will be issued in due course, but the following is a summary.
Valid proxy votes were received from 273 members, which interestingly compares favourably with the number of people who voted at the last few normal AGMs. I am very grateful to Carol Mitchell and Chris Garman for assembling and counting them in very difficult circumstances.
The minutes of the 2019 AGM were approved; the 2019 Directors' Report and Annual Accounts were adopted; and the Board was given authority to appoint auditors for the year ending October 2020.
The three trustees (Geoff Crouch, Robin Moira White and myself) standing down and seeking re-election were each re-elected.  There had been no other nominations.
The Safety Director, Neil Sime, delivered his safety report for 2019 and an update on current safety-related workstreams and future priorities. These will be circulated with the formal record.
Owing to the necessarily restricted nature of the occasion we had provided an opportunity for members to submit questions for answer. Five were received: three about the closure of the buffet; one on technical points to do with AGMs in general; and one on the safety group minutes and matters relating to signalmen and crossing keepers. In addition, there was a letter about the Articles of Association for the Tenterden Railway Company.  All will be replied to as soon as possible.
As we have always said, we shall have a members' meeting when circumstances permit; this will provide an opportunity for a fuller and interactive discussion of the Railway's business.
Simon Marsh
Chairman
Carriage & Wagon Update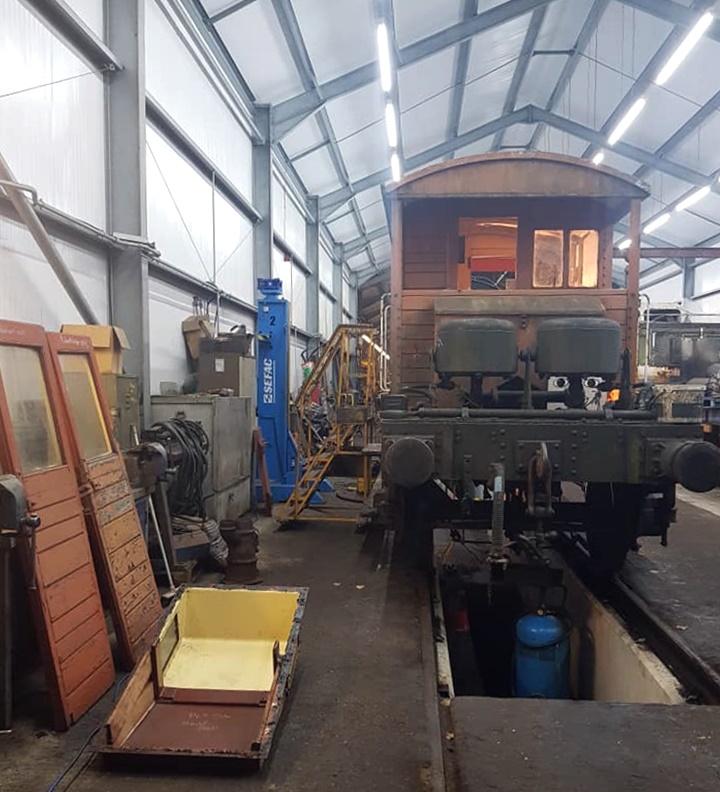 The Wagon Group have got stuck in with their next project, the Southern Railway 25 Ton Pillbox Brake Van, which entered the carriage and wagon workshop at the beginning of November. The planned full overhaul work is already progressing well and, as part of this work, wagon group members have already made a start on stripping out the interior and needle gunning the underframe. If you'd like to get involved with the wagon group, please get in touch with Ben Goodsell via [email protected]
It's again been a busy time, with work on Woolwich Coach progressing very well by the team of volunteers & the Guard's compartment has received a coat of paint. The ongoing major rebuild of Mk1 CK No.86 is also progressing well. Elsewhere Mk1 TSO No.85 has spent some time in the shed, receiving repairs to the steam heat system, whilst 'Petros' also received its routine 18 month exam and minor repairs to the roof.
Work is ongoing to ensure all carriage sets are ready for the Santa season. If you'd like to get involved and help us out, please do get in touch with C&W Manager Paul Wilson by emailing [email protected]

 Neil Jackson
C&W Volunteer
---
Subject to exchange of contracts, we have agreed terms for hire of a locomotive to reinforce our home fleet this December.

It is anticiapted that the loco will operate many of our Santa Specials and, potentially, some of our post Christmas services too.

Can you guess what it might be.......?

Details in the next edition!
If you've not yet booked your Santa Special tickets, there are still a selection of dates available
---
Strategy to 2024
Firstly, I'd like to thank those who have been in touch since my last e-newsletter article with suggestions and offers of help to progress our strategic ambitions. Input from readers is most welcome. With the collective experience and energy of the membership, together we can achieve a great deal.

The railway does not exist in a world of its own and a key theme for our strategy is to develop and mature our engagement with a wide range of individuals and groups, without whom we will not achieve our potential.


 


In some areas things work well now, others may be adequate; you will have your own views. All could be more effective. Our commitment is to work to continually improve communications with the following individuals and groups:
‍Our members: all of you! You are receiving this email because you have registered your interest in the activities of the Kent & East Sussex Railway, and we truly appreciate your support. Since the first lockdown was declared in March we have committed to issuing this e-newsletter on a regular basis, every 2 or 3 weeks. We hope that this keeps you in touch with latest happenings. We have been unable to hold a face-to-face gathering for members this year, but the Board is committed to holding an open meeting as soon as it is safe and practical to do so. 
| | Our staff: our usual annual meeting for all those who work on the railway (volunteer or paid) also fell foul of pandemic restrictions in March. Many of those who give their time to operate the railway will be receiving this email. We are also grateful for the HOPS system that we use within the railway and which enables operational messages to reach the various groups who make the railway work, and we are continuing to explore how we can use this system more . Ensuring that we reach such a large volunteer base with the right information at the right time is not easy; we must continually find ways to improve. |
| --- | --- |
| Our visitors: with a dynamic timetable based on the latest government guidance, we have had to rely more and more on online communication with the public who visit us. We have a new website to help with this, and imaginative use of social media - be it facebook, Twitter, LinkedIn, etc - has helped. Videos showing our coronavirus safety arrangements and encouraging new volunteers have been created. so.  | |
| --- | --- |
‍Our immediate neighbours and local communities: whilst we know most of our immediate neighbours at lineside and are involved in some local forums, there is more that we can do to build links with the communities in which we operate. Not everyone lives on the doorstep, indeed volunteers come from far and wide. We bring a lot to Tenterden and the surrounding areas: volunteering has many benefits for our well-being, and economically it has been estimated that (in normal times) we bring c £500k of income a year to businesses in the locality through the visitors who travel here. We were delighted to host the Mayor of Tenterden and the Mayor of Ashford soon after re-opening and aim to build stronger links with the community.
| | ‍Our suppliers: we are committed to supporting local businesses where we can, so that the railway's presence brings direct benefit to those who trade in the area. |
| --- | --- |
‍Our regulator: we believe that an open and honest relationship with the Office of Rail and Road is essential. We welcome the safety frameworks that they have devised and are actively engaging to mature our delivery of these for the benefit of passengers and staff.
| ‍Asset owning groups and individuals: we need to be open with those whose assets reside at the railway concerning our plans for their operational use and how maintenance can be funded. In February this year a locomotive plan was signed off by the Board. There were requests from members to have sight of this, but the correct way to proceed was firstly to meet with the owners of assets included in the plan. These meetings could not take place for reasons we all understand, and in any case the plan is now being revised as 2021 will not be a return to life before the pandemic. We are committed to good forward planning. | |
| --- | --- |
Other railways and the Heritage Railway Association: no other heritage railway is a competitor of ours and we wish to work collectively on matters of industry interest with other lines and with the HRA who are increasingly taking a lead on key topics.
| | ‍Grant-making bodies: In recent years we have not been as active as we could have been in connecting with those trusts, foundations and other bodies who support heritage, culture and educational endeavours like our own. We know that sourcing financial support beyond the tickets purchased by passengers and the kind donations of private individuals is important to the development of the railway. We have already had some notable success and will strive to develop our approach. |
| --- | --- |
Additionally, there are other organisations who are captured in separate pillars of the strategy, for instance schools and Hills Bridge with whom we partner to deliver aspects of our educational purpose, and the Rother Valley Railway who are planning the extension to the line. 
As always, your input and ideas are welcome. If you believe a particular area is a priority, please let me know what your solution would be, and if you are able to help us move things forward please get in touch -  to dni[email protected]
'Preserving our railway as living history – making memories that matter'
David Nibloe
Trustee
---
It'll never happen to me……
‍The Rail Accident Investigation Branch (RAIB) has recently published reports in respect of accidents that led to the deaths of railway workers.
The first report relates to an acident in which a driver was killed at Tyseley depot, near Birmingham just before Christmas last year. Whilst some management deficiencies were highlighted, the principle cause was the decision by the deceased, an experienced driver with 35 years of railway service, to take a short cut and pass between two units that were stabled close to each other and, unknown to him, just about to be coupled.
The second, lengthy, report relates to the deaths of two trackworkers at Margam, South Wales in July 2019. Again, alongside a litany of non-conformances, management failings and systems non-compliance, the root cause of the fatalities was the disregard of the rules and work specific safety arrangements by group of very experienced railway staff – both men killed had 40 years of railway service.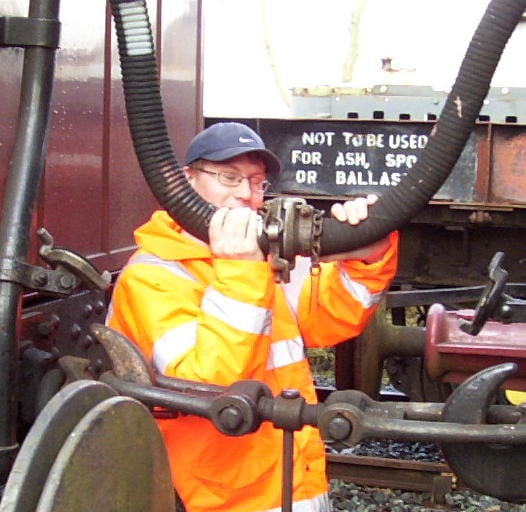 Our Safety Committee has already reviewed the Tyseley report and the management team, having previously circulated the RAIB safety brief about passing between vehicles, are now reviewing the adequacy of walkways - particularly at Rolvenden, where the lack of space has always presented challenges.
The incident at Margam had striking and frightening similarities to a near miss on our railway in December 2018, when a train came close to striking a track side worker wearing ear defenders (which staff who died at Margam were also doing). In our case, the principle cause was identified as a gap in our arrangements for protecting staff working on or about the line when wearing ear defenders. This deficiency was promptly rectified by the issue of an operating notice.
That the culture of "we've always done it this way and we know best" still exists on the National Network is a sad reminder that improvements in safety culture is still very much "work in progress" and that, in some places at least, the actions of those who should know better can result in devastating consequences. We know that there are the vestiges of such culture across the heritage sector too, we all have a duty to challenge and eliminate them.
In both of these tragic cases, the staff concerned consciously chose to disregard the rules and processes designed to protect them - with the dreadful results.
For the K&ESR workforce the shock and grief that resulted from the sad passing, from natural causes, of Dave Dee, whilst working at Rolvenden earlier this year, is still very real. Imagine how these reactions would be magnified were any of our colleagues to be killed or seriously injured by our own actions. It CAN happen to you – rules and instructions are there to be obeyed, disregard them at your peril.
Please stay safe and look after yourself and each other.
Neil Sime
Safety Director
---
Locomotives in picture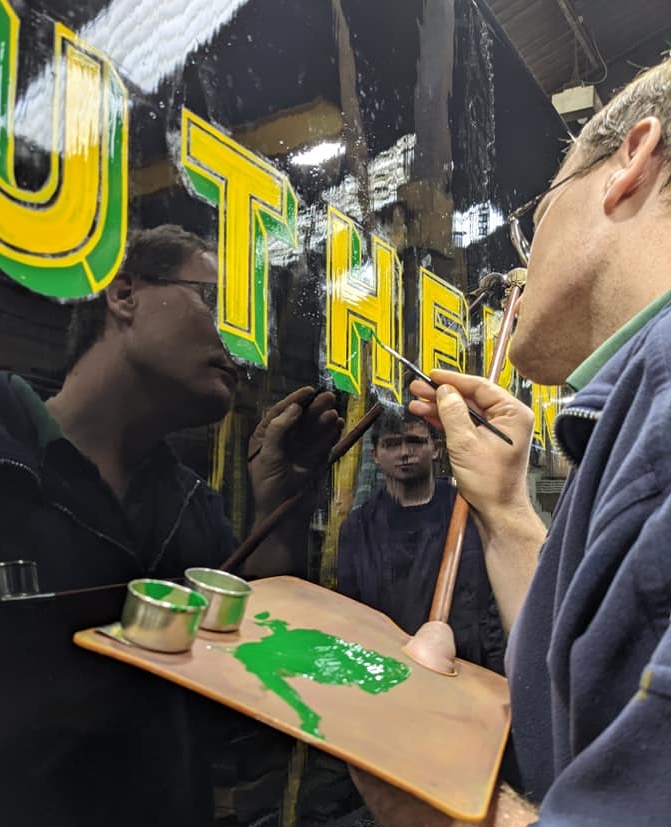 Matt Green signwriting 2678 
‍Image courtesy of Dan Dickson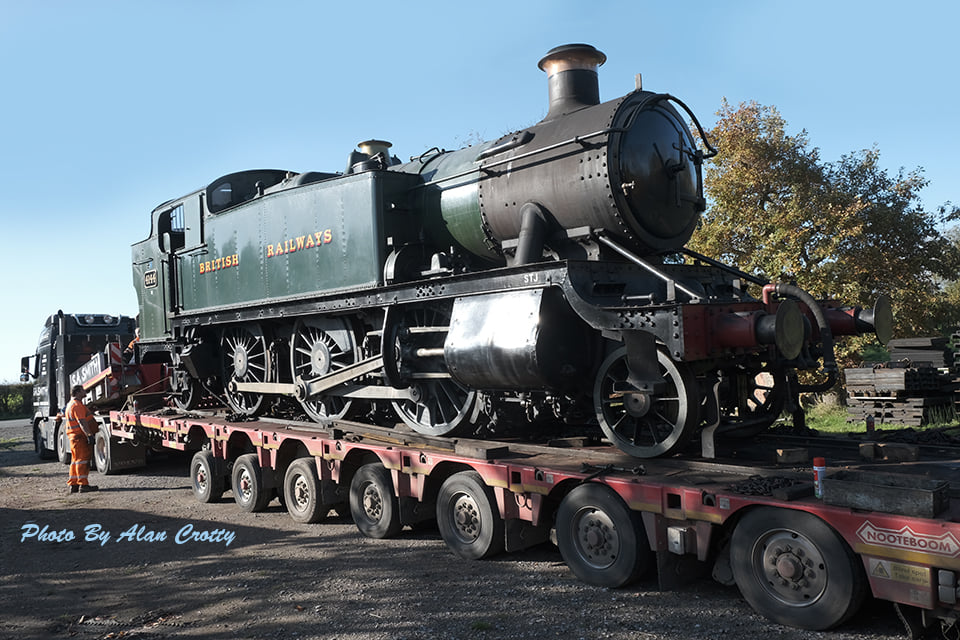 Following expiry of its hire period, 4144 is seen being loaded for return to Didcot on 5th November.
‍Image courtesy of Alan Crotty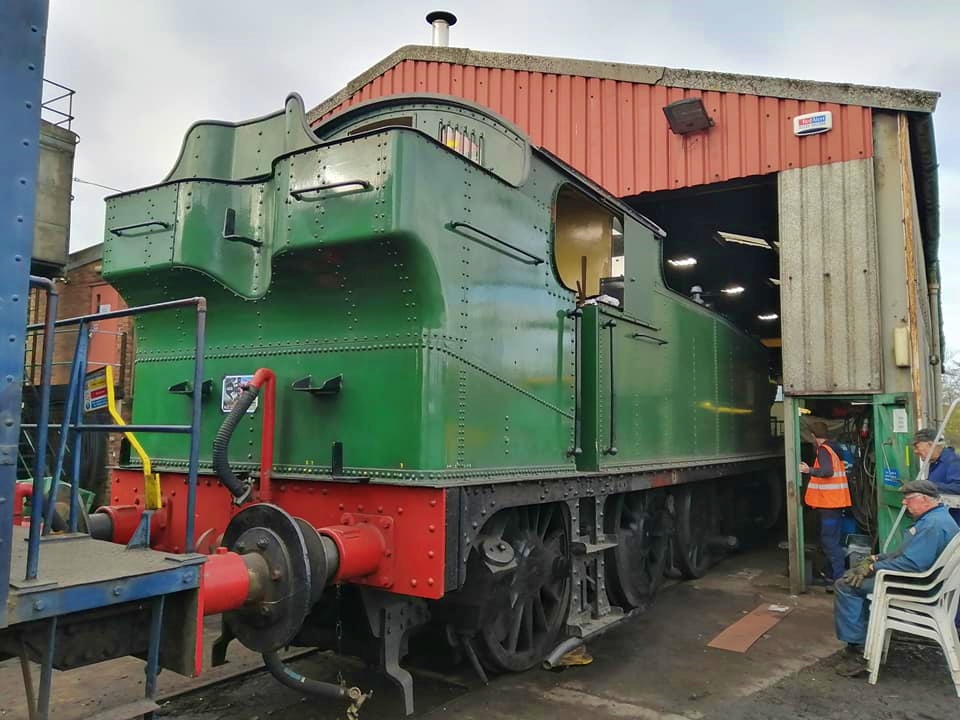 One out, one in! 4253 enters Rolvenden Loco Works, 17th November. Despite appearances, it does fit! ‍Image courtesy of Graham Williams
| | ‍‍‍Steel-Oil-Steam is a stunning collection of photographs highlighting the world and work of the engineers, fitters and volunteers of our Railway. We are pleased offer members the opportunity to purchase a copy for just £20.   |
| --- | --- |
‍This beautifully printed book, with 67 facsimile-quality full-page black and white reproductions, explores the engineering underpinning our railway.
Thanks to the kind generosity of its creators, K&ESR members may purchase a copyfor £20 (£24RRP), with each purchase benefiting the K&ESR through a royalty donation
---
Wealden Pullman Kitchen Car Project
- a personal appeal for helpUpdate
‍Dear Members,

 


As we all know, our Wealden Pullman Dining train has an excellent reputation for quality and service, which is why our clientele return year after year. Maintaining this reputation for the railway is something the volunteers and I feel very passionate about and is why I am writing this letter asking for your support.




The Wealden Pullman Kitchen Car is vital to future KESR income
‍The continued operation of the Pullman is in jeopardy because the current kitchen car Diana needs major work. The replacement Kitchen Car project allows us to retire Diana for refurbishment.
The project to rebuild Kitchen Car RU1987, the replacement for Diana, is being undertaken by Arlington Fleet Services at their works in Eastleigh.  Work is well underway and has been funded through a grant, donations from members, plus a significant contribution from the donations given to the Wealden Pullman volunteers.
The project was on track until COVID-19. However, we lost most of our 2020 season revenue, meaning funds that would have come from operational revenue are no longer available to complete the project.
£66,000 still needed … We need your help now …
The 2021 Wealden Pullman season is critical to the company's financial well-being, because it generates around 16% of the railway's total revenue, revenue that can be used to support the other areas of the railway. So, we really need to raise the final £66,000 to complete the project before summer 2021. 
I am therefore making a personal and urgent appeal to our members, to help me raise the money to complete this project and run Wealden Pullman trains in 2021.
Please use the link below to setup four monthly payments of £5, with Gift Aid if you can, between December and March. This is equivalent to the price of two cups of coffee each month and is all it takes to keep the Wealden Pullman on the tracks next year.
‍Alternatively, please use the link above to make a single donation for £20 (or more!), or send a cheque, made payable to the Kent & East Sussex Railway (please mark 'Kitchen Car Project' on the back), with confirmation of your Gift Aid agreement.
Finally, if all 2,500 members were to do this for me, then with Gift Aid we will have raised the necessary money to complete the project. So, please act quickly because with your commitment we can get this project completed in time for the Wealden Pullman season next year. 
Thank you in advance for your participation in this vital appeal.
Kevin Bulled
Pullman Volunteer
---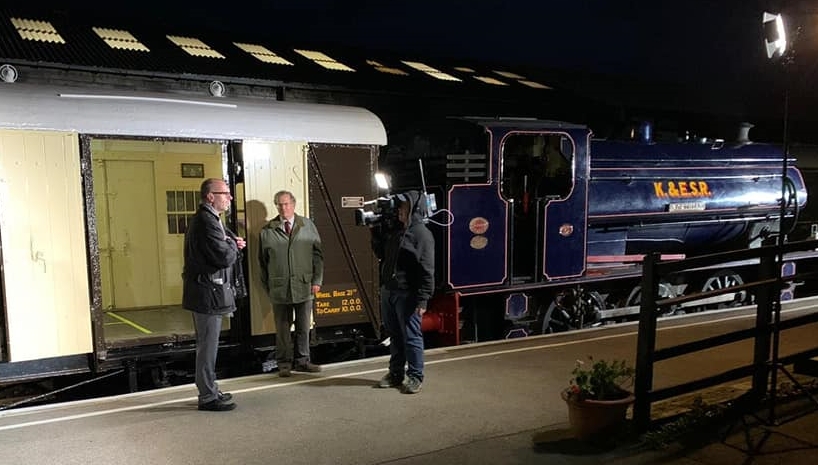 At the start of this year, the historic Cavell Van entered the Carriage & Wagon workshop at Tenterden for a major overhaul. As part of this overhaul it received a completely new roof, a full body repaint and varnish and everything underneath was taken off, given a thorough clean, inspection & repaint before being refitted.
Work began well however Covid 19 resulted in the overhaul being placed on hold in March. Work was able to resume again in late June, being completed at the end of October.
There was a rather special reason behind this overhaul. As well as the wagon being famous for the conveyance of Edith Cavell, it was also used 100 years ago to convey the body of the Unknown Warrior. To mark the centenary of this event, it was planned that the wagon would form part of a special Remembrance Event in London. Sadly, due to Covid restrictions, tjhis could not go ahead. However plan B saw the K&ESR working hard to put on a special event of our own on 11th November. But even this was lost as a result of the second lockdown.
Thankfully all was not lost however as, thanks to some timely suggestions to our television contacts by Colonel Stephens Railway Museum Curator Brian Janes, ITV News picked up our story and spent much of the 11th November fiming onsite, followed by an extensive live news piece featuring the Cavell Van & Birdcage brake hauled by No 25 Northiam.
BBC also captured footage for their 'Unknown Warrior 100' programme, presented by Hugh Edwards on BBC1 - watch online at https://www.bbc.co.uk/programmes/m000ph0p
Neil Jackson
C&W Volunteer
The Cavell Van is scheduled to be open for viewing during our post Christmas - New Year Special trains - details coming soon....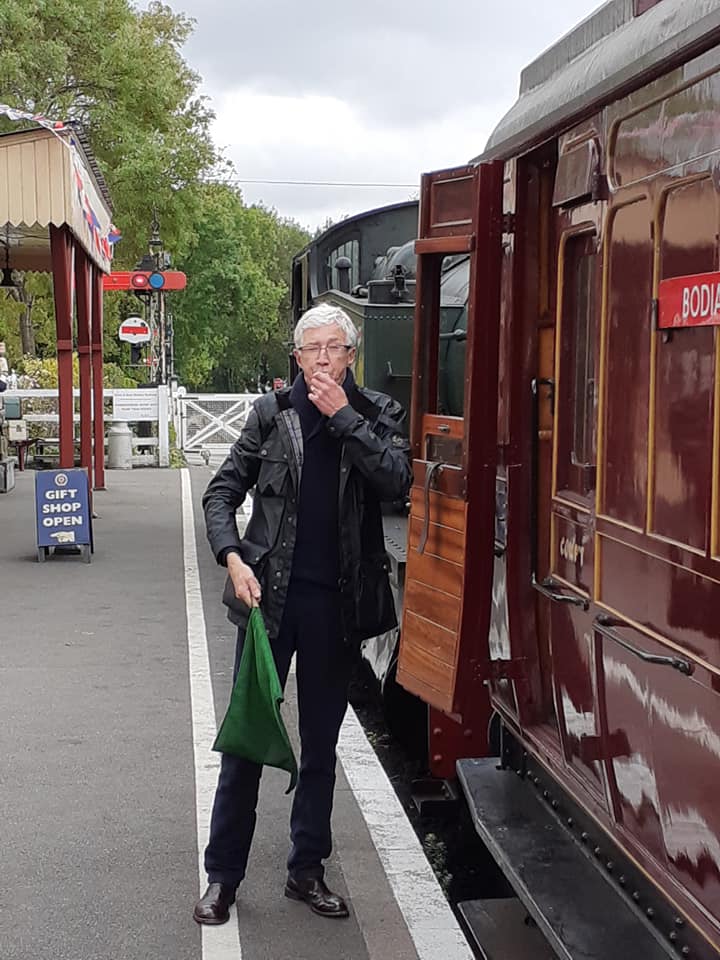 ‍Continuing the theme of filming, we now have confirmation that Paul O'Grady's visit to the K&ESR is due to air on ITV1 in "Great British Escape" on Wednesday 2nd December 2020 at 8pm
Look out too for the K&ESR in Episode 17 of the new series of 'Great British Railway Journeys' with Michael Portillo - broadcast expected for January 2021
Andre Freeman
Commercial Manager
---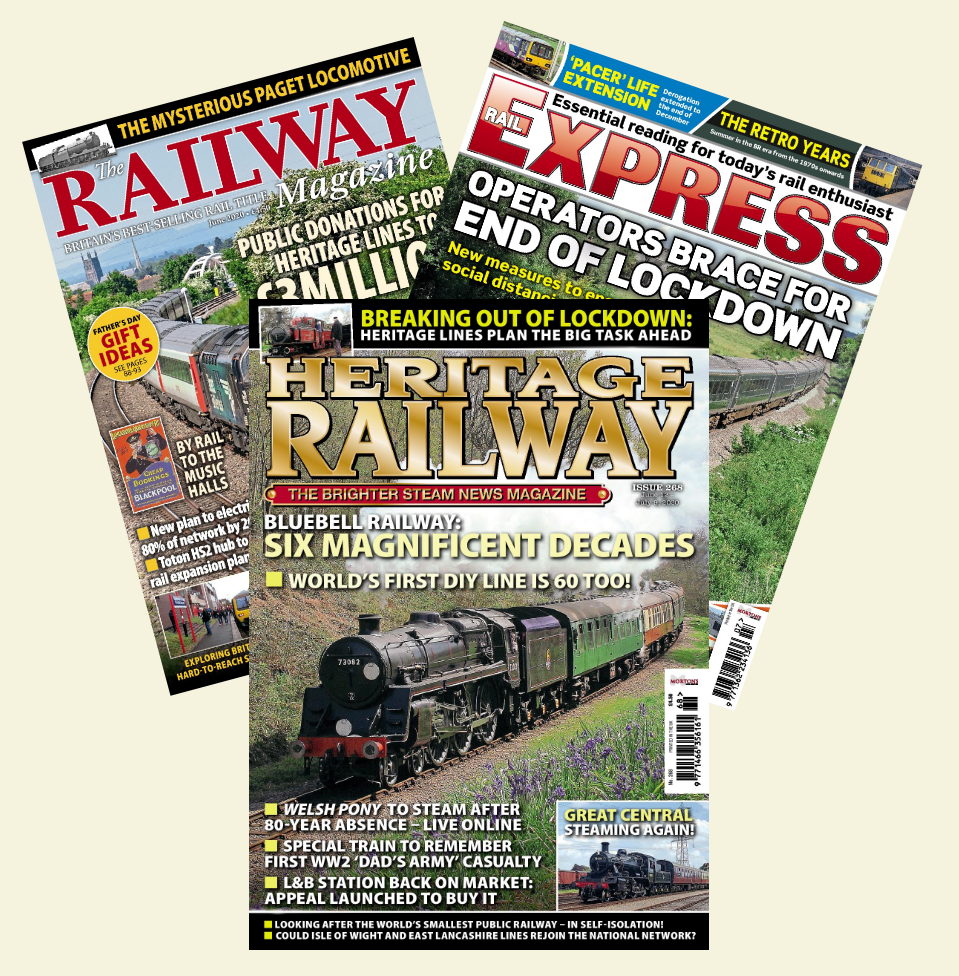 ‍

K&ESR Member Offer - a Christmas Gift that lasts a year!
Subscribe, at the special offer price, to any of The Railway Magazine, Heritage Railway or Rail Express and Mortons Media Group will donate £4 directly to the Kent & East Sussex Railway.
The Railway Magazine, Britain's biggest rail title and a fixture in the news stands since 1897, offers in-depth coverage of news of the entire rail sector, from modern to historic – you could even access the entire 123 years of history by building on your subscription. Heritage Railway provides in-depth news and features from the world of steam preservation, while Rail Express is the magazine for the modern rail enthusiast and modeller, but always with an eye to the history of the sector.
‍Offer expires December 31, 2020
---
---
‍Support the K&ESR - at no cost to you!

If you're an Amazon customer and shop Amazon Black Friday Week deals from 20th - 30th November, you can do more than discover great deals: Simply shop at smile.amazon.co.uk/ch/262481-0 or with AmazonSmile ON in the Amazon Shopping app, and AmazonSmile donates to The Kent And East Sussex Railway Company Limited at no extra cost to you!
---
‍From all of us here at the K&ESR, our very best wishes
‍

Kent & East Sussex Railway
Tenterden Town Station, Station Road,
Tenterden, Kent TN30 6HE
www.kesr.org.uk
Registered charity 262481