‍

Kent & East Sussex Railway
Members e-newsletter No.41
‍Welcome to the latest edition of your e-newsletter - we send you our best wishes and thank you for your continued support.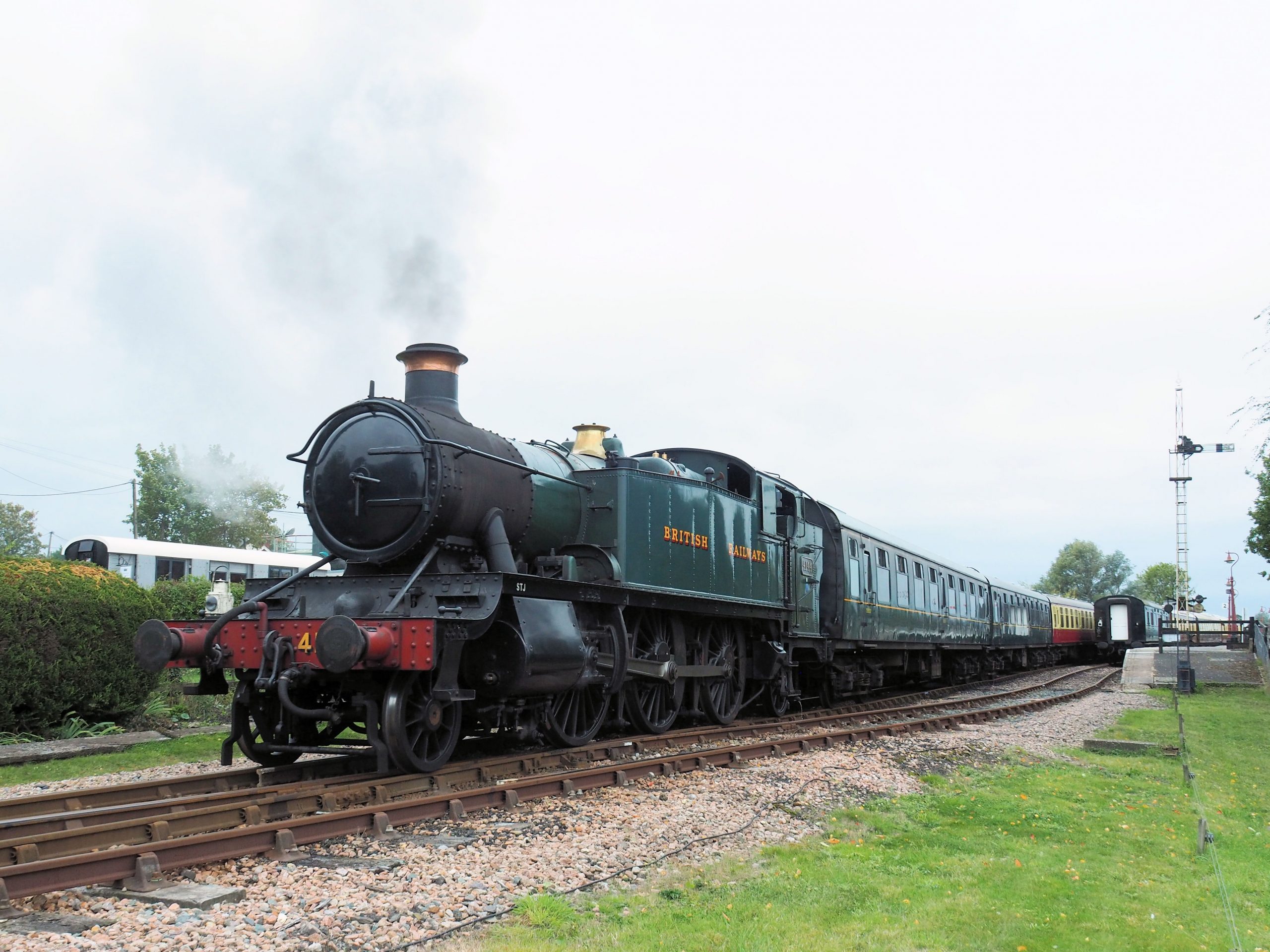 "Large Prairie" 4144 on parade 27th September 2020
Image courtesy of Phil Edwards
We are delighted to be able to announce that we have been awarded £301,500 from the Government's Culture Recovery Fund.  We put together a strong bid, and clearly the awards panel felt that our actions and planned actions to respond to the Covid pandemic merited this new and welcome support.  Our thanks are due to those who made it possible – they know who they are.
We were able to demonstrate that we had maximised all other sources of public financial support including the use of the Government's furlough scheme, a local authority grant, and a Government bounce-back loan.  And that we had raised £30k in donations from well-wishers, for which we are grateful. 
We were also able to point to our programme of cost reductions, including of course staff cost reductions, and our intention to streamline the way in which we are going to operate in the future including by focusing on our core activities. 
Had we not been able to demonstrate our positive actions the grant would not have been forthcoming.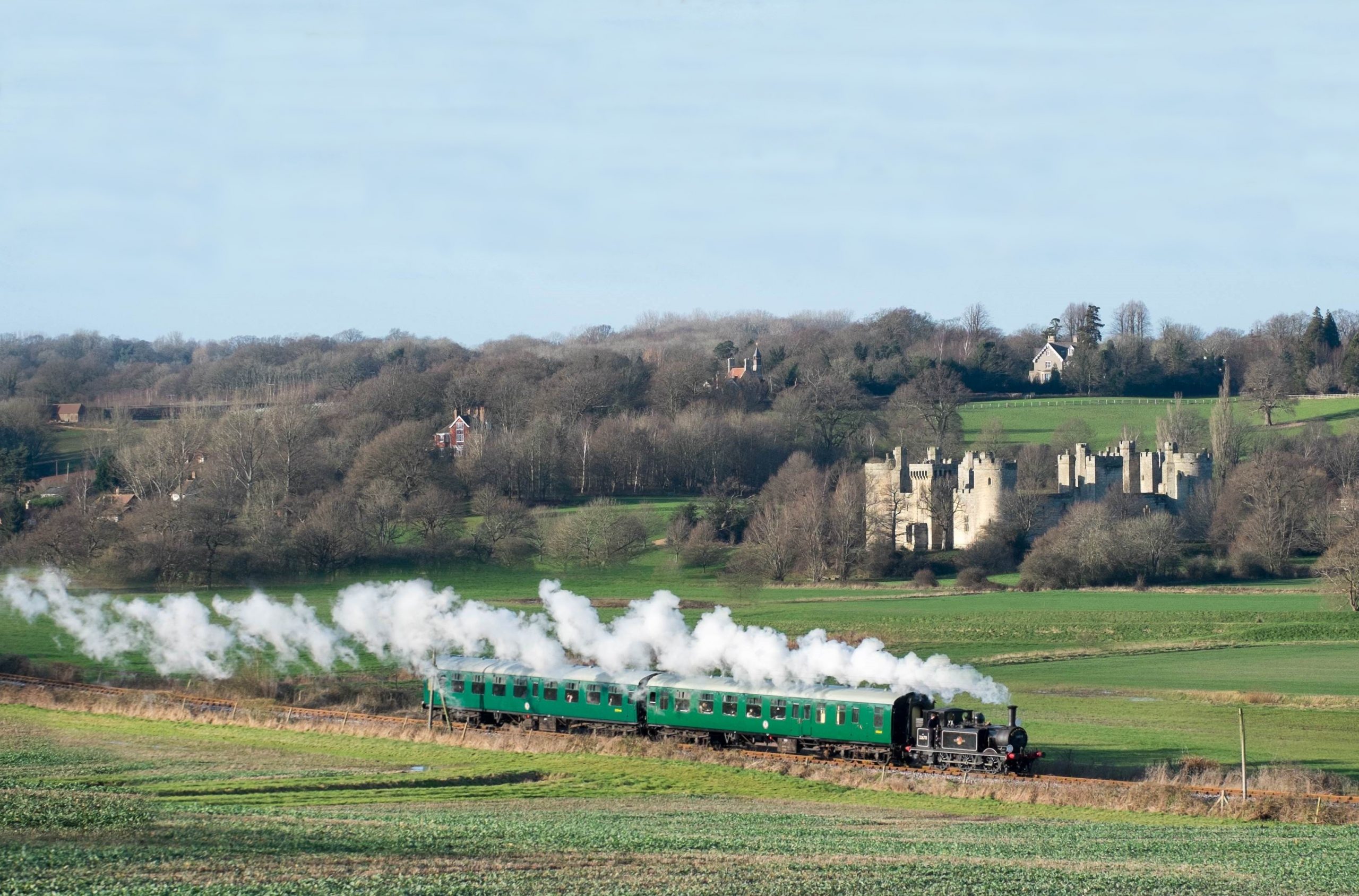 Image courtesy of Alan Crotty

We have a viable business plan for 2021, although it still requires much hard work to put in into effect, and this grant now means that we can cover our reduced costs until the start of the 2021 season.
Apart from the bounce-back loan we have not increased our indebtedness, which puts us in a stronger position to weather any future storms.
The grant also means that we can invest further in our IT, including our website; this is critical to our future operating model.
But we cannot rest on our laurels; nor is the grant the answer to everything.  We must now deliver on what we have promised, and this means that we shall have to continue to pull together and develop still further a positive, problem solving approach to the challenges that will always arise.
An important point.  To consolidate our position and be really safe we will still always need additional external funding, for capital investment (which is not covered by this grant, nor realistically by our operating income) and for further improvement to our daily activities. 
The work of the Fundraising Working Party will remain vital and will increase in tempo, and the campaigns to raise funds to complete the Kitchen Car and Terrier 150 projects must continue.  The Kitchen Car is of course essential to the future of our Pullman and other on-train catering operations and hence is mission-critical.  Please help us to get both these campaigns over the line – we still need £65k for the Kitchen Car and £80k for Terrier 150.   To see how you can continue to help us please visit https://kesr.org.uk/donate/
Stay safe, look after your wellbeing, and remember to talk about the Kent & East Sussex Railway to your friends and on your social networks.
Simon Marsh
Chairman
Strategy Planning
Before we were able to resume services on the Railway a series of six articles were published which set out some of the key pillars of the strategy that your Board is focused on delivering over the period 2019-2024.
As mentioned at the outset, it had been intended to present this in person at a Volunteers' meeting in the Spring of this year. Given that it remains uncertain when we will be able to gather, and we know that AGM will be conducted in an unfamiliar format given the ongoing coronavirus concerns, the series will now continue here in the e-newsletter with a commitment to continue the conversation face-to-face as soon as Trustees, members and volunteers can meet.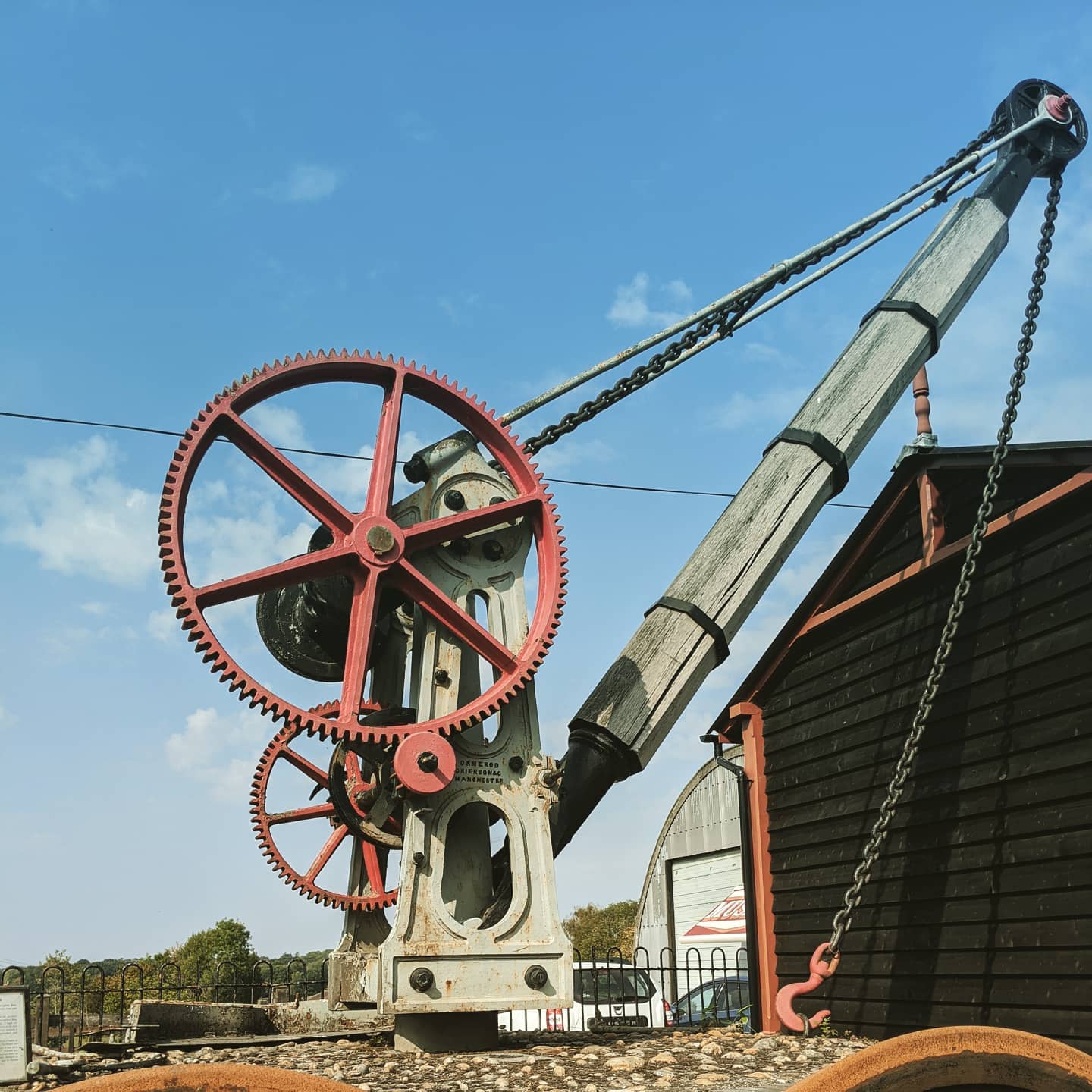 ‍The Hawkhurst Yard Crane at Tenterden Town Station
To briefly recap earlier articles:
         

Our Vision

is 'to preserve our Railway as living history, making memories that matter';

        

the charity is governed in a way that befits a business of this size and meets the regulatory standards that are quite rightly required of us;

         

Safety

is our top priority, and we are working to ensure the embedding of our processes in line with the Office of Rail and Road's Risk Management Maturity Model;

         

In our commercial offerings for visitors we have to concentrate on those activities that generate a return, to ensure we can keep the railway operating and invest in the heritage;

        

Our Educational purpose is at the core of our activities, and whilst our popular schools events have had to be put on hold in the current circumstances, the partnership with Hills Bridge has begun – an innovative arrangement that will benefit the Railway in many ways;
 

         

People

are at the heart of what of what do, with volunteers the lifeblood of the organisation: every Board meeting has input from the Volunteering Committee and we are exploring together how we grow our numbers.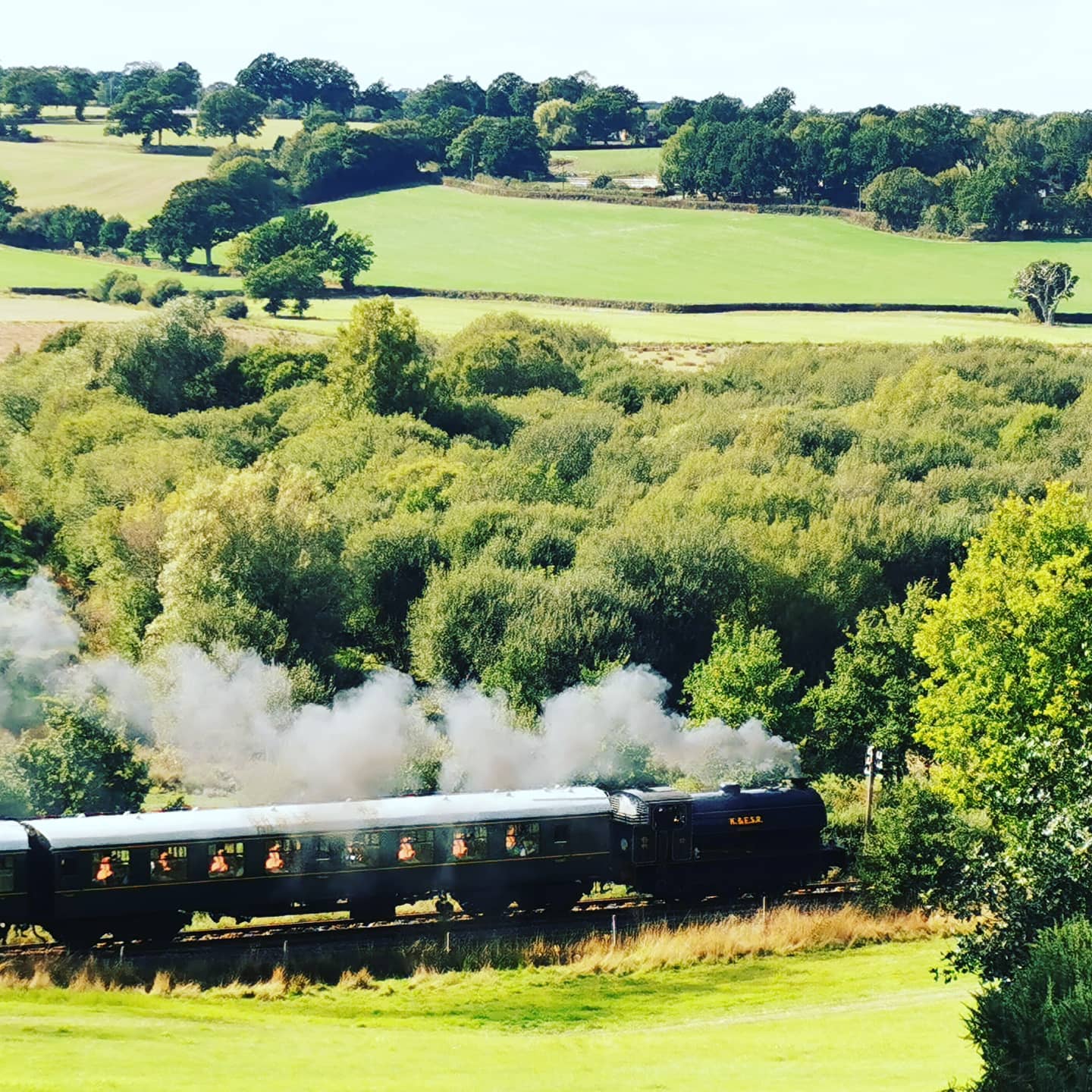 ‍Image courtesy of Claire Sime
‍Now to the subject of Finance… The Board's strategy contains clear goals to ensure financial stability so that trains continue to run on the line for many years to come. The plan is based on two fundamental principles:
(i)           That we must generate income from our day to day activities to cover the costs of operation AND provide for reinvestment in critical capital projects;
(ii)          That fundraising, whether it be through donations (or legacies) from private individuals or grant-givers, is essential to fund other investments including major enhancements to our facilities
The financial year to October 2019 was a successful one in progressing towards the first objective, with a financial surplus achieved after accounting for depreciation of capital assets. Thanks to everyone's efforts this was a positive step forward.
‍Clearly the pandemic has had a massive impact in the current year and will set us back against the aims set. As you would expect, we have taken advantage of all of the government support available to us.

 


The fact that we are now carrying passengers helps us significantly but cannot make up for all the services we have been unable to run. As you will have read elsewhere, difficult decisions have been necessary to safeguard the future of the Railway.

 




‍Our fundraising efforts are critical to our success, so many thanks to those of you who responded to the request for help in the last e-newsletter. The more helpers we have, the more can be achieved. Visitors have been providing a steady flow of small donations in the envelopes on trains which makes a difference, but this alone is not enough and we have much more to do. Currently we await the outcome of grant applications which have consumed many hours in preparation [Editor: since received!].
If you would like to support us, please consider a donation towards Keeping us on Track or one of our other appeals at https://kesr.org.uk/donate/. It's never too late to volunteer to help in the fundraising efforts, please email [email protected]. Thank you.
David Nibloe
Trustee
---
October Half Term

We are pleased to confirm that we will be operating train services during the October half term.  Activities will kick off on Saturday 24th October and will cease after the last train on Sunday 1st November 2020.

For further details please click HERE.



Thanks to the support of our volunteers we have also scheduled an evening Fish & Chip train in lieu of the usual Friday night special that we usually operate in October.

The Fish & Chip train is scheduled to depart Tenterden at 18:30 on Friday 30th October and tickets must be pre-booked online.
Following an extraordinary effort to make our Santa Specials covid-secure for 2020, we launched online bookings on the evening of Friday 9th October to some 9,800 subscribers who wanted to know as soon as we were onsale!  

The first 48 hours saw online bookings in excess of £100,000 and we are delighted that our customers feel confident in our measures to book with us.

 




 




‍Given the circumstances and our need to offer commitment to our partners who provide the entertainment and presents for the event, changes have been made to the event booking conditions: should Covid restrictions be increased, meaning we are unable to stage the Santa Specials, all bookings include a £10 non-refundable deposit this year.
Tickets are available online and details can be found HERE.
We thank the volunteer team who continue to work tirelessly with our commercial department to get the railway ready for the event. Your help would be most welcomed if you are able to assist with preparations or during the event. Please email Commercial Officer Heather Packham if you would like to get involved: [email protected]
Helen Douglas
Sales & Marketing Manager
---
Members e-Newsletter
We passionately wish to continue these regular members e-newsletters but to achieve this, we need help!

We're seeking a volunteer to assist with the compilation of the newsletter content in partnership with the Railway's commercial team - who will take an active part to liaise with staff to generate and produce content. 
We want to make this as simple and enjoyable as possible and see this ongoing project as a collective effort.  Experience of using AcyMailing is desirable although training can be provided.  Attention to detail and a keen eye for presentation are essential.  Please email [email protected] if you are in a position to assist us.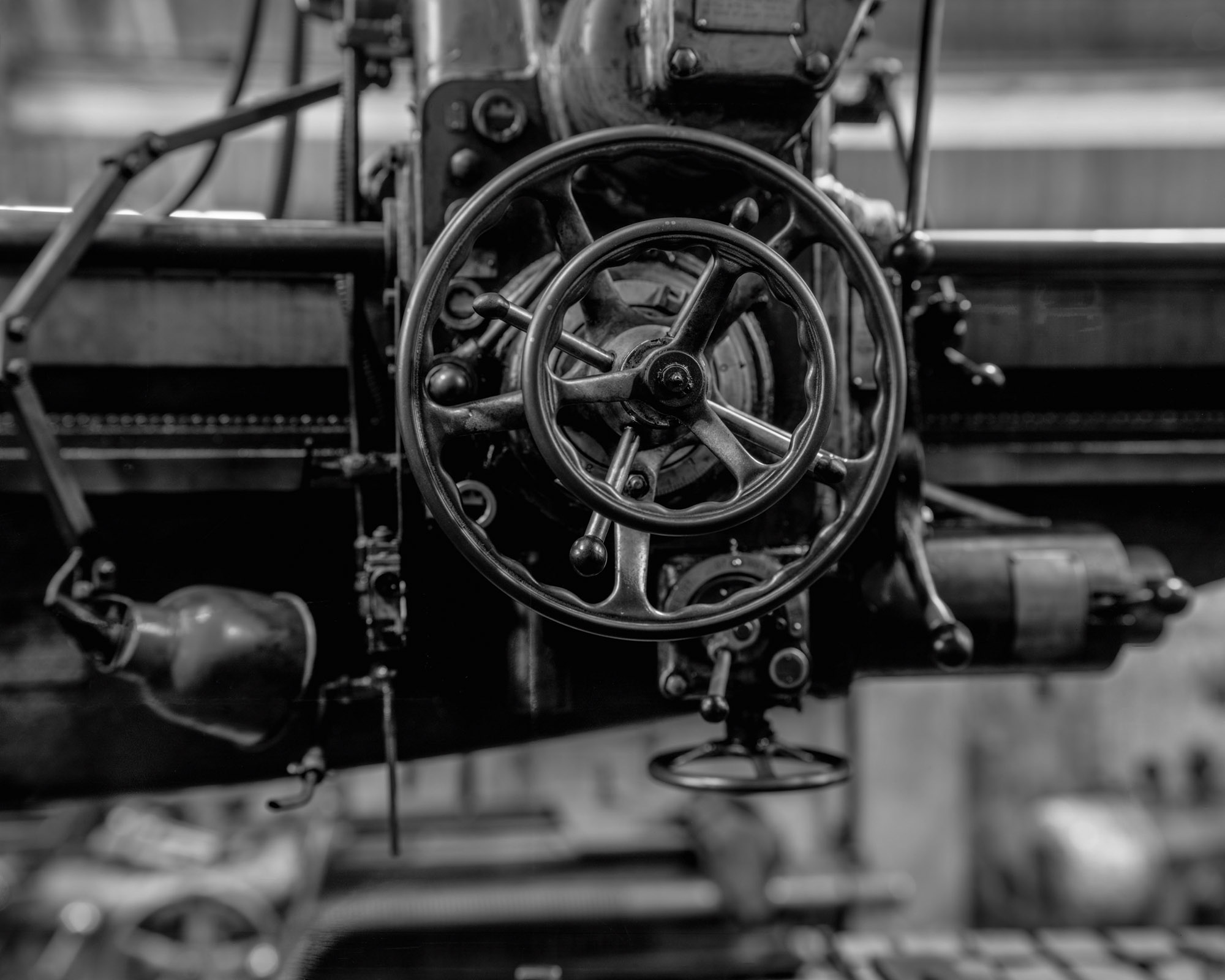 ‍"Radial Drill" from Steel-Oil-Steam by Evans & Hulf. 
See details below to purchase a copy of the book.
---
Great Western Railcar
‍Now, we wouldn't want you thinking that the railcar team have hung up their work boots for the duration just because we didn't appear in the last Terrier and a few recent Newsletters.  Far from it!
As soon as lockdown permitted, some of our number returned to Carriage and Wagon to assist on the Woolwich coach restoration and other essential work. In addition, the Project Manager obtained permission for up to six of the team to visit the Railcar in the Carriage Shed at Rolvenden to undertake essential remedial work to prevent any deterioration of the vehicle whilst it is stored away from C & W. 
Since the lockdown relaxation, working parties have attended on a weekly basis.
We are limited in what we can achieve outside of Carriage and Wagon but progress made to date includes:
·       Cleaned some areas of the inside woodwork of winter mildew
·       Connected the engine's cooling system in readiness for a test run of the engines when practical
·       Sealed and permanently fixed the body panels. We have now completed all of the waist panels and window panels as far as the cab ends where we still require the cab fronts to be fitted prior to completion of sides.  However, great progress has been made and it makes a lot of difference to the look of the vehicle.
·       Unfortunately it was obvious that the choice of primer for the galvanised steel body panels was not ideal, as further paint-lifting was observed which has now been rubbed back and a better-suited primer has been applied.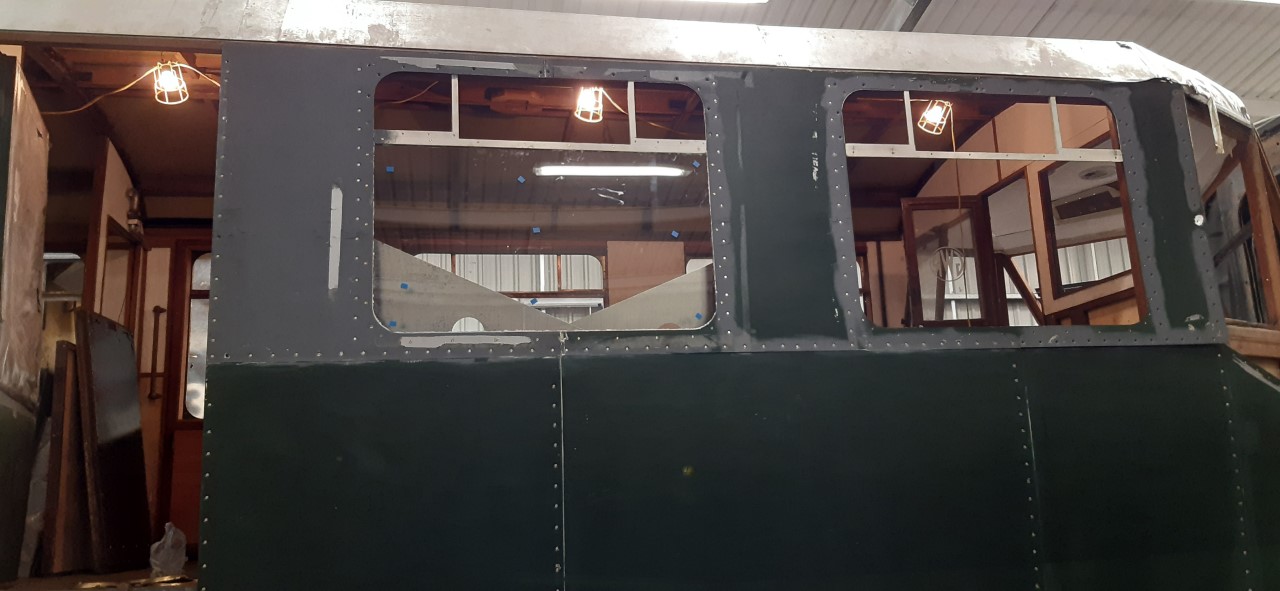 ‍We are still awaiting the necessary inspection of the vehicle by the Engineering Team, after which we can prepare a plan the vehicle's return to C&W, so enabling the continuation of renovations, momentum and enthusiasm for the project. Initially it is planned that the work will focus on a final fit and the sealing of the roof sheets and guttering, as well as acquiring and fitting any outstanding side and cab sheets, utilising funds already available.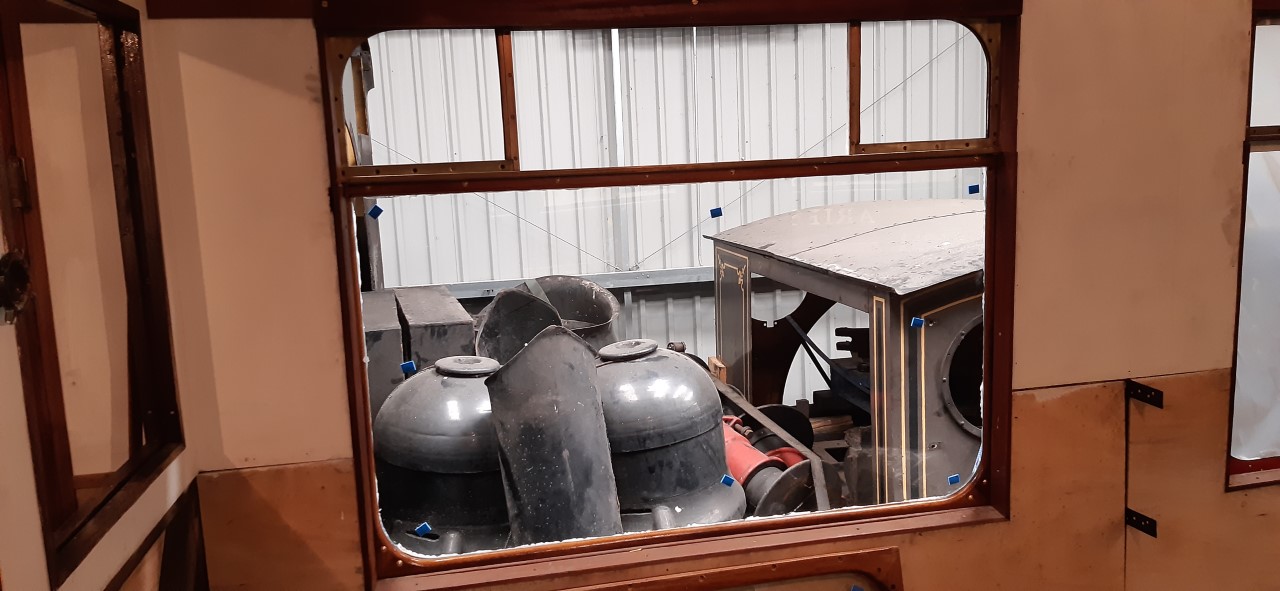 ‍It is very heartening to say that, following a proactive social media post by Dave Stubbs, stalwart of the Railcar Team, the project has received a much welcomed injection of funds towards the acquisition and installation of the required window glass. Very many thanks from the project team to all those who have so generously donated to this cause.
It has certainly boosted our ability to glaze the vehicle - an essential step towards achieving our goal of weatherproofing the vehicle. It has also further strengthened our resolve to see the project through to the end.
Any further donations towards the Railcar project would be very gratefully received and may be pledged HERE, where Gift Aid benefit may be added, if appropriate.
Other focused appeals towards specific Railcar restoration objectives are likely to follow, please watch this space for more opportunities to further the cause.      
Thank you all so much.
Neil Edwards / Chris Mileman
Great Western Railcar Volunteers
---
Exclusive Members Offer - EXTENDED!
‍‍‍Following the launch of Steel-Oil-Steam, which shows the world and work of the engineers, fitters and volunteers of our Railway, we are pleased to extend the offer for purchases by members for just £20.  This beautifully printed book, with 67 facsimile-quality full-page black and white reproductions, explors the engineering underpinning our railway.

 
‍By virtue of the generosity of the creators of the book, K&ESR members can purchase at a discounted rate of £20 (£24RRP) and additionally for each of these Member purchases a royalty donation will be made to K&ESR.
Buy direct online HERE 

---
The board of trustees, less two previously-notified absentees, had its monthly meeting on Saturday 27th September.  We met in a socially distanced way at Tenterden station with the sounds of a working heritage railway in the background.
The e-newsletter provides an opportunity to give a brief flavour of some of the most important points.  It should not in any sense be regarded as a formal record. 
We had an update from the General Manager on the re-opening.  Despite a few glitches the service had been a success and we had welcomed nearly 10,000 visitors and banked over £100k.  Given that we had run far fewer trains than the equivalent period last year, load factor had been healthy.  It had demonstrated that the way forward was to streamline the service and encourage pre-bookings.  We would incorporate the lessons into planning for 2021.
We noted that Wealden Pullman services had re-started and that it was planned to run some additional trains in November. With a heavily booked schedule in place pre-lockdown and a high level of booking retention, limited opportunity for new sales exists, although booking for 2021 was now available online.
We thanked Shaun and all those who had contributed in any way.
Looking ahead, we took note of the planning for the Santa season. We noted the considerable risks, most of which were outside our control, and that the net income would be less than in previous years. We looked forward to decisions being made in the next week or so.
We took note of progress with the staff restructuring process and reaffirmed that it was our intention to treat all those affected in the fairest way possible.
We heard from the Finance Director about a new committee that was being trialled to focus management resource in order to maximise profits. Early indications were positive, and terms of reference would be settled in coming weeks.
We noted that our cash position was adequate, taking into account all the measures that had been taken and were planned.
There was little this month to report on safety. So far this year 50% of reported incidents concerned trespass, and 50% of reported incidents had taken place at Tenterden.
Subject to a final review the Board approved a new version of the document known as POL 208 which sets out the governance structure of the Railway. This had been a major piece of work and long-awaited. Most of what it described was already in place, but work would be required to fill in a few gaps. It would be made available to staff and volunteers as soon as possible.

‍On strategy, we commissioned a desk-top review of what had been achieved so far, and we noted that despite Covid-19 considerable progress had been made.
We noted that the Fundraising Working Party remained active and that we were awaiting the result of a major Culture Recovery Fund application [since received!]
We looked forward to an external audit of all our IT systems, due to take place in the following week. This would form a basis for future planning; much had already been achieved but we now needed to move up a gear, making better use of outsourcing and the most modern technologies.
We heard that the Volunteering Committee remained active in seeking to maintain the spirit of our existing people and in considering new and innovative sources of volunteers. Possible options for both had however been constrained by Covid-19 restrictions.
We agreed to defer the review of membership categories until more bandwidth was available.
The next scheduled meeting would be on Saturday 31 October.
Simon Marsh
Chairman
---
‍Support the K&ESR - at no cost to you!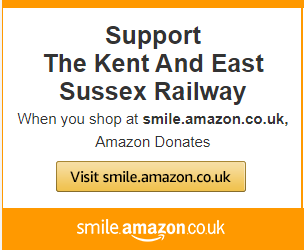 If you're an Amazon customer, you can now support the K&ESR when shopping - at no cost to you! Simply follow the link above to setup the K&ESR as your favourite charity, then follow the simple instructions shown when shopping online
---
‍From all of us here at the K&ESR, our very best wishes
‍

Kent & East Sussex Railway
Tenterden Town Station, Station Road,
Tenterden, Kent TN30 6HE
www.kesr.org.uk
Registered charity 262481