Kent & East Sussex Railway Receives Government Grant
We are delighted to be able to announce that we have been awarded the sum of £301,500 from the Government's Culture Recovery Fund.  Together with other measures we are taking, the grant will safeguard the future of our heritage railway and ensure that our people will be able to run our steam and diesel trains for the enjoyment and education of visitors young and young-at-heart.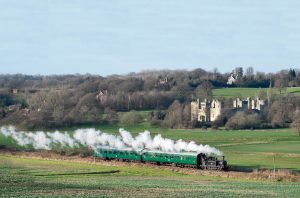 We are pleased and proud to become part of the Government's #HereForCulture movement.
The funding will underpin the Kent & East Sussex Railway's Covid recovery plan by replacing much of the income lost in 2020 due to the pandemic, and especially by enabling us to:
Continue to employ a reduced number of staff necessary to sustain our operations in the new Covid world

Ensure that our operations remain Covid-safe

Enhance our IT to facilitate improved online bookings and more efficient working generally.
Railway Chairman Simon Marsh said:
"The award of this grant is a testament to the determination of the Kent and East Sussex Railway to weather the pandemic, and a vote of confidence in the measures we have already taken and still plan to take.  We will use it wisely to secure our immediate future and ensure that our people will be able to operate heritage steam trains for the enjoyment and education of our visitors in the years to come. 
"We are very grateful to the Culture Recovery Fund and pleased to acknowledge the support given by the Government's #HereForCulture movement.  There is still much hard work to be done to reset the business and make it fit for the new world, and we shall always require support for the capital projects that are necessary further to improve what we can offer, but this is a tremendous boost to us and means that we can now look forward to the future with renewed confidence."
We are putting the finishing touches to our plans for running train during the October half-term, in the run-up to and over the Christmas and New Year period and throughout 2021.  Details will be released via our website.
We have so many opportunities for people to get involved with us and help preserve their local heritage railway.  We do have many volunteer roles, some of which may surprise you – we'd love to hear from you.  Email our Volunteer Recruitment Manager [email protected] or click HERE for more details.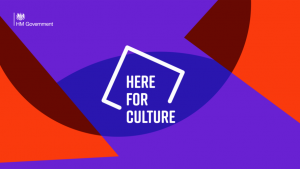 Culture creates jobs, supports livelihoods, and brings joy to everyone. The UK leads the world in the creative industries and we can all feel pride in that. 
Now, in these challenging times, it's our turn to show our support for culture. With an unprecedented investment through the £1.57bn Cultural Recovery Fund, the government is #HereForCulture so it can weather the storm of coronavirus and come back stronger. 
And we are #HereForCulture too. 
#HereForCulture is a movement that unites the public, government and cultural organisations in support of our fantastic cinemas, theatres, music venues, museums, galleries and heritage. 
We want people to make sure that where they are able to visit local culture venues in their communities, they do so in a covid secure way. Plus, with more and more culture being curated online, there is no better time to support and enjoy all the new and exciting ways culture is available to us. 
By being #HereForCulture, we aren't just supporting the people in the industry, we're also supporting communities across the country.