Kent & East Sussex Railway is Still Here for Culture
We are delighted to announce that in the second round of awards in the UK's Government Culture Recovery Fund for Heritage we have been awarded £250,700.  This funding will help us to recover from our prolonged closure and help us to prepare for re-opening in the third stage of the Government Covid roadmap.  Together with other measures are are taking, including our 60th Anniversary Appeal, this grant will safeguard our future and ensure that our people – most of whom are volunteers – will continue to be able to run steam trains for the enjoyment and education of visitors young and young-at-heart.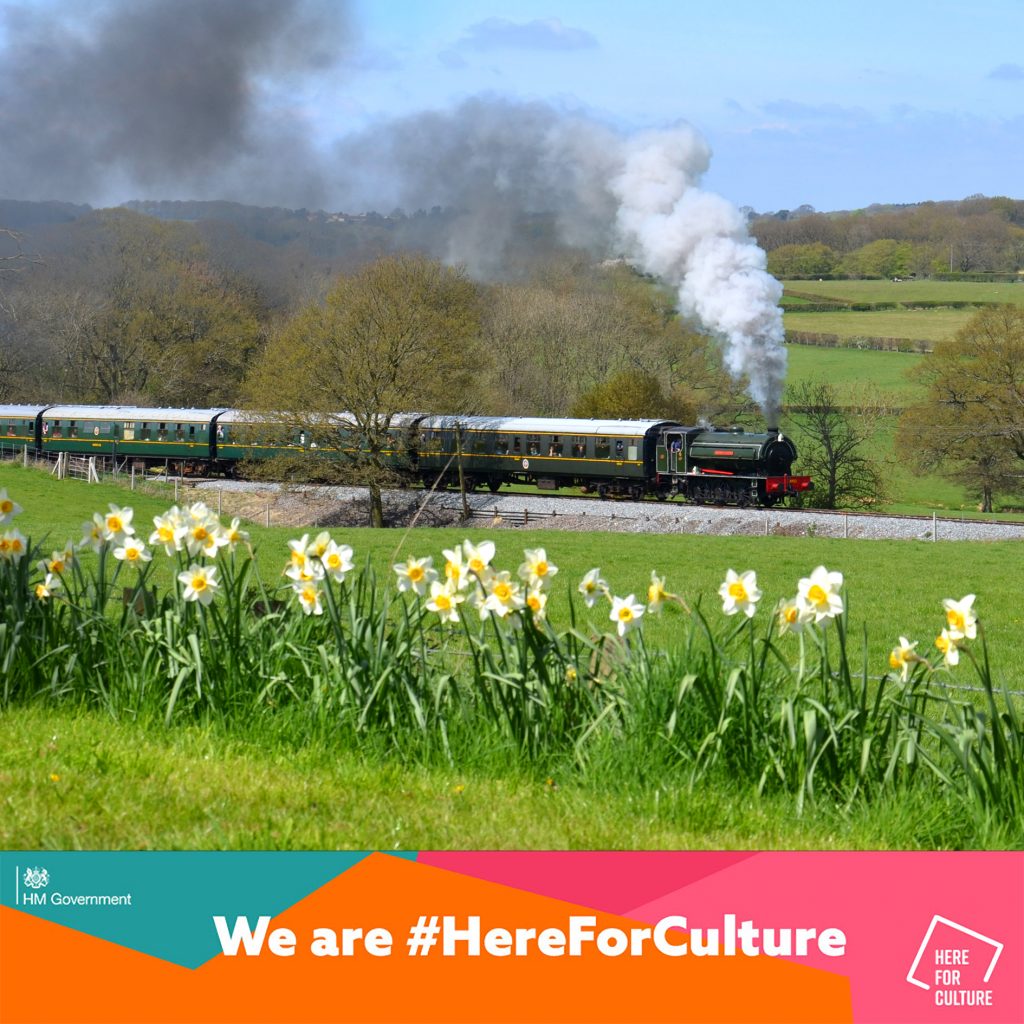 We are pleased and proud to continue as part of the Government's #HereForCulture movement.
This award will underpin the final stages of our Covid recovery plan, providing vital funding to enable us to continue to employ the staff necessary to sustain our operations and cover other vital expenses until the scheduled end of Covid-19 restrictions in June.
As a charity we have been significantly impacted by the pandemic which resulted in the cancellation of many of our services, including the hugely popular Santa Special trains last December.
Our 'Keep Us on Track' appeal to mark the 60th Anniversary of the Railway's preservation society, is aiming to raise £100,000 to support ongoing investment in the preservation of our living museum. Thanks to some great support, in just five weeks half of the £100,000 target has been raised. The appeal has been supported by Huw Merriman MP for Bexhill and Battle and Rt. Hon. Damian Green, MP for Ashford, who commented
"It is brilliant that this much-loved Tenterden institution is receiving significant help from the Government. I look forward to the KESR resuming its services soon, and hope that thousands of people will enjoy them this summer."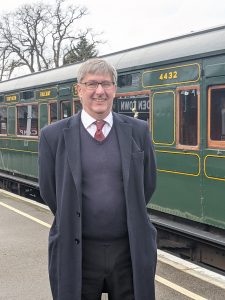 Railway Chairman Simon Marsh
Chairman of Trustees for the Railway, Simon Marsh said:
"This grant provides vital support as we weather what we all hope will be the final stages of the coronavirus pandemic. In normal times we welcome around 90,000 visitors a year to enjoy a ride with us along the scenic Rother Valley and experience the trip of a bygone era. In 2020 we were devastated that the restrictions forced cancellation of so many of our services, including the hugely popular Santa Special trains, disappointing many families and resulting in a reduction of over 80% in visitors.
The Culture Recovery Fund has played a major part in ensuring that the Railway will be here for everyone to enjoy as restrictions are lifted. We know that this award, combined with a successful 60th Anniversary Appeal, will set us on a firm footing for the future.
Everyone at the Railway is looking forward to welcoming visitors again from 22nd May. Please come and visit us when you can – we've missed you!"
Online bookings are now open for our train services from 22nd May 2021 whilst details of special events and activities for the summer and autumn will be released shortly.
With a wide range of opportunities to get involved & help preserve your local heritage railway, we'd love to hear from you – find out more about how you can get involved.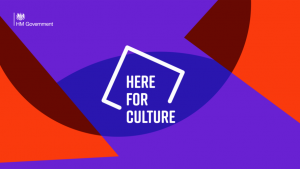 Culture creates jobs, supports livelihoods, and brings joy to everyone. The UK leads the world in the creative industries and we can all feel pride in that. 
Culture Secretary, Oliver Dowden, said:
"Our record breaking Culture Recovery Fund has already helped thousands of culture and heritage organisations across the country survive the biggest crisis they have ever faced.
Now we are staying by their side as they prepare to welcome the public back though their doors – helping our cultural gems plan for reopening and thrive in the better times ahead."
Now, in these challenging times, it's our turn to show our support for culture. With an unprecedented investment through the £1.57bn Cultural Recovery Fund, the government is #HereForCulture so it can weather the storm of coronavirus and come back stronger. 
#HereForCulture is a movement that unites the public, government and cultural organisations in support of our fantastic cinemas, theatres, music venues, museums, galleries and heritage.