ANNOUNCEMENT CONCERNING 2020 AGM
The Company Secretary announced in Terrier 142 that it was the Board's intention to hold the 49th Annual General Meeting (AGM) on Saturday 14 November but that in view of the coronavirus situation the matter would be kept under review and it might be necessary to change the arrangements.
The safety and wellbeing of the Railway's membership are absolutely paramount. It is now clear that it will be impossible to hold a safe and socially distanced AGM in the normal way.   Nor, we believe, is it a practical proposition to enable members to participate by video link.
We therefore propose transacting the business in the following way. There will be a two-part AGM.
The first part, to be held on 14 November, will transact the formal business that needs to be completed within the calendar year 2020. This will comprise: adoption of the annual report and accounts; appointment of auditors; election of directors (Simon Marsh, Geoff Crouch and Robin White stand down by rotation and seek re-election; the notice in Terrier 142 sought any additional nominations); and receipt of the safety report. Attendance will have to be restricted to Trustees, Trustee candidates seeking election for the first time (if they wish to attend), the Company Secretariat and the General Manager. The timetable up to the first part of the AGM will be as usual and all eligible members will be invited to vote by proxy as necessary. This will be made clear in the AGM mailing expected to be sent out in early to mid-October which will contain all the relevant documentation to allow members to make their choices and submit their proxy votes. Also in the mailing will be an account of the main events of the year; and members will be invited to submit questions which will be answered in writing and become part of the formal record.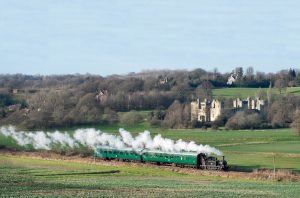 The second part will be held when circumstances permit, probably in early 2021, and will comprise an open meeting for all members at which Trustees and the General Manager will deliver reports and can be questioned face-to-face.
The Board has considered these arrangements at length. They are not perfect, but we believe that they represent the best that can be achieved in terms of ensuring Trustee accountability in these very unusual circumstances in which everyone's health must be the absolute first priority. We thought it right to publish them now rather than wait until the last minute.
As promised in Terrier 142, this notice will also be published on the K&ESR website. If you are aware of any fellow members who do not have internet or email access, please pass it on.
Charles Mavor
Company Secretary